The seafarin' man with one leg.
Such is the stuff of nightmares or high-seas hijinks for young Master Hawkins when it comes to the beloved piratical and nautical adventures of Robert Louis Stevenson's Treasure Island. 15 men on a dead man's chest, yo-ho-ho and a— Drinking in Tortuga cocktail? Has all the earmarkings of a We Happy Few Production! There are ukuleles, pirates, squeezeboxes— well, a singular squeezebox— and plenty of fanciful fun to be had for all audiences at the devised and adapted work of Treasure Island. Directed by Kerry McGee and devised by Wyckham Avery, Kerry McGee, Jenna Murphy, Paige O'Malley, Sam Reily, Jon Reynolds, Alex Turner, with scripting by Kiernan McGowan and dramaturgy by Keith Hock, this essential rendering of classic literature is the theatrical bridge spanning the gap of innovative storytelling and audience imagination.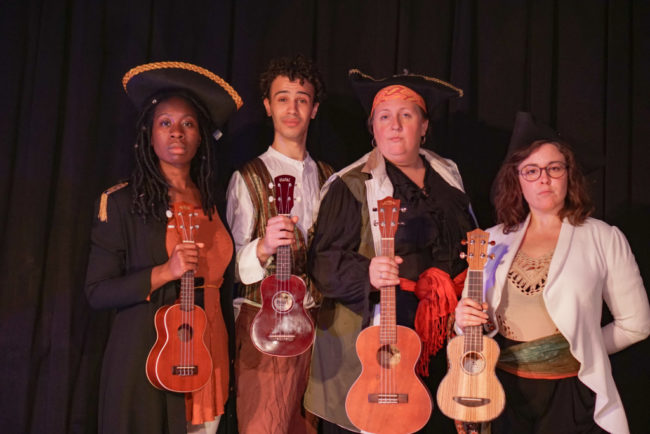 Though the novel of origin may belong to Robert Louis Stevenson, this production of Treasure Island is truly a masterpiece belonging to We Happy Few. Featuring just four ensemble performers taking on over a dozen roles— mostly pirates— this Treasure Island is thrilling and exciting, rollicking in sea shanties, heightened sense of anticipation, and an in-your-face, exhilarating adventure. We Happy Few is known for their ability to derive the core of a story out of thick groves of prose and present the enticing moments of suspenseful action to their audiences all in 90 minutes or less. Treasure Island is no exception to this practice; all the pirates are present. Even Captain Flint— the bawdy-mouthed bird belonging to Long John Silver— is accounted for…on the finger of Wyckham Avery. (Finger-parrot alone = cost of admission.)
Director Kerry McGee and her devising team bring the fun and thrill of theatre back to its very basic beginnings. Creating a fascinating skeletal framework— particularly when it comes to Sam Reily and Jenna Murphy's scenic elements (like the Hispaniola!)— which serves to connect the dots of their theatrical structure. The audience fills in the rest with their imaginations. McGee and crew provide larders of encouragement when it comes to activating and engaging the audiences' imaginations all throughout this performance. Ukuleles serve as the ship's wheel, paddle-oars for the long-boats, pistols, telescopes, and more. The creativity and clever repurposing of these instruments— which also serve as ukuleles to lead the cast on in various sea shanties, pirate dirges, and other musical moments— really brings an exuberant and childlike energy to the performance, which exponentially heightens the overall experience.
A simple flip of a hat or waistcoat transforms a prim and proper character on "the good side" into a swarthy, grungy pirate of the baddies. Paige O'Malley's costumes echo the sentiments of seafarin' men of an unsavory, salty variety. Her ingenious approach to creating Long John Silver's leg out of a wood-swirled leg-warmer fits the bill for creative mind play. Between the costume accessories and each of the four actors readily and often hastily adapting a different vocal affectation or physicality, the audience is dazzled when four performers become more than a dozen different pirates and play-characters. Of course the show wouldn't be quite so successful in all this fast-paced character flipping without Stage Manager Sam Reilly. Donned in run-crew blacks and a tricorn sea-hat, Reilly is instrumental in the show's fluid pacing, pushing and pulling props, costumes, and actors in and out of scenes with a smoothness that rivals a windless sea.
Bursting with an indefatigable energy and utterly exhausting to watch, Alex Turner is the narrative protagonist of this Treasure Island. His boyish charm and youthful looks makes him the perfect candidate for Jim Hawkins, though nary a more lively, spry, and bouncy Master Hawkins are you likely to ever see so long as you sail the seven seas. Turner does have a moment or two where he plays a pirate or two, but mostly he effervesces inside the skin of Jim Hawkins, serving as an engaging and mesmerizing conduit between adventure tale and audience ear. Director Kerry McGee has found fantastical moments for Turner to truly exercise his abundant and jubilant energies. The 'eavesdropping' scene in particular comes to mind, where instead of behind a barrel, Turner sits crouched…and becomes the barrel upon which one of the others sits. This is physical comic genius in a terse moment of deadly serious plot advancement. Turner is expressive of face, voice, and body— when he hastily paddles backwards away from trouble, the whole audience is roaring with laughter.
15 men on a dead man's chest…and dead men tell no tales…all important things to be mindful of when it comes to Wyckham Avery, whose primary function in this production is to channel an homage to Tim Curry from Muppet Treasure Island as the enigmatic Long John Silver. Avery, like the others, plays multiple roles, but much like Turner, stays steeped in the skin of "…the seafarin' man with one leg…" for much of the performance. Avery finds a blissful balance between ruthless pirate and man out to save his own skin by way of honor to a young lad. With an imposing stage presence that bolsters the myth and legend of Long John Silver, and a thorough physical commitment to the peg-leg limp, Wyckham delights the audience with her portrayal of the ornery pirate. And her vocalizations for Cap'n Flint (the lil finger-parrot-puppet) are a scream.
Delivering deep dynamism in her dual roles of Captain Smollett and Ben Gunn, Tosi Olufolabi gives Alex Turner a run for his money when it comes to energy and enthusiasm. Olufolabi creates exacting opposites in her portrayals of these two characters (not to mention her hysterical whirlwind portrayals of various other pirates) with Smollett being severe and serious, and Gunn being loopy and wild. The jittery energy and crinkled physicality of Gunn poses a sharp contrast to the becalmed nature and upright posture of Smollett. Olufolabi is extraordinary in both, though "jam" to her for the extra shenanigans she brings to the Ben Gunn-Jim Hawkins exchanges.
Paige O'Malley has shoved a monocle so far down her throat that its popped through her esophagus and permanently ramrodded the spine of Dr. Livsey. Hysterically polished to the point of caricature proportions, O'Malley is a delight as the jolly old Englishman. Armed with high society and a pocket full of parmesan, O'Malley tackles the character of Dr. Livsey with rigorous aplomb. Though her black-spot-delivering, cantankerous barking delivery of Old Pew is as hysterical as it is frightening, it's hard to decide which presentation of outrageous literary character is done best in O'Malley's hands.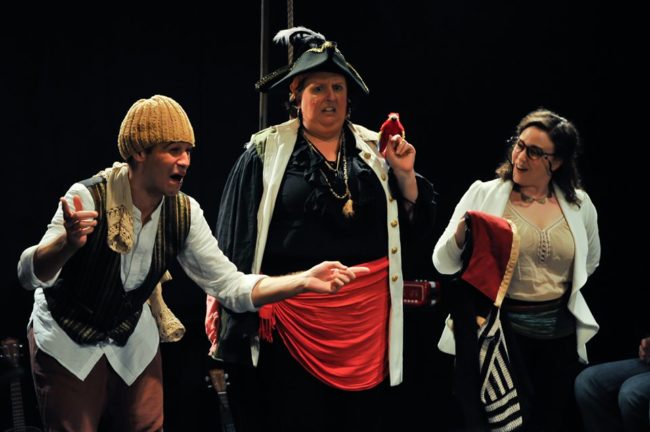 Drink up, me hearties, yo-ho! And beware! Beware the seafarin' man with one leg! Unless of course you like pirate, parrots, ukuleles, and supporting innovatively extraordinary theatre. In which case, beware that you'll miss this fine production of Treasure Island with We Happy Few!
Running Time: Approximately 65 minutes with no intermission
Treasure Island is a mobile experiment and has various showtimes and locations throughout DC! For more information on these showtimes and to purchase tickets to upcoming performances, visit the We Happy Few website. Although tickets are available at the door, advanced online purchases are strongly recommended to ensure seating.