And The World will know! And The Sun will too! 'Bout these Newsies and the awesome job they do! The things they do today will be tomorrow's news! And you heard it here first— right in black in white— front page ABOVE the fold! That's right— read all about it! Right here! Children's Playhouse of Maryland does Newsies and makes Disney proud with all of their energy, enthusiasm, and natural talent! Directed by Liz Boyer Hunnicutt, with Musical Direction by Charlotte Evans (featuring live percussionist Lisa Wood) and Choreography by Todd Pearthree, this stellar production of a way-too-popular musical is carrying the banner of live theatre to audiences this spring.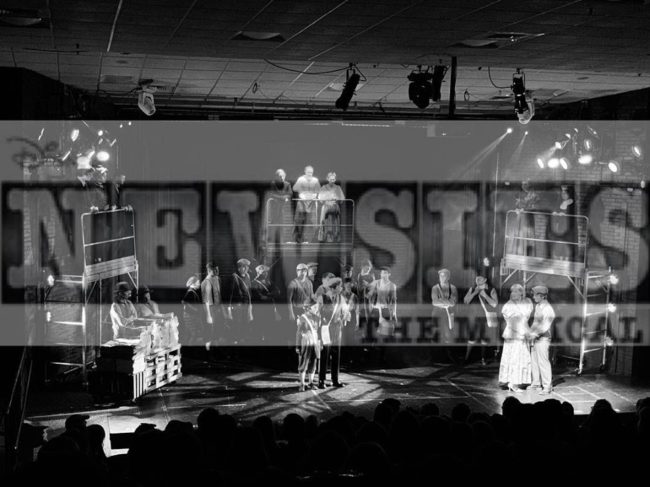 CPM's resident team of adults are the harbingers of professional quality technical elements for these young performers, giving them a vibrant and realistic set, fantastical lighting cues, and exquisite costumes for the monstrously popular production of Newsies. Diane M. Smith and Laura Miller (Set & Scenic Artistry) create the gruff New York City skyline life at the turn of the century with their interlocking scaffolding fixtures; Miller's backdrops serve as the artistry Jack Kelly puts forth inside Miss Medda's Bowery theatre. Tyrell Stanley and Sharon Byrd (lights and costumes respectively) round out the aesthetic to really give the show a polished feel, providing the talented youth performers an authentic theatrical experience.
Choreographer Todd Pearthree deserves all the accolades for tackling the high-bar expectations of the dancer routines that accompany Newsies and on a restrictively intimate stage. Focusing on clean, rhythmic routines that drive the beat of the song home to the audience, Pearthree pays homage to some of the original Broadway choreography (and does one of the more clever "stage clearing" tricks after the iconic newspaper dance…watch out, Front Row Audience!) Pearthree brings out clean tap routines during "King of New York" and a great deal of energetic and enthusiastic marching during "The World Will Know" and "Seize the Day" all while balancing the stronger dancers front and center.
Musical harmonies are steady and clear under Charlotte Evans' musical direction, as are the character choices made by everyone on the stage under the guidance of Director Liz Boyer Hunnicutt. Harmonies this go-round are Evans' strong suit, really playing the vocal strengths of her cast, while ensuring their powerful, emotional sounds during the bigger group numbers. Hunnicutt encourages every performer, lead, supporting, cameo, and ensemble, to make active character choices, and this is a very rewarding experience for any audience member to watch. One such performance that comes immediately to mind is that of Kathryn Schudel as Hannah, a secretary in Pulitzer's office. Her vocal affectation and hilarious background chewing makes her particularly memorable. The same can be said of Christian Peisinger, who plays Wiesel and Mr. Jacobi, among others, with unique physical and vocal presentations of each.
Showing off some of Pearthree's clean choreography, The Bowery Beauties (Kathryn Schudel, Emily Signor, Erin Acerno, Sofia Alvarez, Sophie Claudio, Chloe Davies, Catie Zimmer) put their best foot forward in the dual-split song, "Don't Come A-Knocking/I Never Planed on You." Those no-good Delancey Brothers— Oscar (Myles Taylor) and Morris (Thomas Peisinger)— along with their streetwise Goons (August Martone, Mason Petr) and the crooked Policeman (Katie Doyle) give the poor Newsies a run for their money during the big bust-up scene at near the end of the first act. Led by the vicious Snyder the Spider (Zachary Byrd), they put the rough streets of New York City into action. Byrd, who also doubles up as the humorous Nunzio inside Pulitzer's office, is quite scary when chasing after Jack Kelly and trying to slap him in the refuge.
The world will indeed know all about these Newsies because they are full of pluck and spunk, roaring with enthusiasm and energy as they deliver this triumphant feel-good musical of its day. Willie (Jared Davis), Ike (Sam Izzo), Jojo (Pierce Elliot), Tommy Boy (Corban Potler), Splasher (Ethan Broschart), Buttons (Jules Einhorn), Elmer (Ethan Holler), Specs (Noah Charles Thrappas), Albert (Owen Roughton), Much (Matthew Byrd), Romeo (Dylan Morrison), Finch (Kevin Franiak), and Race (Matthew Trulli) comprise the core lower-Manhattan Newsies. Trulli is truly the king of New York as Race, taking the lead in the number, "The King of New York" and leading the newsboys with gusto through this song and dance moment that kick-starts the second act. His clear voice resonates through this and many other numbers sublimely. Each of the newsboys has a moment that makes them pop out from the crowd; all are worthy of praise. Byrd even doubles up as then-Governor Teddy Boom-Boom Roosevelt, giving an honest impression of the powerhouse political figure.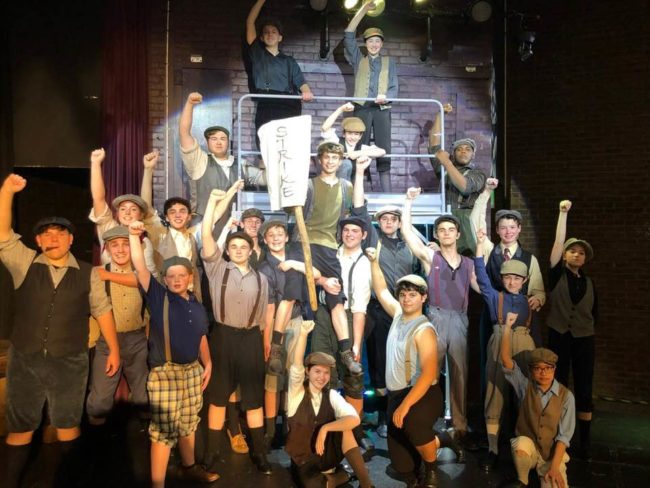 You've got a show full of talented young boys and you still want to have a bold, bust-out musical number for a lady character? That's rich! And rich it is with Anderson Gray playing Medda Larking. She only gets the one big musical number— "That's Rich"— and a cute cameo in the second act and again at the show's conclusion, but Gray makes her presence known, her spirit felt, and her voice heard. Belting that powerful voice all through her solo number, she really puts the vaudeville feel of show-business into her song, earning herself wild cheers from the audience.
The only other leading female role in this production is that of Katherine Plumber, and in the capable hands of Dance Captain Rachel Miller— watch what happens! With incredibly breath control and articulation for her number, "Watch What Happens" she patters rhythmically through with equal parts vigorous excitement and nervous exuberance, shifting quickly from marked staccato into languid sweeps of stellar sustain. Brusque and all about business, Miller makes her rendition of Katherine Plumber believable— even when Disney steps in and pens a romantic through-line from her character to the Jack Kelly leading figure. (Doesn't Disney love a good love story?) Miller plays beautifully against the Jack Kelly character and their budding flirtations are subtle and engaging, without overtaking the bigger plot-purpose of the Newsboys' plight, struggle, and strike.
Too precocious for words and so plucky she's likely to pop right off the stage, Maia Vong tackles the role of young Les Jacobs with brilliance and a dramatic flair. Les, the younger brother of Davy, is a spunky little pup of a character and Vong has no troubles bringing that character to radiant life. She's hysterical, speaking beyond her character's years and keenly possesses an exacting nature when it comes to comic timing, which really creates believable humor in her portrayal of Les. Davy (Charlie Niccolini) is the quieted almost polar opposite of little brother Les. Cautious and guarded but full of ideas, Niccolini puts his vocal chops to the test and soars through with flying colors when it comes to numbers like "The World Will Know" and his big breakout solo feature in "Seize the Day." Playing with an honest sense of comradery, Niccolini is the kid you'd want on your side if you were organizing a big child-labor union.
With guts and sentiment all wrapped up in one performance, Logan Snyder's Crutchie will bring a tear to the eyes, whether listening to him duet on the rooftop with Jack during "Santa Fe"— where his harmonic blends are pristine— or when he's delivering his heartbreaking solo early in the second act, "Letter from The Refuge." Snyder deserves praise for his physical commitment to the character's namesake prop, utilizing it in a convincing fashion that really adds a great deal of sympathy to the character's existence and makes his solo number extra tragic.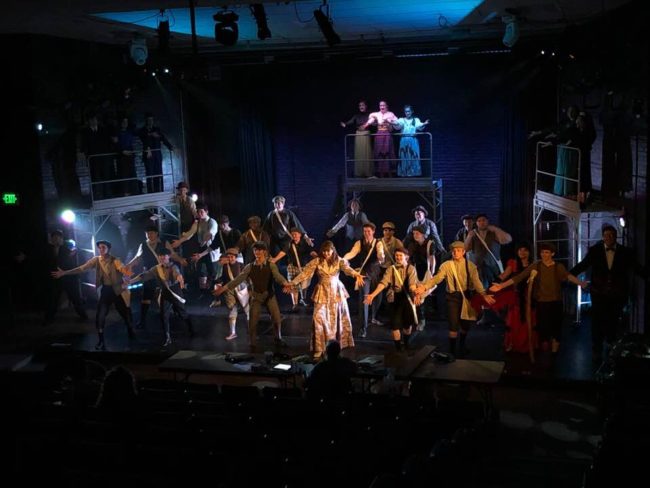 For every good guy— or even dozen good guys— there's one lousy, rotten, antagonistic stinker; that's the bottom line. And for Newsies, its Joseph Pulitzer (Lucas Huie.) Newcomer to CPM, Huie makes his breakout stage debut with Newsies and is a total sensation. He's as smooth as glass in his vocal delivery, and twice as sharp when it comes to the thinly veiled villainy that he presents. Ruthless, repugnant, and downright revolting, the corrupted force of the oppressor reigns readily through in Huie's portrayal of Joseph Pulitzer. His featured numbers, "The Bottom Line" and its reprise are enough to set you on edge with just how unctuously he slides through them.
Leader of the pack and all-round triple-threat Josh Robinson is Jack Kelly incarnate. With a singing voice clearer than the starlit skies of Santa Fe, dancing that is on-point, and a real character commitment to the rough emotional life of Jack Kelly, with a thick, unwavering New York accent that can't be beat, Robinson leads the newsies to revolution and brings home the banner of justice and truth for the whole show. Impressive no matter what he's singing— whether it's his mercurial meltdown delivery of "Santa Fe" at the end of Act I or his hopeful upstart rendition of "Santa Fe (Prologue)" at the opening of the show, Robinson is astonishing and really truly worthy of making headlines.
Seize the day, like the newsies, and get yourself a pape! Better yet, get yourself a ticket to see CPM's Newsies, the closing production of their 2018/2019 main stage season. You won't want to miss this one.
Running Time: 2 hours and 30 minutes with one intermission
Newsies plays through May 19, 2019 at the Children's Playhouse of Maryland in the Lecture Hall of the Administration Building at the Community College of Baltimore County Essex Campus— 7201 Rossville Boulevard in Baltimore, MD. For tickets call the box office at (443) 840-2426 or purchase them online.