Everything feels as if it has just happened. Ellen McLaughlin's The Oresteia, freely adapted from the trilogy by Aeschylus that is nearly 2,500 years old, feels as if it is happening. And what must happen does. Boldly closing the 2018/2019 season at Shakespeare Theatre Company in their prestigious Sidney Harman Hall under the Direction of STC legend Michael Kahn, The Oresteia is modernized yet timeless, prescient yet ancient; McLaughlin's work is loaded with socio-political commentary and she has effectively layered it into an ancient Greek tragedy with a present-day relatability that is striking, stirring, and evocative.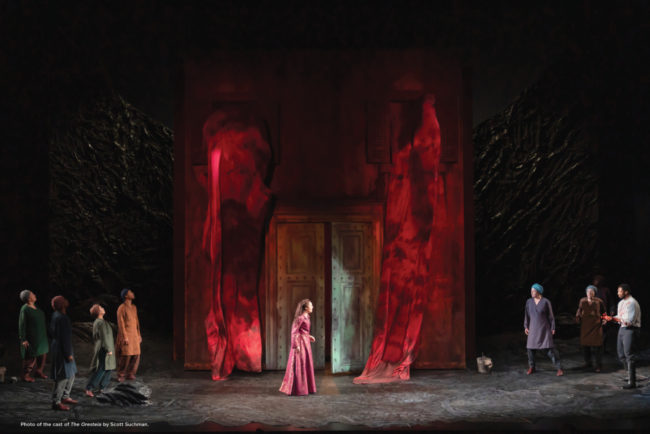 Ellen McLaughlin takes Aeschylus' trilogy and renders it into three acts spread across 2 hours of stage traffic with one necessary interval. The wording are contemporary, even a bit colloquial at times, but the sentiment and the pathos reverberate with a prehistoric sense of being, as if these feelings and conundrums have always existed. The notion of judgement is known to be one handled and dealt with by the Gods of ancient Greek tragedies. But what happens when the Gods are removed from the picture? Mentioned only in name? And it becomes the people's burden to cast judgement, humanize, and right the wrongs? McLaughlin's adaptation explores exactly these themes and she does so in an extraordinary and fascinating manner.
Remove the Gods. Sounds horrifying when considering the role these Gods have to play in the tragedy of Agamemnon, Clytemnestra, and so on. McLaughlin doesn't strike them from the record, but rather keeps them only in the mind's eye. You never see the wrath of Artemis or Apollo, only experience the way they are perceived by the humans involved in the tale. All Greek tragedies come readily supplied with a Chorus but there is something hypnotic and intoxicatingly intriguing about the one McLaughlin has penned into her adaptation. They are the voice of the everyman, far beyond just being a narrative ferry for the tale's moral. The chorus in this production, become real people, they are the servants of The House of Atreus, the are the people of Argos, they are the voices of reason— or lack thereof— they are everyone.
The burden of judgement falls to the people, the humans, these servants, when it comes to determining how justice is to be dealt with and what exactly justice is. Arguably one of the most evocative, edge-of-your-seat moments is the explosive quarrel that erupts among the Chorus at the end of the final act. Herein is the modern relevance, herein is the potent and powerful message that is applicable to everyday life. Who are we to decide what is just and how to deliver justice and to what end? McLaughlin's script even contains the question, "Are we not better than our worst crimes?" All roads lead to this Rome; all the moments building through the atrocities, injustices, and horrific nature that these characters have established from the start of the production boil down to this one cataclysmic argument. The defining beauty is how cleanly the sides of the fighting are split and how very apparent it is that there is no black and white or clear-cut answer. There is no simple solution.
There are layers upon layers open for interpretation and conjecture here inside McLaughlin's adaptation, which is part of what makes it so brilliant. There is controversy, there is political fire, there are questions that rattle and gnaw at the core of humanity in society; McLaughlin's adaptation is roaring and lively, and above all relatable to the modern audience.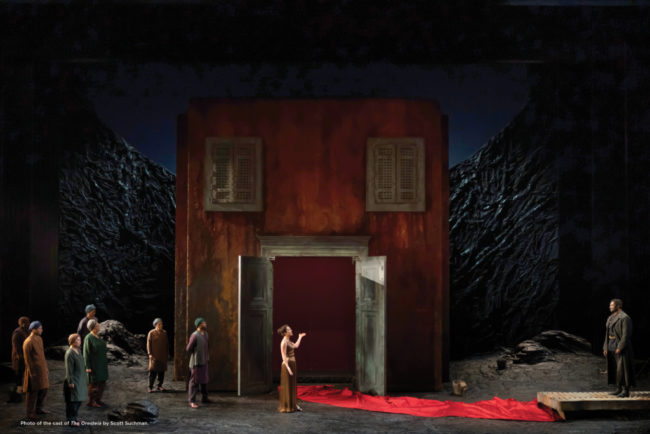 Draped against an exquisite set of derelict beauty and vexing scenery, this production appears almost monumental in stature alone. Scenic and Costume Designer Susan Hilferty has outfitted the stage with this indistinguishable desert-esque backdrop filled at its center with an enormous frontage of The House of Atreus. Awash in rust or years of blood, Hilferty's castle face has majestic windows and doors that sweep or burst open depending upon the moment, making the home as much a character in the bloody tragedy as anyone else. The peasant costumes are simple; Clytemnestra's gowns smack of affluence, particularly the superbly fitted gold affair featured at the end of the first act. Hilferty has matched the overall verve of the production to her design work and created a visual masterpiece for an exhilarating theatrical production to live upon.
Lighting Designer Jennifer Tipton, Sound Designer Cricket S. Myers, and Composer Kamala Sankaram augment the production values of this performance in an exponentially indescribable fashion. Sankaram has fabricated otherworldly sounds to life, blending them subtly into a musical soundscape that speaks to a lost time in history. There are moments of intense musical underscoring that enhance the active dialogue and overall action on the stage in a refreshingly cinematic fashion without feeling contrived into the stereotype of "living cinema." Myers coordinates with Tipton for some remarkable special effects that happen throughout the performance, pulling taut the fate-strings of dramatic tension for natural intensified pathos.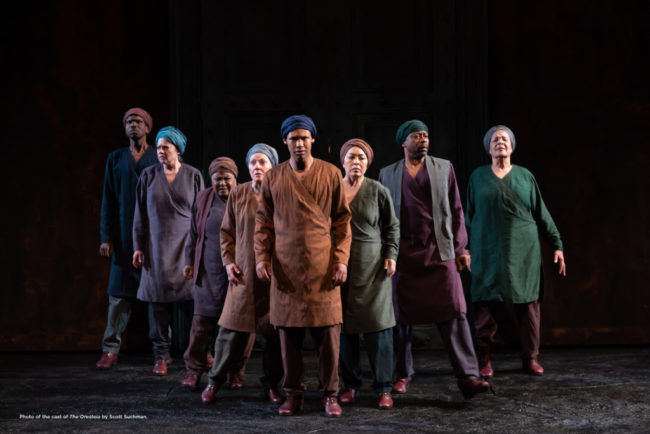 Movement Director Jennifer Archibald creates a life force inside The Chorus that mimics the winds and waters that ebb and flow through Argos and Troy all throughout this perilous tale. The Chorus (Corey Allen, Kati Brazda, Helen Carey, Jonathan Louis Dent, Franchelle Stewart Dorn, Alvin Keith, Patrena Murray, Sophia Skiles) do not move and speak as one directly but rather echo one another as they toss repetitive words about, representing the resounding chorus of humankind. There are affecting gestures that accompany these moments, most notable are the sway and bob of The Chorus when they address the reality, or their perception thereof, in which they find themselves. Director Michael Kahn disperses these words of the chorus, these vocal intonations and inflections with precision across these eight players, each one feeling as if they were chosen specifically for that word or that phrase at that exact moment in time.
Allen, Brazda, Carey, Dent, Dorn, Keith, Murray, and Skiles are in a sense an audience to these human Gods— Clytemnestra, Agamemnon, and so on— they are the sounding board of the tragedies that arise from the House of Atreus, and in a more symbolic sense they are Gods themselves when it comes to justice and handling the situation. This octet of performers are one and many at the same time, sharing the narrative responsibility of the story as much as the other players without isolating themselves from the tale or the experience. Under Kahn's seasoned direction, these eight transform McLaughlin's adaptation into theatrical astonishment, worthy of direct praise from Dionysus.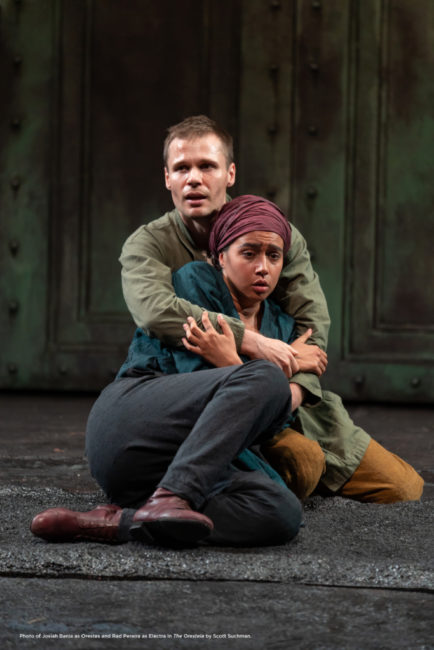 Orestes (Josiah Bania) and Electra (Rad Pereira) are late in the game players, Bania's Orestes in particular, but their presence is felt and their voices are heard. Bania gives a disturbing performance as Orestes, seizing in both body and voice when the orders of Apollo echo through his mind. There is a broken innocence inside of him as well; from the moment Bania arrives until the final moments of the show there is an disquieted uncertainty shifting uneasily inside of him, sometimes manifesting physically, other times lying in wait to trickle out vocally. Pereira is fierce as Electra, blending in an eerie fashion into the throng of the Chorus. Sharp like the talons of the furies, wise like prophets without sight, Pereira's Electra is arresting in her vocal sparring match with mother Clytemnestra, and disarming in her passion when it comes to justice and vengeance.
Brief in their stage time for the nature of the adaptation, Agamemnon (Kelcey Watson), Iphigenia (Simone Warren), and Cassandra (Zoë Sophia Garcia) are notable players that bind the drama and tragedy of this trilogy together. Garcia is striking when first thrust before both audience and Chorus as Cassandra. Her accursed cries are nothing short of chilling and intense. Harrowing is the ghostly walk Warren delivers as Iphigenia. Haunting is the way she appears when trembling from nightmares, unable to calm her own fears. Watson is commanding as Agamemnon, yet humble as well. When he returns to address his people there is a reverence tempered with humility about him that creates an astonishing character to behold.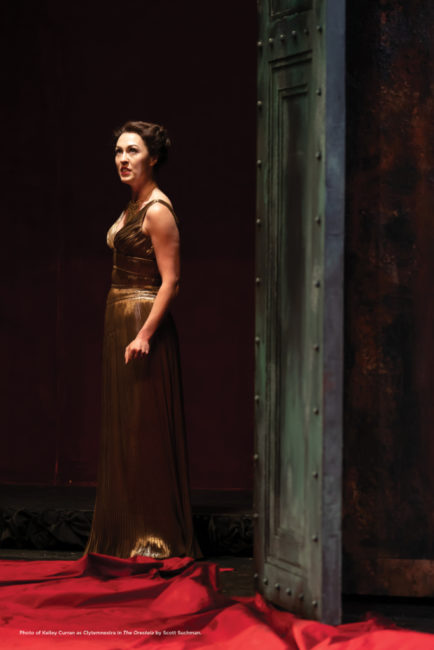 Delivering a powerful and mercurial performance as Clytemnestra, Kelley Curran is magnificent in what is arguably the lead role of this production. There is a severe gravity that pulls Curran to the ground of the show's dramatic essence. Completely convinced of her character's own justifications, Curran is ferocious when attacking her dialogue, even when she does it with subdued volume and quieted emotions. The jaw-dropping reveal at the end of Act I is a powerhouse throw-down moment that Curran owns sublimely. Best capturing the notion that time and memory are but illusions and everything is happening whilst simultaneously already having happened, Curran's performance is stellar and second to none in this production.
What is justice? Who deserves justice? This powerful examination of some of humanity's most basic conundrums will stir your soul alive. The Oresteia is one of the singular best instances of ancient Greek drama brought flawlessly and effortless into a contemporary context without sacrificing the nature of its design.
Running Time: 2 hours and 20 minutes with one intermission
The Oresteia plays through June 2, 2019 at Shakespeare Theatre Company in the Sidney Harman Hall— 610 F Street NW in the Judiciary Square—China Town neighborhood of Washington DC. For tickets call the box office at (20) 547-1122 or purchase them online.