I'd do anything— for a good show— anything! And despite all the connotations the come alongside Oliver! (that it's dated, that it's a child's musical, that it's a bit rubbish in music and book, etc.) Kensington Arts Theatre is producing what is arguably their best show of the 2018-2019 season. Practically perfect, with a few minor exceptions, this well-heeled production of Lionel Bart's musical adaptation of Charles Dickens' Oliver Twist is surprisingly endearing and loaded with an extraordinarily talented cast. Directed by John Nunemaker with Musical Direction by Paul Rossen and Choreography by Nancy Scales Harry, this show has an eerie and intimate feel to it that brings the tale of impoverished orphan life to the forefront of the socially theatrical conversation.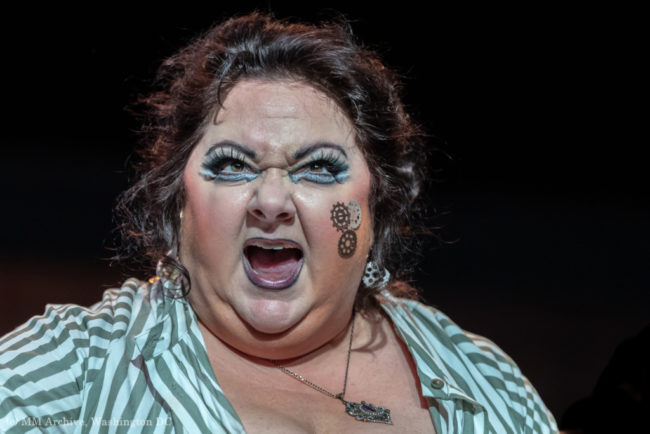 Director John Nunemaker does a fantastic job casting the show, finding individuals who are well suited vocally and in the acting department for the roles in which he's cast them. The show runs smoothly, with ensemble members pushing and pedaling the minimalist scenery about, creating fluid scene changes, which is useful as Lionel Bart's score leaves very little room for extended interstitial musical interludes. Nunemaker drags the production kicking and screaming from Dickensian London into something all-together indescribable when it comes to scenery, setting, and overall aesthetic. The visage of scenery (painted and dressed by Eva Medina, Colleen Dyer, John Nunemaker, and Lesya Yeatman) is like the bastard child of Dickensian London where the illegitimate father could be timeless steampunk-prog or futuristic dystopian grunge-modern underground.
Nunemaker takes this aforementioned notion a step further by placing shimmery metallic 'gearworks' temporary tattoos on the faces of the women in the production. (From some places in the house it's difficult to tell what they are, but when they aren't clearly being visualized as cogs and sprockets, they look a bit like the smudgy street grime one expects from various characters in Oliver! so it works either way) This is a none-too-subtle hint at the fact that women churn the production forward and are viewed as the cogs in the machine of society that keep it going. Costume Designer Justine Crimans follows Nunemaker's lead, creating half-goth, half-steampunk, half-neofuturism, and half-deranged Tim Burton nightmare threads for the company, though this is only truly reflected on the adult characters, as the children look as one might expect a ragtag bunch of orphans to look on the streets of a Dickens' stage adaptation.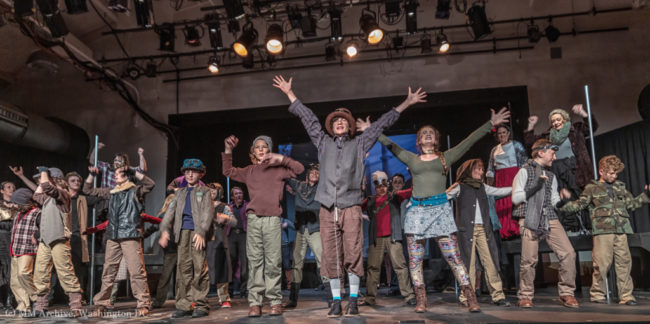 Curious and quirky aesthetic aside, it actually helps inform some of the highly talented characters and their performance choices. Mr. Sowerberry (Matthew August) lopes about a bit like a skeletal creation of a Tim Burton stop-animation film. Well, right up until he starts dancing, which is such a striking juxtaposition to his somewhat unsavory character that it is delightfully baffling to watch. August, alongside Mrs. Sowerberry (Lauren-Nicole Gabel) makes "That's Your Funeral" a visual and vocal delight, despite its dark and twisty overtones. August flits about the stage whenever songs appear to have a dance break (or instrumental pause) and creates a unique series of movements that further set his undertaking-cemetery-driven character apart from some of the other questionable characters in this tale. Noah Claypole (Emily Lawrence) is of a similar vain. With grease-darkened eyes that seem to have penetrated through Lawrence's skin and directly into the portrayal of the character, Noah Claypole— who has a brief moment with Charlotte at the Sowerberry Funeral Home— is a revolting, brutish pig, frightening enough for anyone, but especially a poor orphan boy just sold to the house of the dead.
Bumbling Mr. Bumble (Todd Hahn) is a bit lean in the face but well-paunched in the gut, filling out the bitter role of workhouse master. Hahn doesn't stand a chance at being noticed, however, with the larger than life portrayal of Widow Corney, as delivered with rogue enthusiasm by Meghan Williams Elkins. Ruffled, fuffled, and clucking a bit like a disturbed peacock, Elkins is a true and proper scream in the role. With a warbling soprano that is the epitome of how Widow Corney ought to sound, her rendition of "I Shall Scream" is hilarious whilst simultaneously coming from a place of earnestness. There is a commanding stage presence that Elkins puts forth in this role that makes her cameo supporting character most memorable, even if Widow Corney is scripted to bookend the main plot.
Musical Director Paul Rossen pulls large sounds from the cast, particularly the children's ensemble (Lucy Butera, Ella Fielding, Malcolm Friel, Sammy Friel, Sari Gabriel, Francis Hoag, George Hoag, Lily Pacuit, Zachary Singer, Amelia Stickle, Jaida Weisel.) When they march and stomp in through the house at the beginning of the show to open the theatrical experience with their rendition of "Food, Glorious Food!" you can hear their voices coming. So too is true when these youngsters, who are attentive to their characters as they run wild about the streets being sneaky little pickpockets, start in for bits of "Consider Yourself." Rossen should be commended also for the quartet harmonies that he achieves during "Who Will Buy?" This quartet features Allison Meyer as the Strawberry Seller, Lauren Jay Pacuit as the Rose Seller, Dash Samari as the Knife Grinder, and Alison Starr as the Milkmaid.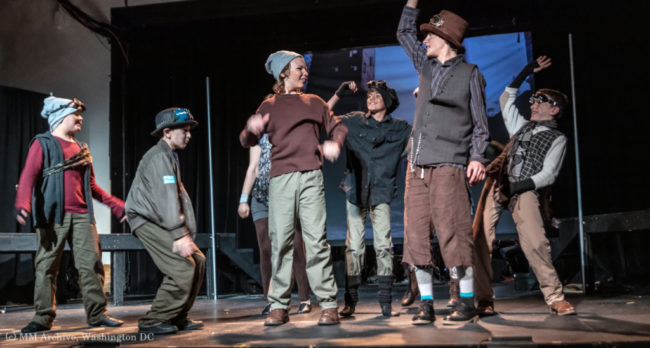 The posh and polished Mr. Brownlow (Jack Mayo) may not do much singing, but his calming and learned presence is a blessed relief and quite the change of pace for young Oliver Twist (Cody Yeatman.) The sweet and youthful Cody Yeatman is lanky and fits the physical bill of a starving, neglected orphan. With a tempered voice that eases sweetly into "Where is Love?" when singing, Yeatman presents a very lovable Oliver. With a hard, overworked English accent, Yeatman is quick on his feet, and even quicker to find his character in world after world of trouble— from the workhouse, to the funeral home, to the roustabouts of Fagin's gang! What a life for poor Oliver Twist! But Yeatman has a handy-dandy as a model for his wayward street life. The Artful Dodger (Cole Edelstein) who is spry on his feet, firm of voice and movement, and in general is a delightful addition to all of the rabble-rousing children's numbers, but especially "I'd Do Anything", which he plays opposite the stellar Nancy.
Rogue, rake, and fiend all seem too polite to be ascribed to Bill Sikes (Brian Dauglash) whilst villain doesn't seem harsh enough a term either. Dauglash isn't exactly of hulking physique or imposing stature, but makes up for it in the way he presents the character on stage. Raspy in the throat and intimidating in body language, he startles folks with his rendition of "My Name" and when the bloody violence ensues, it is most definitely cringe-worthy.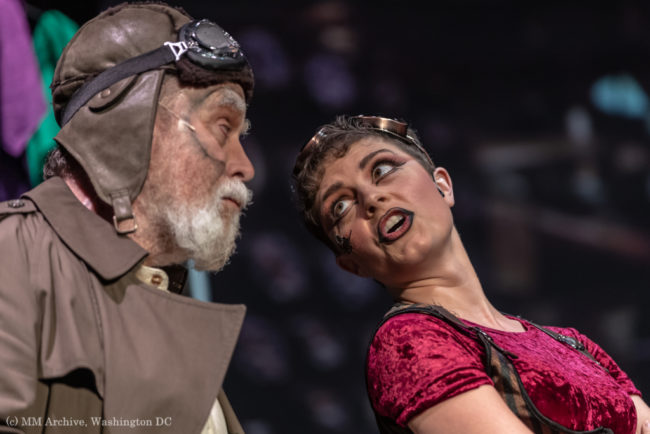 It's hands-down brawl over who steals this show more: Fagin (Brian Lyons-Burke) or Nancy (Justine Summers.) It's a dead-heat tie, to be completely honest, as the two are very different in their performance styles and playing very different characters, but one could almost imagine the entire musical being spun round to present Fagin's story and Nancy's story as the narrative tales, these two performers are that good. Ironically enough they don't encounter one another directly very much, but are woven seamlessly and with inextricable regret into the fabric of one another's lives. Fagin runs the house of wayward street urchins. Nancy tries to show a little kindness and spirited life to those street urchins. Their stories intersect around Oliver.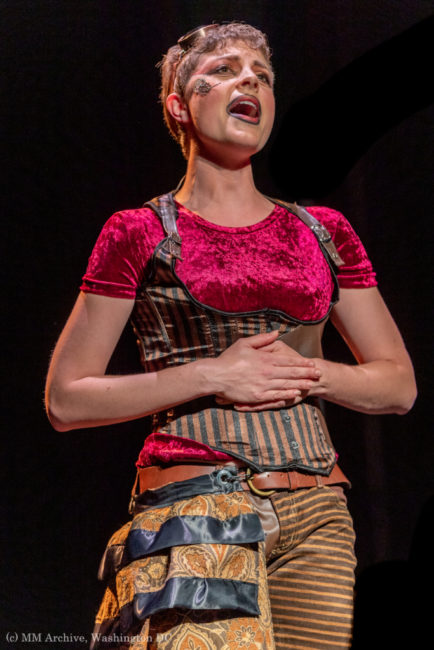 Justine Summers is a fine performer in every sense of the word. Not too posh or pretty in this role, but with pristine vocal clarity that could cut diamonds when she belts her way through "It's a Fine Life" and "Oom-Pah-Pah", Summers commands herself upon the stage as if she were the captain of a rowdy crew of performers. There is a striking emotional depth that barrels forth from her beautiful belting notes during "As Long As He Needs Me" and although audiences are sick to their stomachs to hear the sentiment of the song, Summers still makes us believe her loyalty, her devotion, and her desperation when she decries her pathos toward Bill Sikes. There is a racy fire that underlines Summers' portrayal of Nancy, whether she's teasing about with Bet (Gracie Albus) or mouthing directly off to Bill Sikes. She is a cherished and treasured glittering jewel in the crown of this cast of Oliver!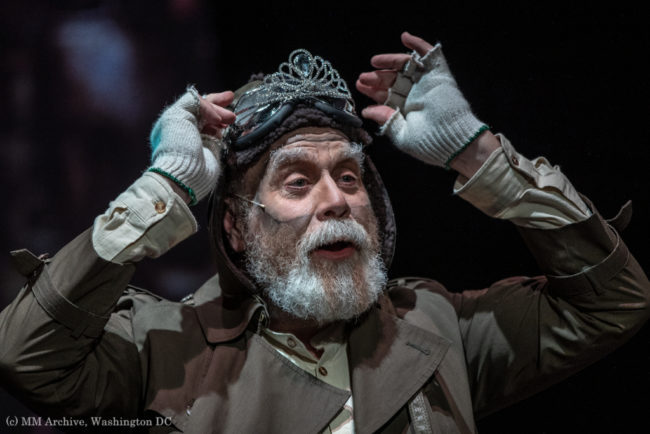 Sparkling just as brightly through all the chimney soot and street grime that paints his face, Brian Lyons-Burke might as well hang up his hat as Brian Lyons-Burke and commit to a full life of street-ridden crime and vagrancy. Painted almost too perfectly to look like an unsavory hobo bum, Lyons-Burke is the epitome of Santa Claus…if Santa Claus were evicted from the North Pole, spent years pickling in the bottle, and turned to a life of petty crime to make his way in hopes of someday regaining his magical toy castle up north. The vocal affectation, the crisp delivery, the hilarious physicality (which at times is remarkably too spry for a character of Fagin's age…) all the elements of a perfect performance are in place with Lyons-Burke. And his singing voice is delightful and humorous. Harder to say which is the more entertaining number, "You've Got to Pick a Pocket or Two" or "Reviewing the Situation." Lyons-Burke is a seasoned veteran of the stage and masterfully delivers Fagin as a show-stealing triumph in this production.
For the first time in perhaps ever, audiences will find themselves saying, "Please, sir, can I have some— more?" when it comes to this production of Oliver! at Kensington Arts Theatre.
Running Time: 2 hours and 30 minutes with one intermission
Oliver! plays through May 26, 2019 at Kensington Arts Theatre located in the Kensington Town Hall— 3710 Mitchell Street in Kensington, MD. For tickets call the box office at (206) 888-6642 or purchase them online.