The World Goes 'Round, currently being performed at Salem Players in Catonsville, is a musical revue showcasing the more well-known and favorite songs of composer John Kander and lyricist Fred Ebb; composers of shows such as Chicago, Cabaret, Funny Lady, Zorba, and many others. It would be surprising for any person to be unfamiliar, or not fond of, at least some the music to be heard in this show. Kander and Ebb wrote not only stage musicals, but also the scores for several films, such as Martin Scorsese's New York, New York; and it's probably safe to say everyone knows the title song from that one. Musical revues are a different breed of stage musical. There is typically no through-line or plot that links the songs, performers, or characters. Some musical revues attempt to create a minor plot or link through the songs and characters (such as Jason Robert Brown's Songs for a New World), but this particular revue is about as straightforward as you can get. There is no story, plot, or link through the characters; each number is self-contained, presenting its own unique charm and atmosphere.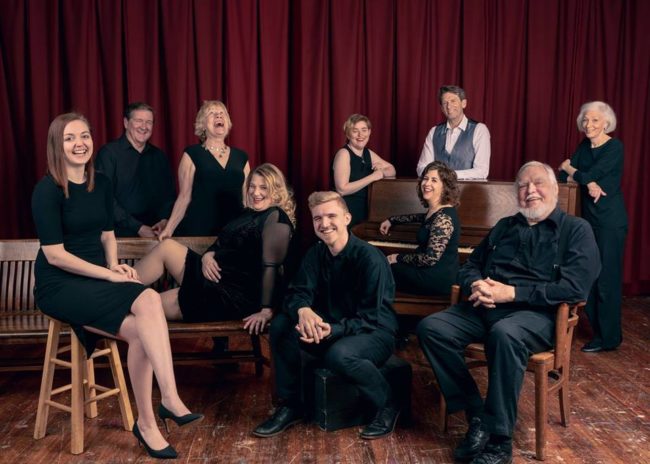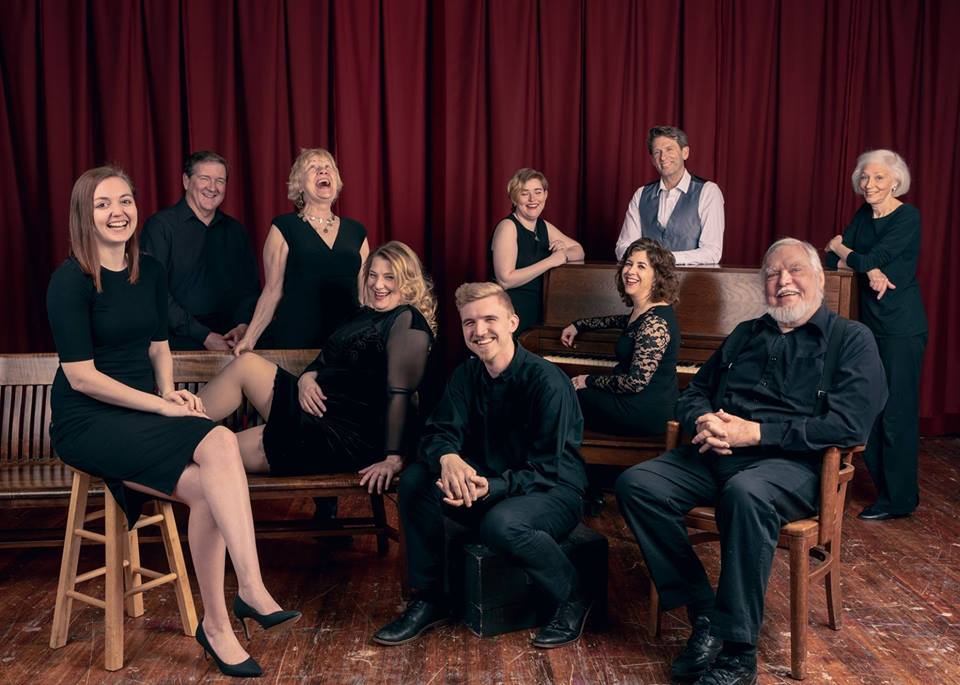 Director Tim Van Sant should be commended for putting together this 10-person cast to capture these memorable Kander and Ebb tunes. Because this revue contains no particular story, presentation, pacing, and staging are keys to success. Van Sant's presentation is simple, straightforward, and spot-on. He never tries to over complicate the material or create something from nothing where there should be nothing. Each number is presented successfully in its own light, and the songs flow with very minimal set movement against the black curtain-draped stage, lending an inviting black-box/night lounge setting. The only set pieces on stage at any given point are stools for certain performers to utilize, and the staging almost always sets up the next piece, which greatly boosts the pacing and seamlessness of the presentation. The performers are all dressed in black semi-formal attire, donning small costume pieces such as hats, glasses, or even aprons as needed. The cast selections for each number are perfect for the numbers, and while there are definitely certain cast members who get more stage time than others (the cast is split between "Principal" and "Featured" roles), every single cast member has their opportunity to shine. Kudos to Tim Van Sant for a job well done!
Choreographer Adrienne Kraus Latanishen (and Assistant Choreographer Maxine Stitzer, who is also in the "Featured" cast) should be heavily congratulated on their successes. The choreography was crafted and utilized exceedingly well to the varying dance talents of the cast, and was always effective. There is never an instance of some cast members not being able to keep up, no overcomplicated or distracting combinations, and the style of movement always communicated the mood and feel of the number. The choreography in All That Jazz and Money, Money were particularly memorable among the larger group numbers, as well as the more hectic clustering in Coffee in a Cardboard Cup. Soloists were always comfortable and successful in their movements, their movement always lending to the staging and never detracting.
Music Director Sterling Gray does some heavy lifting here, and his efforts pay off in every regard. He manages to craft harmonies that rarely waver in group numbers, and bring the best out of the soloists' delivery on top of playing keys in the pit. Speaking of which, the transition of the pit location to be visible and heard more clearly in the rear of the stage was a fantastic decision. The pit in Salem Players musicals is typically located to the side of the stage, which tends to limit audibility for the audience and cast. This was a very welcome change, and worked especially well for a revue. The pit consists of only three members: Sterling on keys, Dave Booth on reeds, and Keith Amersbach on percussion. They never overpower the performers, are always heard, and never miss a beat or note. Gray should be proud of the work he has put into this production.
Considering the show is a musical revue and not a full stage musical, the most important piece is the performance. Aside from showcasing the songs, the performers need to deliver the material and showcase their own talents in order to make this a great experience. They do not fail to deliver on any level, even though there are very different levels of experience and talent in the cast. It's refreshing to see a varied cast support each other and their performances; oftentimes in community theatre, the differences tend to be jarring, but that never happens here in this show. The cast always appears to be having a great time, and they exude a sense of teamwork and collaboration.
Starting with the "Principal" cast, Jennifer Viets glows in her songs and delivery. She has a rich, masterful command of her voice, and you get a chance to see her navigate from operatic soprano to power-belt to sultry-sounding alto over a nearly (or maybe more) three-octave range in the music she sings. Viets teaches voice locally, and is a seasoned performer. She is always in the moment, and emotionally delivers the message of each song with her heartfelt expressions. Her best moments are later in the show with the duet "How Lucky Can You Get", "A Quiet Thing", and"Isn't This Better." She is an absolute gem in this show.
Darren McDonnell has been performing for a long time around the Baltimore area, and is a seasoned performer through-and-through. He has an almost delicate, lounge-singer tone, but knows when to kick up the belt and power. He gets to show off his upper range in songs like "Kiss of the Spider Woman" and "We Can Make It", and always lends a handsome tenor to any songs he is involved in. His duet with Jennifer Viets at the end of the first act, "How Lucky Can You Get", is simply beautiful. He knows how to sell a song and pull your attention the right way, whether or not he's front and center or merely popping in here and there. His movement and delivery are always spot on, and always fun to watch.
Tricia Morgan is a powerhouse belter, and her playful, contagious energy spills over and into the audience any time she is on stage. She lends a heaping dose of comedic timing and comic relief to the production as a whole, especially when in her duets with Jane Nitsch: "Class" from Chicago, and "The Grass is Always Greener"from Woman of the Year. She shines brightest in her solo of "All That Jazz" from Chicago, with her power-belting and sultry Fosse poses seriously on point.
Jane Nitsch lends a warm smile, soft tone, and gentle touch to her songs. Her rendition of "Colored Lights" toward the beginning of the show pull the audience into her reminiscing. She also succeeds in tickling some funny bones with Tricia Morgan in their duets. Chloe Scully brings a young, pleasant, folky voice to her songs, and her solos of "Arthur In the Afternoon" and "Only Love". Both are adorable to watch. She blends well with the other performers in all of the group numbers.
Among the "Featured" cast, some get a little more stage time than others, but everyone gets their moment. As a married young couple, Micah Krey and Sarah Garret Krey give some very strong showings in their solo numbers, as well as any song they are a part of. Micah has a lovely vibrato and tone to his tenor, and he gets to utilize his voice in "Sometimes a Day Goes By"and the sugary-sweet "Sara Lee" (you'll probably want some pie after that one). The audience does not get to see Sarah until the second act, and luckily, it's first in an ADORABLE duet called "Marry Me" with her husband Micah. It should generate significant amounts of "AWWW" from the audience. She also gives a nice rendition of "Maybe This Time" from Cabaret later on. This is not an easy song to tackle, but she does a commendable job of bringing it to life. It's perhaps a little strange that these two are not counted among the "Principal" cast, because they are both very memorable in this production.
David Fries only gets only one number in the show, and gives a startlingly realistic rendition of "Mr. Cellophane" from Chicago. His delivery truly comes across like the character Amos, who sings this number in the originating production. Paul Bell's booming bass is always a welcome addition to any Salem production, and he does a nice job of rounding out the bottom of the score. Maxine Stitzer, who also lends her talent to being Assistant Choreographer, has fun and stands out in the few group numbers in which she makes an appearance.
Overall, this is a standout production for Salem Players, a fun night, and should make you want to go listen to more Kander and Ebb when you get home!
Running Time: Approximately 1 hour and 45 minutes with one intermission
The World Goes Round plays through March 31, 2019 The Salem Players— Salem Evangelical Lutheran Church at 905 Frederick Road in Catonsville, MD. For tickets call (410) 747-0720 or purchase them online.
Please note 7:30pm start time for Friday & Saturday performances