Into the air as breath into the wind…a Bard quote, yes, but the truest sanguine nature of theatre; it is ephemeral. And if it is bad, then we breathe its essence into the wind with breath and it is gone from us, perchance as if it never existed. But what if it be good? What if it be superbly refocused? Is it still not ephemeral? Perhaps then we breathe more slowly, savoring the sounds, the echoes the silences, and feeling it as it dissipates into the wind, encompassing us as it blows by. The latter is the experience to be expected, and muchly delivered, with We Happy Few's Macbeth. In a political hotspot, the bloody, tyrannical tragedy is akin to a bad penny in nation's capital, it just keeps turning up on stage after stage. But We Happy Few is doing something extraordinary with their version; they are refocusing it. Adapted and Directed by Hannah Todd, William Shakespeare's Macbeth spirits its way through the Capitol Hill Arts Workshop in just under 90 minutes but you feel as if you've been engulfed in the full horror of the Scottish tragedy just the same.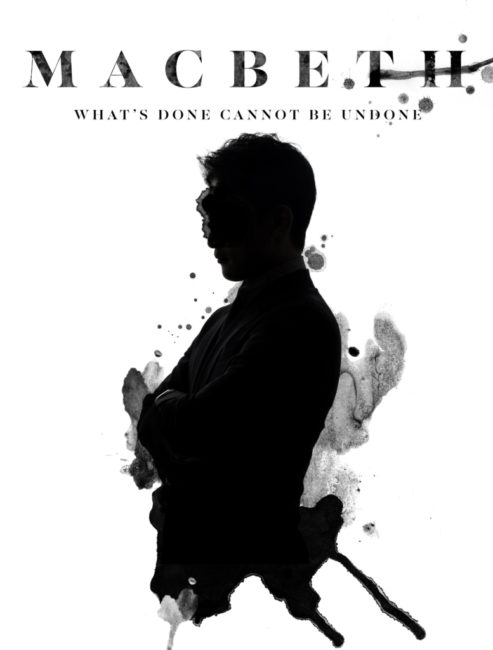 With dozens of companies throughout the DMV producing Shakespeare practically around the clock, everyone thinks they're reinventing the wheel when it comes to their production of the Bard. But Hannah Todd and We Happy Few chooses a different path, and it creates a unique and fascinating experience unlike any previously encountered in the D.C. or cities surrounding. With a cast of five, and a focal lens of sound, Todd and the company delivers Macbeth framed through the notion of voices. To be clear, echoes and sound-play have of course been large elements of various productions throughout Macbeth's production history, but never quite like this and certainly not with the same intimate impact that is delivered in the confined black box space at CHAW.
Sound Designer Ethan Balis is brought to the forefront of the production team with Todd's voice on voice. Echo recordings, which serve as literal echo chambers and double up as haunting special effects, often fill the enclosed play space, which features a staging area as well as performers threaded throughout the audience at various points of the production. Balis' use of sound and silence is unbalanced, but intentionally so. The dynamic created by where he chooses to insert sound and where he chooses to absent it draws specific attentions to nuanced moments in Shakespeare's text that are so careworn that they're often o'er-swept in favor of gory action and ghastly plot advancement. The constant stream of chittering whispers, the peculiar strain of instrumental music that burbles beneath Macbeth's first monologue— sliding from pleasant to unsettling the way a dream dribbles into a nightmare— and the stark silences peppered throughout the piece culminate into an odd sort of ecstasy that engage the audience in the aural essence of the drama. Balis entreats the audience to an oft unexplored element of production and this greatly enhances Hannah Todd's overall vision for the show.
Lighting and Costumes (Jason Aufdem-Brinke and Moyenda Kulameka) are intentionally left understated with just an edge of modernity to them. Intimacy Director Emily Sucher and Fight Director Casey Kaleba craft heightened experiences in their respective mediums throughout the abbreviated performance; death scenes, romantic scenes, and intense battle scenes— though brief due to the show's truncated nature— feel fully lived in this production because of the raw reality that Sucher and Kaleba imbue into the actors.
Director Hannah Todd uses a cast of just five, wherein Raven Bonniwell and Danny Cackley play Lady Macbeth and Macbeth, respectively, and Desirée Chappelle, Dylan J. Fleming, and Stefany Pesta play literally everyone else. Without elaborate costumes or prolonged entrances and exits one worries that confusion might ensue, but Todd guides the remaining three players through smooth transitions and there is never a questionable moment in the production in regards to who is who. The one questionable element of Todd's approach to the piece is her use of Stefany Pesta as the Porter in an abridged attempt to provide comic relief amid the darkness of the play. To clarify, the strange and ill-fitting decision is not Pesta's performance as the Porter— this is actually quite amusing— but rather the flippant and fourth-wall annihilating method through which the role is executed. Pesta's Porter starts dropping out of Shakespearean text into modern, audience-interactive drabbles. Despite the humor that results, this series of moments feels so far outside of what's happening in the rest of Todd's well-constructed vision that it is just baffling. Pesta's Porter belongs in another production of Macbeth, and sits out of joint with all else happening in this one.
Despite the Porter clashing into this play awkwardly, Pesta's performance as the other characters— in particular as 'Dufflet' (all the pretty chickens rolled into one)— are spot on with the overall aesthetic and intention of the production. Desirée Chappelle as Banquo delivers one of the most harrowing performances in a scene where she says nothing at all. And no, it isn't the "risen as a ghost Banquo" moment. (SPOILERS: If you don't know by now that nearly everyone in Macbeth dies…) But shortly after the heinous crime upon Duncan is discovered, Chappelle has this all-knowing and all-consuming series of glances and looks that she exchanged with Macbeth as he decries the supposed series of events. These looks and glances create a superior knowledge in the character of Banquo, driving the character's motives and actions that much harder. Perhaps it's the focus on sound or lack thereof that makes this moment possible, or the intimacy of the venue, or Todd's direction and Chappelle's execution, but whatever it is, this incarnation of an emotionally informed and 'all-knowing' Banquo, completely changes the dynamic of this character for the remainder of the plot in a most impressive fashion.
Doubling Dylan J. Fleming as both Duncan and Macduff is ironically symbolic. Fleming does a fine job tackling both characters, carrying a shared spirit between them. Fleming's Duncan is buoyant and pleased with Macbeth while his Macbeth carries that same exuberance, only transformed into rage and loathing. It is fascinating to watch the energy shift and mutate inside of Fleming as he changes from Duncan to Macduff. The explosive emotional lashing he delivers at the news of his castle and kin is a fine example of "feeling it like a man."
Raven Bonniwell's Lady Macbeth is strikingly subdued. There is a silence that permeates her character in a fashion that should be off-putting. The text seems to support a rowdy, furious, enraged character desperate to unsex herself, and yet Bonniwell finds a way to carry that text in a way that belays that rage and somehow buries it beneath the surface. When it does break forth, Bonniwell once again surprises the audience, the harrowing final moments of her character are brutal in their delivery and defy all expectations of Lady Macbeth. Bonniwell's intimate chemistry with Danny Cackley (playing the titular role) is sublime. There is a neediness and a fervent passion that feels authentically motivated by some attraction to her husband rather than a bloodlust for power, despite the textual implications.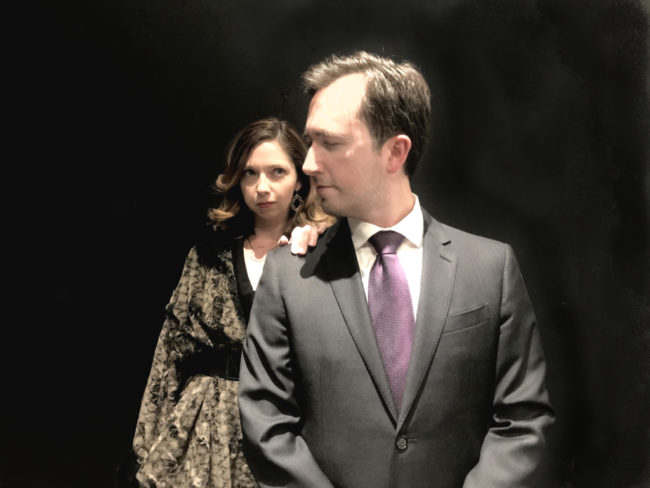 Cackley's Macbeth is at first underwhelming, but it quickly realized that this plays into the notion of voices, noise, echoes, and silence. Hitting subsequent peaks and valleys of panic and elation, Cackley simultaneously fields the emotional traumas of Macbeth while forging his own unique path in the role. Though most may find the initial moment where Macbeth meets Macduff in the show's finale enraging— they calmly pause to have a shot of whiskey while slow-coding their way into the Bard's text— Cackley is so richly engaged in his character's essence and overall existence, that it is easy to hang upon his every word and forget the fury incensed by such a demonstration before the battle gets underway.
Out; out brief candle, for this show is but a walking shadow. Miss it not lest in your soul dwell regret for failing to experience something truly unique and unusual, truly bizarre and beautiful. Macbeth will out, unlike that damn spot, so don't miss the remaining performances that We Happy Few have to offer in this unruly month of March.
Running Time: Approximately 90 minutes with no intermission
Macbeth plays through March 30, 2019 with We Happy Few in residence at the Capitol Hill Arts Workshop— 545 7th Street SE in Washington, DC. Tickets are available at the door or in advance online.