You'll shoot your— wait. No. That's later. Before you shoot your eye out with your Official Red Ryder Carbine-Action Two-Hundred-Shot Range Model Air Rifle with a compass in the stock and this thing that tells time, have your turkey gobbled up by the Bumpuses hellhound dogs, and do the leg-lamp kick-line for your Major Award, settle into 1968 at the Harper's Hardware Store annual Christmas Party! And guess what? There's a wintery surprise— because this year? The holiday entertainment? Why it's the Marvelous Wonderettes! Only now they're the Winter Wonderettes and they're here to ring your bells, deck your halls, and wish you the merriest Christmas you can have. (Before you return to Tidewater Players on an alternate night to see the area premiere of the musical version of A Christmas Story.) Directed and Choreographed by Dickie Mahoney with Musical Direction by Stephanie Carlock Cvach, this dainty and delightful cup of Christmas cheer will overflowth for just under two hours in true Wonderette style. You'll have a merry, merry Christmas all the way!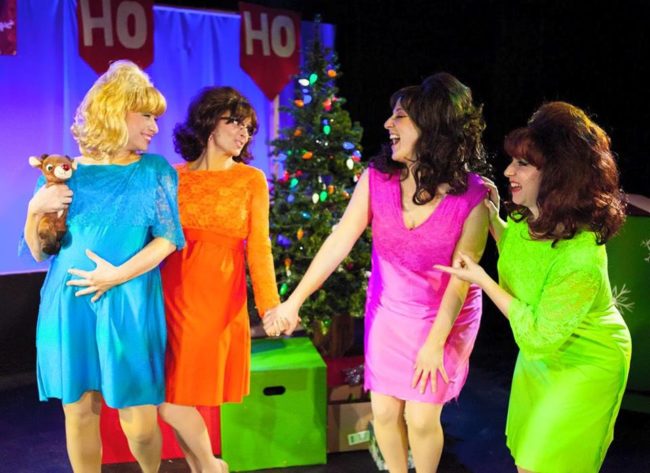 If you're ready for a campy Christmas classic that's conveniently underrated, the Tidewater Players have it all wrapped up and ready to open just beneath the Christmas tree with this one. 1968 got drunk on holiday punch and spewed festive festooning all over the stage, by way of Director Dickie Mahoney and Scenic Artist Mark Briner. There's some exaggerated glee all over that set that just sparkles with that infamous holiday 'hoorayness' that one can't help but feel at Christmas time. Mahoney, who is all but the one-man production team (save for the artistry assist from Briner and the Lighting Design of Thomas Mahoney), calls upon ghosts of productions past to quickly remind audiences that they've seen these Marvelous Wonderettes before. (Well, two of the actors are reprising their roles, but all four characters are recurring!) Mahoney puts a little sprinkle of sparkle into the costumes, which amplifies the kitschy nature of the production, delivering saccharine sweetness softer than snowflakes for this spirited time of the year.
The choreography, again by Mahoney, is simple but neat. A few era-appropriate glide and sweeps, a few steps harkening back to the nostalgia of the Wonderettes high school days, and four talented performers singing to those steps, what more could one need for a successful holiday production? We should mention the snowflake gobos and blinking light effect, complements of Thomas Gardner's lighting design, which really amp up the holiday feel of the performance. Musically sound, the girls blend those tricky harmonies smoothly under the seasoned guidance of Musical Director Stephanie Carlock Cvach to create pristine Christmas renditions of all your favorite carols, many of which have some "new and improved" Wonderette lyrics!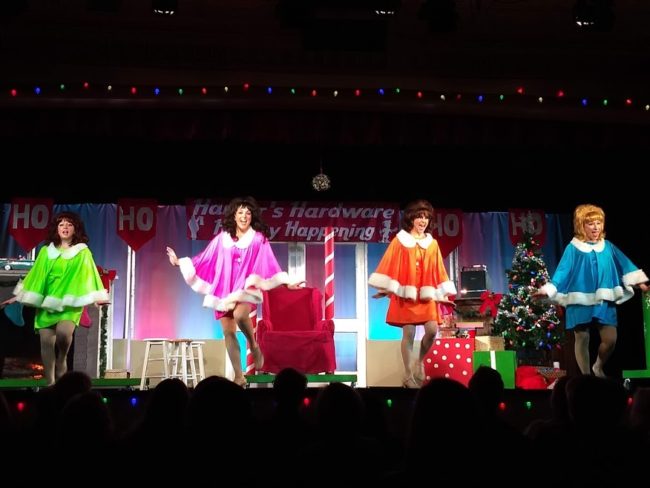 Carly J. Amato, Natalie Knox, Emily Machovec, and Stephanie Mahoney— playing Suzy, Cindy Lou, Betty Jean, and Missy, respectively— are the show's titular character. With their signature Wonderette move in place (new and improved for the 'winter' edition) these four fabulous females bring great talent, personality, and vocal quality to the performance. Each one has their own unique perks and quirks about their character in addition to having a signature color! Director Dickie Mahoney goes so far as to not only costume them in their signature color— Suzy in blue, Cindy Lou in pink, Betty Jean in green, and Missy in orange— but to match all of their accessories, like their fireplace stockings and their mini ukuleles, to their colors! This helps give each of them a leg-up with defining their characters within the crazy quirks of their various behaviors.
Carly J. Amato as little Suzy Simpson Stevens is just plum perfect, dolled up with precision late 60's make-up and a killer teased wig. Her peppy personality and joyous simplicity is exactly like a child on Christmas morning. Obsessed with hiding the elf (Santa help the audience!) and her adoring husband up in the lighting booth, Amato's character is too cute for words. When she taps her toes and sings along to "Suzy Snowflake" it's as if the song were originally written specifically for her. All of her snow-throwing shenanigans and her antics during "Donde Esta Santa Claus?" is again what makes her just too precious for words.
Emily Machovec delivers a mean green Betty Jean Reynolds and really gets to the heart of the spirited character, especially when singing her little bits of "What Are You Doing New Year's Eve?" But it's her rendition of "Christmas Will Be Just Another Lonely Day", admittedly a lesser known or recognized Christmas classic, that really strikes home for anyone who has ever experienced a blue and lonely Christmas time. With real pluck and panache, much like Amato, Machovec holds her own against the original two Wonderettes who are returning to reprise their roles in this Christmas pageant of musical theatre.
Natalie Knox is definitely making Santa's list…though who's to say what side her Cindy Lou Huffington will be landing on? Knox shakes her character's jingle bells for all she's worth and has a field day when she sings "We Want to See Santa do the Mambo." But much like Machovec, she finds a somber and sincere side to the character's severity, delivering "All Those Christmas Clichés" with this wistful yearning that just brings a tear to the eye.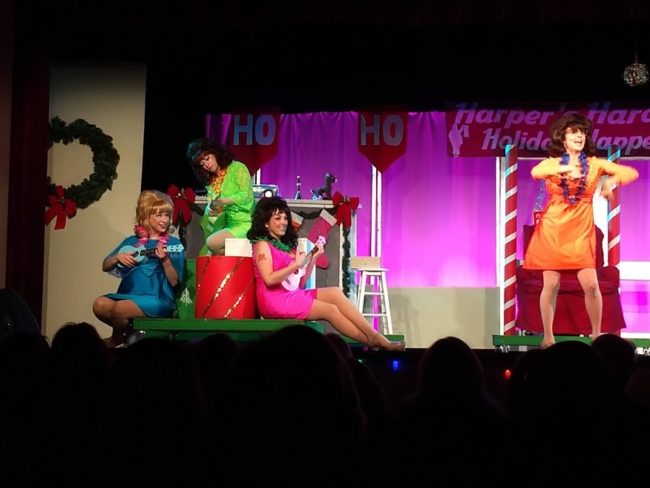 Stephanie Mahoney is just a little scene-stealing singer who is deeply channeling her inner 60's spazz right out front into Missy Miller Lee. Yes, now Missy is married to Mr. Lee…from the original Marvelous Wonderettes (watch out, men of the audience!) Her facial expressions are second to none, her outbursts are hysterical, and her overall mannerisms as Missy are just too much in all the best ways. And her singing is on point. Especially when she goes for the (not credited in the program) "This Christmas." And her "Christmas Around the World" montage, which features each of the girls singing something wild, is just too much. Mahoney naturally possesses the style and patois and overall delivery of 1968, even when she sings. The unofficial group leader of these Winter Wonderettes, it's no wonder they all gel so well with Mahoney at their helm.
So while you don't want to skip the Official Red Ryder Carbine-Action Two-Hundred-Shot Range Model Air Rifle with a compass in the stock and this thing that tells time (and trust me, it's coming) BEFORE you shoot your eye out, come and see Winter Wonderettes. It's in rep with A Christmas Story this holiday season at Tidewater Players, the theatre in Havre de Grace.
Running Time: 1 hour and 45 minutes with one intermission
Winter Wonderettes plays in rotating repertory with A Christmas Story through November 25, 2018 with Tidewater Players at The Historic Havre de Grace Opera House— 121 N. Union Street in historic downtown Havre de Grace, MD. For tickets call the box office at 667-225-8433 or purchase them online.