Have you heard? There's a rumor that St. Petersburg— is coming straight to Washington D.C.! No longer far away or long ago, glowing brighter than an ember, it's here to see, a breathtaking show, one you will always remember… Anastasia— a wintery wondrous fairytale arriving in time for the Thanksgiving season now on the Eisenhower stage of The John F. Kennedy Center for the Performing Arts. Commissioned by Dmitry Bogachev, with Book by Terrence McNally and Music & Lyrics by Lynn Ahrens and Stephen Flaherty, inspired by the 20th Century Fox motion picture, this nostalgic, heartwarming tale of a young girl called Anya brings just the right spirit into the heart of the audience just in time for the holiday season. Directed by Darko Tresnjak with Choreography by Peggy Hickey, Anastasia is a wondrous marvel of a musical tale that captures the hearts of young audiences and audiences young at heart in its whirligig of mystery, music, and magic.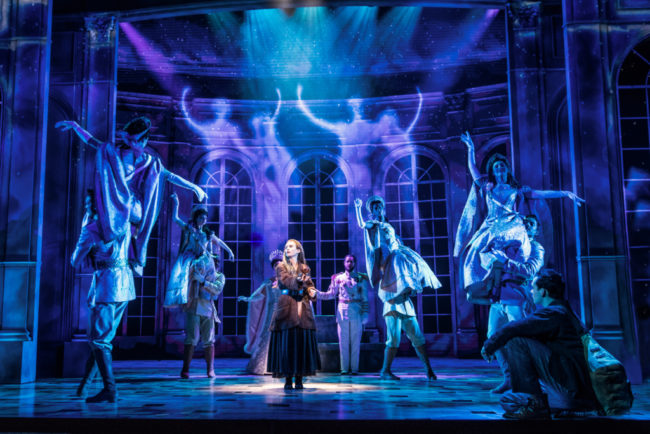 Scenically stunning and artistically accomplished, the set for Anastasia is a masterwork from the talented brains of Scenic Designer Alexander Dodge and Projection Designer Aaron Rhyne. Smooth and clear as ice are the projections that Rhyne lays onto Dodge's set, creating wonders of Russia and Paris upon which the eye delights. This series of magical scenic enchantments are augmented by the stellar illumination tricks of Lighting Designer Donald Holder, who creates mesmerizing instances amid the scenery, particularly when dancing memories come into play. A more dazzling series of theatrical illusions have not graced a touring production in quite some time; the enchanting spectacle alone of this atmospheric amazement is well worth the price of admission.
Furthering the spellbinding beauty of the production is the work of Costume Designer Linda Cho and Hair/Wig Designer Charles G. LaPointe. While there are levels of grandeur splayed liberally throughout the production, Cho and LaPointe's finest work is witnessed in the grand ball scene with Tsar Nicholas II (Michael McCorry Rose), Tsarina Alexandra (Lucy Horton) and those dressed for the ball. The grandiose outfits in blinding, glistening white are beyond breathtaking; they embody sheer stage magic beyond compare. For as brilliant and magnificent as the clothing of royalty are in this production, Cho does an equally fine job of distressing those of less fortunate economic circumstances, creating a notable difference between the classes.
The story is truly enchanting; anyone who has seen the movie will love the way Terrence McNally has created a proper 'baddie' for the narrative, rather than relying on the nonsensical Rasputin raised from the dead. McNally's adherence to history…following the Russian revolution…adds a zesty new flavor to the story of Anastasia, and the creation of Gleb, an enforcer of the new ways, is brilliant in its own right. Ahrens and Flaherty work their musical magic by improving upon their lyrical masterpieces from the film. Iconic and infamous numbers like "A Rumor in St. Petersburg" and "Once Upon a December" and "Journey to the Past" are vibrant and lively, whilst newer musical additions like "Land of Yesterday" add gusto and flavor to the vivacity of the show's more historical nature.
Vlad (Edward Staudenmayer) is no spring chicken and far too old to be playing at such conning tricks, but paired up with the spry and slick Dmitry (Stephen Brower) he's fit to be tied when it comes to getting out of the slums of the Russian streets. With humor and a well pronounced Russian accent, Staudenmayer takes the character-man figure to believable depths of humanity whilst maintaining the edgy comic humors penned naturally into Vlad's dialogue. Engaging and entertaining during his bits of "Learn to Do It" and "Traveling Sequence", Staudenmayer showcases great vocal prowess in addition to understanding the nuances of a character man. These are best showcased in his flirtations with Countess Lily (Tari Kelly) during "The Countess and the Common Man." Kelly, who in her own right is a force to be reckoned with, finds ripe humors to exploit in her character, earning barrels and buckets of laughs from the audience. Her big leading number, "Land of Yesterday" is a blazing display of decadence and vocal talent all wrapped up with some of the show's finest dance routines, crafted carefully by Choreographer Peggy Hickey.
Dmitry (Stephen Bower) is not exactly as the original animated film crafted him to be, but just one listen to Bower's voice and audiences will readily forget there ever was a Dmitry before the one upon the stage. With a much richer and deeper historic connection to the Princess Anastasia, this Dmitry has a great capacity for empathy and emotion; this is a challenge that Bower tackles with rigorous aplomb. With a robust voice that is tender and yet filled with passion, duets like "My Petersburg" and "Paris Holds the Key (To Your Heart)" are bliss to the ear. The connection that Bower makes with Anya, first tenuous then genuine, is striking. Given but one true solo, Bower readily wins over the hearts of the audience with his rendition of "Everything to Win."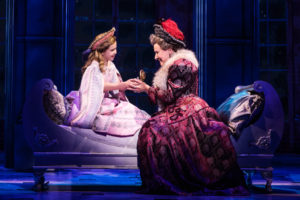 Severe and calloused by years without her family and the fizzling embers of dying hope fueling her onward, The Dowager Empress (Joy Franz) is quite an imposing figure, despite her hilariously haughty comments bandied about here and there. Initially a kind and loving grandmother figure in the opening scene with Little Anastasia (Victoria Bingham), Franz transforms her character through the greatest of tragedies, the loss of love and life, bristling with grief and casting a frosted exterior over her inner most feelings to keep them safe from such tragedy. With a resplendent voice, Franz alights in a bittersweet duet of remembrance with the young Miss Bingham at the top of the production, doing a melancholy and yet dreamy justice to "Once Upon a December." Her solo "Close the Door" in the second act is all but heartbreaking, and her segment of "Quartet at the Ballet" is deeply stirring.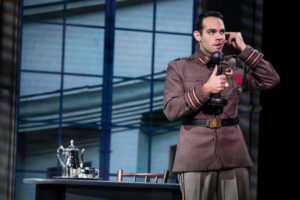 There is no Gleb (Jason Michael Evans) in the film. And thankfully, mercifully, there is no zombie-Rasputin in the musical stage production of Anastasia. Jason Michael Evans embodies the creation of this Leader of the Revolution, this comrade of the law, with rigid zeal and righteous perfection. There is a militaristic structure to his presentation of Gleb, everything from the way he moves to the way he speaks. But good God when he sings, you can't help but feel for the character, and a small part of you almost wants him to find his own victory despite it's going against the path of happiness for Anya. There is a tremulous fear that Evans strikes into his moments of song. This is most profoundly felt during "Still." There is a soul-searing urgency soaring through this number; Evans' sublime voice making it all the more impactful as the penultimate number of the first act. Evans is masterfully cast, finding a raw experience and traces of humanity in this otherwise cold soldier of the Russian revolution.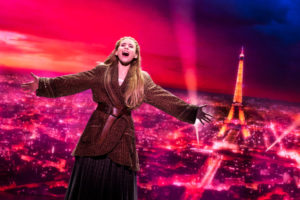 Heart doesn't fail her and courage never deserts her, Lila Coogan on her journey to play Anya. Blazing a torch bright enough to undo the sun itself during her torch song, "Journey to the Past", Coogan stuns the audience with her Act I finale number, earning her a roaring ovation into the intermission. Sprightly, eager, enthusiastic, engaging, and above all— genuine, Coogan is the perfect pick for the part. There is a childishness about her, playful and open. This burbles nicely against the more coarse and caustic nature of what life has created for Anya in her present situation. Each interaction with every other character— be it desperate yearning to reconnect with the Dowager Empress, uncertain flirting with Dmitry, or trembling fear against Gleb, is delivered with the utmost convincing conviction by Coogan in every moment. Bringing "Once Upon a December" to shocking life, it as if Coogan's voice animates the memories of ghosts past around her, each note electrifying the other performers to their entrance and movements throughout the number. Coogan is The Grand Duchess Anastasia, even if she's only Anya, and there is no denying the talent she brings to the production.
Truly magical, artfully expressed, there is much to be celebrated with this production of Anastasia. Do not miss your chance to journey to the past with Anya and the rest this Thanksgiving holiday season, as Anastasia will only be staying the month at The Kennedy Center.
Running Time: 2 hours and 35 minutes with one intermission
Anastasia plays through November 25, 2018 in The Eisenhower Theatre of The John F. Kennedy Center for the Performing Arts— 2700 F Street NW in Washington, DC. For tickets call the box office at (202) 467-4600 or purchase them online.