One button more…one button less… the death of one child is devastating. The death of two is unfathomable. After losing both of his children in their infancy, Italian composer Giuseppe Verdi gave birth to 27 children… that would outlive him to this very day: his operas. And yet one evaded him to the end. Though he tried numerous times, Verdi was never able to compose Shakespeare's King Lear, despite having created several other operas baring the Bard's titles. The InSeries at Source Theatre kicks off their 2018/2019 season with closure: bringing Verdi his Lear by way of a textual collage (by Timothy Nelson) set to Verdi's natural end, his Requiem. Directed by Steven Scott Mazzola with Musical Direction by Paul Leavitt, Viva V.E.R.D.I.— The Promised End, goes beyond opera, theatre, and concerto, exploring an amalgamated maelstrom of the three in a secluded intimate venue in the heart of the nation's capital.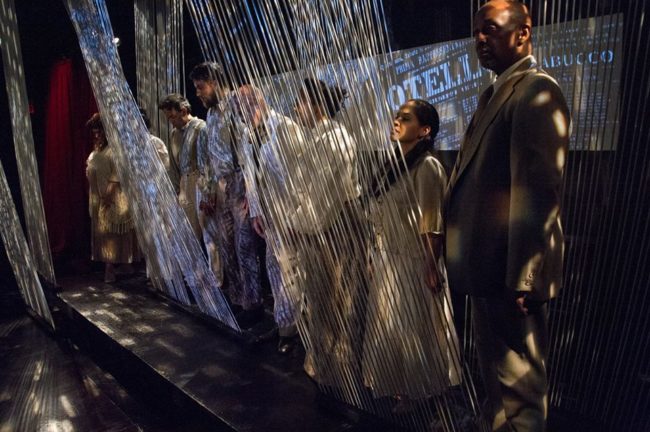 It is difficult to recall a performance where the location of one's seat can determine the type of performance you receive as a member of the audience. It should be noted that all seats within the Source Theatre provide excellent views and acoustics for Viva V.E.R.D.I.; what is meant by that statement has far more to do with the approach of staging the piece as set forth by Director Steven Scott Mazzola. The stage itself is simplistic, yet deceptive. Set Designer Jonathan Dahm Robertson has placed Musical Director and Maestro Paul Leavitt's baby grand slightly off center, with 'piano chords' draping at all angles from ceiling to floor across the back run of the stage and around the instrument itself. Lighting Designer Marianne Meadows enhances this extraordinary visual with use of various projections, lightening effects, and other shifts in illumination that coincide with transitions in the music's tempo and volume. What makes Mazzola's layout so unique on Robertson's set is the way the various components come together upon it. Thus, depending on where you sit, you may feel as if you are primarily experiencing an opera with elements of theatrical Shakespeare and concert piano in the background, or perhaps a concert recital with operatic and acting elements in the periphery, or even further still a Shakespearean tragedy with the discourse of opera and concert serving as its side-lots. This encourages experiencing the production a second time, at least, and InSeries is providing a special opportunity for patrons to do so* after their first visitation with Viva V.E.R.D.I.
Nanna Ingvarsson is the principal player in so much as she is responsible for the sole textual delivery of the production. There is a heavy argument to be made that she is Verdi, after all she arrives in his garments (by way of Costume Designer Maria Bissex) and speaks words that seem fitting for the Italian composer. But in a broader examination, one might simply label her as the narrative force, the guiding conduit, the spirit of Verdi, rather than the composer himself. All open for interpretation, but what's not up for debate is the prowess and tenacity with which Ingvarsson addresses her role in the production. Masterfully commanding, Ingvarsson holds her own against the eight powerhouse opera singers who surround her and fill the stage. Her emotional fortitude is stunning as she King Lear through the lens of Verdi.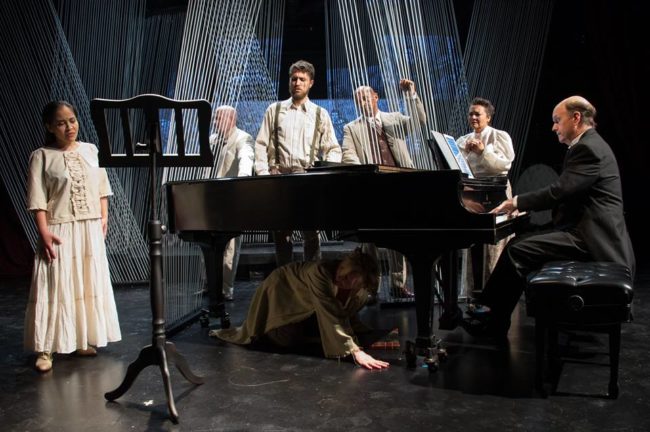 Carrying on in the manner that Ingvarsson does is no easy task, as the Requiem unfolds all around her. At times the operatic singing drowns out her words, but with perseverance she carries forth. At first this seems a nuisance or rather unfortunate, but it is made very quickly clear that the vocal imbalances are intentional. Verdi never composed the opera of King Lear. He did, however, compose Requiem, and all we have is his Requiem with the ideas of what might have been with his Lear. When the eight opera singers overpower and drown Ingvarsson's text with their tempest of sound, it is a harrowing reminder that this all just conceived fantasy; there is no Lear, not for Verdi, only his Requiem and the dreams of what could have been. At times these operatic swells of volume are so overwhelming, it is easy to get lost in the progression of the performance. They often drown the words of Verdi the way Lear himself drowns in the tempest of his own madness; the symbolism is striking and deeply moving.
Two sopranos— Natalie Conte, Teresa Ferrara— two mezzos— Anamer Castrello, Elizabeth Mondragon— two tenors— Brian Arreola, Peter Burroughs— and two basses— Bryan Jackson, John T.K. Scherch— recreate the Requiem around Verdi as Nanna Ingvarsson recreates Lear around the Requiem. It is a dizzying yet enchanting experience. Whether harmonizing or taking solos, this octet of opera singers is stupendous and a proper charm to the ear. They create moments of interaction with Ingvarsson that are quite potent, often delving deep into the emotional psyche of the Requiem and Lear at the same time. Mezza Anamer Castrello has one of these such moments, belting tersely into Ingvarsson's face as if taunting Verdi to write the tale of Lear, knowing full well he cannot. Other such moments parallel more directly with the text of Lear, likes when Bass Bryan Jackson pours forth a mournful dirge in time with a segment about 'Poor Tom.' The performance is populated with fascinating moments like these, and help keep the audience engaged in the mesmerizing whirlwind that is this triumvirate of opera, concert, and theatre.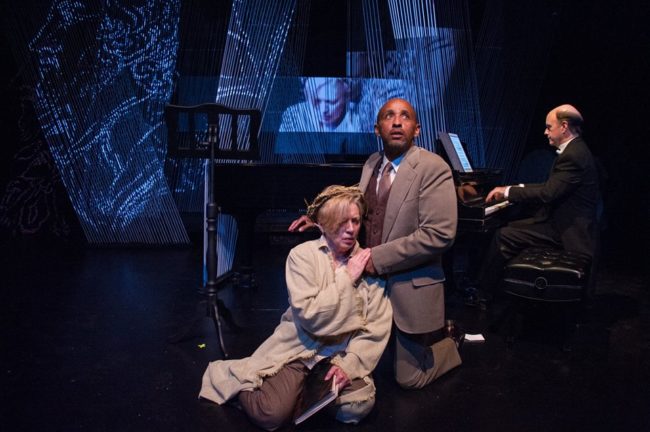 A unique experience not to be missed, Viva V.E.R.D.I.— The Promised End, blends together three unique worlds of live stage performance, giving them life and breath together to exist as one in a magnificent maelstrom of sound and sight.      
Running Time: Approximately 85 minutes with no intermission
Viva V.E.R.D.I.— The Promised End plays through September 23, 2018 with The InSeries at CulturalDC's Source Theatre— 1835 14th Street NW in Washington, DC. For tickets call the box office at (202) 204-7763 or purchase them online.  
*The InSeries is offering a special opportunity to further absorb this Verdi experience, by extending to ticketholders a "free second chance" for the run of the program. With the purchase of every ticket, The InSeries invites you to come back to a second performance of your choosing for free (providing seats are available) with the option to purchase an addition ticket (for a guest) at half-price. Call the box office for details and availability.