"How do rumors get started, they're started by the jealous people and….," no wait, that was the Timex Social Club. We're talking Neil Simon's Rumors at The Colonial Players. The Maryland General Assembly may not be in session but Director Atticus Cooper Boidy has Annapolis all a buzz. Simply put, Mr. Boidy delivers perhaps the best production you'll see in the state capitol this year. His understanding of comedic timing and how to navigate a farce is incredible. Boidy keeps his cast on point, the show moving, and his audience in stitches. His use of the entire space keeps the audience constantly engaged. At one point he had an actor crawl from the center stage area all the way off set as the story continued to develop. Everyone onstage is constantly doing something. It was like a cerebral smorgasbord for people with ADHD and I loved it! Much applause to Assistant Director Sarah Irving for keeping up with this mental madness. One thing is for sure, she received a first-rate education in how to direct a farce.
Staging a production in the round is no easy task, but Set Designer Chol Kubit and Properties Designer Constance Robinson make it look as simple as ordering a Happy Meal. Kubit's layout makes you feel as though you're are sitting in the Sneden's Landing townhouse of New York's Deputy Mayor. From the wall color to the matching doors, (the doors to the kitchen were a nice touch and broke up the repetition nicely) the place oozed savoir faire. If this theatre thing doesn't work out, look for him in Flip This House. Not to be upstaged by Mr. Kubit, Ms. Robinson displays an equally impressive eye for style. Her prop selections compliment Kubit's set pieces in both elegance and period.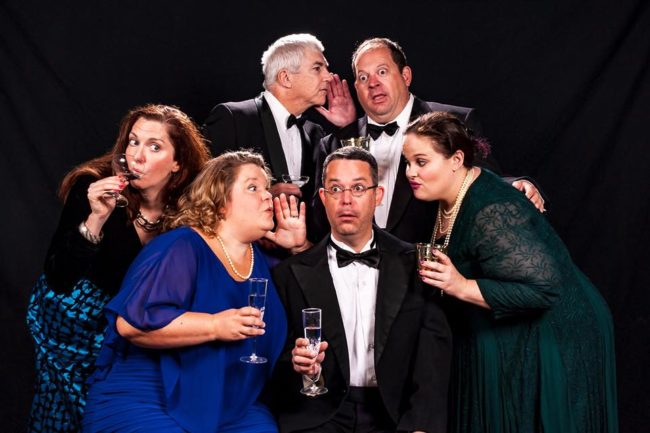 You know that fate is smiling upon you when tackle a project and half of your work is already done. That's not to say that the other half is easy, and smiles or not, Costume Designer Kirsti Dixon delivers with a bang. While half of the cast may be outfitted in tuxedos, Dixon takes the opportunity to make sure the ladies are dazzling. Her attention to character personalities is brought out in their fashion. From the smoke free, contract attorney to the lovely senator's wife, each dress was appropriate for the wearer. The police officer costumes are worth mentioning as all too often they get overlooked. Dixon's crowning jewel is the finale costume for Lenny Ganz.
If you have ever watched any comedy that involved the New York City Police Department, John Purnell (Officer Welch) will give you flashbacks. He is the stereotypical NY cop. His accent, his delivery, and even his walk cries out for a doughnut and a cup of coffee. He makes you feel that he is some place involved in a situation that he doesn't want to be in. Purnell humanizes the job. (He very much reminded me of Ed O'Neill.) On the other side of the coin is Stephanie Bernholz (Officer Pudney). Bernholz flawlessly plays a rookie cop. She comes in with her gun and badge, standing tall, and very soon finds herself distracted and drinking with the guests. Well done.
Mary Rogers (Claire Ganz), Rosalie Daelemans (Cassie Cooper), Glenn Singer (Ernie Cusack) and Kevin McConnell (Glen Cooper) are the foundation for the show. They understand and are comfortable with playing the straight man. Their strong performances are not without shining moments. Rogers delivers a character that needs to be in control and is worried about what people think. Her busted lip is only the beginning of her evening and her inability to control what's happening is hysterical.  Daelemans' portrayal of a trophy wife is well played and her moments with her crystal are a joy. Singer could not have been better cast. His pretentiousness is only outdone by his anxiety. Glenn's ability to play big and his physical response to being knocked down verbally is a gift. From kissy faces to silly stories he will keep a smile on your face. If McConnell were any drier they'd name a desert after him. His role as a politician is superb. He stays even keeled throughout his performance. During his interaction and reactions to the police, you'll want to make sure you're are wearing your Depends.
Shannon Benil (Chris Gorman) and Dann Alagna (Ken Gorman) open the show with a laugh and don't stop till the end. Watching them together is everything I imagined lawyers married to each other to be.  Both have an amazing stage presence and neither give an inch to the other. They display a chemistry that makes their marriage believable, yet they both need to be right and have the last word. Throughout the show Benil and Alagna will keep you laughing not only by their perfectly delivered lines, but also by their facial expressions and reactions to the comments of the other guests.
The entire cast works well together. They are one unit and the show would not be the same without any one of them.  However, for me, the performances of Amy Haynes (Cookie Cusack) and Brian Binney (Lenny Ganz) made my night. Ms. Haynes should be commended on her physical comedy alone. Not only was she on par with the rest of her talented cast as far as delivery and character development, but she spent a bit of time on her back, her side and her knees, and it was precious. I'm pretty sure when her back spasmed, they heard it across the Bay Bridge. As a side note: I was a little confused however with the fact that she came in with a Jersey Shore accent that transitioned to Southern Belle. Brian Binney had me in tears the entire night. From his stiff neck to his explanation of the evening, Binney is non-stop. It was like watching the Energizer Bunny on steroids. For as funny as this show is and as great a cast as this is he brings that little kick that helps make the entire evening memorable and enjoyable.

So, it's not just a rumor! This is a wonderfully hilarious show that will have you telling other people all about it. Don't miss Neil Simon's Rumors at Colonial Players through the end of the month.
Running Time: 2 hours with one intermission
Rumors plays through September 29, 2018 at The Colonial Players of Annapolis— 108 East Street in historic Annapolis, MD. For tickets call the box office at (410) 268-7373 or purchase them online.