Mendacity is all around us. Just listen to the news. The fictitious fabrications of Tennessee Williams' world know only two ways out from underneath it. Liquor is one. Death is the other. Known for works played in memory, Cat on a Hot Tin Roof makes a strike against the memory play in Tennessee Williams' book and is debuting now at Baltimore Center Stage as the harbinger of the 2018/2019 season. Directed by Judith Ivey this aching classic harkens back to a moment that somehow outsteps time, creates a world that is its own unique escape and evocatively embraces questions that were burning well before their time of ubiquitous acceptance.
Breathtaking is the immediate descriptor that comes to mind when absorbing the stunning visual beauty that is Scenic Designer Adam Koch's set. The grandiose plantation house and all its resplendent glory overwhelms the stage with its presence as well as its classical charm. Koch creates the illusion of high vaulted ceilings, a promenade that goes on for all but miles around the manor and endless hallways and rooms beyond the sightlines of the audience. Accented by Lighting Designer John Ambrosone, Koch's elaborate set seems to glow in a muddled sunset, amber and hazy, much like the bygone time of the play's setting. There is an ephemeral radiance to the set, which echoes its sentiment into the characters of Williams' work with ease.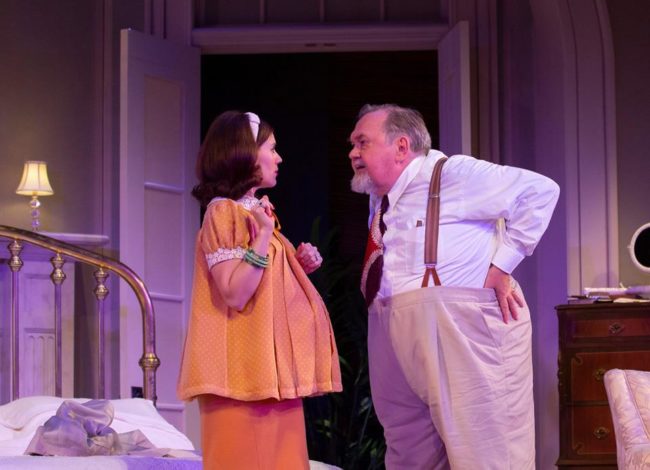 The downfall of a set so striking in its grandeur is the expectation it sets for the performances given upon the stage. Director Judith Ivey has selected a fine smattering of actors (by way of Pat McCorkle and Katja Zarolinski of McCorkle Casting Ltd.) but does Koch's set, Williams' words, and ultimate the audience's experience a disservice by not bringing on board a dialect consultant or coach. The accents in the play meander all over the south, up and down the Mississippi Delta and to points north and beyond. This happens most frequently with Maggie and Brick, two of the three characters in the show. With a reputation for prestigious theatre, such that Baltimore Center Stage possesses, more accurate and consistent accents are expected in a piece such as Cat on a Hot Tin Roof.
Ivey's direction, despite her lack of judgement in finding and utilizing a dialect coach, is fluid; the play, despite its natural length, doesn't dally or linger too long in any one moment, despite Composer Kendall Simpson's attempt to trap and sustain memory and recall. At strangely precarious intervals of certain scenes, Simpson floats eerie a-melodic strings of music under the text of the actors, attempting to hone in on the moments of critical emotional memory that the characters are experiencing. This works well in some places but feels out of place in others. Williams' plot is not a play in memory, the way The Glass Menagerie is, but rather a play of lively action which evolves from memory. Big Daddy is dying, though who knows it for certain is anyone's guess; Brick is falling deeper and deeper into the bottle for reasons unknown until the plot unfolds them. These are all active happenings which exist in the moment with memory serving as peripheral framework; Simpson's musical interspersing is uneven, though pretty at times.
Despite some of the aforementioned hiccups, with strange music and dialects running amuck, the performances are emotionally grounded and play from a place of intentional truth. While Mae (Alexis Hyatt) and Gooper (Rod Brogan) are tertiary plot cast-offs, their story becomes an integral fixation of the larger plot arc and both Hyatt and Brogan fit their roles with ease. Charlotte Booker takes on the demanding task of Big Mamma, living up to the high-hysterics and tomfoolery of such a larger than life character. Booker is a proper scream all throughout the production until its penultimate and final moments, wherein her character shifts into the inevitable darkness much like the rest. But in the livelier scenes, Booker's antics as Big Mamma are memorable, laughable, and thoroughly enjoyable.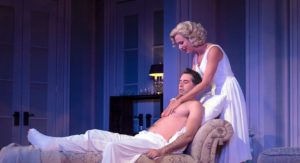 Stephanie Gibson struggles the most with maintaining her southern accent in the role of Maggie, but despite this her performance is so deeply rooted in passion and pathos, charged with such emotional fortitude that one can readily forgive her sliding vocal affectation. Gibson creates a restless soul in Maggie, even more so than Williams' has penned the character to be, almost to the point where one can see the spirited anxious cat inside of her desperate and dying to escape. There is a delicate femininity about Gibson's Maggie that juxtaposes sharply against her fiery emotional side; both of these emotional elements are played out in moments with Brick, which drives the perpetual turmoil of self-identification and acceptance ever forward in the play.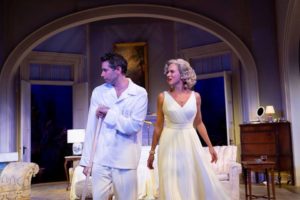 Brick (Andrew Pastides) is the epitome of melancholy lost in a fog that's half alcohol induced and half soul driven. Pastides does an extraordinary job of balancing the character's misery against the last remaining ember of the character's spirit, letting both fizzle out against one another when it comes to contradictory moments with both Maggie and Bid Daddy. There is a moment quite near the show's conclusion where Pastides finds the last vestiges of Brick's gumption and completely lets loose in a roar of emotional thunder (which rivals the impressive thunderstorm sounds crafted and honed by Sound Designer Victoria Deiorio), shaking up every moment of the character's existence up to that point.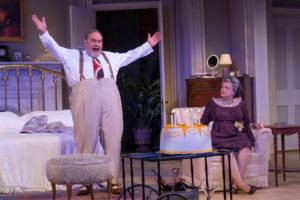 It all comes down to Big Daddy (David Schramm.) There is something undeniably impressive about the duality of the character that Schramm nails on the head right from the onset of the production. A hard-headed, larger-than-life, mouthy, obstinate, ornery individual whose hidden compassion and understanding runs deeper than the Mississippi River runs long is what is tangled up in the mess that is Big Daddy and David Schramm delivers that to perfection. The nasty barking at Gooper and his ilk, the feisty fussing with both the Maid and Big Mamma, all of that is sublimely portrayed by Schramm as is his emotional compassion and breadth of understanding when it comes to confronting Brick. Utterly riveting in his final blasting speeches and simultaneously heartbreaking, Schramm wins over the attention, respect, and awe of the characters on stage around him as well as the audience.
Cat on a Hot Tin Roof is a play of and before its time that still hold surprising relevance to today's world of acceptance, tolerance, and family ties. Don't miss a rare opportunity to experience it at Baltimore Center Stage this autumn.   
Running Time: 3 hours with one intermission
Cat on a Hot Tin Roof plays through October 14, 2018 at Baltimore Center Stage— 700 N. Calvert Street in the Mt. Vernon neighborhood of Baltimore, MD. For tickets call the box office at 410-332-0033 or purchase them online.