People have very different perspectives on experiences that they imagine they are sharing. What if you're living in the exact same moment as another individual and sparking a chemistry with them but they're experiencing something completely different? Or is it worse if you think they're experiencing something entirely different than you when in reality they are experiencing your perspective? A sparkling Broadway gem, by Tony Award-winning playwright Simon Stephens, Heisenberg is a surprisingly meaningful romantic comedy filled with poppy quirks and a disarming amount of heart and emotional depth. Directed by Joe Calarco, this strangely endearing road of unlikely chances and serendipitous happenstance is evocative in a curiously indescribable fashion that tickles and tugs at the heart.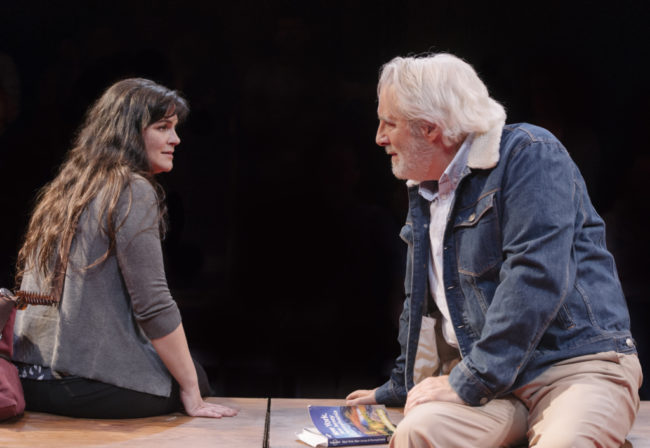 A single red rectangle, two folding tables, and a lighting grid that might mimic the twinkles of stars, and that is the setting that Director Joe Calarco lays out for Heisenberg. The tale involves 42-year-old Georgie meeting 75-year-old Alex at a London rail station and the dynamic plot blazes a path from that moment of chance. Pamela Weiner's set is functional and smart, creating a bed, train station bench, butcher shop counter, restaurant table, and more from just two individual collapsing structures that join and dissemble in a frenetic sort of dance between the actors as the scenes shift. Sound Designer Kenny Neal populates these transitions with vivacious, albeit enigmatic, interstitial music that perpetually teeters on the edge of fantasy and reality. This music, along with Calarco's carefully placed choreographic transitions (and the ephemeral yet striking beauty and severity of Lighting Designer Andrew Cissna's light plot) keep the play perpetually off-balance, in an intoxicating and intriguing fashion.
Simon Stephen's script is a momentous blur of emotion, hilarity, and deeply touching moments all threaded together from one accidental moment of peripheral chemistry, which evolved from a chance encounter. The drastic difference in characterizations that Stephen's constructs could not be played out any more clearly than it is under Calarco's direction with Michael Russotto and Rachel Zampelli in these roles. Stephen's world of love, loss, and life is vibrant and yet mysterious, not unlike a hyper realistic dream, which flutters at the precipice of waking without ever really accepting that it might only be a dream. Calarco's deft maneuvering of the show's natural pace is extraordinary, especially considering the polarizing speeds of the characters.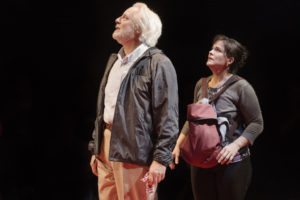 Michael Russotto, as the 75-year-old London butcher Alex Priest, and Rachel Zampelli, as the 42-year-old Georgie Burns who utterly defies description, are a serendipitous match in and of themselves. The pair experience a lively hum of chemistry that drives the ups and downs of Stephen's script with natural ease. Russotto and Zampelli willingly share this liveliness with the audience, creating a truly mesmerizing emotional voyage of two inexplicably lost souls, drifting together for reasons unbeknownst to perhaps even themselves.
Russotto's character is grounded; Alex Priest the London Butcher speaks little and barely scratches beneath the surface of his personal life, which is a remarkable relief compared to Zampelli's tightly-wound and highly strung Georgie Burns. It is dizzying just watching her flit about at a maddening speed, throwing twisters out of their path with her whirling dervish nature. Zampelli so fully embraces the forward, abrupt nature of Georgie, and races on both physically and textually at such pace that it's exhausting just to absorb. The Georgie character chatters away, often without a filter, incessantly; she's got more rabbit than Sainsbury's. Zampelli does an impeccable job of crafting this exasperative, whackadoodle character, and really draws the audience into her path and trajectory whether we want to be drawn in or not.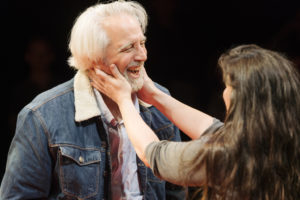 Presenting the polar opposite, Russotto's calm exterior and leveled interior make the perfect juxtaposition in this performance. Their relationship grows in strange and undefinable manners as time slips ever forward. Russotto's character maintains a steady cadence, even when faced with emotional decries buried deep from within the character's soul. The captivating nature, not only of the stark differences between the characters, but of the way they envelop one another into each other's stories is almost hypnotic, fascinating to the point of deep emotional investment. There are bittersweet bursts all throughout the evening, and a healthy heaping of comedy that is laid heavy with surprising sincerity and heart, delivered keenly and with earnest from both actors.
Heisenberg is spirited; it's spastic, abrasive, invasive, and hilarious. There is heart and soul and a feeling and funny to be had in this beautifully crafted and flawlessly executed 90 minutes of theatre.   
Running Time: 90 minutes with no intermission
Heisenberg plays through November 11, 2018 in the Ark Theatre at Signature Theatre— 4200 Campbell Avenue in Arlington, VA. For tickets call the box office at (703) 820-9771 or purchase them online.