"Attend the tale of Sweeney Todd… his skin was pale and his eye was odd… he shaved the faces of gentlemen who never thereafter were heard of again. He trod a path that few have trod, did Sweeney Todd, The Demon Barber of Fleet Street"."


The opening lines to the haunting and delightfully disturbing Sweeney Todd: The Demon Barber of Fleet Street still have the power to chill and unsettle audiences, and have been doing so since it's debut in 1979, elevating a cheap thriller of the mid-19th century into a monolith of music, dark comedy, and dramatic horror. Beth Tfiloh Community Theater, under the direction of Diane Smith, has made a commendable and earnest attempt in its performance. Smith and crew put forth a valiant effort in the execution of this masterwork, albeit with mixed results.
In a self-admitted homage to the Original Broadway production, the technical and costume designs were immediately recognizable to ardent followers of various Sweeney productions. Nicole Smith has done a tremendous job in the assembly and construction of these costumes, which look both period and pleasing to the eye. Propmasters Ashley Case and Josh Adelstein are to be commended for the flawless execution and inclusion of their props and the realism of their use. The razors in particular were masterfully used and added to the realism of this gritty and brutal tale.
Set in the Industrial revolution of London, Ms. Smith's set design is as impressive as it is practical. Elegant in its simplicity, Smith uses a rotating cube for the vast majority of her set pieces to great effect, seamlessly transitioning between scenes even as action continues within the space. The painting of both set pieces and the backdrop of the London skyline were masterfully done, and the impressive team of set painters should take great pride in the work they have accomplished. The Stage crew, many of whom were doubling as ensemble members, are to be commended for their execution and unobtrusive presence on stage as they executed transitions of large set pieces with speed and precision.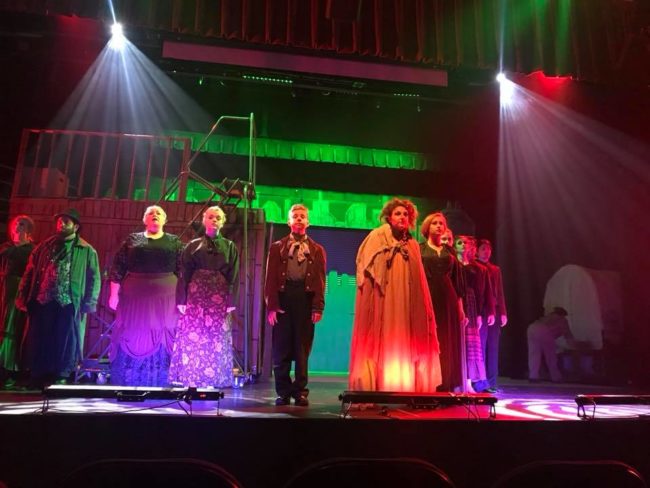 Framing this finely constructed and utilized set, Lighting Designer Tyrell Stanley beautifully aids the ambiance of this dark and creeping thriller with inspired splashes of color and excellent use of shadow. Stanley skillfully takes advantage of the ever-present fog of London that pervades the space to make use of not just the light itself, but the effect of light through smoke. Occasional moments with audience favorites Tobias and Joanna were delightfully framed by solitary rays of light in an otherwise dark set, perfectly illustrating the specks of happiness and innocence in a story full of dirt, grime, and darkness.
Musical Director R. Christopher Rose pulls triple duty as both Concertmaster, keyboard player, and teacher in Sondheim's notoriously difficult score. While largely successful in its execution, there were several notable tears in the timing, and at times the actors and ensemble were not in sync with the orchestra. The ensemble shone in the frenetic "City on fire" and "More Hot Pies", superbly executing difficult rhythmic passages and highlighting Sondheim's intentionally discordant harmonies with great effect. The orchestra itself executed well, despite the reduced nature of the instrumentation. This is a credit to Rose and the orchestra's skill that they are able to preserve Sondheim's rich and foreboding score despite lacking the full orchestra that is typically called upon. The one puzzling addition was that of the drum set, which at times seemed out place against the deeply orchestral score. In particular, the drums added a lounge/swing feel to Mrs. Lovett's song "Wait", a tone totally at odds with the overall feel of the creeping, menacing undertones of the lyrics.
Director Diane Smith makes use of the entire space in her staging of Sweeney, including the aisleways and wings of the stage to expand the scope of the show into the sprawling world it inhabits. However, the impression is left that some sections were given more attention than others. The various re-iterations of "The Ballad of Sweeney Todd", in which the ensemble recites the original poem in Greek chorus style, are visually stunning and varied in how the ensemble members are positioned and utilized, keeping the storytelling device fresh and exciting. The fight choreography, in particular between Sweeney Todd and his rival barber Adolpho Pirelli, was very impressive and organic. On the other hand, several of the individual scenes with characters seem unconsidered and unfinished, as the actors recited their lines with unclear motivations behind their movements and choices. Several scenes came across as emotionally stagnant as actors clearly lacked direction and focus in their roles. The overall cast was also plagued with pacing problems, at times rushing through their lines and at other times leaving large chunks of dead space without any clear storytelling purpose. Missed dramatic and comedic opportunities abound.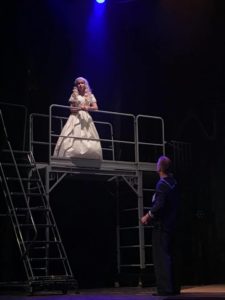 Portraying the role of Anthony, Eitan Murinson captures the young sailor's naivete expertly. While occasionally struggling with the more complex vocal lines, Murinson embodies the good-hearted and earnest nature of his role with commitment and skill. Opposite him, Ilyssa Rubin shines in the role of Johanna. Skillfully balancing an operatic yet smooth tone, Rubin steals the show with her stunning execution of "Kiss Me" as well as allowing her voice to soar in "Green Finch and Linnet Bird" with a vocal maturity surprising for one so young. Rubin also threads the needle of portraying Johanna as both a woman of agency and intelligence as well as a blushing love interest.
Yehudit Varon is a force of nature in her portrayal of the enigmatic Beggar Woman. Clearly having the time of her life while fully committing to the portrayal of a woman gone mad from hardship and trauma, Varon brings both hilarity and deep sympathy for a woman burdened by horrible knowledge and a victim of unspeakable tragedy.
Gabriel Lewin perfectly captures the cold malice as well as the sniveling sycophancy of the Beadle, a minor church official and enforcer of the will of the main antagonist, Judge Turpin. Lewin oozes contempt for nearly everyone around him apart from his master, and executes skillfully in "Ladies in their Sensitivities"
Michael Turniansky takes the role of villain, in a show full of tawdry characters, as Judge Turpin. The essence of aristocratic aloofness, Michael Turniansky flawlessly derides everyone around him, clearly used to being the most important person in the room. At many times, however, this is to his detriment, as his emotional range remains limited throughout the show despite several revelations that might otherwise deeply enrage a man as self-righteous and power-mad as Judge Turpin. In this actor's hands, the judge is neither a terrifying force nor a calculating perversion, but rather an unimpressive character at odds with the reputation the show's plot builds around him.
By contrast, the role of Tobias in the hands of Miriam Reid is a satisfying delight. Earnest and straightforward, Reid brings both a child-like demeanor as well as well as refreshing energy and occasional sass, a surprising and delightful choice. Her portrayal of Tobias' conclusion was fresh and deeply satisfying. Unfortunately, Reid's voice, while skillful and excellently utilized, struggles to hit some of Tobias' lower notes. By no means does this diminish Ms. Reid's efforts and accomplishments, but perhaps singing in a higher octave might serve her better.
Sam Boelens masterfully executes the deliberately cartoonish Pirelli, an Italian fop of a barber with some secrets of his own. With command of an impressive vocal range and a mastery of both Italian and Irish accents that is to be applauded, Sam is a delight to watch.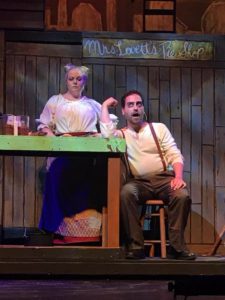 Kerry Jungwirth brings an impressive voice to her sassy portrayal of Mrs. Lovett, the down-on-her-luck owner of a meat-pie shop. With excellent comedic instincts and a fantastic singing voice, Kerry does her best to bring the darkly comic shopkeeper to life. Her execution of "By the Sea" had the audience in stitches. That being said, Ms. Jungwirth seemed to lack clear direction on several other songs. Nonetheless, she works alongside Sweeney (played by Bryan Reid) effortlessly and manages to squeeze many a laugh out of the darkly comedic script provided by Hugh Wheeler.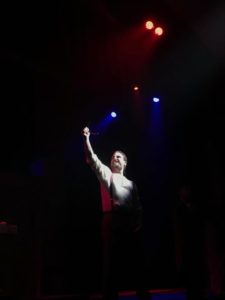 The titular Sweeney Todd is deeply human in the hands of Bryan Reid, who portrays him as a sympathetic and deeply disturbed man who has been beaten down at every turn. A masterfully emotive performance, one can't help but root for Sweeney even as he descends further and further into depravity. Reid is brimming with energy and rage, as his execution of the manic anthem "Epiphany" has the audience balancing both pity, revulsion and a deep unease as he unravels.
All in all, Beth Tfiloh Community Theater does it's best to tackle one of the more ambitious and challenging shows of the 20th century, and comes through with a product that is funny, foreboding, and entertaining, if a little underwhelming for fans of the source material.
Running Time: 3 hours with one intermission
Sweeney Todd plays through August 22, 2018 with Beth Tfiloh Community Theatre in the Mintzes Theatre of the H. Morton Rosen Arts Center— 3300 Old Court Road in Baltimore, MD. For tickets call (410) 413-2436 or purchase them online.