Once Upon a Time, in a land before MTV and CMT, artists had to work their way to the top and pay their dues. When radio playlists weren't laid down and dictated from corporate but left to the discretion and tastes of disc jockeys, determination, talent, and a ton of miles on your worn out car could earn you the fans and the prestige to become a bona fide star. Such is the tale of the legendary Patsy Cline. Appearance after appearance in honkytonk dive bars all over the South and Midwest, with crack of dawn stops at every ten-watt radio station along the way for interviews and promos, Miss Cline eventually worked her way onto the Arthur Godfrey television talent show that launched her too-short, meteoric career that landed her at the Grand Ole Opry and in the hearts of her fans as the greatest voice in the history of country music, and one of the most influential sounds in music ever.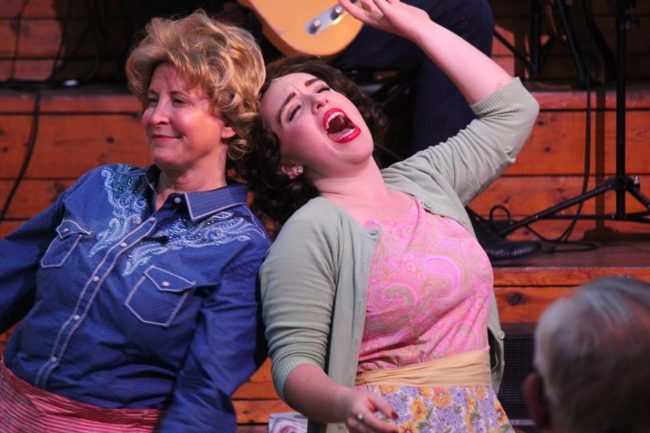 One of those many fans that Miss Cline touched was Louise Seger, a single mother who made it her personal mission to see the angelic singer she saw on the Godfrey show be played daily by her local disc jockey. On one fateful night in the late 50's when Seger discovered her idol was passing through her town for a gig at a local bar, she staked out front table seats and struck up a conversation that turned into a girls' night out, ending with the two of them crashing at Seger's home. Though they never saw each other again, they corresponded through a series of letters until Miss Cline's tragic death in a small plane crash returning from a benefit performance in Kansas City. This chapter in Miss Cline's life story serves as the basis for Ted Swindley's Always…, Patsy Cline, directed at Sky Stage in Frederick by Elizabeth Lucas with music direction by Marci Shegogue
Swindley uses Louise (Christine E. Mosere) as his lens to narrate a series of vignettes extolling Patsy's early career and rise to fame, as well as the events of her own life that led to their surreal, life-changing meeting. Her homespun, humorous stories are interspersed with flashbacks to Patsy (Shelly Lynn Walsh) singing all her classics and then some on TV, radio, and eventually the night their worlds intersected.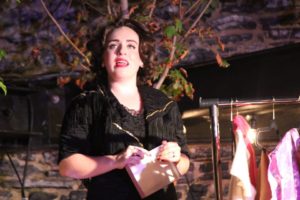 Any two-person theatrical piece is an extremely challenging endeavor, but in Swindley's hands, even more so. Across the two hour running time, Mosere's Louise carries nearly 90% of the script, with nonstop monologue after monologue in every scene. Conversely, being a play with music instead of a traditional musical, Walsh as the titular songbird sings the entire score, a total of 27 songs in this instance. But not only sings them, Walsh is expected to sing them in the style of and sounding as much as possible like the incomparable Miss Cline, who possessed a once in a lifetime voice whose signature sounds vary from wailing and growling to soulful and heartbreaking. Both actresses have formidable expectations laid out ahead of them, and happily, both of them conquer their challenges.
Mosere is a brassy whirlwind as Louise. She engages the audience early and her appreciation for Cline and her music is infectious as she spins a never-ending series of tales that are by turns mostly comical, occasionally brash, and ultimately touching. It's almost like the audience is that old friend she hasn't seen in years, but has happily welcomed into her kitchen to get caught up over alternating courses of coffee and gossip. Mosere has an easy, comfortable relationship with the audience, and holds their attention in her dishpan hands as she unfolds her story over the evening.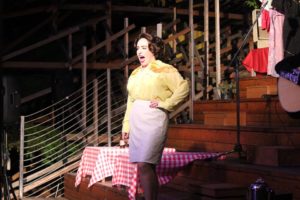 But as the title character and in the body of the legend herself, Walsh has a daunting shadow of expectations over her head from the moment the audience buys their tickets. Fortunately, she delivers a beautifully nuanced performance of all we expect to hear from the iconic Miss Cline herself. As a critic who knows every breath Miss Cline takes between every vowel she sings, the swells and releases of all her belting, and the confidence and heartbreak between every line, Miss Walsh securely nails it all. And she does it in a wise area where she's not impersonating or imitating Cline, but interpreting her unique stylings through her own very capable vocal abilities.
The two also have a very easy chemistry and compatibility in their crossover scenes together on the night they met, which brings this review to an unbelievable point. As both actresses are out of town Equity performers (Mosere career-long card-carrying, Walsh a current candidate), this opening night performance was only the second time they had been together in the same room to perform. With the outrageous weather related demands of theatre under the stars, they lost their technical rehearsals to a week of monsoons, so opening night was the first rehearsal with sound, lights, and Miss Walsh singing with the band. And yes, Miss Mosere stumbled on a line or two of her six thousand, Miss Walsh strained to hear the new sound of the band on the first song or two (and when the band completely miffed the intro tempo of "Back in Baby's Arms", Walsh expertly put them on track within four bars), and Mosere had to improvise when Walsh's costume changes took a few beats longer than anticipated, but for anyone who has never been inside a first tech rehearsal, they are traditionally trainwrecks of Amtrak-ian proportions: cues missed, sound issues, stops and starts with the band. These above-mentioned instances were noticeable but insignificant. It is a testament to the absolute professionalism of both Mosere and Walsh (and Shegogue's "Bobcat" band) and a strong director's hand by Lucas that this evening was a delightful, sentimental, and thrilling treat to experience the amazing music of the incomparable Patsy Cline. If what they presented was their first run together, imagine what it will be on subsequent performances as they get more comfortable with and confident in their jobs together.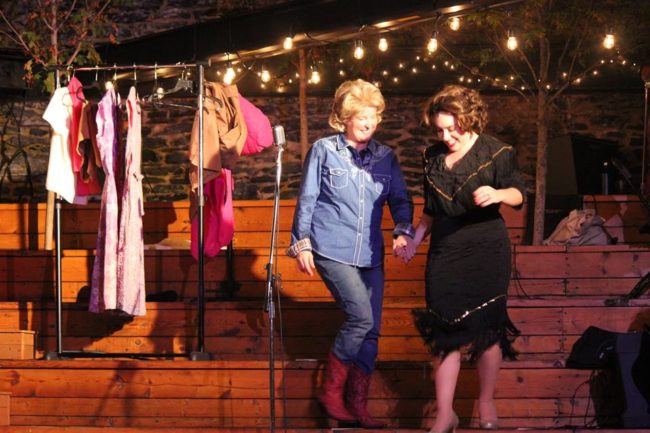 Tech director and lighting designer TJ Lukacsina creatively flips the standard set-up of the space around, placing the story on the built in bleachers to give it levels and seating the audience on what is traditionally the flat stage below. It's hard to critique his lighting design because with the early 7:00 show start, they are overruled by dusky natural lighting until the last 30 minutes or so, which actually gives the more sentimental ending a more theatrical send-off. Costume designer Heather C. Jackson knows the right look for the right time as she varies Cline's early looks of the traditional cowgirl fringe with her later softer and more sophisticated looks of pretty dresses to elegant gowns. Logan Waters' sound design hit some snags that seemed to leave Mosere on her own most of the evening, but she is an accomplished enough performer to compensate with vocal projection in the small house (again, first tech night–expected).
At the end of the evening, having the gift of experiencing an intimate yet comprehensive journey through the life and music of one of the most tragic losses of a generation is priceless. Any attempt to keep Miss Cline's magic alive and pass it on to a new generation is commendable. So, to paraphrase Patsy herself, Come On In (and Sit Right Down) for an evening of Sweet Dreams. To miss out on such an opportunity would be……..Crazy?
Running Time: Approximately 2 hours with one intermission
Always…Patsy Cline, a Free Range Humans productions, plays through September 2, 2018 at Sky Stage— 59 S. Carroll Street in downtown historic Frederick, MD. Tickets can be purchased at the door or in advance online.
Additional performances of Always…Patsy Cline are occurring September 13th through 16th 2018 at the BlackRock Center for the Arts— 12901 Town Commons Drive, in Germantown, MD. Tickets can be purchased at the door or in advance online.