Neither a borrower nor a lender be. While The Rude Mechanicals aren't currently producing Hamlet, there's logic in that quote that could and should be readily applied to The Merchant of Venice, which The Rude Mechanicals are currently producing. Said advice would go far for both Antonio and Shylock and save everyone the trouble of their various plights fraught with woe and unfortunate circumstances. But alas, Shakespeare didn't pen it that way, leaving us all wondering what on earth he was hoping to achieve with this somewhat mislabeled comedy. Directed by Claudia Bach, this Rudes rendering of one of Shakespeare's more problematic comedy takes some interesting approaches to the text that create a dissonant duality of action juxtaposed against words.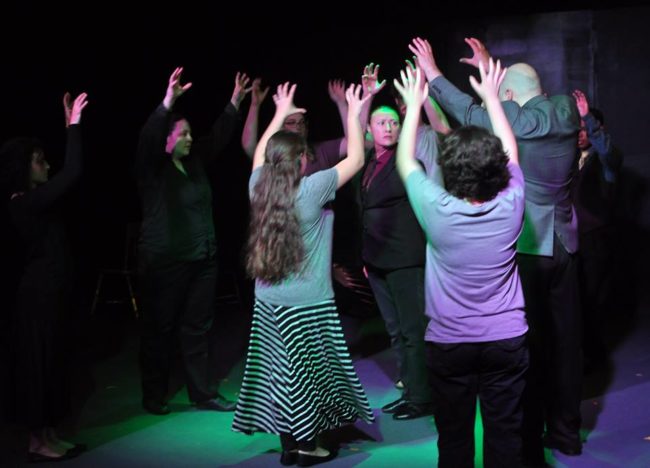 Director Claudia Bach, making her directorial debut with the piece, is ambitious, albeit at times jumbled, in her many clever ideas which she layers over the text. The biggest disconnect in Bach's work is the inexplicable disharmony between actions and facial expressions verses words coming out of actors' mouths. This occurs mostly with Nerissa (Rebecca Korn) and Portia (Allison McAlister) when confronted with the two great loves of their lives, Bassanio and Gratiano. It seems wondrous strange to have the text lean in one direction, that of approval and welcoming acceptance, of these loving interest, but to have the actors desperately trying to deny their approaches and advances. What Bach's intention was behind this approach is unclear; it does little to support unity across the text as a whole. That said, both Korn and McAlister give strong performances, especially when it comes to McAlister's indifference. (Watch her in the courtroom scene, it's actually quite riveting.) 
There are places in the script where the pacing needs a push, particularly in the comedic timing and delivery of Launcelot Gobbo (Christine Evangelista.) Because of the meandering pace at which these lines are delivered, a great deal of the comedic weight is absent from its place. It is also difficult to tell where and when Bach has set the play as the costumes don't lean toward any era but slightly modern and yet not even that. The ombre-dipped gold-and-black chairs, while beautiful and quite striking to settle, add an uncertain decorative element to the show as well, adding a few more clouds over the setting of the show.
Bach does, however, succeed triumphantly in her creative doings when it comes to the way in which she handles the casks of Portia's suitors. Choosing to use love actors donning gold, silver, and lead-colored berets rather than the more traditional props, Bach has the performers marched in and out like trophies, bowing their heads to present the casks. (Keep a close eye out for an inner-Rudes nod to the biggest blinking idiot of them all, scripted to be held inside one of the casks!) This, accompanied by her choice of music that precedes these scenes sends a strong and clear message about a woman's right to choose, regardless the situation.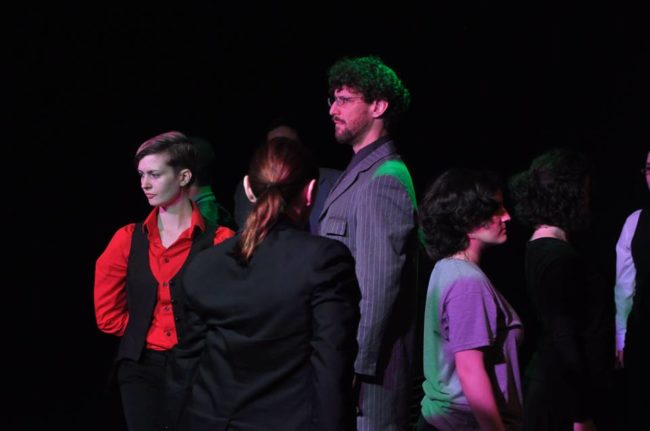 The varying degrees of discord and mismatch aside, the show is filled with performers who have a keen understanding of Shakespearean text and who deliver the troubles of the script with great intent. The aforementioned Rebecca Korn doubles up in the role of Old Gobbo and has the show's most successful comedic cameo with this role. Not only does Korn show clean delineation between the Nerissa character and the Old Gobbo character, but the facial expressions and overall physical comedy applied to the Old Gobbo character are priceless.
Similar can be said of Wes Dennis' Arragon suitor coming to lay claim to Portia. Outspoken and over-the-top, as the text would lead audiences to believe such a character would be, Dennis punches through this scene with great pluck, really endearing the character's comic timing and overall approach to the shenanigans with gusto. Dennis doubles up early on as Salanio, playing opposite Linda "Spender" Dye as Salarino, and the pair create quite the scene of gossip during the infamous "My Daughter! My Ducats!" mocking delivery.
While Jessica (Lynda Clarkewallis) and Lorenzo (Peter Eichman)'s story have always been a secondary plot to what's happening with Shylock and the rest, the way Bach has rendered their storyline to the quick makes them all the more blips of the background, but this serves both the pacing and the longevity of the story well. Eichman plays up the roguishly charming (read: slightly misogynistic but because it's Shakespeare we're meant to accept it) edge of the character and does so with animated facial expressions while Clarkewallis' Jessica floats almost silently in the background of Eichman's actions. This is a bold statement put forth to fully showcase the way Shakespeare often dismissively penned weak women into his scripts.  
Snarky, smarmy, and edgy, Sarah Pfanz' Gratiano is quite the nasty knave when it comes to the final moments in the courtroom scene. Pfanz creates a loveable scoundrel— under the premise that everyone hates 'the Jew' and believes that Shylock is truly receiving his just desserts (file all complaints with Billy Shakespeare on this one, folks)— who we're meant to cheer for and side with during this moment of victory. By today's standards, such a character would be considered deplorable at best, but that does not detract from Pfanz' excellent execution of such a character.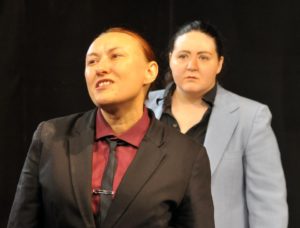 Thicker than blood brothers, Bassanio (Holly Trout) and Antonio (Jaki Demarest) carry a true torch of fraternity, despite the gender-blind casting of the roles, that bring these two characters inseparably together. Demarest's flawless understanding and delivery of the Antonio character flushed against Trout's compassionate and eager enthusiasm as Bassanio makes their half of the story's plight truly heart-wrenching. Demarest has a knack for producing real tears when the moment is called for, drawing the audience further into the deep emotional wellspring from which she draws her character's story.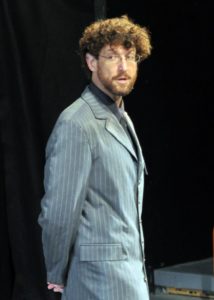 Joshua Engel's approach to Shylock is a bit of an enigma. For as many moments as there are where he is brilliant are as many moments where he leaves you desperately yearning for more from his performance. The way Bach has attempted to approach this rendition of Shylock is not unheard of, attempting to humanize him for audience sympathies by keeping the temper of Shylock in check. In some scenes this works well, Engel visually trembles with rage in whispers. Regrettably a great many of his whispers are whispered too softly and the text comes and goes. There are emotional ceilings that Engel never quite seems to shatter, even when he's at the top of his voice in an outburst of rage, or fallen broke to his knees with tears in his eyes, but ultimately what emotional expression he does give comes from a place of earnest authenticity; it simply cries out for more in a great many places. The peak of the character's villainy is delivered with extraordinary tact during the "I do not see it in the bond" scene with Engel on point in that moment.
There are a great many good things about the production to be said, and it is a swiftly rendered version of The Merchant of Venice, readily digestable for those familiar and unfamiliar with this 'comedy' of Shakespeare's.
Running Time: 2 hours and 20 minutes with one intermission
The Merchant of Venice plays through June 30, 2018 with The Rude Mechanicals at the Greenbelt Arts Center— 123 Centerway in historic Greenbelt MD. For tickets call the box office at (301) 441-8770 or purchase them online.