You can't stop an avalanche as it races down the hill! And CMP is stopping their season here, with a show that's such a thrill! And you can try to stop their dancing feet, but they just cannot stand still! Cause the world keeps spinning round and round and their hearts are keeping time to the speed of sound, they were lost 'til the heard the heard the drums (go Lisa Wood, go, go, Lisa!) and they found Hairspray! They can't stop the beat! And neither can you! You won't be able to sit still or stop your own dancing feet from tapping along in the audience at this final production of the 2017/2018 season at Children's Playhouse of Maryland. Baltimore's favorite musical— Hairspray— is welcoming in the 60's with a talented bunch of young performers who are the real movers and the shakers when it comes to the youth performance scene in Charm City. Directed by Liz Boyer Hunnicutt with Musical Direction by Charlotte Evans and Choreography by Amanda Poxon— well? YOU CAN'T STOP THEIR BEAT!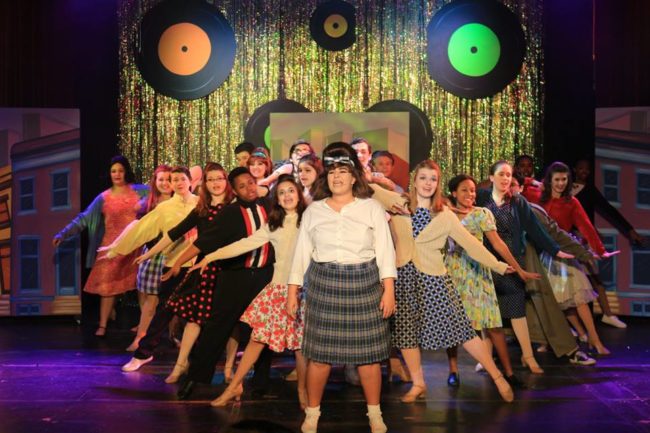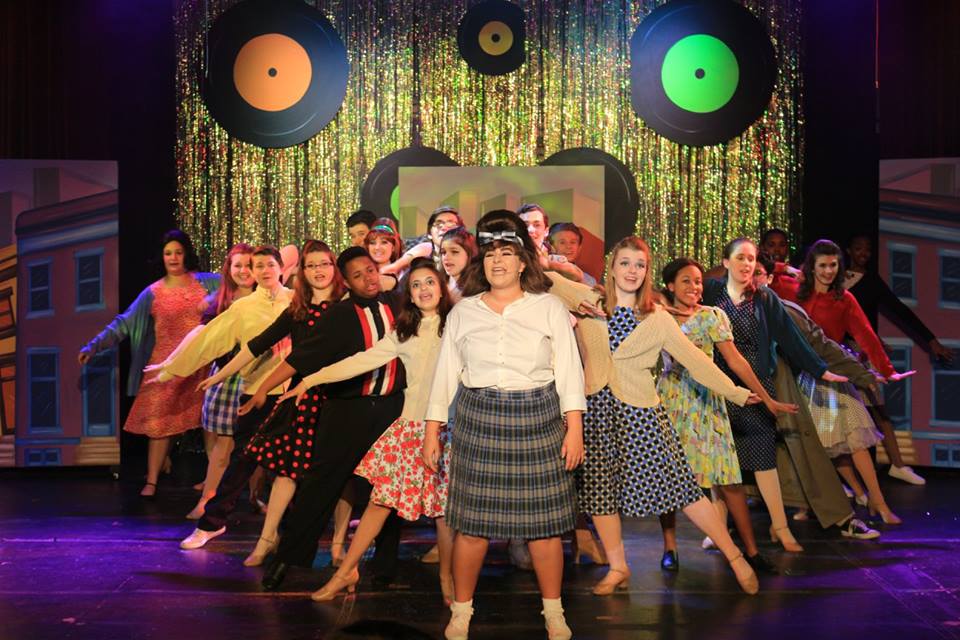 The production team, per usual when it comes to shows at CPM, is on point— with Tyrell Stanley designing lights, Diane M. Smith designing the set, and Sharon Byrd coordinating all of those stylish 60's sartorial selections. There are a great many iconic outfits featured in the production— not the least of which is glam-gown featured on Edna at the end of the show— and Byrd, aided by her team of Tracy Bird, Lisa Bruno, Jennifer Davis, Sherri Einhorn, Meg Schudel, and Peggy Witowksi, puts all the pop and pizzazz of these period pieces front and center so that all the kids in the production can readily connect with the 60's groove.
 Resident house choreographer Amanda Poxon pumps up the energy in her dancing ensemble with a spray of enthusiastic moves that keeps all those kids motioning like the ocean all through the big dance routines. You cannot stop the paradise she's dreaming of, not with her hyper-energetic movements featured all throughout "You Can't Stop the Beat." Poxon does know when to pull back and slow down— there's really only one dance number for that— and her routine for "I Can Hear the Bells" is appropriately corny. There's even some adorable duet work in Poxon's repertoire, as seen in "Timeless to Me."
There's a huge burst of energetic exuberance from the ensemble all throughout the production. The sassy Dynamites, Nyani Hawkins, Sarah Moscoso, and Claire Smith, lend a little soulful sound to "Welcome to the Sixties" while Jared Davis, Ryann Reich, and Myles Taylor join Moscoso and Smith as backup singers and dancers during "Run & Tell That." But the mega-blast of ultra-enthusiasm comes from the Teen Council Members— Sophie Claudio, Ava Correlli, Carly Dagilis, Emily Davis, Julia Egan, Jules Einhorn, Pierce Elliott, Kevin Franiak, Grace Glennon, Rose Glennon, Ethan Holler, Connor Kiss, Sebastian Maizel, Rachel Miller, Emily Ricci, Kathryn Schudel, and Emily Signor— as they hop, rock, and roll through "Nicest Kids in Town" it's reprise, and of course, "You Can't Stop the Beat." Keep an ear out for Jules Einhorn leading the male backup harmonies during "I Can Hear the Bells", as those harmonious blends of back-up doo-wop boys is a perfect complement to Link Larkin's teenage crooning in this number.
Staying true to the script, Director Liz Boyer Hunnicutt casts one young man and one young lady to take on the two character tracks. Sophia Possidente plays Prudy Pingleton, the prison-block Matron, and the Gym Teacher; all three of these roles are equally ridiculous, hilarious, and memorable. Zachary Byrd takes up the role of Mr. Spritzer, the Patterson Park High School Principal, and Mr. Pinky in the show. Byrd's Mr. Pinky is larger than life and absolutely hilarious. He excels in the other roles as well, but his tape-measure hug with Edna Turnblad is too perfect for words.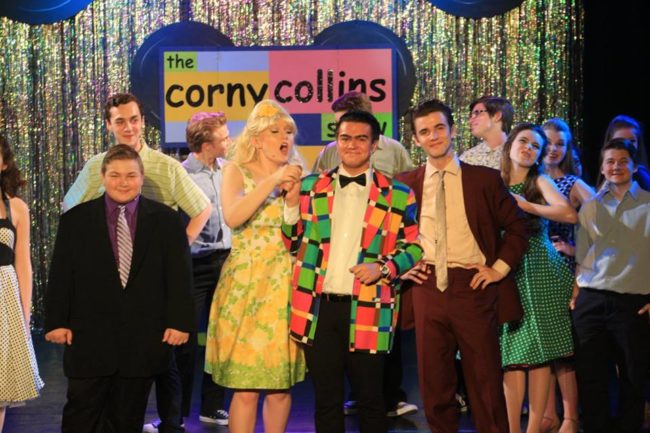 Filled with vivacious facial expressions that are truly telling of his character's intentions, Christopher Cerra tackles the role of Corny Collins with a suave and charismatic charm. Watch his facial expressions carefully, especially when he's facing off with those Von Tussle gals, they're priceless. With a solid voice, Cerra nails "Nicest Kids in Town" and overall has the well-trained television-type personality one would expect from the host of The Corny Collins Show.
Little Inez, played with gusto by the spirited Nyani Hawkins, really puts heart and soul into her solo verse of "Run & Tell That", a song which primarily features Seaweed (Dorian Smith.) The whole of Motormouth Maybelle's record shop gets bouncing with beat just afterward, and of course the lovely Anderson Gray really highlights what a stellar character Motormouth Maybelle can be. Known for her cheerful rhyme-time talk, Gray gives the character a proud and sassy edge, especially when performing "Big, Blonde, & Beautiful." But her rendition of "I Know Where I've Been" is truly stunning, filled to the brim with emotion, and demonstrates what an exquisite voice Gray has.
Those Von Tussle's are just mean, mean girls! That Amber (Hannah Sikes) and her mother Velma (Karah Campbell) both put forward a whole lot of attitude all throughout the performance. With a hearty, robust, low-range for singing, Hannah Sikes puts a whole new spin on her third of "Mama, I'm a Big Girl Now" and really stamps out some dance moves for "Cooties." Campbell, as the ostentatious and haughty Velma, really belts it out for "Miss Baltimore Crabs" and its reprise.
Let's not forget awkward little Penny Pingleton (Rachel Moss) who might just be the most adorable dork you ever did see! Moss has a real handle on how to make the character of Penny extra awkward, but don't let that fool you— when it comes time for her to put her vocal prowess on display— like during her half of the duet of "Without Love", you sure can hear her sing! She also belts out her own fine verse of "You Can't Stop the Beat" and really lets her blue-eyed soul resonate through.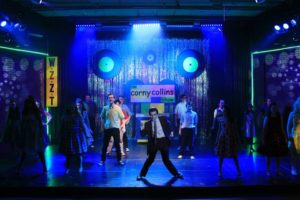 Hang onto your hats, Baltimore, teenage heartthrob Link Larkin (Josh Robinson) is here to make his big break! Robinson is a regular teenage crooner, with that smooth sound, awkward sense of nerves even though he knows he's hot stuff, and just the right amount of acting to pair off well against Tracy Turnblad (Valerie Ziegler.) The pair do wonders during "It Takes Two" and during their duet portion of "Without Love." Ziegler is a modern-day, Nikki-Blonsky/'07-movie-inspired Tracy. With that modern diva-pop sound of Broadway coming out of her voice, and all the extra sassy and shady facial expressions to match, there's a new style of Tracy coming out of this performance. Ziegler puts a whole new spin on classics like "Good Morning, Baltimore" and "I Can Hear the Bells."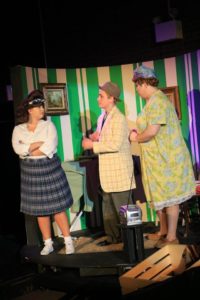 Dylan Morrison is a regular hardy-har man! Playing the jokester Wilbur Turnblad, he's got perfect comic timing, but what's more he's got the perfect amount of honesty and sincerity for his big duet, "Timeless to Me" shared with the incomparable Matthew Byrd, playing Edna Turnblad. Matthew Byrd is hands down one of the best things about the performance— between his ungodly gravel-stroked voice, his fabulous mannerisms, and the way he carries himself as Edna Turnblad— he's unstoppable. Maintaining that character voice is no easy task but Byrd masters it, well, easy as pie! He even keeps it consistent when singing in "Timeless to Me", "Big, Blonde, & Beautiful", "Mama, I'm a Big Girl Now", and during his sensational solo verse of "You Can't Stop the Beat." There's just no stopping Byrd in this role; he's well deserving of all the praises!
You know what to do, kids, go on and cut school— well, don't actually cut school, especially since Hairspray is happening on the weekends— but get on over to "Essex Community College" and see Children Playhouse of Maryland's Hairspray before it takes its fun-loving, freewheeling, leave of permanency on the 20th of May.
Running Time: 2 hours and 20 minutes with one intermission
Hairspray plays through May 20, 2018 at the Children's Playhouse of Maryland in the Lecture Hall of the Administration Building at the Community College of Baltimore County Essex Campus— 7201 Rossville Boulevard in Baltimore, MD. For tickets call the box office at (443) 840-2426 or purchase them online.