What happens when you mix love and science fiction? You get Weird Romance, a show described as two one-act musicals of Speculative Fiction, which is now being performed by the Music and Drama Club (a.k.a., MAD) at NASA's Goddard Space Flight Center in Glenn Dale, MD. The production, Directed by Randy Barth and Produced by Eliot Malumuth, is based on a book by Alan Brennert, with music by Alan Menken and lyrics by David Spencer.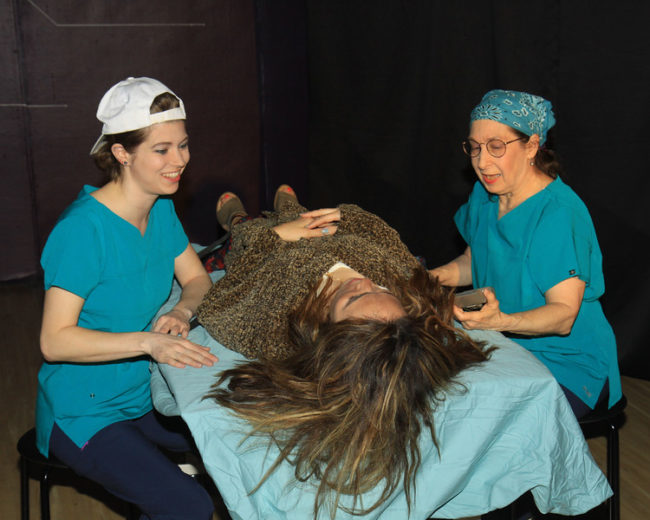 The title of the play is somewhat misleading, because the stories aren't really weird at all, but they certainly are romantic. The first one-act, "The Girl Who Was Plugged In," is a show set in the future (though since it was originally written in 1992, that probably means now,) a future where almost everything is controlled by corporate interests. A bigwig tycoon named Isham, plucks P. Burke, a homeless woman, from the streets, and modifies her body with electronic implants to allow her to control – via satellite – Delphi, an artificial woman he creates and markets to be the next big celebrity. Isham's son, Paul, unaware of the real situation, falls desperately in love with Delphi/P. Burke and wants to marry her. The important question is, will he turn away once he knows the real story, or will true love prevail?
The second story is called "Her Pilgrim Soul." In it, two scientists, Dan and Kevin, create a holographic projector which one day unexpectedly projects the image of a fetus. A day later, the image seems to be replaced with that of a little girl named Nola, who begins to interact with Dan and Kevin. Over the next several days, Dan tries to unravel Nola's mysterious history, and she ages several years each day. In the meantime, Kevin gets to know her better and ends up falling in love with her, much to the chagrin of the wife he leaves behind. It is a fascinating and poignant love story with a twist.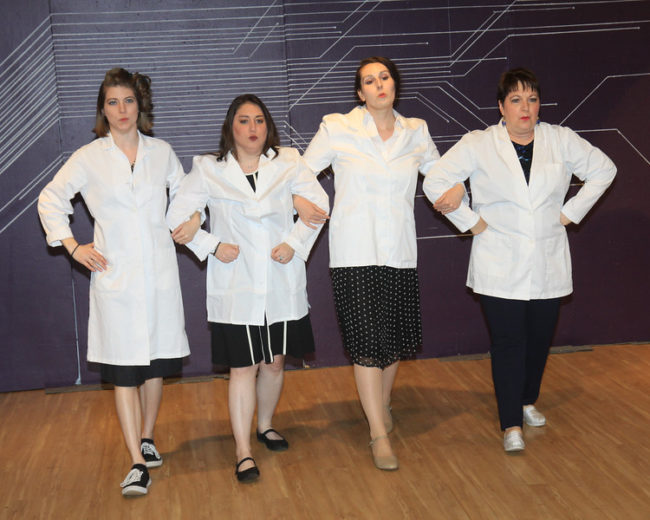 These are mostly ensemble pieces, but there are a few actors worth pointing out. In "The Girl Who Was Plugged In," Mary Estacion is outstanding as P. Burke. She has a strong, lovely voice, and her performance is natural and sympathy-provoking. Equally enjoyable is her counterpart, Delphi, played by the wonderful Sara Collins. She has a powerful Broadway-worthy belt and stands out both as Delphi and as the abandoned wife, Carol, in "Her Pilgrim Soul." As Isham in "The Girl Who Was Plugged In," Don Mitchell cuts an imposing presence vaguely reminiscent of Colonel Sanders. He is appropriately smarmy in his performance. In "Her Pilgrim Soul," Shawn Perry as Kevin is lovable. He really makes you care about him, and his voice is warm and inviting. Unfortunately, among the rest of the cast the singing is uneven – with many weaker voices – giving the play the feel of a high school musical. However, there is an earnestness that makes the play enjoyable nevertheless.
The set is simple – a maroon backdrop with a futuristic-looking linear design painted on it in white. For the first play, the stage is basically bare. For the second, there is a counter on the side with two long, rectangular backdrops behind it. The backdrops are covered with shiny wrapping paper designed to suggest projected holographic images. To give the first piece a futuristic feel, lots of sequined costumes are used. The men's suits are modern, but since it is set in "the next century," (the 21st,) that seems appropriate. For the second piece, costumes befitting Nola's time period are used. However, the real technical triumph of this show – at least in this reviewer's opinion – is the band. It is very easy for musicians to overpower actors/singers in small shows such as these, but these musicians accompany beautifully. Kudos to all of them.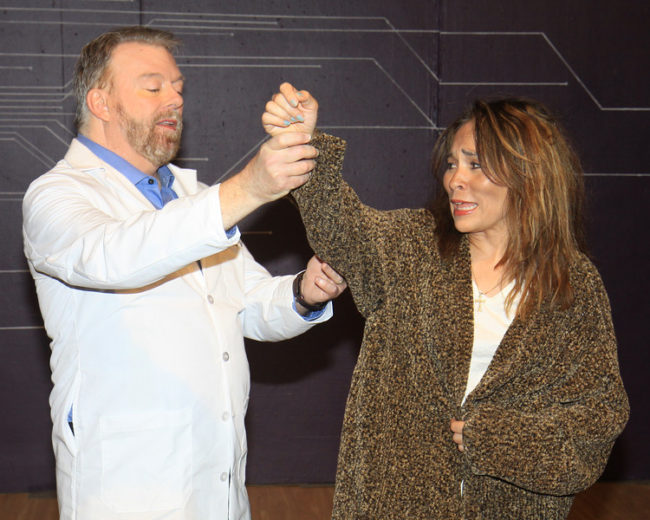 Bottom line: While Weird Romance is a mixed bag in terms of the singing, if you like your love stories with a side of sci fi, it is worth checking out.
Running Time: Approximately 2 hours and 30 minutes with one intermission.
Weird Romance plays through May 19, 2018 at MAD Music and Drama Club — Barney & Bea Recreation Center | 9998 Good Luck Road in Glenn Dale, MD. Tickets are available at the door or in advance online.