I say this with humility in this— online open space! They're your responsibility in— good ol' Havre de Grace! If you want to see their show and all the feelings that they spill, in Havre de Grace Opera House that's halfway down the hill, then for God sakes get thee to it! For Congress never will! Yes, yes, it's not even July and the Tidewater Players are calling to order the second continental congress of America with their production of 1776. Directed by Laurie Sentman Starkey with Musical Direction by R. Christopher Rose (and his five-person orchestra, including himself, Helen Slaich, Rodney Allen, Andy Dawson, and Nathan Hamidi), it's the timeless film turned stage musical, for which the forgotten founding father of our country (yes, pre-Hamilton) was made infamous forevermore.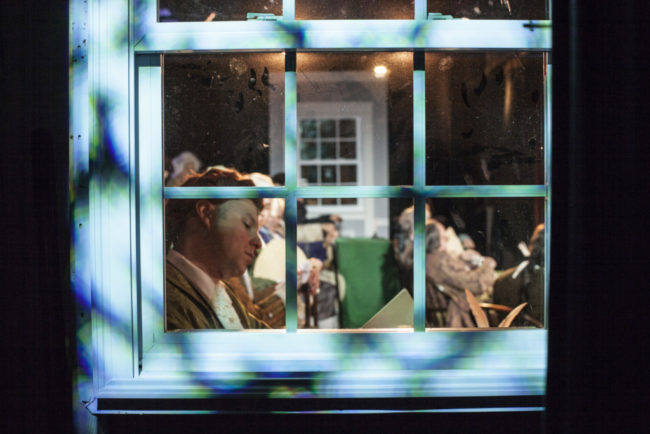 The scenery is simple; Set Designer Todd Starkey crams the replica of Philadelphia's congress into the snug little stage space and really brings all of these foul, fetid, fuming, foggy, filthy congressional practices quite close to the audience. The way which Starkey lays out the space, despite its appearing quite crunched, actually brings about the illusion of the revolting heat and flies with which the actual congress contended, lending an air of authenticity to the production on the whole.
Here a stich, there a stich, everywhere a stich—a stich— why he's Richard Henry Costume Designer, that Mark Briner, fluffing up all the colonial jackets and outfitting some 24 men for the production. He also finds lovely colonially appropriate dresses for the two females featured in the show. Briner doubles up as the quirky clown, Richard Henry Lee, that good old fashioned southern 'boy' from Virginia who rides off like the wind to fashion a resolution on Independence. And he does the role thorough-Lee, comical-lee, and really lends his voice to the matter.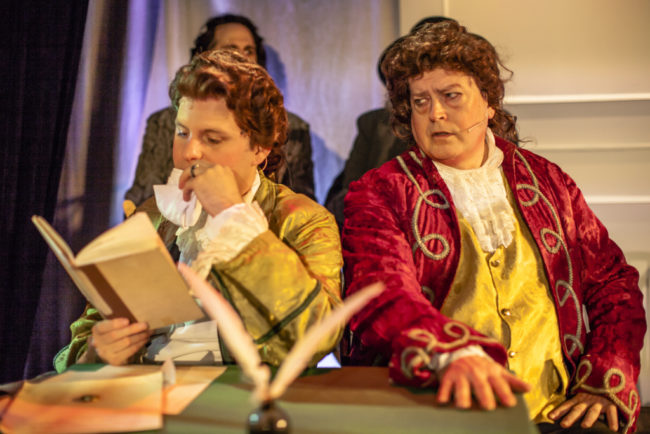 Director Laurie Sentman Starkey tackles some heady challenges for this production, mainly corralling 24 men together on one stage and pushing an extremely lengthy show with the potential to drag along at a clip to keep the audiences' interest. Starkey does a good job with the show's overall pacing, though inevitably there are moments that drag, though it seems not to be for a lack of effort. One of her most notable triumphs is the perfection of her "freeze-frame" theatrics applied to the congress during "Piddle, Twiddle, and Resolve" where John Adams is having at his solo and the congress, in perfect portrait-esque stillness is utterly frozen behind them, as if the obnoxious and dislikable sound of Adams has stuck them fast to their spot.
The show's main issues lies with the casting of John Adams. Tom Hartzell, despite his vocal shortcomings has the right attitude for playing the acting part of the John Adams role, but possesses a chaotic muddle of intonation and overall pitch control. But what he lacks in vocal capability, he more than makes up for in spirit. His incendiary little Adams has mastered the art of rolling his eyes, bellowing at the top of his lungs throughout various fits of argument all throughout, and handles the cheek and snappish edge with great fortitude. Hartzell's voice, regrettably does not blend well with the others, though Musical Director R. Christopher Rose does a fine job of masking this in the trio of "The Egg", a number shared with Franklin and Jefferson.
Rose does more than his fair share of polishing when it comes to this production, as vocal harmonies seem to be a struggling point throughout. Most notably in "But Mr. Adams" with the quartet blends there and some of the solo sounds emanating from Mark Briner during his "The Lees of Old Virginia" number, Rose does his best to keep the songs moving swiftly along. There is a triumphantly enthusiastic sound erupting from the two dozen men (although not all two dozen ever sing together at once, we do get pretty close) during "Sit Down, John." All of the men in song here are fully possessed of the spirit of aggravation.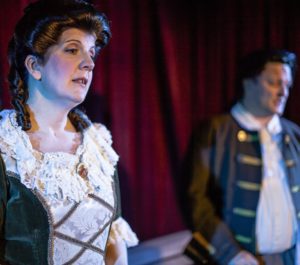 Shining with vocal radiance, Abigail Adams (Barbara Hartzell) sends sublime sounds out into the atmosphere every time she sings. Mrs. Hartzell has the angelic voice of a songbird, which is classically suited for the style of the music, and readily settles her voice into the time period of the songs. With a sensational range, Hartzell addresses her halves of "Till Then" and "Yours, Yours, Yours" with splendor and is a true pleasure to hear when singing. Just one of two women in the show, Hartzell holds her own in this cast of two dozen men. Playing Martha Jefferson, Carly J. Amato has a warm countenance but a very modern sound. Edgy, poppy, and transforming "He Plays The Violin" into something from a modern Broadway stage, Amato's voice— despite its consistent intonation and ability to sustain the correct pitch— juxtaposes poorly with the era of the music and songs on the whole.
With a sweet and innocent sound, the song "Mama, Look Sharp" creeps through the all but empty congressional hall when delivered by the Courier (at this performance Simon Gusso.) With delicate sounds, full of emotion, Gusso delivers this number and readily draws a tear to the eye. The song is delivered in the presence of Mr. Secretary, Charles Thomson (Nate Stauffer) and McNair (Albert J. Boeren.) Both Stauffer and Boeren do exceptional work with their characters. Stauffer's highlight of chewing background scenery is when he starts his "…committee…" roll, the result of which is some much needed humor for the audience. Boeren, who is spot on for the congressional custodian, is physically invested in the role, and truly makes his character worthy of taking note.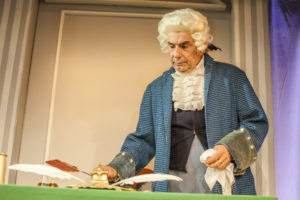 Leading the congress as its president, John Desmone embodies John Hancock divinely. Though he's only one moment of solo vocal expression (oddly enough inside "Cool, Cool Considerate Men"), his warm, hearty, and robust vocals are rich and welcoming in this number. His character acting is second perhaps only to Benjamin Franklin, as Desmone finds the striking balance between humor and sincerity, weighing down the more important moments with the correct level of emotional gravitas. The exact opposite of steadily balanced, though often in humorous opposition to Desmone's Hancock is old 'Grape & Guts' Stephen Hopkins (played with authentic rogue spirit by Stephen Hopkins.)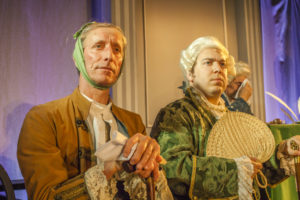 Other congressmen of note include the entirety of Delaware— Tim Hartley as the ailing Caesar Rodney, David Reyne as Col. Thomas McKean with a thoroughly convincing and consistent Scottish accent, and Stanton Zacker as the obnoxious whelp George Read. Each one of these men has a little moment in the spotlight that is well worth mentioning, but you'll have to attend the production if you wish to know exactly when. Brian Fields as Samuel Chase makes quite the entrance when he returns all atwitter with good news from the Maryland Delegation; William Meister's subtle but accurate Georgian accent as Dr. Lyman Hall is much appreciated; Michael Maistros' courteous abstentions as Lewis Morris of New York become increasingly humorous as the play goes on; all of this fine nuances crafted by these talented men are the much needed lifts in a play that is ultimately penned to be a bit too long.
Outstanding male vocalists in the performance include the disturbing sounds of Michael S. Bevard as Edward Rutledge from South Carolina. His smooth operatic voice must be heard to be believed, though the number writ into the script is enough to turn anyone's stomach. Even the staunch John Dickinson goes pale and turns with shades of revulsion as Bevard has at the number, "Molasses to Rum." There is something to be said, though positivity hardly feels appropriate, for the masterful command that Bevard puts over the number. As far as disgusting villainy goes, this number exemplifies it and Bevard handles that with the utmost unction and power that one could imagine.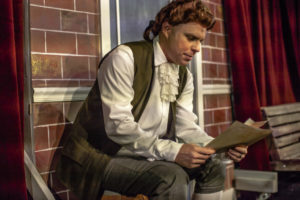 Remarkably felicitous in all of his doings, Tyler D. Zeisloft's Thomas Jefferson is more than just a ginger tombstone. With a gorgeous voice, he absolutely nails the higher notes in his segment of "But Mr. Adams" and puts forth a staunch and intent vocal sound when speaking. There is something charismatic yet simultaneously humble about Zeisloft's Jefferson, making him the ideal vision of what that Founding Father was meant to be. Pensive, deeply invested, and vocally sound Zeisloft is a true master of his craft and perfect for the role of Thomas Jefferson.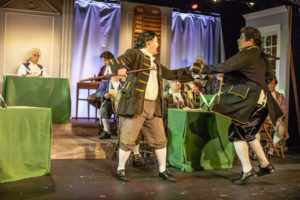 With a bold sound that carries well in his only solo number, Todd Starkey tackles "Cool, Cool Considerate Men" as the equally obnoxious John Dickinson. (Okay, John Dickinson is only obnoxious to those of us on this side of the fourth wall, which makes Starkey's protagonistic approach perfect!) Engaging and equally as spirited as Hartzell's Adams, Starkey lets loose in the great debate scene, really nailing his points home every chance he gets. Snappy and not without his crasser edges. Starkey makes John Dickinson a man worth detesting, of course, only if you're on the side of Independence. Starkey makes up but one third of the Pennsylvania delegation. H. Ray Lawson, as the indecisive Judge James Wilson, is so subtle and meager in his mousy portrayal that he perfects the art of preserving the character's anonymity. Lawson is the epitome of unmemorable, so much so that it bares mentioning as that is exactly what the character is trying to be.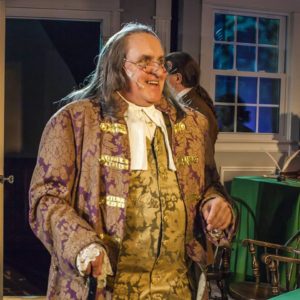 Franklin did this and Franklin did that and Franklin did some other damn thing. Indeed, David T. Wills as Benjamin Franklin could very well win the whole war for independence all by himself! To be Benjamin Franklin is more than just to look the part, which a bit of wiggery and makeup assist Wills to do, but in many cases, one must absorb the character like a second skin. Wills does this to perfection. His quirky mannerisms, his distinct physicality, his textual delivery; Wills masterfully portrays these things divinely when it comes to being Benjamin Franklin. His balance of humor to severity is severely skewed, because of the way the character is penned, and Wills favors the more comedic lines of his character, but mistake him not, for when the pressure is on and his message is heavy, he absolutely nails the intent with grave certainty.
New York may abstain, courteously, you had better not. Abstain from seeing 1776 at Tidewater Players this spring. It'll have you voting yes! Vote yes! Vote for independency!
Running Time: Approximately 3 hours with one intermission
1776 plays through May 20, 2018 with Tidewater Players at The Historic Havre de Grace Opera House— 121 N. Union Street in historic downtown Havre de Grace, MD. For tickets call the box office at 667-225-8433 or purchase them online.