Deathtrap: A play of one set, two acts, five characters.
One Set: A writing den in a converted church. A typewriter. Walls decorated with posters from previous plays and various prop implements of persuasion and destruction.
Two Acts: Running an hour each with a 15-minute intermission.
Five Characters: The established writer. His wife. The new writer. The psychic neighbor. The lawyer.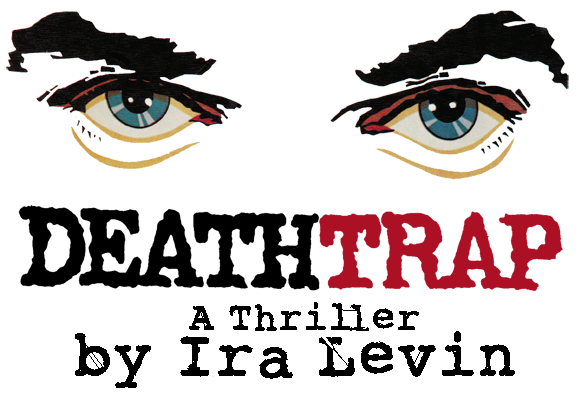 Pardon my conceit as I continue the review by repeating this again with further variations, as Deathtrap takes the same liberties with its self-referential twists and turns.
Written by Ira Levin, Deathtrap opened in 1978 and was the longest running comedy-thriller on Broadway. A writer receives a manuscript called Deathtrap from his student. Envying its potential to pay the bills better than anything he is currently working on, he discusses with his wife killing the student to steal the play and put it on as his own. Discussing turns to plotting turns to acting turns to performing the play before an audience. That's where you come in – but you've been there all along. Don't worry if that sounds confusing. This is not a mystery for you to figure out, but a thriller for you to enjoy the suspense of what comes next. And Wolf Pack Theatre delivers.
The self-reference extends to the actors' individual performances portraying their characters as written. Matthew Ratz's Sidney Bruhl may at first not appear on top of his game, but ultimately demonstrates the scheming and power to pull off a master piece of work. Katy Chmura as his wife Myra takes firm control of the situation when expected, and is charmingly supportive when not. Michael Bertone as Clifford Anderson is particularly and wonderfully natural in his acting. (How long did it take to learn to handle a manual typewriter with the same deftness?) Lorraine Bouchard as psychic neighbor Helga Ten Dorp is a wifty hoot with the funniest lines. And Kyle Tirak plays the straight and observant lawyer Porter Milgrim, well, straight and observant. Nicely done all.
Even the technical direction by Stephen Beitzell fits the scheme. Did I mention this takes place in a converted church? Lit mostly by at least ten lamps on stage, all practical. As for the sound, I almost went out to check my car windows during the thunder storm…
All in all, director Bill Leary provides a thoroughly coherent, thrilling, and enjoyable evening.
Running Time: Approximately 2 hours and 20 minutes with one intermission
Deathtrap plays with Wolf Pack Theatre Company through May 20, 2018 with performances at 3:00pm & 8:00pm on Saturdays, 8:00pm on Sundays and one 8:00pm performance on Friday May 18, 2018, at St. John Evangelical Lutheran Church— 5820 Riverdale Road in Riverdale, MD. Tickets can be purchased at the door, by calling 240-565-4144, or by visiting the ticketing site online.