Can you remember what you had for breakfast this morning? Do you recall what pair of shoes you wore out last Friday night? Or what you were doing three years ago on a Saturday afternoon? Most of us can't. But on the morning of September 11, 2001— a Tuesday morning not quite 17 years in America's past, everyone can remember exactly where they were and what they were doing when the news broke that planes had crashed into the twin towers. I was a sophomore in high school, sitting in my second period English class waiting for the bell to ring at 10:35 so I could go onto World History with a teacher I very much disliked, when principal Don Weglein came over the intercom and announced that two planes had crashed into the world trade center, with a third having hit the pentagon. And I can remember every detail of what happened after that announcement straight through to finally being home with my family some four hours later.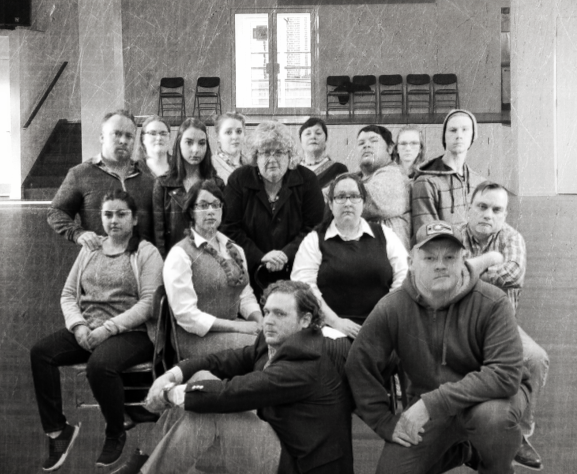 In a stellar and evocative drama, Pulitzer Prize-winner David Rimmer captures the stories of survives thereafter, in a play simply entitled New York. Now being produced at Baltimore's Just Off Broadway, after initially being produced as a means by which to raise funds for volunteer psychiatrists dedicated to helping the overwhelming number of patients psychologically affected by 9/11, the play— Directed by Stacey Shade-Ware— captures at its essence the experience of those who were impacted by survival and a visceral and emotionally harrowing yet evocatively beautiful fashion.
Initially written as one-on-one encounters of patients with a psychiatrist, Director Stacey Shade-Ware has created a more unified vision for the production. Taking instead, a group approach to the script, Shade-Ware brings many of the characters in at once, as if they were attending a group therapy meeting, almost like AA for those struggling with survivor's guilt. While the other characters never speak out of turn, and each individual scene is still played out one-on-one with the Doctor (played with reverent grace by Stephanie Shade), the dynamic created by grouping these individuals together is an astonishing one. There is so much more to be learned about these characters as you watch the way they silently react and respond to the stories unfolding around them. Each person's reaction serves as a peak into their life and experience if their story has yet to be told or as an extension of what they've shared thus far, if they've already had their session. The play may be triggering to some audience members as deep topics are expressed and conveyed therein, all of which are based on or inspired by real life traumas and events from the catastrophic indent of 9/11.
Two of the more impressive delivers in the production come from Katarina Lezaja playing a 'Stepdaughter' named Sarah, and from Rachel Blizzard, playing a 'Babysitter.' While their character's stories are not necessarily the most gripping— though each account is pertinent in its own unique way— it's the way in which they truly present relatable characters which is so fascinating. Both Lezaja and Blizzard were born after the events of 9/11. Watching these young women portray these roles, is truly intriguing. Seeing how wholeheartedly they absorb the trauma of their own, and seeing the raw emotions and overall attitudes of young teens encountering such an experience is quite profound.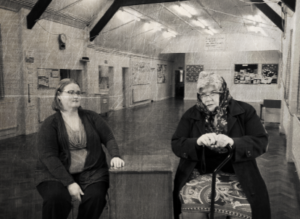 There are sadly relatable stories, like Patrick Jay Golden's Duff, who relives over and over his survivor's guilt of being late to work that morning because of his alcoholism or Crystal Sewell's Pilot who feels detached from her marriage because her husband can no longer relate to her experience. Sewell and Golden both portray characters who survived real-life terrifying experiences, who underwent a trauma and whose lives are now completely and utterly changed in a way that others cannot understand any better than they themselves can describe. Their characters, like the rest, are prime representations of the collective yet utterly desolate and isolating effect the attacks of 9/11 had on people across the nation— bringing one another together in ways that defy description as well as tearing them apart in this fashion as well.
Some of the characters express such bombacity or intensity when visiting their sessions— like Brad Angst's Fireman or Malissa Cruz Romero's Caregiver— that it's almost impossible to follow their actual words. But in this case the emotional intent is beyond clear, the feelings more than readily felt and what is actually being said isn't necessarily important as what's being shared. There are other characters— like Jonathan Simmons' Plane Guy or Mike Mathis' Jed of Oklahoma— who feel tangential to the experience, and yet are a part of the bigger picture, especially when Mathis delivers what could arguably be the line of the script, saying, "Do you really think in six years you're going to forget about this?"
Some characters are sentimentally memorable, like Kate Forton's Teacher, who opens and closes the play by addressing her unseen kindergarten class, trying desperately to hold back her own personal tears whilst answering the perfectly legitimate questions of these terrified children. What's more here is that Forton establishes all of the unspoken questions in the way she responds to them to the point where the audience can almost hear little students asking, "But why did they do it? Why do they hate us?" and things of the like. There are other characters, like Tina James' Newsgirl Devon, who will unquestionably rub you the wrong way. The epitome of selfish opportunist, you can ready find a vent for your anger in her portrayal of this vapid, narcissistic creature. Or like with Jenifer Hollett's Julia and Jason Crawford Samios-Uy's Vigil, both of these characters provides hints of levity among a play so heavily weighted in severity, whether its Samios-Uy's upbeat "keep on Viglin-in'" nature or Hollett's overly enthusiastic eyes when expressing her excitement about being in the throng of it all.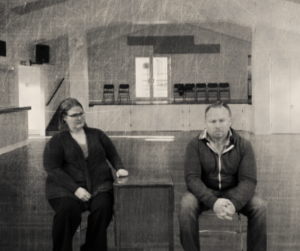 With one of the most compelling and in-depth stories visited in the production, Rob Wall's Detective gives a heartfelt experience that is just breathtaking. As the penultimate individual to take to the floor and share his experience, Wall's character is a multitude of experiences all rolled up into one: not physically there for the event, but processing the aftermath, caught up in the happening, and desperate to provide closure for everyone, himself included. What he expresses in his scene is beyond what mere words can convey.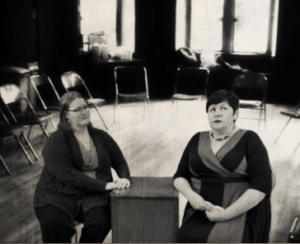 Andrea Bush's Mary is of a similar vein to Wall's Detective. Evoking a raw well of tears, Bush's expression throughout this monologue is a moving roller coaster of emotion. The character is desperate to downplay her experience, to devalue her own feelings because of the intensely consuming survivor's guilt. When she explodes in a fit of scary rage, driven by fear and anxiety, she holds the audience unmovably captive, tearing at the heartstrings as she weeps out, "I should have got on that first subway train; the world wouldn't miss one little human resources director." Stunning and evocatively telling, Bush delivers what is arguably the monologue of the show.
It is a heavy piece of theatre, there is no denying that. These are personal stories, visceral truths, that the cast and director handle with supreme reverence, extraordinary emotional honesty, and deep, true compassion. New York is arguably one of the best productions that Just Off Broadway has attempted; the spirit of which shall never be forgotten.
Running Time: 90 minutes with one intermission
New York plays through May 20, 2018 with Just Off Broadway at the Jerusalem Evangelical Church— 4605 Bel Air Road in Baltimore, MD. Tickets are available for purchase at the door or in advance online.