Jesus Christ Superstar— is exactly what they say you are: a superstar… production, that is. Unfathomably brilliant in its modern conceptualization, Director and Choreographer Bambi Johnson brings this game-changing, classical Andrew Lloyd Webber musical theatre sensation to the intimate black box stage of Street Lamp Productions and creates superb divinity in the theatrical experience that is Jesus Christ Superstar. At the risk of sounding repetitive, it's a superstar theatrical engagement that is presented with an incredible deal of talent, forethought, and innovation in both conceptual directing, spatial blocking, and overall articulation of a bigger vision that makes this mythic opera an appealing and emotionally exhausting experience for all in attendance.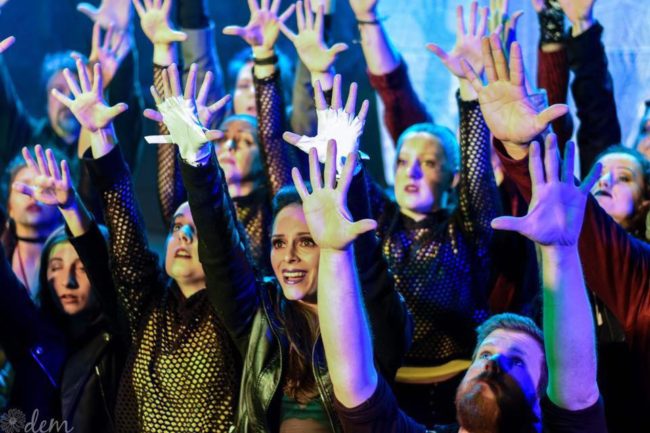 Setting the show, as so many choose to do, in a traditional biblical setting detracts immensely from Andrew Lloyd Webber's musical brilliance. Director Bambi Johnson avoids this temptation by creating a hyper modernized era with cyberpunk aesthetic influences, all while containing a large cast with practiced ease and expertise in the tight confines of the intimate black box venue at Street Lamp Productions. The show's only minor complaint is sound balancing issues; despite drop-mics and the extraordinarily powerful voices of both individual and group performances given, there are times when they audio backing, regardless of its high-quality sound, outplays and unfortunately drowns some of the softer solos. But these incidences are minor and occur infrequently and ultimately do not prevent an excellent theatrical experience.
Johnson's vision for the show involves the detailed projection and lighting work of designer Bob Denton. Using white cloth scrims that hang from the ceiling as floating projection screens, which later double up as scenery, enables some of the more shocking visual implements of the show to effuse themselves throughout the scenery without forcing a centralized projection against the back of the staging area. Denton and Johnson use video projection— particularly in their nods to this dystopian futuristic society, which is oft featured whenever we encounter Caiaphas, Annas, and the high priests— and create surreal moving images, which look even more distorted against the dropped-clothes as they gyre subtly in the space from their free-form suspension trappings. It becomes an experience, like being consumed by a virtual reality game, on this is virtual reality Andrew Lloyd Webber opera.
Denton furthers the aesthetic of the show by using precision timing with his more general lighting cues, lining them up to influence the overall emotion and pulsations of larger musical numbers. Mood lighting seems like such a trite term for what Denton has created because the shades he chooses, the nuance he uses in their execution, and the verve he creates with their movement (blinking, strobing, popping) goes beyond simple fabricating a mood, but rather lays the foundation for an emotional experience.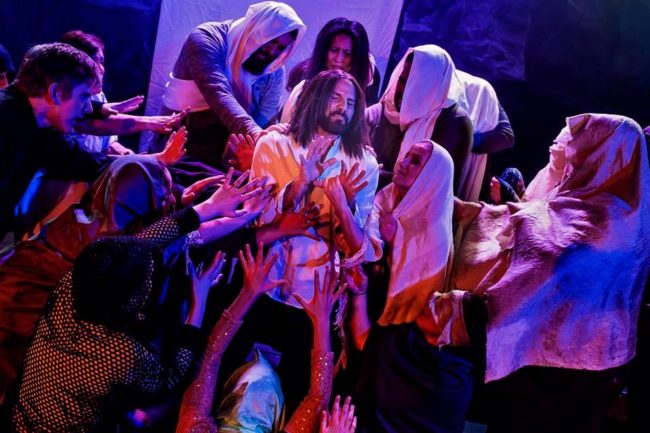 There is an indescribable mastery of spatial awareness in Johnson's choreography that allows for a large ensemble to do intricately detailed, high-octane dance moves in a microscopic stage space all while looking and feeling natural. There is a riveting pulsation of frenetic emotion that surges through the core of each of Johnson's routines— each one possessing a potent and unique flavor to inform the song— that charges not only the dancing but the overall experience of each musical number. Johnson sates the greedy palette of the ensemble with a smorgasbord of seedy and tawdry happenings at the beginning of "The Temple"; a veil of lewd ephemera that wafts over the stage and would make even Sodom and Gomorrah blush. In an instant that lively vibe flashes to the roaring frustrations and desperation of the needy when "The Temple" number is turned on its head at the midway point. Johnson has this knack for expertly scaling the treacherous mountain of pathos that Webber has worked into the score an lyrics without expressing questions, confusion, or doubt, where it does not belong.
In addition to all of the extraordinary dancing and scenic creativity (with an extraordinarily simplistic back set designed by Kevin Woods), Johnson's pacing of the show is flawless. There is no unnecessary vamping, awkward added music, or hyper-extension of scenes or dance breaks which normally slow the overall production. Johnson's attention to detail when crafting believable moments with individual characters is equally as stunning as the talent that she's put into the roles. Having Mary slowly wipe away her street-worker's makeup at the end of "I Don't' Know How to Love Him" is just one of dozens of such moments. Balancing the minutia with the bigger picture, Johnson layers the concept of insatiable social media connectivity into the thronging masses— tweeting, live-streaming, and snapchatting the flogging of Jesus just to name one such instance— and gives the overall production a harrowing and spine-tingling modern edge that is undeniably revolting but inescapably enticing.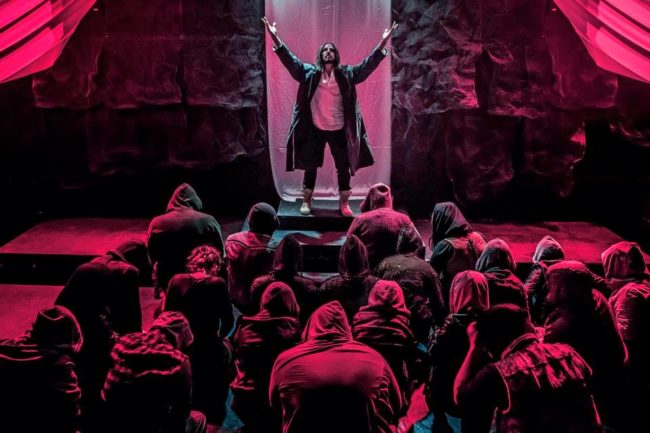 Musical Director Shane Jensen works extremely well to create strong sounds from the ensemble; every number from "What's the Buzz?" which is loaded with enthusiastic energy through to "The Last Supper", which carries a completely different style of strong energy in a much more subdued fashion, is a testament to Jensen's ability to blend and build a formidable ensemble sound. Ensemble members worthy of note— if for nothing else but their fabulous presence and costume sense— include Nancy Denton (whose iconic glasses and gaudy glamor is perfect during "The Temple") and the Soul Sisters (Stephanie Smith, Katie Webster, Rylynn Woods), who add delightful backup sounds to "Superstar."
Carrying the torch of the witch hunt in this crucifixion, Ted Cregger as Annas is the driving evil behind the persecution of Jesus Christ. With a serpentine hiss in his voice and a robust vocal sound, which carries well through "This Jesus Must Die" Cregger's menacing presence is unsettling and puts everyone ill at ease. The aesthetic that Cregger has adapted looks like something straight out of The Matrix, which heightens the creepiness of his character's presence. Carrying the gravity of the situation between Annas, Caiaphas (Michael Winchester Jr) and the high priests (Michael Maistros, Steve Tristani), Cregger is a force to be reckoned with in this production.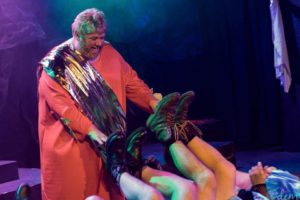 While the majority of Jesus Christ Superstar is an intense, emotionally-draining, and deeply moving musical theatre experience, there is a moment's respite when it comes to "King Herod's Song." And you'll see no finer, flashier, glitzy, and glamourous individual— except for Nancy Denton's cameo stroll-through as golden-era Hollywood tinsel-town-tarnish during "The Temple"— than Bobby Mahoney, who glitters and glimmers like you wouldn't believe. Flamboyantly fabulous, he dances, prances, and flounces through this number with a nod of homage to Futurama's Hedonism Bot that is delightful and a true squeal of pleasure.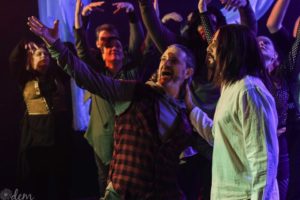 Steve Flickinger, as Simon, gives a good enthusiastic approach to "Simon Zealots" and draws all the attention to the furiously fueled dancing flare of the individuals in the temple, which ultimately sparks Jesus to fire as he rolls into "Poor Jerusalem." Matthew Peterson, as doubting Peter, is humble and yet heard. With a roaring fever that rages through "Peter's Denial", Peterson showcases his dynamic versatility by creating a somber and humbled response during his duet with Mary, "Could We Start Again Please?" Both of these instances are great moments to watch Peterson's expressive face in action as well as hear his strong, well-toned voice.
Enigmatic and yet tempered with tyranny that is forced upon him by politicized pressure, Lance Bankerd's Pilate is brutally haunting. At first appearing regal and almost entirely unapproachable, Bankerd's rendition of "Pilate's Dream" is haunting but in a subtly intriguing fashion. His booming baritone-bass voice is ripe and ideal for the character's range. There is a rogue's gravelly bite at the back of Bankerd's delivery which imparts the severity of the situation which Jesus faces. Bankerd even unearths a rare moment of humanity inside the character; watch his face closely during "Trial By Pilate" as he counts the floggings, but don't watch for too long as his back is to the action for most of the scene.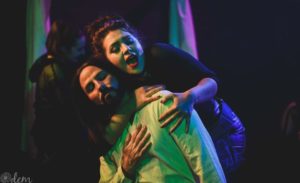 With astonishing depth to the streetwalking Mary Magdalene, Sydney Phipps creates a glorious character in her approach to the role. In addition to having pitch-perfect control over all of the character's singing range, an extremely emotionally expressive face, and a powerful belt which is well-suited for "I Don't Know How to Love Him", Phipps possesses a conviviality to her portrayal, providing Mary Magdalene with a complete character arc which transitions from her wayward ways to her devotion of seeing the light in salvation. Remarkably present whenever she interacts with Jesus and later with Peter, Phipps is a powerhouse performer in this production. Both the aforementioned number and her duet "Can We Start Again Please?" are deeply moving.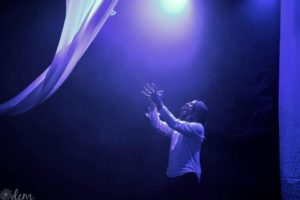 With a screaming falsetto-tenor, Rick Fountas emotionally slays the role of Jesus. Despite being lost by sound-drown in a few of his quieter moments, Fountas does a respectable job of tackling the rock-tenor role in a way that truly encapsulates the trials and tribulations of the character in this musical. There is no denying he has a powerful stage presence, an expressive face, and a knack for turning a musical number into a driven, plot-advancing, moment in the show. Facing off often, whether against Judas (Dickie Mahoney) or Pilate, or being laid bare on the cross, baring himself to his twelvish disciples during "The Last Supper" or just existing in the moment with those that need him most, Fountas is a convincing Jesus Christ Superstar.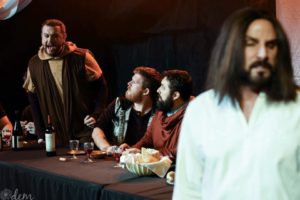 Dickey Mahoney's unchecked rage dominates his portrayal of Judas, making him the front-runner for superstar of the show. There is a lethal electrical charge surging through Mahoney when pummel-patters his way into the opening of "Damned for All Time." Watching Mahoney self-destruct before the audience's eyes as that number progresses is both haunting and harrowing. Emotionally eviscerating, Mahoney's Judas is every bit the tumultuously tempestuous character that one would hope to experience in Jesus Christ Superstar; he is so much more than just a betrayer, so far beyond a mere guilty party, and truly anchors the show as the foundational rock upon which the production finds its footing.
Don't miss Street Lamp Production's Jesus Christ Superstar, it becomes a life-altering experience because it presents this magnificent opera and story as something that is relatable in the time of now. Whoever your personal Jesus may be, it's all relevant, it's all modern, and it's all approachable.
Running Time: Approximately 2 hours with one intermission
Jesus Christ Superstar plays through March 17, 2018 with Street Lamp Productions— 5 Valley View Drive in Rising Sun, MD. Tickets are available for purchase at the door or in advance online. Several dates have already SOLD OUT. Please do not wait to purchase tickets.