Just the name alone brings an image to the mind, Frankenstein. What did you picture? A large green man with stitches covering him and bolts in his neck? While that is the general depiction of Frankenstein in our society today, the reality is that the name actually belongs to the doctor that gave life and not to his creation. Though it could be said that Doctor Frankenstein himself is the monster all along, a thought that drives the current production of Frankenstein at the Bowie Playhouse. Put on by Bowie Community Theatre, Brian Douglas has certainly brought to life Victor Gialanellas' adaptation of Mary Shellys' Frankenstein in an electrifying way!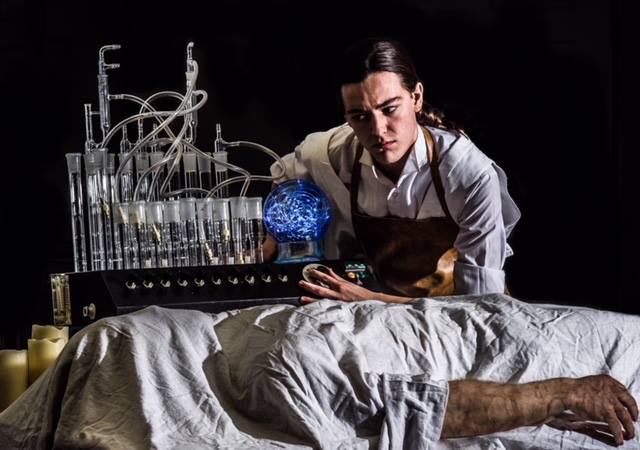 When you enter the theater you are greeted by a pair of headstones and eerie music being played, what better way to set the mood but also in a way foreshadow the events that are about to unfold. Brian Douglas, who serves not only as Director but as Set Designer as well, has managed to bring an entire estate to life on the small stage. With transitions that take you from a living room, to the outside grounds, and to the tower laboratory, Douglas moves you along with the story. It is worth nothing that the audience will spend some time sitting in the dark during the transitions as the large set naturally takes time to move, however the end result is worth the wait. The most impressive part of the set has to be the multi-level castle laboratory. This particular set is straight out of any sci-fi lover's dream, with parts that light up via on-stage lighting and a rising operating table. What adds to not only this particular set but all of them is the work of Set Dresser Ruta Douglas Smith. Smith has added pieces that while small really complete the feel of each environment. Of course none of this would be seen without the work of Lighting Designer Garret Hyde, who has used in most scenes very simple lighting so as not to distract from the action on the stage and utilizes specialty lights only when it benefits the scene, for example the dramatic blue lighting in the end scene that seems to perfectly match Frankenstein's state of mind.
What would a sci-fi play be without special effects and sound? Well it would exist, but it wouldn't be nearly as striking. Sound Designer Fred Nelson has added the sound for this show in a manner that neither overpowers nor takes focus away a balance that is sometimes hard to find but Nelson has managed to accomplish perfectly. Brian Douglas wears a third hat in his production, that of Special Effects which could be argued as one of the most important ones if not the most important. From onstage electrocutions to setting a cottage on fire Douglas has done outstanding work. Throughout the production there were audible gasps from audience members and excitement each time an effect took place.
Costume Designer Linda Swann made sure the actors looked as lovely as the sets they were standing on. Period garments graced the stage and were overall very lovely and striking to look at. However, there were a few moments that took away from the loveliness of the overall look, including black leggings on Elizabeth that were worn under her wedding gown. Lexi Martinez and Janice Kinigopolus completed the period look started by Swann with their hair and makeup designs. Most impressive was their work on the creation, making him look authentic and real (scary too), and not cheesy or like a bad Halloween costume.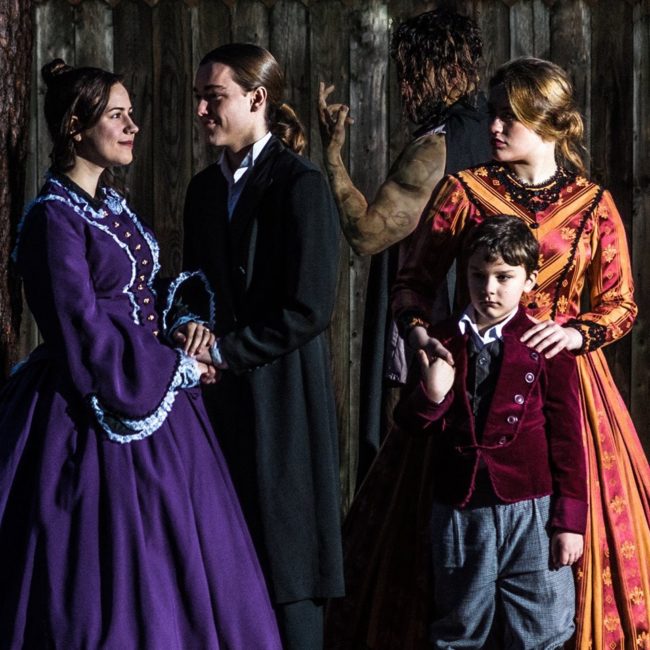 Throughout the production there are moments of violence, I say this as both a warning to people who might be triggered by violence but also as a way of mentioning the work of Stage Combat Choreographer Tom Plott. Plott has created very realistic moments of violence that will leave you wondering if what you saw was real or if it was Plott's direction. All actors remained safe, however, and the combat really added a great level to the production. Another layer of this production is the accent work, with certain words being pronounced uniformly throughout the cast. This is due to the work of Dialect Coach Faith Leahy-Thielke. While the dialects on certain words were wonderful, the overall accents of the cast were widespread with several choosing standard American Dialect with certain words being spoken with the dialect. While not a big deal it can be a jolt out of being in the moment when the actors' accent is suddenly different.
As Director, Brian Douglas has staged his show with moments of mass movement and moments of calm that perfectly bring to life what is happening and the feelings on the stage. Of course this couldn't be done without the work of his actors who help bring this classic tale to life.
Tennyson Harris brings to life The Creation, and he couldn't be more perfect in the role. From the moment he steps on the stage you can't help but be intrigued watching him in his first moments of "life". Harris moves his character through the curiosity and scared nature of his rebirth to the anger and confusion that drives him in the second act. It is beautiful and all culminated by his final monologue, which could bring a tear to the eye. As his creator Victor Frankenstein, Michael Bannigan presents an arrogant and angry character, as the show progresses you can see the hatred for his creation boil over. While there are few tender moments for Bannigan to portray, his strength seemed to lie in bringing to life the turmoil of his character and the softer moments didn't quite meet the rest of his performance. However, it was a believable portrayal of the iconic doctor and Bannigan provides a good opposite to Harris as the two bring to life one of the greatest stories of creator vs creation.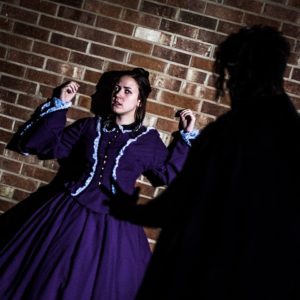 Madelyn Dominiski took on the role of Victor's fiancé Elizabeth Lavenza. She presents a lovely lady of the period and navigates the stage very well. Her moments of tender caring are very sweet and she has several moments of great strength that really seem to empower not only the character but her performance as well. Unfortunately, her chemistry with Bannigan seemed to be lacking and the pair seemed more like good friends than love interests. Alex Hyder as Henry Clerval who is Frankenstein's good friend from University is a good level foil to Frankenstein. Hyder gives his character calm and sense, but you can see his desperation to save his friend from himself.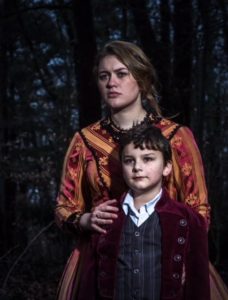 The play is rounded out by great performances from the rest of the cast; Stanley Livengood (Alphonse Frankenstein), Samuel Greenslit (William Frankenstein), Bill Fellows (Lionel Mueller), Ruta Douglas Smith (Frau Mueller), Ronald Araújo (Hans Metz), Alan Barnett (Peter Schmidt), Bill Brekke (DeLacey), Katie McCarren (Justine Moritz), and Charlotte Anne (Fritz). All were wonderful in their roles and added to the richness of the story, some even bringing some much needed laughter (Araújo, Douglas Smith, Fellows, and Barnett were hilarious!).
Overall BCTs Frankenstein is a wonderful retelling of the first Sci-Fi novel ever written. Those who love the story will not want to miss out on it. For those who struggle with violence, loud noises (including gunshots), and some gore it would probably be a good idea to pass this one by. If that isn't you then it is worth checking out if you're looking for something different, dark, and classic!
Running Time: 2 hours and 30 minutes with one intermission
Frankenstein plays through March 25, 2018 with Bowie Community Theatre at The Bowie Playhouse— 16500 White Marsh Park Drive in Bowie, MD. For tickets please call the box office at (301) 805-0219 or purchase them online.