Welcome to The National— where every show is for you— and this is new! Yes, welcome to The National— where they've got Something Rotten! And it's outrageous, fantastic, and downright fun. Directed and Choreographed by Casey Nicholaw, with Music & Lyrics by Wayne Kirkpatrick and Karey Kirkpatrick, and Book by Karey Kirkpatrick and John O'Farrell, this razzle-dazzle, hilariously side-splitting musical is great for everyone who loves theatres. It's even greater if you like Shakespeare. It's tremendous, stupendous, and out of this world if you're deeply steeped in both musicals and Shakespeare.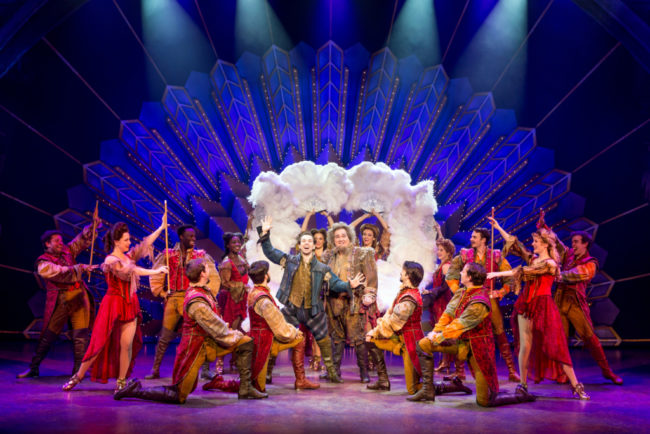 The creative team will "ooh and aah" you with ambiance, just like the opening number promises! Scenic Designer Scott Pask, Lighting Designer Jeff Croiter, and Sound Designer Peter Hylenski work in tandem to recreate Renaissance England in all of its spectacular glory in a manner that best befits the brilliance of Karey Kirkpatrick and John O'Farrell's book. Pask's fluidly moving scenic pieces make transitioning from the main roads into the creepiness of Soothsayer Alley a breeze of ease, and his rustic yet purposeful doorway allows for the easy transition from inside of a space to outside of one. Croiter enhances all of these finely detailed scenic outlines with music appropriate to the rock-and-roll (and occasionally gooey-love-ballad) nature of the show. Flashes of purple, swathes of blue, it all comes together with impeccable timing with Croiter's plethora of cues and colors.
That use of vibrancy is further echoed into the outrageously eye-catching outfits fabricated by Costume Designer Gregg Barnes. Creating a brilliant hybrid of Renaissance England and Broadway-Show Girl, Barnes' outfits are a technicolor marvel of style, pizzazz, and proper functionality. Assisting Barnes in these endeavors are Hair Designer Josh Marquette and Makeup Designer Milagros Medina-Cerdeira, who are responsible for the lovely looking ladies as well as the frightening and enigmatic Nostradamus. But the most praise-worthy sartorial selections among Barnes' collection is not the flashy ensemble numbers or even the valiant disguises used to spirit away Bea as a boy at various points throughout the performance (just like in multiple real Shakespearean plays!) but rather the astonishing and extraordinary dancing egg and Omelette costumes. These just can't be beat and enough can't be said about how hilarious and yet lovely they truly are.
Wayne and Karey Kirkpatrick bring a veritable lexicon of musical and Shakespearean references together in their music and lyrics— making this the ultimate treasure for Shakespearean enthusiasts and musical-theatre junkies alike, even more so if you're well-versed in both art forms. Karey Kirkpatrick, who shares book credit with John O'Farrell, does an extraordinary job of creating a convincing story, which ultimately rings true to the nature of humanity, despite all of its quirky ups and down, parodies and Easter eggs, and all of the other tomfoolery and shenanigans contained well within its plot. All of these hilarious elements are brought together under the sharply seasoned eye of Director and Choreographer Casey Nicholaw, whose eye for detail, precision timing, and extracting honesty in earnest from the players is second to none.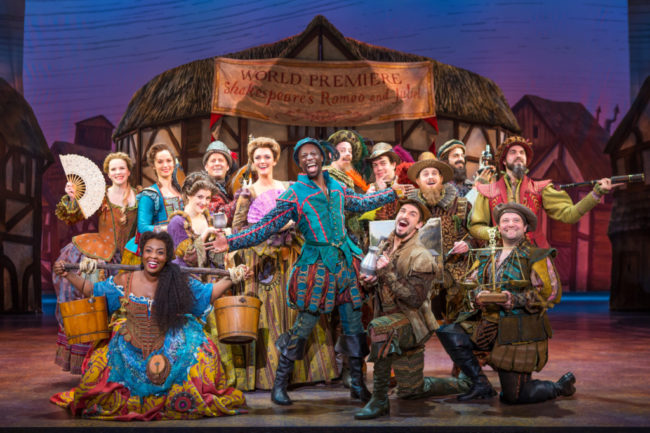 In addition to being a superb example of a show director, Nicholaw puts his choreographic skills to the test and comes out on top, looking like Broadway, smelling like roses, and presenting an astonishing series of intricately intense dance routines that get the audience delivering well-deserved ovation after ovation at the conclusion of big, show-stopping numbers. Pumping the ensemble full of enthusiasm, energy, and exuberance, Nicholaw provides top-quality dance routines that thrill and stun the audience. This is best witnessed in "A Musical" and "Bottom's Gonna Be on Top."
Key players of the aforementioned ensemble include the "Will Power Backup Boys" (Daniel Beeman, Drew Franklin, Luke Hamilton, and Con O'Shea-Creal.) This quartet of marvelous movers looks the part of backup dancers for the electro-thunderous hit that is William Shakespeare. O'Shea-Creal teams up later in the show alongside Kyle Nicholas Anderson and Nick Rashad Burroughs to play the "Chef Trio" who really put the tapping glee into "Make An Omelette." Burroughs, whose primary role is that of the Minstrel, has a powerful and soul-searing voice, perfect for belting out the introductory number, "Welcome to the Renaissance", giving the song flare and an enticing smoothness that entices the audience to enjoy the entirety of the experience they're about to consume.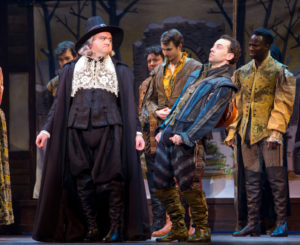 Such character men this show has too! There's a Shylock (Jeff Brooks) and Lord Clapham (Joel Newsome) who both add their bits of humor to the production, whether with uncanny stereotypes or exacting comedic line delivery, the pair are well-suited for the roles in which they've found themselves. But Scott Cote is a show-stopping scream when it comes to his performance as Brother Jeremiah. Full of sass, flare, and all things saucy, Cote is a literally scream who cannot keep the character's clearly closeted homosexual behaviors at bay. The ferocity and tenacity with which he enters and exits a scene are second to none and the facial expressions are the sun to the production's east.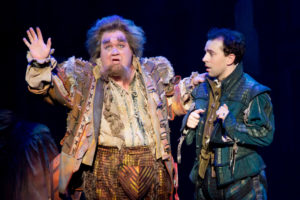 But the show-stopping, scene-stealing, nobody-could-have-predicted-it-better entity of Something Rotten is that zany-in-the-brainy soothsayer, Nostradamus (Blake Hammond.) With a kooky personality, cracked sense of humor, and a superior command over both his comedic timing and physical comedy, Hammond is sensational. Whaddya-talk, Whaddya-talk, Whaddya-talk? He knows the territory! He's got ridiculous side-splitting footwork to accompany his big breakout number, "A Musical" and leads the ensemble through this uproarious routine that results in a much-deserved roaring ovation from the audience. As energetic as the ensemble and as crazy as all the references his character makes, Hammond is stupendous in the role of Nostradamus, stealing every moment he's on stage.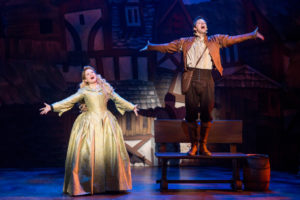 Of course there are the women; they do their fair share of stealing all their own scenes. The spunky bubbling burst of sunlight that is Portia (Autumn Hurlbert) and the gritty, salted-earth, and earnest Bea (Maggie Lakis) couldn't be any further opposite from one another but they each serve their purpose. Don't dismiss Hurlbert's sprightly exuberance so readily; her character may be two squeaks shy of Chenoweth-channeling, but her vocal prowess is fierce. With subdued emotions but tremendous sound and vocal quality for "I Love the Way", a duet shared with the incomparably dulcet Nigel Bottom (Josh Grisetti), and a balanced belted sound during "We See The Light" (yet another Nigel Bottom duet), Hurlbert proves she's fit for the part, vocal quality, talent, and all.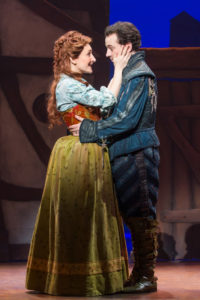 Lakis, who has a strong and tenacious voice, well suited for the lower range in which her character's songs are written, belts out an equally strong sound with a much different timbre for her solo "Right Hand Man", really landing the hard articulation of the high-brow wordy jokes of the number. Though her reprise of the song is much gentler in its emotional sentiment, the vocal quality does not waver here. Quirky and hilarious in her ability to masquerade as a man— as so many of Shakespeare's female characters were oft meant to do— Lakis packs an equally potent punch when it comes to personality, giving her equal footing with the leading male talent of the production.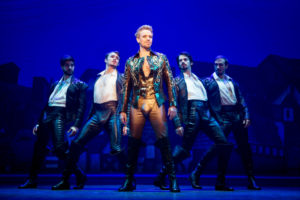 It's all about Shakespeare (Adam Pascal) William Bloody Shakespeare (still Adam Pascal) and everybody knows that's the greatest tantrum-throwing, self-absorbed, egomaniacal, prat in the history of Renaissance England. Adam Pascal dips deep into that character well and arises triumphant, basking in the glow of the character's narcissism whilst blaring the epitome of soul-searing rock-tenor vocals through each of his numbers. True to the lyrics, Pascal is "the Will of the people", and has huge belts of sound with incredible vocal quality to accompany the number, "Will Power." His outright tantrum he throws during "Hard to Be the Bard", coupled with the perfection in his patter, is stellar, making him swoon-worthy, praise-worthy, and downright bodacious as Billy the Badass Bard.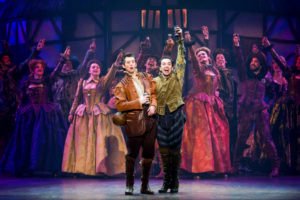 Hating Shakespeare with vehemence, Nick Bottom (Rob McClure) has passion, charisma, comedy, and vocal talent all on his side. Fleet of foot, expressive of face, and full of gusto, he roars with utter annoyance beyond compare into "God, I Hate Shakespeare." McClure is an unstoppable triumvirate of expression, dance, and song. Human and raw despite his flaws and screw-ups, there is something astonishing about the way he presents Nick Bottom. McClure, partnered opposite Josh Grisetti— playing Nigel Bottom— is one half of the talented duo that comprises the Bottom Brothers. Grisetti holds his own, both in the adorably pitiable character choices present in Nigel as well in vocal strength, especially when it comes to baring his soul in song, like he does in "To Thine Own Self Be True." The pair are unbeatable, better than even ham and eggs!
Something Rotten! won't stay in the nation's capital for long and it would be a shame to miss the most lyrically brilliant, comedic musical of our time, so get your tickets now before the Bottom Brothers and their entire troupe up and scramble away with all the good stuff!  
Running Time: 2 hours and 30 minutes with one intermission
Something Rotten plays through February 18, 2018 at The National Theatre— 1321 Pennsylvania Avenue NW in Washington, DC. For tickets call the box office at 800-514-3849 or purchase them online.