O-ho the Wells Fargo Wagon is a-comin' down the street! Oh please let it be for me! O-ho the Wells Fargo Wagon is a-comin' down the street— and I know, I know, I know what it must be! Why it's bringing something special— a classic production— just for me! And all of Charm City as Third Wall Production presents The Music Man as their winter stage offering of 2018. Directed by Mike Zellhofer with Musical Direction by Andrew Zile and William Zellhofer, this tried-n-true chestnut of musical theatre is just want you want to warm up from the winter blues!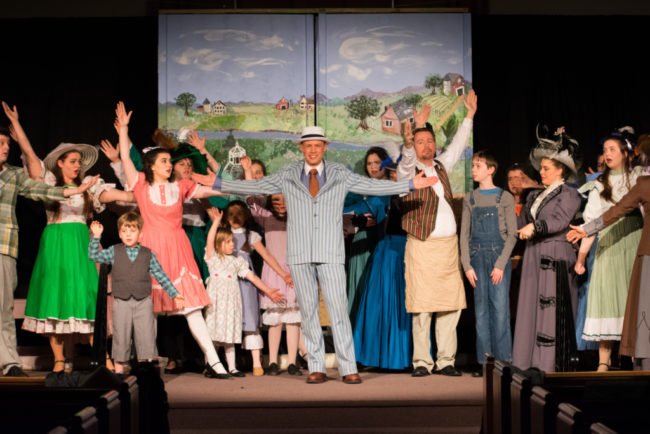 River City, Iowa never looked so pretty and thoroughly detailed as it does on the backdrops meticulously and lovingly hand-painted by Amy Rudai, with an assist from Emma Hawthorne. Set Designers Jordan Hollet and Pat Rudai have constructed a series of panels that flank the front of the stage, which Amy Rudai and Emma Hawthorne have painted in great detail to include things like Shinn's Billiards Parlor, Dunlop's Grocery, and other town icons, like The River City Gazette. The back panels, which are painted with lovely verdant bucolic scenery, flip to reveal the inside of a train or Madison Gymnasium, depending upon where we're at in the story line. The Paroo house rolls straight onto stage complete with proper porch and peek-through window. While at times the scenic changes are somewhat laborious, and with a few good performances under their belt will no doubt tighten, the beauty and meticulous detail that has gone into the scenery well makes up for the time spent adjusting them into place.
Praise continues to swing is the Rudai direction as Amy Rudai serves as the show's Costume Designer. Assisted here— primarily in the millinery department by Jennifer Grundy Hollet— the costumes are well suited for the show's turn-of-the-century aesthetic. The Pick-A-Little Ladies' costumes are the finest featured in the show, complete with outrageously fluffed and feathered hats! Harold Hill's pinstripe suit isn't too hard on the eyes either and the high-waisted skirt featured on Marian for most of the production is perfectly appropriate for her stand-offish nature.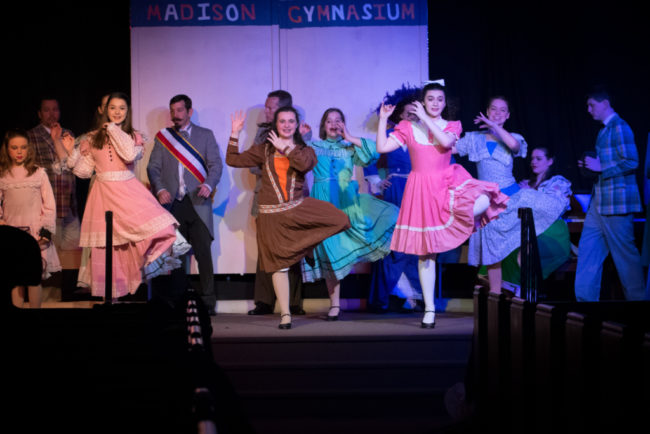 It is rare that you'll find a production that could stand to lower the microphone volume when it comes to the ensemble, but with this powerful ensemble— of average ensemble numbers— there is an overwhelming wave of sound every time they burst into song. While powerful and intense, it's too loud at times, mostly during the big and exciting numbers like the chorus of "Trouble" and "Wells Fargo Wagon." With some adjusting the lyrics will become clearer and the harmonies that are well-blended by the Musical Direction Team will become more apparent. Special praise to Musical Director William Zellhofer who worked on fine-tuning the superb-sounding "Schoolboard Quartet" so that their harmonies during "Lida Rose" and every other time they sing, sound exactly like a barbershop quartet ought to sound.
Despite the simplicity of most of the routines, Choreographer Jillian Arnold has managed to keep the company moving with diligence. With the smaller stage space, Arnold thinks outside the box and maneuvers them out into the aisles and through the pews of the sanctuary. This is particularly useful during "76 Trombones" and at the end of the show. Arnold's finest routine is what is expected, "The Shipoopi." With a great many leaps and bounds, particularly among the ladies— as well as Zaneeta (at this performance dual-played by Olivia Winter and Grace Volpe)— the routine is lively and energetic, if a bit loud in its nature of landing feet to floor. A nod is also deserved of all the leg-n-book silliness featured in "Marian The Librarian."
There are few minor issues with pit balance, though Pit Conductor Andrew Zile does attempt to correct these as the show progresses, as well as with articulation from the ensemble. This is especially true of the "Pick-A-Little" Ladies. Featuring Amy Rudai, Jillian Arnold, Kirsten Mackin, Shelby Pedrick, Elizabeth Volpe, Mea Holloway, Elena Ritter, and Jennifery Alexander leading the bunch as Mrs. Shinn, these ladies are chipper and shrill for the number, but their articulation of the spoken word that happens every time they go into their "Pick-A-Little" number is lost. All of the humor that goes with the jokes of "Balzac" and the other things drown among their super enthusiastic chorusing of the main tune. But this aside, the ladies fit the bill, especially when falling into the various dance nonsense that their characters are conscripted once Harold Hill hoodwinks them into being dancers.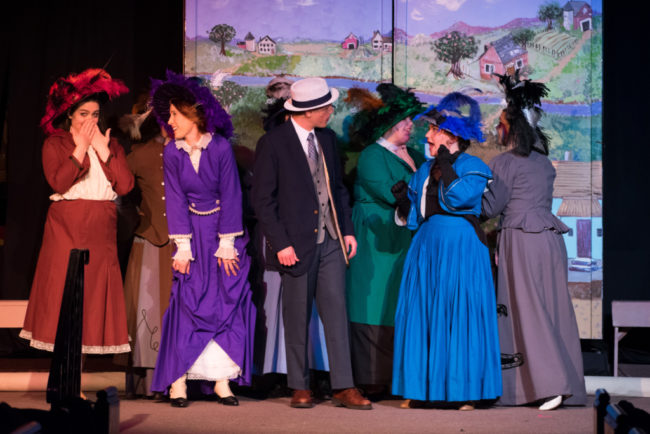 At this performance, Samantha Rudai is the most adorable little Amaryllis for miles. With a sweet disposition and chipper sound to accompany Marian during "Goodnight, My Someone" there is a smile in her heart and her voice, which holds well for the minor, yet very important, character. Winthrop (played at all performance by Pierce Elliott) has quite the opposite demeanor about him, sullen and moody, as the character is wont to be. Elliott has a fine put-upon lisp, written into the character, which he takes great pains to deliver both in speaking and in singing. Bursting with pride for both his solo in "Wells Fargo Wagon" and his fully led solo of "Gary, Indiana", there is something radiant and strong about his voice that makes the character sparkle.
Also at this performance, taking up the role of Tommy Djilas on short notice, Jake Schwartz stepped into the shoes of the young rambunctious teen and did the character a tremendous justice. Though the Tommy character isn't truly a featured soloist, his ornery sense of existence was well represented in Schwartz and his dancing skills were something to be marveled over, showcasing a sense of freedom in the hips and feet. Playing opposite of first Olivia Winter and then Grace Volpe (who split the role of Zaneeta Shinn at this performance), Schwartz was convivial and congenial with both. Volpe, who is sweet and lively on her feet, offers a great deal of earnest simplicity to the character, while Winter is a bit more enthusiastically inclined with modern-day facial expressions that feel a bit out of place during "Shipoopi."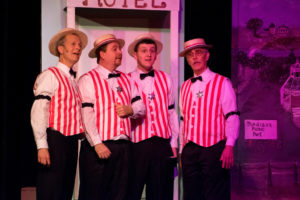 There is a sublime sound for the four featured "Schoolboard Quartet" singers. Consisting of Fred Frey, Mike Mullis, Brian Patrick, and Quinten Patrick, this astounding foursome creates beautiful music together throughout the show. All of the quartet doubles up in the opening scene on the train, bouncing and bumbling along through "Rock Island" and its Quinten Patrick's "Whadya Talk" that really stands out as stellar. Charlie Cowell (Jim Fitzpatrick) is as Iowa Stubborn as they come, bouncing through this number as well, adding exceptional articulation to the tune, and a rousing good kick in the trousers to the final few scenes of the show.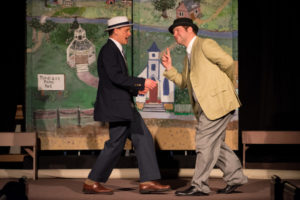 When Joe Weinhoffer steps off of that train as the enigmatic Professor Harold Hill, he's got his work cut out for him. Weinhoffer is the epitome of a Harold Hill, slick, smooth, and ready to snowball the town. Despite Mayor Shinn's (Patrick Rudai) bumbling, Marcellus Washburn's (Andrew Pedrick) cautioning, and every other challenge the good professor encounters, Weinhoffer shows he's up to the task. Pedrick's Marcellus is high-octane and perfectly designed to lead the "Shipoopi", but it's his often silent facial expressions when dealing with Harold Hill that make his character well worth watching. They really live up the camradarie of the friendship during "Sadder But Wiser Girl" as well, giving Pedrick a chance to showcase more of his dance moves and strong vocals.
Joe Weinhoffer's Harold Hill has perfect articulation, second to none, and exacting enunciation all through his patters, especially during "Trouble." The driving force of this and all his numbers, this role is an extraordinary use of Weinhoffer's talents, especially when it comes to the various interactions he shares with Marian. He's sharp, clean and sincere with his approach to the character's nuances, and delivers a solid performance in all three arenas of acting, singing, and dancing.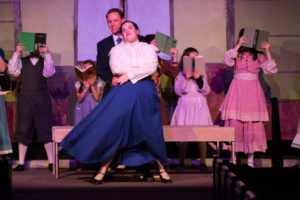 Completely arctic when first encountering the good professor, Maggie Flanigan as Marian Paroo is a pistol. With a serene soprano voice perfect for "Goodnight, My Someone" and "My White Knight" there is a fire burbling beneath her, no matter what Mrs. Paroo (played with exorbitant enthusiasm, excitement and gusto by Jennifer Grundy Hollett) says about sparks not flying because of her extraordinarily high standards. The carefully cultivated chemistry between Flanigan's Marian and Weinhoffer's Harold Hill is the stuff of Meredith Wilson's dreams; they play extraordinarily well together, they even dance well together during "Shipoopi." Carrying the show to heightened successes, despite its minor issues, Flanigan and Weinhoffer make a great team in this well-worn musical theatre classic.
So what the heck, you're welcome, they're glad to have you with them— Third Wall Productions and their Iowa-stubborn production of The Music Man this winter, come and see! Get your tickets quickly, or you'll get left down at the junction, when the Wells Fargo Wagon rolls through this February!
Running Time: Approximately 2 hours and 45 minutes with one intermission
The Music Man plays through February 11, 2018 with Third Wall Productions at St. Thomas' Episcopal Church— 1108 Providence Road in Towson, MD. Tickets are available for purchase at the door or in advance online.