Did I tell you the story? The story of the #uglycry of the century? Did I tell you the story? The story of the most evocative musical to take to the stage in recent history? Did I tell you the story? The story of truth, humanity, reality, and life all swirled together through song and narrative perfection, unwinding, unraveling, and unfurling in The Max Theatre at Signature Theatre this winter? Did I tell you the story of Light Years? This stunning world premiere musical, with music, book, and lyrics conceived by Robbie Schaefer, is raw, passionate, unadulterated life at its most simple: it is a story of a father and a son. Directed by Eric Schaeffer with Musical Direction by David Holcenberg, this heart-stopping story is one for the books that will slip into your ear, slide through your heart, and explode inside your soul until you've no tears left to cry.
There is an inexplicable magnetism to the music that Robbie Schaefer has composed in this churning emotional story that sets pathos and nerves on the edge of exposure. There is an indescribable sensation that burbles within these musical strains, drawing forth tears and heartfelt expressions that simply cannot be captured in words. Schaefer's potent poetry possesses a lyrical quality that is impossible to describe with any justifiable accuracy; words only cannot begin to express the emotional experience created in the score, in these songs, in this story. You have to be in the room where it happens, you have to feel it, see it, hear it, and experience it for yourself. Schaefer has ultimately expressed and explored a life-changing moment of theatre— to say he created it sounds artificial despite the conception being his own— and this world-changing experience is too raw and too real to be labeled with such base language as creation and conception.
Schaefer mines unaccountable beauty in the natural flow of the story. The way the onus of the narrative, the task of responsibility is transferred and shared from Young Robbie to Robbie and from Middle Robbie to Robbie is remarkably striking in a gorgeously haunting manner. One of the best examples of this in the show occurs during "Can You Hear Me Now." Schaefer's masterpiece is filled with moments of emotional perfection— often of the "uglycry" variety— where lyric and music and story melt together into one astonishing entity that is too extraordinary for words.
The orchestra— comprised of just Sarah Foard on Violin, Doug Lawler on Keyboards, and Paul Keesling on Drums— is a moving and critical component to the production. On stage and completely visible, as the performers often play along (not dissimilar to Once), Foard, Lawler, and Keesling are as much a part of the story as the players. Foard and Lawler in particular have heart-stopping moments of musicality throughout the score of the show, with Foard's unequivocal sound on strings reverberating through "Sounds Like Home" and a most memorably wicked slide glistening across Lawler's keys during "After All"; these are two of the more prominent moments wherein such musical genius occurs in the performance.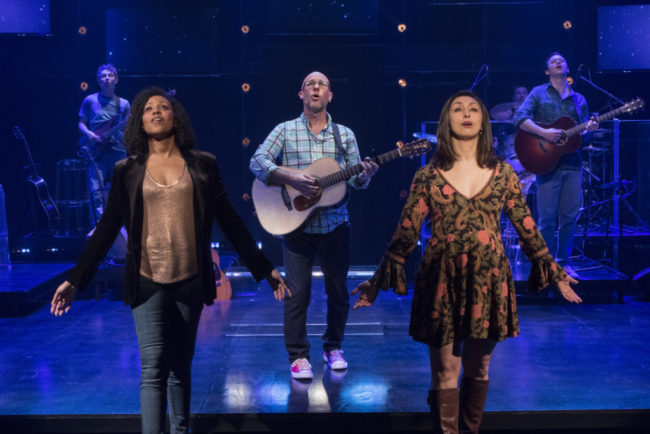 Schaefer's music is sublime, his story phenomenal. With such striking work, there is little to be done by way of aesthetic accompaniment from the creative design team. That said, Director Eric Schaeffer, doubling up as the show's scenic designer, works with Lighting Designer Chris Lee and Video Designers Mark Costello and Zachary G. Borovay to subtly and simplistically enhance the atmosphere with delicate projections occurring in the background. This gives the audience just a hint of a spark, allowing them to mentally set a time and place in their mind's eye while still being completely absorbed in the music and the story. Sound Designer Ryan Hickey's work is slightly more prominent, used as effective punctuation to some of the more severe moments in the narrative, particularly during those of brutal recollection.
There comes a moment, near the show's natural conclusion, where Director Eric Schaeffer reveals his true and complete understanding of Robbie Schaefer's masterwork; the way Schaeffer slows the scenic exchange to a crawl so that the gravity of reality can land with a deafening thud is theatricality at its finest. Schaeffer addresses this moment with sincerity and a practiced hand so as not to ruin an emotionally blindsiding instant in time with artifice. Time seems to stop entirely from the moment the music starts and Light Years exists inside its own brightly burning star, captivating the audience through to the end.
Schaeffer has gathered an astonishing and talented group of individuals, including mastermind Robbie Schaefer for the production. The vocal and musical talent gathered within these performers is live changing and utterly moving. When the voices of the six performers come together for numbers like "Burst the Silence" and "Can You Hear Me Now?" there is an emotional magic that happens, only understandable if you're there hearing it, seeing it, and feeling it.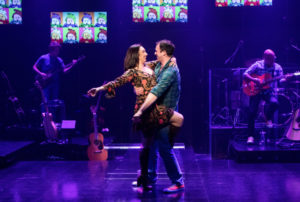 Kara-Tameika Watkins, as one of only two females in the show, lends her voice miraculously to "He is Gone" and other instances throughout the performance. Natascia Diaz, a fiery spark of zest and vigor, adds a tenacious vocal quality to the mix as the other female involved with the show. Diaz, who plays Chantelle and Annie, with the latter being the love-interest and ultimately wife of Robbie, has a remarkable way of expressing her character's emotions both facially and vocally. Her duet with Middle Robbie, "After All" is filled with robust currents of giddy loving potential, while "Happy", the couple's other duet, starts off with an intense giddy sensation that quickly devolves into harrowing emotional frustration and turmoil.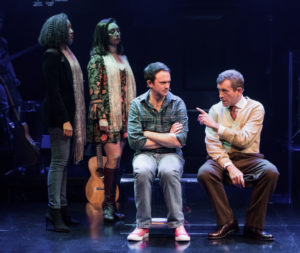 Playing Middle Robbie, Luke Smith carries a good portion of the Robbie-character's emotional baggage not only in his voice but in his physicality. With a sublime sound that blends perfectly into the overall vocal harmony of the piece, Smith's warm and rich tones produce quality feelings and sensations every time his voice is featured in a song. This is particularly true during "Remember Me", the tragically harrowing, beautifully haunting, and ultimately heart-wrenching trio piece (featuring Diaz and Watkins on backup vocals) between himself, Young Robbie and Robbie.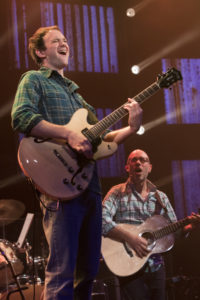 As Young Robbie, John Sygar possesses all of the exuberant energy of an enthusiastic youngster. Embodying the narrative protagonist at the age of six and sometimes a bit older, there is a naiveté that is both refreshing and humorous deep-set into his portrayal. Both "A Joyful Noise" and "Hide and Seek" are sublime examples of the way his childlike nature influences his singing, vocal prestige harmoniously married to lyrical quality. Most of Sygar's moments are shared with Konnie (Bobby Smith) and these moment are the critical development of the characters' bonded relationship.
Bobby Smith is the bringing of tears, the catalyst of crying, the maker of moving moments in this production. At first his Konnie is lighthearted, humorous and even a bit stereotypical in so far as caring fathers are concerned. Smith's delicately crafted vocal affectation and overall approach to his accent and cadence are perfectly fitted to the immigrant character. His vocal quality is suited perfectly within the range of music written for Konnie. Although most of Smith's vocal work is accomplished early on in the production, there are moments late in the show that stop the heart, transfix the mind, and so thoroughly ensnare the senses that it's impossible not to weep. Smith's moments happening just after "Lullaby" are the pinnacle of the show; he explores heart-stopping experiences in real-time as if they are more than just the memory the character is recalling and it is here that the full weight of the 'uglycry' comes crashing down upon the heart and soul as if the emotional floodgates have been decimated.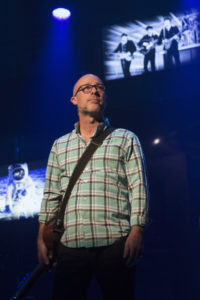 Robbie, autobiographically inserted into his own musical, is the initial spark of creation. Robbie Schaefer sets the twinkle in motion, ignites the flame of feeling, and gently guides it through its natural paces. With marvelously smooth vocal sounds, the way Schaefer's voice slips over the lilting poetry of his lyrics— even when simply spoken in anecdote— creates a picturesque beauty most indescribable. More remarkable than words, Schaefer is the core of this pulsating, lively, emotional universe, and shares that gift— with his eyes full of wonder, his heart full of feeling, and his soul full of love to everyone in the room with him— both on stage and in the audience.
This limited engagement is a musical sensation; a true testament to the creativity of our times, this phenomenal snippet of real life is happening on the stage at Signature Theatre and is unlike anything you've ever seen or are ever likely to see ever in your life time. Not to be missed, Light Years is the musical truth of our time.    
Running Time: 90 minutes with no intermission
Light Years plays through March 4, 2018 in The Max Theatre at Signature Theatre— 4200 Campbell Avenue in Shirlington, VA. For tickets call the box office at (703) 820-9771 or purchase them online.