In 1879 when Henrik Ibsen premiered his play A Doll's House he probably didn't imagine that today, nearly 139 year later, it would be the inspiration for a new work about a modern Iraqi-American family who welcome an Iraqi refugee into their home for Christmas. But that is exactly what has happened, Heather Raffo has brought Ibsen's work to new life with her play Noura, now playing at the Shakespeare Theatre Company's Lansburgh Theatre as part of the Women's Voices in Theater Festival.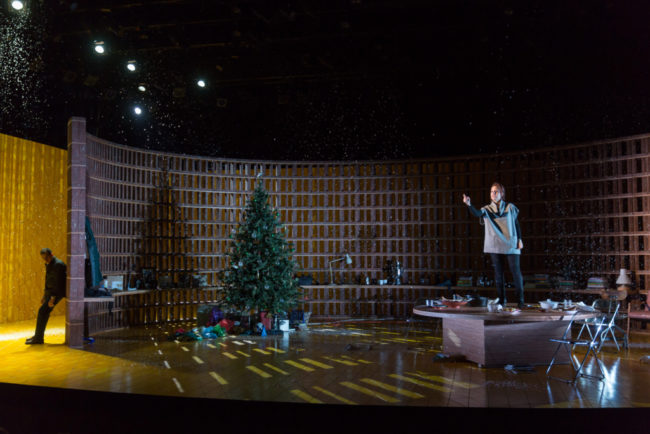 Noura is written by Heather Raffo, who developed the play after working with Arab-American women from New York City. Her script bounces back and forth like a game of tennis between humor and strained arguments. At times what is happening is hard to follow because of the quick dialogue and the fast switches between humor and argument. However, if you miss something you get the gist of what is going on when the play backtracks to remind you what has happened in a previous conversation. Raffo does a beautiful job of weaving in nods to Ibsen's work, such as a nod to the original Nora's macaroon sneaking the more modern Noura's smoking. It is moments like these that will delight fans of the original source material.
The play takes place over Christmas Eve and Christmas Day in New York City, in a barely furnished apartment. This setting and Set Designer Andrew Lieberman's interpretation allows the actors and their words to be the main focus. The set includes a slatted curved wall that cuts the stage, a visual that seems both looming and protecting. Masha Tsimring's lighting design works in perfect harmony with Lieberman's set; the light illuminates the actors from their level (a la every day lighting) instead of traditional theatre lighting where the actors are lit from above. Obadiah Eaves has weaved in sounds throughout the show that heightens every scene and instead of competing with the emotions and words of the actors, the sounds add to what is going on but never distract. Overall lots of talent and hard work have gone in and made the setting for this work seem very every day and common place, like you're looking at a snapshot of real life. Joanna Settle, the play's director, has chosen a talented group of actors to bring the story to life. She has crafted intentional and emotional scenes that keep moving even in the moments of silence. Nothing seems presentational or over acted, just real people in a real situation.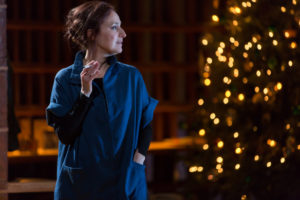 Heather Raffo not only wrote the play but tackles the lead of Noura herself. Only leaving the stage for brief moments, she fills the stage with her character's palpable nervous energy. The majority of shifts in feeling come from Noura and Raffo goes back and forth beautifully. Nabil Elouahabi portrays Noura's husband Tareq, a man who is trying to move on from the trauma of the past and start fresh. His character has harsh moments of sexism and regret from the past that contrast nicely with his moments of just trying to be a loving father and husband. The cast is rounded out by Matthew David as Noura's friend from home Rafa'a, bringing wisdom and some well-timed comedic relief. Dahlia Azama, as refugee Maryam, her need for life and something to hold is touching. She is the modern foil to Noura's old fashioned conservative moments. Gabriel Brumberg finishes the cast as Noura and Tareq's son Yazen, his moments on stage are few but he is the hope for the future. A child excited and worried for his mother, this young actor is absolutely on par with the older actors.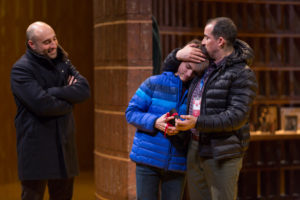 This play will absolutely without a doubt make you feel uncomfortable. However, that is no reason to shy away from it. The story is worth seeing and in many ways needed to be seen. It is a take on life that is rarely talked about, and you will leave with a new appreciation for the struggle of these refugees and immigrants that maybe wasn't there before. In a time when turning your eye is becoming common, Noura grabs you by the shoulders and makes you see.
Running Time: 90 minutes with no intermission.
Noura plays through March 11, 2018 as a part of the Women's Voices Theater Festival at Shakespeare Theatre Company in the Lansburgh Theatre— 450 7th Street NW in the Penn Quarter—China Town neighborhood of Washington DC. For tickets call the box office at (20) 547-1122 or purchase them online.