In a time where our students are facing issues with identity, popularity, socializing, and acceptance on an almost minute-by-minute basis, a show like Heathers, where each character openly discusses their role in the social environment of high school, is poignant, relevant, and necessary. Street Lamp Productions' brilliant performance of the musical hits all of the right notes, both literally and metaphorically.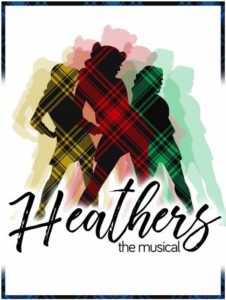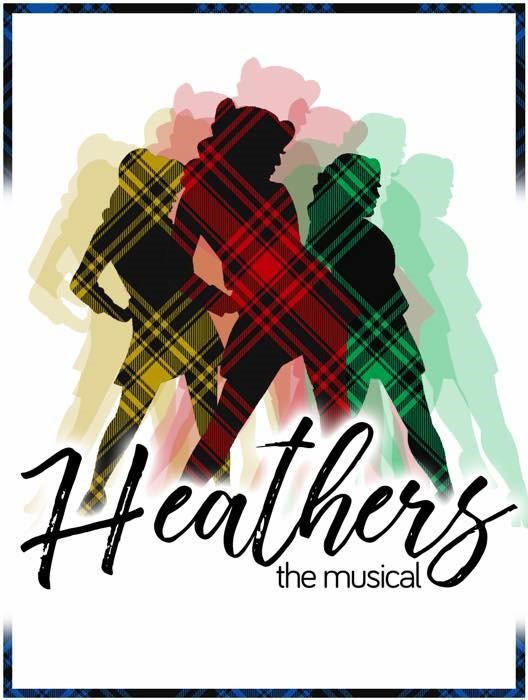 Based on the 1980's cult-movie of the same name, Heathers follows the protagonist in the show, Veronica Sawyer, as she struggles with morality when trying to fit in with the popular Heathers (Chandler, McNamara, and Duke). Veronica's relationship with her best friend, Martha Dunnstock, is strained when Veronica is accepted into the Heathers' group, and she is caught in conflict when a new student, JD, rolls into town. The script, music, and lyrics were written by Laurence O'Keefe and Kevin Murphy, who are the creators of another successful movie-to-musical adaptation, Legally Blonde.
Street Lamp Productions' home in Rising Sun, MD offers an intimate setting for their productions in a blackbox theater that is set up perfectly for engaging productions for its audiences. Street Lamp Productions is celebrating only its third season at their Black Box Theater, and they have already produced multiple, strong performances that Cecil County audiences rarely get to experience. The young theater is continuing to grow with after-school programs for local students, and the recent upgrades to lights and sound pay dividends to this production. As you walk into the theater you are immediately transported to Westerberg High as the walls are adorned with the typical school bulletin boards, lockers, and flags, and Heathers movie and musical trivia on the wall preshow offers fascinating insight into the cross-over between the two.
One noticeable strength of this production is how its designers and directors have successfully utilized the limited space and resources while still delivering top-notch production quality, and the team's talents are obvious from efficient, creative choices that are demonstrated throughout the production. Bob Denton serves as the production's Lighting Designer, and his efforts are successful in taking us from the hallways of Westerberg High to the Thunderdome to Veronica's nightmares with deliberate use of specific colors, thoughtful moments, and seamless transitions. Denton's genius when it comes to lighting is demonstrated through the use of so few lights in order to take the audience through a variety of settings and moments. Set design by Shane Jensen and Kevin Woods was another aspect of the production that demonstrated clever, considerate choices in order to utilize the limited space well. Surprise set pieces are concealed by Westerberg High School banners, school lockers are used for quick-access storage, realistic pieces of Jeeps are carried on by cast members, and shelves from a popular convenience store are made mobile to easily transport us through the story with efficient set changes and speedy transitions.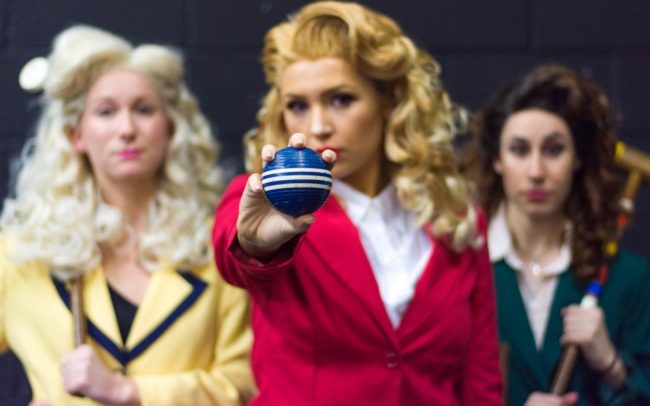 A benefit of performing in such an intimate space, one that this production takes advantage of, is the lack of dependence on microphones. The ability for every line, whether spoken or sung, to be heard clearly in the back row of the audience a credit to both the talented vocalists and the musical direction, also provided by Mr. Jensen. Costume Design by Tigga Smaller is another strong point of the production; the iconic, yet updated, Heathers' costumes stand out in the myriad (nice) of retro jackets, t-shirts, and accessories that Smaller uses effectively to take the audience back to Westerberg High in the 80's.
The show's choreographers, Bambi Johnson and Tigga Smaller, have created exciting choreography that the cast executes well throughout the entirety of the production. Complete with lunch-tray processionals, gospel revival, and nods to iconic 80's dances, Johnson and Smaller demonstrate thoughtfulness and an expertise of working in a smaller space as the ensemble moves well throughout the whole production. Stand-out dance moments in the show include "Candy Store," where the three Heathers move like a revivified Destiney's Child, and "My Dead Gay Son."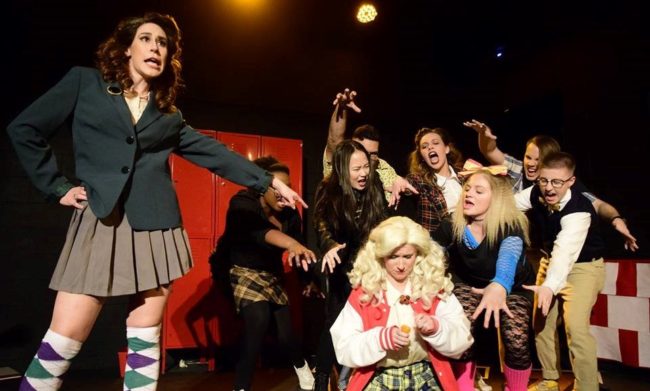 This cast's vocal performances are the highpoint of the production; Jensen has assembled a strong, well-rounded group of singers, and there are both outstanding individual and ensemble performances throughout the show. The ensemble sings confidently with wonderful blend and balanced harmonies, and individual members, notably Jordan Hoeflich and Breonna Lewis, showcase strong vocal talents on solo lines in the songs "Beautiful" and "Shine a Light." Josh Yannuzzi, as the enigmatic new-kid in town, JD, offers strong moments as his jaded outlook on society and the students of Westerberg High conflict with Veronica's principles. Jason Beil deserves recognition for a strong vocal performance and entertaining moments as Ram's Father and Big Bud Dean, JD's father. Josh Schoff and Shane Wilson both impress with their hilarious interactions as Ram Sweeney and Kurt Kelly, the high school football stars and resident-bullies. Their duet, "Blue," brings down the house, and one must see the show to truly understand why.
Mia Coulbourne offers a genuine performance as the oft-bullied Martha Dunnstock. She is all smiles when she finds out her crush of 12 years has feelings for her, but Coulbourne's performance is heartbreaking as Martha's trusting nature is tested and exploited. One might wish that the script and score offered more opportunities for Martha to be featured as Coulbourne gave a phenomenal performance in her shining moment, the song, "Kindergarten Boyfriend."
Emily Elborn and Lizzie Detar, respectively playing Heathers McNamara and Duke, both offer strong and distinct performances throughout the show. Elborn, as Heather McNamara, offers a truly moving performance in her song "Lifeboat," which offers the audience a first-hand view into the mind of a conflicted teen constantly working towards keeping a firm grasp on their popularity while meeting the expectations laid upon them. Elborn sings beautifully, and her character's growth throughout the show adds to a touching performance. Detar, as Heather Duke, plays the opportunistic teen-bully with unwavering consistency. Ms. Detar's full range of talents were on display throughout the show as the actress, like her character, takes advantage of her few opportunities as she showcases her vocal and dance skills.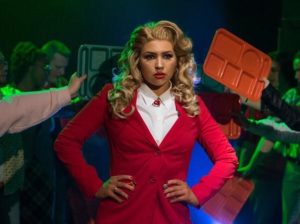 Not to be outdone by her similarly-named counterparts, Sydney Phipps delivers a commanding performance from start to finish as the 'mythic bitch,' Heather Chandler. Even when not speaking or singing, Phipps' presence on stage is demanding of the audience's attention as she completely embodies one of the show's primary antagonists. Her focused character never waivers as she manipulates those around her to do her bidding, and Phipps is a dominant force in every scene. Her extraordinary vocals were on prominent display during "Candy Store" and "Me Inside of Me," and her performance was a highlight of the production.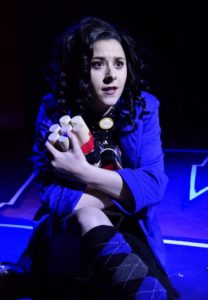 Darby McLaughlin gives a standout performance as the show's protagonist, Veronica Sawyer. Her effortless and impressive vocals, humor, and dynamic acting all serve to bring the character to life as she matches well with the other strong performers and characters on stage and successfully navigates Veronica's journey through gaining and losing much more than the popularity she sought at the start of the show. McLaughlin's voice impresses throughout the show, and her voice soars both in "Beautiful" and "Dead Girl Walking" as she makes the vocally difficult seem natural. Her quieter, sweeter moments, like the song "Seventeen," are just as beautiful and impressive.
Street Lamp Productions' Heathers is filled with incredible local talent, and it is combined with smart and effective direction and design to create a truly powerful performance.
Running Time: 2 hours and 15 minutes with one intermission
Heathers: The Musical plays through February 18, 2018 with Street Lamp Productions— 5 Valley View Drive in Rising Sun, MD. Tickets are available for purchase at the door or in advance online, though you may want to purchase in advance; the first weekend sold out! The theater has added a new performance on Saturday, February 17th, at 2pm (in addition to its original 8pm performance.)