"History is the domain of rich, white men, who as a breed, are allergic to change." Who said it? Her name is: MARY ANNING! MARY ANNING! She knows what it is like when the world won't acknowledge you. But the universe is impartial, the universe does not care. It's the people that populate the universe that are not impartial, the people that care. So what do you do when the people won't acknowledge you? You make your voice heard! Which is exactly what The Women's Voices Theater Festival is all about, setting flight to the voices of women in theatre, be they actors, playwrights, creative designers, or fantastical characters. Offering one of the only productions for young audiences at the festival, The John F. Kennedy Center for the Performing Arts is presenting Digging Up Dessa, a world premiere through the Kennedy Center Commission program, written by Laura Schellhardt. Witty, clever, full of heart and innovation, this evocative and yet enjoyable play for young audiences has a lot to offer and a lot to teach.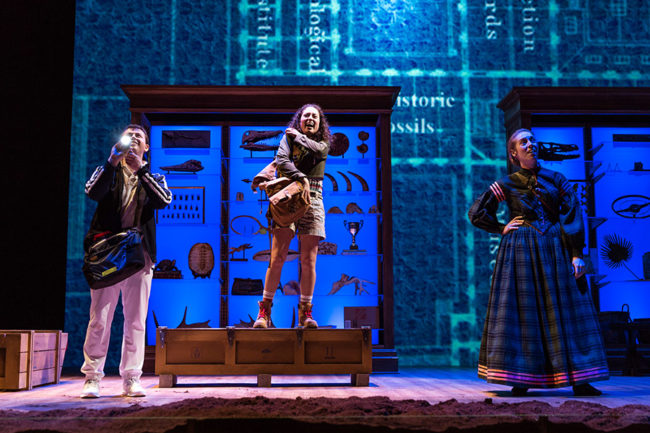 With a team of brilliant female designers: Martha Mountain on Lighting, Deb Booth Scenic, and Jen Gillette on Costumes, there is a real feeling of feminine empowerment accompanying this production, in addition to its subject matter. Booth's fantastical scenic design (accompanied by Patrick Lord's projections) engages the imagination while presenting a unique look at science. Mountain's illuminating tactics, again working with Lord's projections, help to create atmosphere and heighten already emotionally potent moments. Gillette's costumes are befitting the characters of the modern era, and even more so for the lone character not in present-day garb. All told, the designers put the finishing touches in place for this play. 
Playwright Laura Schellhardt takes an all too common situation, a family split by tragedy, and frames it around a young girl's passionate interest in science, specifically paleontology. Addressing not only the issues of grief-coping strategies as well as the imbalance and disproportionate attention to women in the scientific field, Schellhardt creates a brilliant character— Dessa— and sets the plot in motion from her point of view. Dessa is a young tween, forced to move house, forced to deal with life without her father, forced to recognize that her chosen field of interest— paleontology— has very little mention of women's works in said field. Up against the glass ceiling of inequality in science, the grief of losing her father in an accident that she still doesn't fully understand, and trying to adjust to a new school situation where boys get all the credit, Dessa has a journey ahead of her.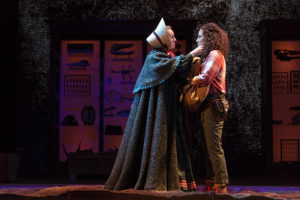 In comes Mary Anning. Schellhardt uses the historical figure of Mary Anning, bringing her to life via Dessa's grief— an imaginary friend manifested in the face of coping with the car accident and loss of her father— but the historical matriarch of paleontology, played with exquisite cheek and absolute fortitude by Jackie Reneé Robinson, is the voice of resistance, logic, perseverance, and reason for Dessa, even if Dessa is the only one that can see or hear her. Robinson, as Mary Anning, is a delight to watch. With vivid facial expressions, a mastery of her archaic patois, and an overall strong, forward stage presence, she gives a vibrancy to a woman who refuses to be a footnote in paleontological history.
Tackling the explosive and at times bombastically tempered Dessa is Alina Collins Maldonado. With all of the exuberance and enthusiasm required to play a young character, in addition to all of the finely honed skills needed to fully and vivaciously express the rolling avalanche of frustration, grief, confusion, anger, and other raw, intense emotions given to the character in this situation, Maldonado is superb in the role. She has no problem fully emoting raw passion— be it fury or sorrow— and when it comes to confronting a member of the opposite sex, Nilo (Chris Stinson) there's no holding back when the character goes on the offensive. Stinson, whose character is written to illustrate the inequality of men and women, even at the young middle-grade age, also serves as comedic relief throughout the production. His earnest and congenial approach to the quirky character balances out the tempestuous mood storms that swell up from Dessa.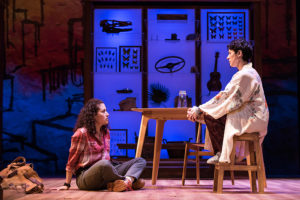 To a lesser plot-involvement, Dessa's Mother, Esther (Alyssa Wilmoth Keegan) plays a role in all that happens. While most of Keegan's character's involvement involves spoiling critical and emotionally blindsiding plot-points, it can be said that Keegan does an extraordinary job of being both maternal and open with her character's humanity. Scripted as an advertisement jingle writer, Keegan gets to display her delightful acapella voice— occasionally accompanied by her self-strummed ukulele— and has some of the most emotionally moving pieces of advice in the script.
Ultimately a rewarding piece of theatre for young audiences, targeted at young women in their most impressionable stage, Schellhardt's Digging Up Dessa is rich and satisfying; it is the epitome of Theatre for Young Audiences in the Women's Voices Theater Festival.
Running Time: 70 minutes with no intermission
Digging Up Dessa plays through February 18, 2018 2017 in The Family Theatre of The John F. Kennedy Center for the Performing Arts— 2700 F Street NW in Washington, DC. For tickets call the box office at (202) 467-4600 or purchase them online.