Laughter through tears is soon to be your favorite emotion, just like the ladies of Louisiana's Chinquapin Parish hanging out every Saturday at Truvy's beauty shop! Kensington Arts Theatre breaks up the bleakness of midwinter with their stage production of Steel Magnolias, the emotionally heartwarming tale that was made infamous on the silver screen by movie marvels Sally Field, Dolly Parton, and the rest of the iconic 1989 film cast. Directed by John Nunemaker, you'll laugh, you'll cry, you'll give your eye teeth to take a whack at Ouiser before all is said and done, this is a show for everyone, but especially for showcasing the strength of women in this current political climate.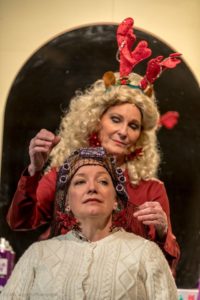 Lavender and lemon, the signature colors of Truvy's Salon because Scenic Painter Patty Edwards has dipped the walls in sherbet pastels. It's a touching 80's sentiment that is totally Truvy and aligns with the slightly loud and busy decorations accumulated by Set Decorators Caroline Tyson and Ruth Orland. These three ladies, working with Scenic Designer Paul Levine, create a believable landscape for the beauty-shop sink drama, giving the ladies of Louisiana plenty of wide open spaces within the confines of the little salon's walls.
The aesthetic of the 80's is rounded out by Costume Designer Elizabeth Morton, who not only captures the essence of the big-hair decade but does due justice to each of the character's wildly vibrant personalities. Morton's mastery of color, shape, and form allows each of the actresses to look stellar in clothes that are the epitome of style for the 80's and suitable for their unique characteristics. All of Shelby's affairs are pink and practically couture, a perfect vision for her lithe frame. The frumpy, yet still suitable clothing featured on Ouiser is a stark contrast to more sophisticated garments used for Clairee. All told, Morton's work is one of the show's highlights, creating an authentic appeal to the production values.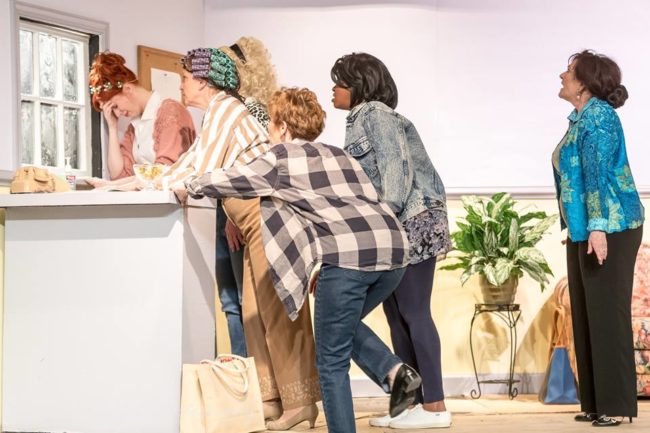 Sound Designer Jeff Clausen creates booming effects, perfect for startling the ladies of the salon whenever Drum gets to firing off his gun. The radio sounds— including specific musical choice at the production's end— are well suited for the type of songs that would be coming out of a radio at the time. Complementing the overall flow of Director John Nunemaker's work, these sound effects assist the construction of reality for the characters in their on-stage world. Nunemaker hones in on each actresses' natural talent, focusing their specific qualities and characteristics into the humor and heart of the show, giving it an honest root and soul. Though there are a few dropped markings in the overall pacing, these are few and far between and will no doubt improv with time. That said, Nunemaker does an exceptional job of balancing the humor and lightheartedness against the severity and gravitas of the show; this is particularly true in the stunning confession scene between M'Lynn and Shelby at the top of the second scene.
With legendary screen actresses having created such iconic caricatures from these characters, it creates a unique challenge for the actresses taking on these roles. In particular, Edye Smith balances her version of Truvy against the larger-than-life Dolly Parton version of Truvy by refusing to play into it via homage. Doing her own thing with Truvy, making her simplistic yet kind, ordinary yet open, Smith gives us the home-grown version of Truvy, making that character the grounding factor among the other ladies in the production.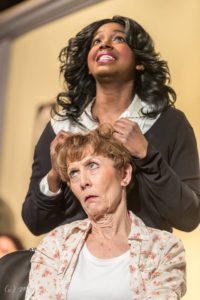 Nervous and jittery are the words often ascribed to the Annelle character and Christine Olivia Wells goes right for those two characteristics from the moment she twitches into the shop. Terrified yet honest, Wells portrays Annelle as the uncertain yet eager new lady in town. As she grows accustomed to the women and their varying personalities, Wells emboldens her character choices; by the fourth scene she's one of the gang and can hold her own against even the toughest of characters— Ouiser— and is a balanced addition to the cast.
Delicate yet fierce, delightful yet deep, Emily Karol's Shelby is the epitome of a daughter of the south just trying to plow ahead and make her own path in life. Karol's mastery of the Louisiana accent and patois is priceless. As fiery as she is feeling, and as fierce as she is friendly, there is a perpetual exuberance of youth and hope eternal bubbling all about her— even in the darker moments where her character is confronted with conflicting and devastating situations. Bristling with the maternal M'Lynn, as all Shelby's are wont to do, Karol is a radiant beacon in a production of fine twinkling lights.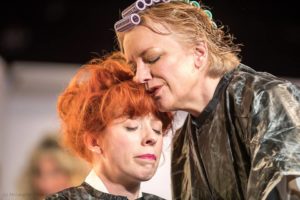 With a natural ease about her portrayal of M'Lynn, Janet Van Albert Replogle is the Sally Field of our silver screen memories without trying in an artificial manner to be her. There is something strikingly natural, refreshingly honest, and surprisingly freeing about the way she exists inside the skin of M'Lynn, exactly the way Sally Field did in the screen production, only without her trying to be Sally Field or do an impression or homage of Sally Field's creation. It's an indescribable phenomenon that draws you into her M'Lynn and tugs hard at your heartstrings. Nuanced in all of her delivers, Replogle has dozens of little moments that exist in earnest and make the show feel whole. Watch her closely, especially when she's not being addressed, often just a sideways glance or an eye-roll completely makes the scene, all delivered in a silent breath from Replogle.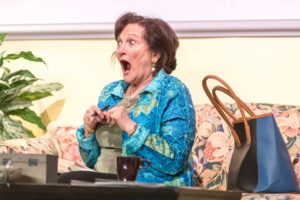 It's a dead heat tie for best in show when it comes to Clairee (Frieda Enoch) and Ouiser (Liz Weber.) Both extraordinarily talented performers, Enoch and Weber are a literal scream when it comes to their respective performances of these wild and whacky women. Cranky and cantankerous Ouiser couldn't be anymore opposite from convivial and cheerful Clairee; Weber and Enoch are booth deeply rooted in wearing their badges of honor and making their characters heard.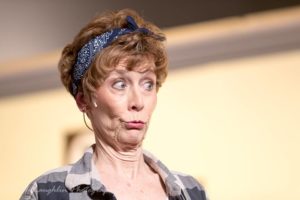 Weber's Ouiser is on point with a snap. Ornery and obdurate, Weber masters the cadence with which Ouiser moves, the patois with which she speaks, and the gutsy chutzpah behind what she says. She's a proper pistol that could shoot magpies from a magnolia tree until the cows come home. With wild facial expressions and an equally wild temperament, Weber brings home all the bacon— fried up southern style of course— when it comes to playing Ouiser. In a similar vein, Enoch's Clairee is too colorful for words. Sassy, surefire, and perfectly nosy, Enoch lives fully in Clairee and has equally animated facial expressions Driving a good portion of the show's humor, especially when it comes to poking fun at Ouiser, Enoch holds her own and is a contender for show stealer up against Weber.
You'll laugh, you'll cry, you'll laugh through your crying; Steel Magnolias will warm your heart this frosty winter, so be sure to catch it at Kensington Arts Theatre before it melts away into springtime. 2 hours and 20 minutes of wonderful is better than a life of nothing special.  
Running Time: 2 hours and 20 minutes with one intermission
Steel Magnolias plays through February 24, 2018 at Kensington Arts Theatre located in the Kensington Town Hall— 3710 Mitchell Street in Kensington, MD. For tickets call the box office at (206) 888-6642 or purchase them online.