Sometimes what we long for is staring us right in the face. This could not be a truer example than in Leonard Bernstein's Trouble In Tahiti, Directed by David Schweitzer, with Musical Direction by Benjamin Shaver, now playing at Stillpointe Theatre.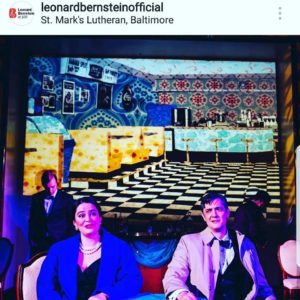 From the moment that you enter the venue, you are captivated by Scenic/Properties Designer Ryan Haase's transformation of an upper church room into a 1950's "supper club". The covered tables, mood lighting, expertly contrived by Lighting Designer Adrienne Giezl, and background piano music, superbly played by Aaron Thacker, welcome you to the milieu of the upper crust. The bar in the back of the room, complete with a bartender dressed for the occasion, is a nice added touch. Kudos to Cocktail Designer Kristen White for her two concoctions of a whiskey-based tea and a vodka-based tea mixed with coconut water and assorted other juices. In all my years of theatre I have never seen a Cocktail Designer listed among the production staff, but I am all for it and would love to see other theatres follow suite.
As the lights come up on the small cast of five, it is clear that both Costume Designer Kitt Crescenzo and Hair/Makeup Designer Danielle Robinette not only work well together but each understand the period for which this piece is set. The matching jackets of the two men in the trio (Michael Dodge & Adam Cooley), down to the pink sash and bows on the shoes of their female counterpart (Kerry Holahan) would make Tim Gunn and Heidi Klum jealous. Not to be outdone by their supporting cast Dinah (Claire Galloway Weber) and Sam (Peter Tomaszewski) looked as though June and Ward Clever hit the lottery. It brought back so many warm, happy memories of black and white television shows where the father read the morning paper in a suit (although Tomaszewski was in a tuxedo, which I found to be a little too much), while mom vacuumed in her apron and pearls. Overall, spot on!
From the opening downbeat it was clear that this was not the band's first rodeo. Conductor Ben Shaver kept his group of Stephanie Ray (flute), Stacey Antoine (clarinet), Justin Nurin (trumpet), David Dochterman (trombone), Aaron Thacker (piano), Cody Raum (bass), and Joe Pipkin (percussion) on tempo and as not to overpower the singers.
Too many times I have attended productions where the decision was made not to mic the performers. Far too many directors, music directors, producers think that their cast can sing over an orchestra. Every time that decision has ended up being a fatal one. This was not one of those times. The venue combined with the protuberant voices of the cast was a perfect combination. In fact, had they been mic'd it may have been too much. My hat is off to the talent as well as Schweitzer and Shaver for recognizing this and getting the most out of their delivery.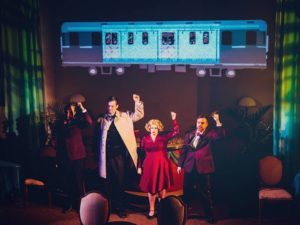 Dodge, Holahan and Cooley blend tremendously together. They get the show rolling by singing of the perfect life in suburbia. Those little white houses with the picket fences that everyone dreamed about in the 50's. Watch their facial expressions as they stay cheery and positive throughout the show. They flash their pearly whites, sing and dance and sell us on the fact that what we need to be happy can be bought. Even as Dinah and Sam bare their miserable souls, the trio reminds us that they are living the American dream.
In a 45-minute opera things need to flow and your leads need to be sharp to convey the story. Galloway Weber, Tomaszewski, and Stage Manager Amanda Rife make this happen. Rife ensures that there are no long pauses between scenes. She keeps things moving to a point where there seems to be constant action on stage. Galloway Weber's clear, dulcet voice draws you into her struggle between having the perfect looking suburban home and what appears to be an alluring marriage, and the desire for a relationship with the man she loves. She conveys this perfectly in her scene with her psychiatrist and as she recounts her viewing of the South Sea romance Trouble in Tahiti. Tomaszewski is every bit the 1950's man's man. He captures the era with his "quiet woman, a man is speaking" presence and his "you'll do as I say" attitude.  His voice commands attention (personally I could have listened to him sing all night). When he is joined by Dodge and Cooley to sing "There's a Law", there is no doubt that he believes a man who wins at the game of life "is a hero, created unequal". And yet, even though he has conquered the world (well, at least his little slice of suburbia), in the end, even he knows that something is missing.
If there is one thing that seemed to be overlooked or stood out to me, it is the lack of props and certain blocking decisions. During the breakfast scene it would not have been asking too much to have Dinah present Sam with a plate and coffee. The scene in Sam's office screams for a phone. While the audience was so enraptured by his singing, it was a huge distraction to watch him make a phone with his thumb and little finger. Again, in the office, both the person who came in to borrow the money and his secretary spent far too much time with their backs to the front of house.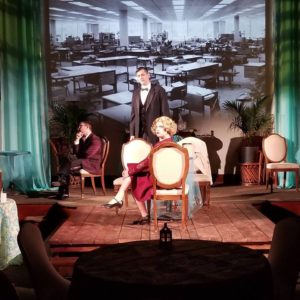 I would be amiss not to mention the glue that held it all together. Projection Designer Johnny Rogers clearly understood Schweitzer's vision. From the suburban homes to the atomic bombs, the rainy street to the fallout shelters, Rogers excellently captured the temperament of the 50's. The little details of things like the fireplace burning in the living room were not overlooked. Schweitzer, Haase and Rogers were on their game and I would be surprised if they aren't recognized or nominated for an award.
Running Time: 45 minutes of show, 15 minutes of intermission, 45 minutes of Bernstein's "Happy Birthday" Song Cycle
Trouble in Tahiti plays through January 27, 2018 with Stillpointe Theatre currently playing  at St. Marks Lutheran Church— 1900 St. Paul Street in the Mt. Vernon/Station North Arts District of Baltimore, MD. Tickets are available at the door or in advance online.