"I was somebody once."
"We were all somebody once."
"I thought I was somebody now."
What do you do when your life doesn't pan out the way you thought it would? Do you mourn? Rage? Retreat to memory (at least, as long as your memory holds)? Or do you find the humor and accept life on life's terms? Set in the solarium of an English country house turned home for the aging, Quartet could send a patron of any age into an existential crisis…or epiphany. Though a comedy, it raises weighty questions on how we deal with loss – of loved ones, of love itself, of self.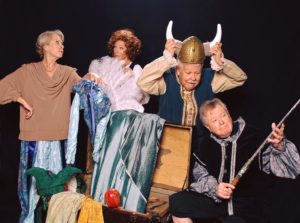 Entering the theatre at Colonial Players is like entering the solarium itself – a clever use of the in-the-round setting which might make the audience feel like residents themselves (kudos to Set Designer Doug Dawson). The stage floor proper is set with a scattering of mismatched chairs and settees, somewhat quirky paintings are hung around the theatre walls behind the audience, and a tucked-away corner houses a cozy music room. The floor is lit with window-shaped gobos to enhance the solarium feel. And so, our show begins.
Lights up and one by one, Reginald "Reggie" Paget (played by Richard Wade), Cecily "Sissy" Robson (Nori Morton), and Wilfred "Will" Bond (Edd Miller) enter. Through some banter, we learn that these three are old friends – colleagues at an Opera company for years, and years ago. This pretense established, the other shoe drops: a new resident is moving in and it's none other than Reggie's estranged former wife – and former Opera company member – Jean Horton (Marti Pogonowski). The Quartet is together again, and some are happier about it than others. You see, in addition to the drama of a broken marriage, a celebration of Verdi's birthday is coming up and three-fourths of the quartet want a reunion performance. Jean, decidedly, does not. Will she, won't she? Will they, won't they? I'm not one for spoilers, so I'm not telling.
The Colonial Players' production of Quartet has some hits, a few misses, and one Very Big Problem.
The lighting designed by John Purnell, assisted by Bill Reinhart, successfully sets the scene and focuses the audience's attention, though the timing of some of the cues feels off, particularly in the second act, and I found the mechanized lighting rig in the final scene distracting and unnecessary. Fran Marchand and Paige Myers' costuming is entirely appropriate. Sound design was a bit of miss for me, though I'm not sure whether it was the effects and levels themselves, or if the issue is with the quality of the sound system. The scene changes, most of which seemed superfluous, were painfully long (Note to theatre-goers everywhere, though: I don't care how long a scene change drags on; it's not the time to have a full-blown conversation or check your phone).
The performances of the quartet, too, were hit or miss and it seems this production may have benefited from another week or two of rehearsal, particularly for the second act.
As Reggie Paget, Richard Wade was touching as he tried to process his lingering grief over lost love. Unfortunately, his poor timing and delivery caused much of the dialogue that should have been banter to stop and start and lose the flow altogether. Several punchlines fell flat as the audience struggled to follow along with the stutter-step, and a recurring bit between Reggie and an unseen staff member grew tiresome quickly.
Nori Morton's portrayal of the somewhat senile Sissy is full of wonder and earnestness. She tred the line between past and present in such a way that was partly delightful and partly heartbreaking. Some of Morton's timing also seemed unsteady, though she may have been a victim of circumstance.
Marti Pogonowski is the powerhouse of this foursome, without a doubt. Her characterization of Jean, a woman who has lost everything though no one quite knows why, is solid as a rock. The only (exceedingly minor) quibble I have is that her gait with her cane is inconsistent – absolutely forgivable, since I longed for her return any time she left the stage.
Edd Miller plays Will Bond, the one member of the group who seems to have found contentment, regardless of the hand life has dealt him. Miller's performance, characterization, and timing were all very good. And I wanted to like him. I really did.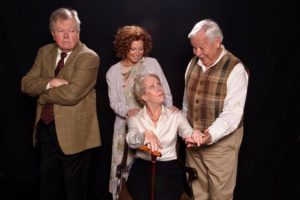 Unfortunately, we have arrived at the Very Big Problem. The vast majority of the "humor" of Wilfred Bond finds its source in gay "jokes," sexual harassment, and, indeed, even sexual assault. It seems this is supposed to be funny or cute because he's old and the notion of old people as sexual beings is somehow inherently amusing, right? I was not amused. I am not amused. There was a moment toward the end of the show when it seemed this behavior was going to be actively confronted, but instead it was turned into yet another "joke." As the #metoo and #timesup movements sweep the entertainment industry, it feels more than a little tone-deaf that a prominent theatre company would select and produce a show that attempts to normalize this behavior.
In short, if you like your existential crisis/epiphany with a dash of humor and a heap of sexual harassment, then you can catch Quartet at Colonial Players through February 4.
Running Time: 2 hours and 25 minutes with one intermission
Quartet plays through February 4, 2018 at The Colonial Players of Annapolis— 108 East Street in historic Annapolis, MD. For tickets call the box office at (410) 268-7373 or purchase them online.