What do you want, Baltimore? Do you want the moon? Just say the word and George Bailey will throw a lasso around it and pull it down. Third Wall Productions seems to think that's a pretty good idea. So they're going to give you the moon— in the form a musical adaptation of Frank Capra's Bedford Falls icon, called A Wonderful Life. With Books & Lyrics by Sheldon Harnick and Music by Joe Raposo, this atonal musical isn't quite the storyline you'll remember if you're at all familiar with the movie or the story. Harnick and Raposo got the names right, mostly, and the bigger points of the plot right— and mostly in order too— but everything else is a bit unlike any rendition of It's a Wonderful Life that you're likely to have come across. Directed by Ed Higgins with Musical Direction by Daniel Plante and Choreography by Mea Holloway, the house regulars of Third Wall Productions does their best to put forth the Christmas spirit and remind everyone that no man is a failure who has friends.
Scenically striking, with a set designed and built by Jordan Hollet and scenically painted by Amy Rudai, Bedford falls is crafted across a series of rotating panels, which makes slipping from the streets of the falls into the drafty old house on Sycamore Street or into the Bailey Bros. Building & Loan a cinch. Rudai's painting is marvelous as always, and imagine how lucky TWP is to know that The Bijou— the live theatre on Main Street in Bedford Falls— is also debuting The Music Man and Jekyll & Hyde in their upcoming season! What a coincidental chance for some free marketing! Rudai, who wears multiple hats in this production, in addition to painting the set, serves as the show's sole costume provider and does an excellent job of outfitting everyone in the pre-stock market crash era of clothing, particularly when it comes to the girls at the Charleston dance-off. Assisting in the fulfillment of the show's aesthetic, Properties Mistress Emma Hawthorn lends her seasoned hands for little details, like Ernie's taxi cab and the piano upon which the Bailey children practice before George frightens them half to death.
Strangely off-kilter at times, however, is the Lighting Design of Zacharias Stuart. In an attempt to overcome and/or theatricalize some of the atrociously atonal musical scoring, Zacharias comes into heavy bouts of colored lights which often read as strange or too intense. This is particularly true of a scene where George Bailey is lit entirely in a greenish zombie-like lighting— during the lullaby "Precious Little." As the song starts off a sweet and innocent tune sung at Zuzu, it would seem logical to wait until George Bailey steps out of the bedroom scene and into the maniacal madness of his mind— the back half of the song— before flooding him in the ghoulish green light, but this is not the case. Moments like this happen throughout Stuart's design work and it's difficult to tell if he's attempting to be artistic and symbolic or merely struggling to make the cues fall in line with the unfortunate score.
The larger issues with the show don't really fall on the performers themselves, though Director Ed Higgins does have a few places where a swift kick in the pacing could do wonders for the show's overall timing. In addition to the atonal music, which both pit conductor Andrew Zile and Musical Director Daniel Plante struggle with somewhat, the storyline is just off. This version of the story is darker in a sense, making Harry mean spirited, making George less kind. These small changes in characterization— and they're blatantly spelled out in the dialogue exchanges between the two Bailey brothers— makes the overall feel of the show difficult to swallow. In addition to these changes in characterizations, the plot is riddled with changed details— the sort that happen when you adapt a big book to the silver screen— like Harry Bailey getting hit and run over by a truck instead of falling through the ice and George Bailey trying to jump in front of a moving train instead of off of the Bedford Falls bridge into the icy waters. If you're able to overlook these issues, which are admittedly difficult, for the most part, the performances are strong and the production is enjoyable.
Lauren DeSha and Mike Zellhofer, seasoned performers though they are, struggle somewhat in the roles that they have. DeSha, playing Mary Hatch, has a beautiful soprano voice with a great strength behind it, but as most of Mary Hatch's songs are written in a lower key, it becomes obvious that these are difficult for her to sing with tonal consistency. It is most noticeable in "Not What I Expected" and "I Couldn't Be With Anyone But You." Zellhofer, who despite filling out the persona of Potter, fumbles with his lines both in song and speech, but makes up for these slip-ups with his menacing personality when it comes to barking George Bailey straight out of his office. Both Zellhofer and DeSha find moments to make their characters work, and ultimately fit well into the play as a whole, aside from these isolated incidences.
The production shows tremendous strength in its choreography, outlined and executed by house choreographer Mea Holloway. The snazzy Charleston inspired routines featured in "In A State" (the swinging solo feature of Sam Wainwright, performed smoothly by Joe Weinhoffer) are full of punch and pizazz. But it's the polka-dot dress kick-line during "Welcome a Hero", the welcome-home-Harry number, that really showcases Holloway's skills. The five polka-dot wearing dancers, including Holloway herself and (at this performance) Linda Roby, Andrea Rudai, Jillian Arnold, and Maggie Flanigan, get festive spirits flowing as they dance about, preparing all of Bedford Falls for Harry's homecoming.
Harry Bailey (Jake Schwartz) doesn't get much time in the limelight, and what few scenes he shares with George and with Ruth Reynolds (Linda Roby) and both Ma and Pa Bailey (Fran DeSha and Daniel Plante) he speaks precious little. But Schwartz makes the most out of his appearances, and does deliver the few lines he does have— most of which are a dark and twisted in a non-traditional Harry Bailey fashion— with passion. Roby, DeSha, and Plante, much like other minor characters— Bert the Cop (Jordan Hollet) or Ernie the Cabbie (Chris Pence) find little moments to make their own as well, though Plante gets a moment to let his rich, warm vocals resonate during "One of the Lucky Ones/Can You Find Me A House?" before his character disappears.
Tommy (Liam Vollon), Beth (Brooklyn Ritter), and Zuzu (Samantha Rudai) are adorable as the Bailey children, even if there are only three Bailey children in this version (and two of them are named wrongly.) Rudai in particularly is especially precious, playing the part of little Zuzu, but all three of them are too cute for words when they sing together during "Finale: Christmas Gifts", their little solo trio moment before the ensemble and full cast joins them for the show's closing.
Standout scene-stealing cameo artist Ed Higgins, the show's director, snatches the audiences' attention both as Mr. Martini and later as Mr. Carter with his highly comedic and polarizing roles. With a fully exaggerated Italian accent, he and his wife Mrs. Martini (Jenn Alexander) make lasting impressions when they receive their own home, and Alexander does later during the final scene where she exclaims that she "broke-a the juke-a-box!" Higgins' Carter comes complete with a nasally affected voice and pinched stares of meanness, perfect for the Bank Examiner who has come to ruin Christmas for the Baileys of Bedford Falls.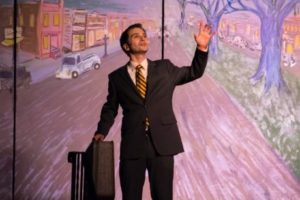 Carrying the show on his shoulders, Henry Cyr, who is admittedly young to for playing George Bailey, does a glorious job of creating his own entity with the character. Everyone knows and recognized Jimmy Stewart as George Bailey and nearly every stage actor attempts to channel the screen legend, but not Cyr. And this works to his advantage in this strange adaptation. Cyr creates an honest and earnest individual, who has some of the same lines and story points but is ultimately his own unique and believable creation. Showing a mastery of vocal knowhow, Cyr deftly maneuvers through the exasperating score, particularly when he rallies the cast for the big opening number "This Year Europe!" Displaying a great versatility, Cyr finds the harrowing and solemn overtones of "George's Prayer" and "Precious Little" while unearthing the quirkier romantic notes of "Good Night" and "A Wonderful Life (Reprise)."  
Of course the framework of the show all comes down to that clumsy clockmaker (though he might not be a clockmaker in this rendition, it's never specified) Clarence (Andrew Pedrick.) Summoned by Matthew (Emma Hawthorn, whose black-winged angel is meant to be the guardian gate-keeper of sorts), Pedrick's wingless second-class angel is all a-twitter and glowing with the potential to get his wings. Silly and simple, Pedrick puts a cherubic naiveté into the character, which works well with his age, and really lets loose in the silly department for his big burst-out solo, "Wings." So light on his feet and full of felicity that you expect him to float up off the floor— wings or not— Pedrick succeeds in the role of Clarence, despite much of it being quiet, active listening.
Bells will be ringing— but not sad, sad news. It's glad, glad news, because every time a bell rings, an angel gets his wings! Help all the angels of Third Wall Productions get their wings this Christmas season by attending their production of A Wonderful Life.  
Running Time: Approximately 2 hours and 30 minutes with one intermission
A Wonderful Life plays through December 17, 2017 with Third Wall Productions at St. Thomas' Episcopal Church— 1108 Providence Road in Towson, MD. Tickets are available for purchase at the door or in advance online.