Fah who foraze! Dah who doraze! Welcome, Christmas, come this way! Fa who foraze! Dah who doraze! Welcome Christmas, Christmas day! It's Pasadena Theatre Company's turn to trim up the tree with Christmas stuff, like bingle bells and whofoo fluff! Their trimming up the town with their production of Dr. Seuss' How The Grinch Stole Christmas. Directed by Chuck Dick with Musical Direction by Lindsey Miller, this time-honored animated Christmas classic from 1966, which was adapted nearly two decades to the silver screen in live-motion (starring Jim Carrey), has finally found its way to the local stages of Maryland. This version, which follows the storyline and musical numbers of the 2000 film, has all of the iconic characters from Cindy Lou Who to Max and of course the grumpy, grouchy, Grinch himself!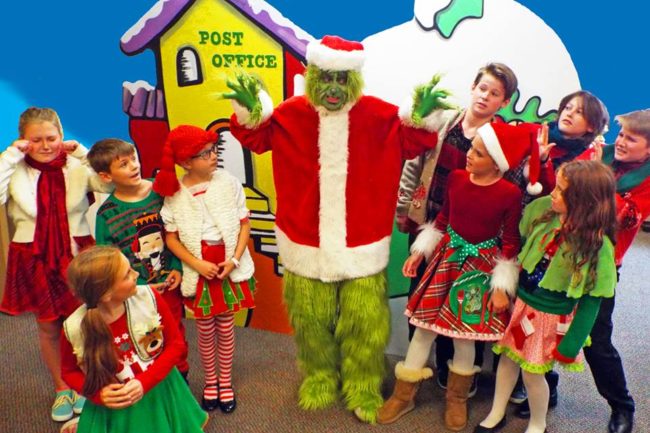 Director Chuck Dick, who doubles up as the show's Set Designer and Lightening Designer puts forth a magical effort to give the theatre a Seuss-inspired atmosphere. Working with Set Artist Mia Thompson, the pair create Who-houses and a Who-tree that would make even The Cat in the Hat grin with glee. The simple yet vibrant sketches are cartoonish yet familiar, warming and welcoming everyone to Whoville for Christmas time. Pouncing on the wild and whimsical wonders that lend itself to this sort of show, Costume Designer Christy Stouffer really goes all out when it comes to the Who-Costumes, especially all the sensationally stacked hairstyles of all the little girl-Whos. Add to that Make-Up Designer Brooke Hunsaker and her assistant Trinity Moore, and you've got one Who-of a look for this show!
This particular production of How The Grinch Stole Christmas is extra special because it includes a cast-led sing-a-long at the tail-end of the intermission! (Don't' worry, there's plenty of time to visit the Who-loo and consume the Who-snacks out in the lobby so you won't have to miss one single song!) Featuring six well-loved Christmas Carols, and various soloists from the show's cast, the mini concert encourages the festive feeling of the season and really invites the audience to join in the singing and merriment of the festivities.
There are dozens of Whos running round on this stage, so naming them all would be quite impossible! But you'll see that little Woo Who (Michaela Shunk) and Boo Who (Breanna Wilderson) really standout during their scene among the school children. Miss Rue Who (Lindsey Miller) is another honorable mention when it comes to Whos about town, the stern but loving school teacher does a great job of keeping all the little Who kids in line! And let's not forget Stu Lou Who (Ethan Hunsaker) and Drew Lou Who (Xander Gordon), who are the mischief but well-meanings sons of that whacky postman, Lou Who (Ronnie Schronce.) While Schronce may be a few cards short of a full deck, he's at least got enough to play a game or two of go fish, which is more than can be said for the zany and utterly loony Moses Who (Eric Gyaki.) Absolutely crazy, Gyaki's Moses Who is nuts, complete with mismatching shoes!!
There's Betty Lou Who (Cristina Shunk) and Martha May Whovier (Christy Stouffer) who are in fierce competition with one another over who has more Who-Lights up for their annual Christmas display. And a nod to young Miss Erin Jeter, who plays young Martha May Whovier, ever so slightly mimicking Christy Stouffer's panache when it comes to carrying her character. And the bumbling, albeit hilarious, paring of Mayor August Maywho (Keith Thompson) and his assistant Who Bris (Ginny Mazoratti.) Constantly bumping into Mazoratti's character, Thompson makes a good series of jokes out of their encounters, drawing major laughs every time he says "get the Who out of my way!"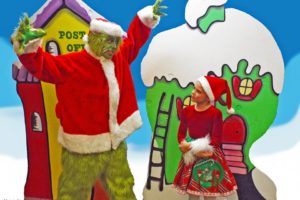 The three leading players are easy to spot, seeing Cindy Lou Who (Abigail Thompson) is the most precocious, yet honestly sincere, of the whole youthful Who bunch. Little Miss Thompson even has a lovely singing voice, which is perfect for her solo, "Where Are You Christmas?" early in the second act. A gem of a performer, Thompson plays extraordinarily well with the leading man, Joe Rose, who plays none other than The Grinch himself. Rose, who is busy channeling all the Jimmy Stuart he can muster into this furry green fiend (either to keep him as far away from Jim Carrey's incarnation as possible or because he really wanted to be George Bailey in It's a Wonderful Life, it's hard to say, but it works either way), makes a comic and laughable character out of the Christmas menace, even going so far as to slip a few other holiday references into the show including a nod directly at It's a Wonderful Life and a more subtle one to Santa Claus is Coming to Town.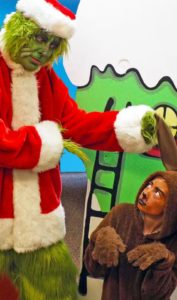 The real show-stealer, however, is not the fluffy green Grinch, though Joe Rose is pretty hot stuff when it comes to really keeping the show going, but rather his silent and expressive companion, Max, as played by Sage Allen. With the most perfectly expressive and animated facial features, Allen is on point for all of her reactions to The Grinch, most of which are delivered with exacting precision and an impeccable sense of comic timing. Allen works with Rose to really eek out some of those iconic moments from the original 1966 animated cartoon amid this stage version, drawing the show back to its roots. A tremendous round of applause is deserved of both performers for this task.
Don't wait until it's too late! You won't want to miss the Grinch carving the roast beast, assuming that is, of course, if something wonderful happens and a miraculous thing causes the Grinch's small heart to grow three times its size! Pasadena Theatre Company is the only place in town offering up this green Christmas opportunity, so be sure to catch it while you can!
Running Time: Approximately 2 hours with one intermission
How The Grinch Stole Christmas plays through December 17,2017 at the Pasadena Theatre Company at Anne Arundel Community College in the Recital Hall of the Humanities Building— 101 College Parkway in Arnold, MD. Tickets are available for purchase at the door or in advance online. MOST PERFORMANCES ARE SOLD OUT AND ONLINE RESERVATIONS ARE STRONGLY RECOMMENDED.