Bah! Humbug! It's that time of year when every theatre company goes about with 'Merry Christmas' on their lips and a production of A Christmas Carol on their stage! Even The Memorial Players of Bolton Hill have fallen into step with the holiday tradition and are mounting the Dickensian classic this season, but don't be fooled! They aren't presenting any old Christmas Carol, they're adding deep thoughts, spooky edges, and a true reformation that really makes strong parallels to the world we live in today ring true, capturing the meaning and spirit of Christmas for all who attend. Directed by Rina Steinhauer and Darren McGregor, this production of A Christmas Carol, as adapted for the stage by Romulus Linney, will have you examining Ebenezer Scrooge in a new and rewarding light.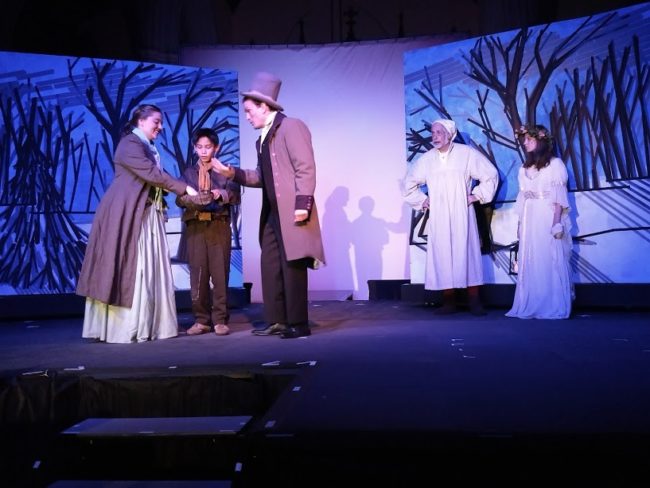 Scenically striking and technically advanced, this particular production of A Christmas Carol is pulling out all the stops, all the bells and whistles too, when it comes to setting the stage, creating an atmosphere and overall adding elements of special effects— both audio and visual— to enhance the traditional viewing experience of the Dickensian Christmas tale. Sound and Lighting Designer Daryl Beard takes the spookier elements of what is happening in this ghostly Christmas story and augments them to lend an otherworldly creepiness to this performance. There are dozens of wild special effects, both audio and visual, that I don't wish to speak on too heavily for fear of ruining their unique surprise, but each spirit— of Christmas Past, Present, and Future, as well as The Ghost of Jacob Marley (played with exceptionally spooky qualities by Thom Platt)— has their own unique series of sounds, lighting effects, and sometimes even some very unusual atmospheric happenings that occur with their entrances and exits. It can be said, most assuredly, that these audio and visual cues are most splendid, and thoroughly enhance the viewing experience as they are intended to do!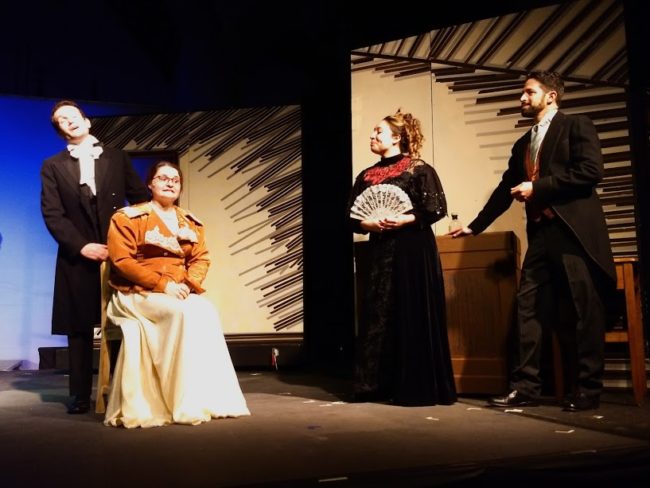 With a Stage Crew ran and ruled by young teenage performers, under the astounding leadership of youth Stage Manager Emily Bowden, the scenic panels of John Seeley's crafty and artful design, are spun in and out of place almost like proper Christmas magic. This tireless team of crew-runners matches the efficiency of any professional theatre's run-crew and is spirited with smiles as they do so. Shifting the drafty interior of Scrooge's counting house to the beautifully painted snow-covered woods, and back to ther indoor scenes, the run crew makes spectacular work of Seeley's scenery, which is painted upon by the talented Lynn Menefee. The signs are delicately hand-painted, each indicating a change of scenery, from Fezziwig's to Scrooge & Marley's to the Rag & Bone, just depending upon where the story has moved.
Completely the show's aesthetic, Costume Designer Tita Rutledge gives everyone an appropriate flare for the Dickensian era. Whether it's distressed garments for those less fortunate in their fortunes, or fancier duds for those richer enough to make merry at Christmas (but choose not to), Rutledge has a firm handle on how to outfit the company, giving each individual something unique to wear, which helps to define their character. Rutledge's most impressive work is perhaps the decadently festive togs featured on The Ghost of Christmas Present and the cherubic robes seen on The Ghost of Christmas Past. Coming in a close second are the lovely party gowns seen on the Fezziwig daughters, frilly and silly as they are, and of course the seafoam selection saved for Bell.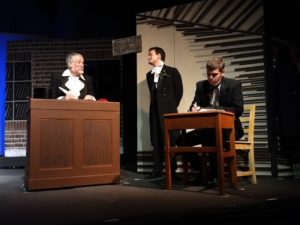 Performances across the board are delightful. But the most wonderful thing about these performances is the forethought and framework that Directors Darren McGregor and Rina Steinhauer have put into the casting. While it is traditional for shows to use various actors in multiple roles, McGregor and Steinhauer have put an extraordinary amount of effort into the precise way in which they're doing this double-casting so as to evoke particular sentiments and draw certain parallels to the relevancy of what happens in the story. Rarely if ever are these dual-casting sets, which McGregor and Steinhauer have created, used and certainly not with the intention that these two are using in this production. Nephew Fred and Young Man Scrooge are assigned to Ewan MacLean. Showing a spry enthusiasm as Fred and a reluctant yet radiant youthfulness as Young Man Scrooge, MacLean is able to quite clearly draw the lines between the two characters, allowing for the audience to see their similarities and where they deviate from the same path, with Fred remaining jovial and Scrooge morphing into the warped, and bitter frustrated old man that he is in the present day.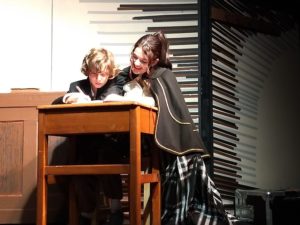 Marshall L. Naylor has the honor of playing both Tiny Tim and Young Boy Ebenezer bestowed upon him, to further create a reckoning of the grown-man Scrooge character. Seeing the emotionally crippled young boy Scrooge juxtaposed against the physically crippled Tiny Tim, who still remains in positive spirits, is a striking move that tugs at the heartstrings. Naylor plays a sweet and tender seen with young Fan (Jess Balick Goodman) during "shadows of the past" moment that is really enlightening. As Tiny Tim, Naylor is precious, as the child ought to be. Goodman, who later shows up as the sooty-faced and cockney-street-accented boy to whom Scrooge sends to fetch the prize poultry bird from the butcher's shop window, is equally delightful in her portrayal of such roles, again showing that ghosts of the past can reappear and with good cheer in Scrooge's present day existence.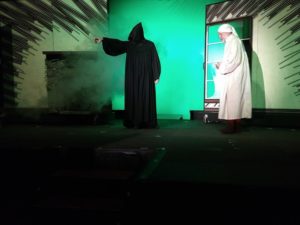 There are subtler casting choices in this vein (that are not necessarily apparent unless you're closely reading the program) such as David Forrer who plays both Charles Dickens— at the very beginning to introduce the story as it gets underway— and the Ghost of Christmas Yet to Come. There is something symbolic when the man who penned the story plays the Ghost of things that are yet to be, as the author is literally foreshadowing the future here. And while young Alexander Walston-Lavdas isn't double-cast per say, he does appear every time a young orphan boy goes caroling. This is profoundly striking, as the same little boy haunts Scrooge through the past, present, and future, making a most impressive statement in its execution. It should herein be mentioned again the notable praises of Sound and Lighting Designer Daryl Beard for his use of echo and recall (using recorded voice overs of text that has previously been delivered life) to outstanding often chillingly haunting effect.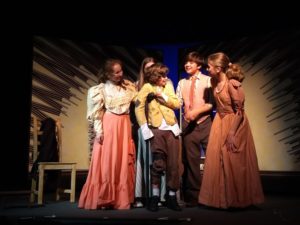 There are as many Cratchit family members— including the aforementioned Tiny Tim— as there are Christmas praises to say of them. Bob (Terry O'Hara) who is congenial to the last, and doting wife Mrs. Cratchit (Carisa Hatfield), who gives quite another side of the character when being forced to toast the health of the odious and stingy Mr. Scrooge at the family's meager feast— which features the most exciting Christmas turkey-goose that you ever did see on stage— but juxtaposes this perfectly with her sweet and playful maternal nature when interacting with her multitudinous Cratchit children. Of which there are five, the aforementioned Tiny Tim, of course, dear sweet Martha (Madison Muller), Miranda (Nell O'Hara), Belinda (Samara Kane Braverman) and of course young master Peter (Graham Rifkin), all of whom possess the naturally enthusiastic spirit for Christmas, particularly when they bounce outside to look at the stars with Tiny Tim.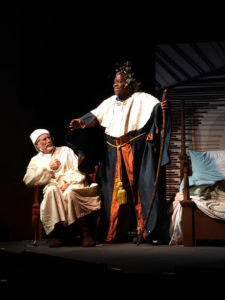 The production includes actors and actresses of all sorts— first timers and those well-seasoned upon the boards. Petra McGregor makes her Memorial Players' debut as The Ghost of Christmas Past while Greg Martin makes A Christmas Carol his third production with Memorial Players in the role of The Ghost of Christmas Present. Martin is a lively boisterous fellow who lights up the stage when filling Scrooge's chambers and the echoes of the day at hand with his beaming presence. Filling out the personality of such a tremendous spirit, Martin epitomizes the warmth and kindness and happiness that is Christmas present, truly a present for Christmas, even though the scenes he shows Scrooge come at the miser's expense.
Filled with all sorts of performers, from the richly invested Nancy Kelso, playing Old Joe the rag-n-bone man in superior age and gender-swap makeup, to the hilariously engaging John Seely and Tracey McCracken, playing Mr. and Mrs. Fezziwig respectively! The pair engage fruitfully and joyously with their three daughters (Jess Balick Goodman, Kate Leisner, Silvia Matus) as well as the winsome young Belle (Karissa Strawley Bryant) and everyone else featured in that lively dance scene. Choreographer Kaite Vaught puts a little jig together for the Mr. and the Mrs. and then engages all present in a whirling dervish of exciting carol-dancing, with lines and skips that are simply delightful.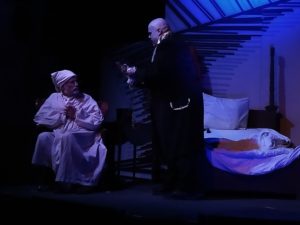 It all comes down to old Scrooge, being played by the impressive Richard Peck. With the curmudgeonly attitude firmly in place, there is something to be said for his absorption of the more human qualities which Scrooge experiences throughout the production. It is unusual, but not displeasing to see Peck's Scrooge so readily engaged in emotions like bliss, which he experiences quite heartily during the Fezziwig dance party scene. Watching him deteriorate as he yells at his younger self over foolish decisions he once made is also quite striking. Peck possesses all the qualities required of a Scrooge, including a completely jubilant transformation by the end of the production.
Tis a wonder to see this fresh approach to A Christmas Carol, and the sense of compassion and community involved in the show's production is astonishing, fully representing the kindness, togetherness, and acceptance we should be offering to one another at this time of year and all throughout the year. Don't wait to arrive at Memorial Players, for the tickets are free, but they are likely to fill up in a hurry!
Running Time: Approximately 100 minutes with one intermission
A Christmas Carol plays through December 10, 2017 at Memorial Players in the Memorial Episcopal Church— 1407 Bolton Street in the Bolton Hill neighborhood of Baltimore, MD. As a part of their mission, all performances at Memorial Players are free to anyone who wishes to attend, patrons are seated on a first come, first serve basis.