Tis the season to be— producing A Christmas Carol, most certainly. Thanksgiving weekend is fair game for theatres to start turning out their productions of Dickens' most time-honored, cherished, and stageable tale. Running through December 10, 2017 as a co-production with Arts on the Green, The Kensington Arts Theatre's 2nd Stage is putting up their very own A Christmas Carol, featuring young actors and adult actors alike! Adapted for the stage by Laura Victor and Directed by Jordan Clifford, this iconic tale of transformation via Christmas spirit is exactly as the man penned it, loosely and liberally speaking. But the story is endearing, and great for younger audiences as it's just 75 minutes long including an intermission!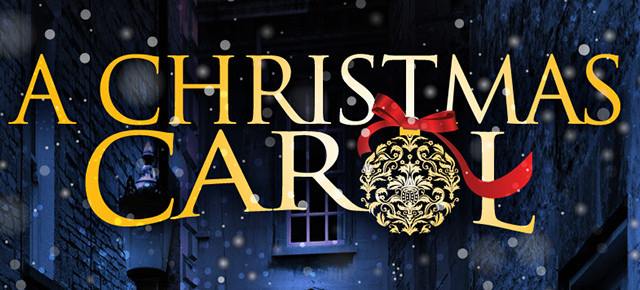 Featuring a plethora of well-used young children, this production blends seasoned actors and first-timers alike so that everyone get the full theatrical experience of A Christmas Carol. Arts Barn liaison Laura W. Andruski serves as the show's Costume Designer and turns up a respectable collection of Dickensian-esque clothing to outfit the cast. The caroling robes, the patterned dresses, the tall top-hats, all of which scream streets of London at Christmas time during the era of Dickens. Matching this aesthetic against the simple but tasteful backdrop that Scenic Painter Sarah Phillips creates a world of playful fantasy for the show. Sound and Projections Designer Sean Byrne adds a little holiday magic of his own by including the iconic Big Ben clock face, which rotates around (and echoes with the grim chimes) when Scrooge is expecting the spirits upon its bell-tolling.
With Carolers (Elizabeth Feuerbach, Joy Gerst, Bob Gudauskas, Eellie Helgeson, Samantha Kotok, Isabella Larson) well in place, the sentiments of the season are readily fermented into place during the performance. Peter Wolff and Miriam Bowden appear knocking at Scrooge's door, attempting to collect for the poor and homeless— and later appear as the fantastically drunken and hysterical Mr. Fezziwig and the spiritedly boisterous Ghost of Christmas Present— proving just how pinched and miserable of a miser that Scrooge truly is!
Then there's rather large Cratchit Family. With Bob Cratchit (Chris Penick) and Mrs. Cratchit (Heather Andrews, who doubles up as the lovely and delicate Ghost of Christmas Past), and of course all the Cratchit Children— Julia Feller as Martha, Bella Gilmore as Belinda, Nate Kauffman as Peter, Katie Musick as Ned, Samantha Penick as Dorritt, and Henry Penick as Tiny Tim; everyone's along for the scene during the experience with the Ghost of Christmas Present. Little Henry Penick even gets the adorable iconic and memorable "God Bless Us, Everyone!" line out and it gets the satisfying awes and applause from the audience.
Other individuals in the performance include Helen Latiri playing Want and Eellie Helgeson playing Ignorance, the garish children of Christmas Present, and booming Bob Gudauskas as the haunting and miserable spirit of Jacob Marley. Two of the sprightlier, though aged youths, include Kyle Sprankle and Shomari Fortson, playing Young Man Scrooge and Young Man Dick Wilkins, both of whom have a merry and delightful time chasing Young Lady Belle (Isabella Larson) Lucy (Julia Feller) all around at the Fezziwig's Christmas Party. Sprankle actually spends the majority of the show playing Scrooge's jubilant nephew Fred, with his lovely wife Emily (Elizabeth Feuerbach, whose mother Jennifer Feuerbach plays a party guest and one of the Charwomen in the show as well) while Fortson arrives in silence as the Ghost of Christmas Future.
Mean, vile, and ultimately the perfect Scrooge, Dino Coppa is everything you'd want in the main character of A Christmas Carol. He shows his humane transformation with glee, he gets laughs from the audience when it comes to some of his dismissive one-liners, and overall delivers a Scrooge with whom all are familiar. It's a great family-friendly production and a lovely way to absorb this well-practiced Christmas tradition this holiday season. Come out and get tickets quickly as they're selling faster than Santa flies!
Running Time: Approximately 75 minutes with one intermission
A Christmas Carol plays through December 10, 2017 as a co-production between KAT 2nd Stage and Arts on the Green on the mainstage of Kentlands Mansion & Arts Barn— 311 Kent Square Road in Gaithersburg, MD. For tickets call the box office at (301) 258-6394 or purchase them online.