The haunting may be over, at least Halloween has passed us by. Another year, another spooktacular evening of trick-or-treating, costumes, and all the spooky outings you can handle. But for those who aren't quite ready to let go of the chilling holiday spirit, for all you ghoulish guys and gals who aren't ready to dive headlong into the green-and-red sing-a-long of Christmas, Fluid Movement has a treat for you! Why Baltimore's unique performance art company is stirring up a spooktacular event to help preserve the spirit of Halloween all year through! Druid Hill Haunt: A Chiller Thriller Roller Show, Co-Produced by Margaret "Ghost in the Machine" Hart, Claire "Mwahahaha" Molina, and April "Bat-Brains" Pink, is a thrillifying evening of all the thrills and chills (and the occasional spill, it is a roller show after all) of Halloween! Delightful for ghouls of all ages, this family-friendly event is just what the Doctor <Frankenstein> ordered in the event that you aren't quite ready to let the spooky ghosts of Halloween go about their merry way now that October has drawn to a close.
Devised by a series of fantastical imaginative creators right here in Baltimore, the show unfolds into four unique Halloween-themed acts with one all-inclusive finale that gets everyone in the show (both skating and non-skating entities) out in front of the crowd for one big fantastic ending. With spooky lighting effects crafted by Lighting Designer Eric "Prince of Brightness" Gasior and even spookier sound effects conceived by Tyler "Dead Batteries" Block, there is all sorts of frightening (but only just so and much more in the humorous vein of horror) atmosphere to accompany the evening at both twilight and total darkness! (There are 6:00pm and 8:00pm shows— bring blankets and warm clothing as next week is bound to be even chillier!)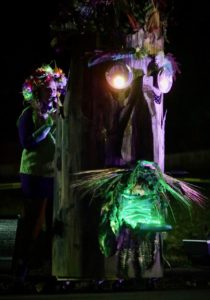 With all of the usual flare that Fluid Movement has to offer, which in case you aren't familiar or aware includes copious quantities of glitter and other dazzling effects, there's even more unique elements in play for this show thanks to Property Designer and Constructor Quinn "Willy Wonka" Cardall. Adding to Cardall's unique inclusion of all sorts of things is the fantastical fantasy rolling 'Druid' puppet collaborated upon and concocted into existence by Claire "Mwahahaha" Molina and Valarie "Makes the World Taste Good" Perez-Schere. This exquisite elemental element is too wondrous for words, but adds to the unique wonder of the overall show, even though it is only featured in the opening number.
In addition to all the aforementioned fabulousity, including the fact that Fluid Movement takes performers of all skill-grade (including young performers, including performers of all ages for are perhaps skating for the very first time, to make it a truly inclusive performance atmosphere), they have partnered with The Ravens Skate Club, who do a little pre-show routine! Coordinated by Sandi Bradford and Breda Ervin, 20 members of The Ravens Skate Club, in their festive holiday-orange sweatshirts and light-up skates, roll out and skate to "We Gonna Roll til the Wheels Fall Off", performing a series of hi-hop inspired dance moves while upright on their skates! It's a pretty outrageous and exhilarating way to kick-off the show!
Dance of the Druids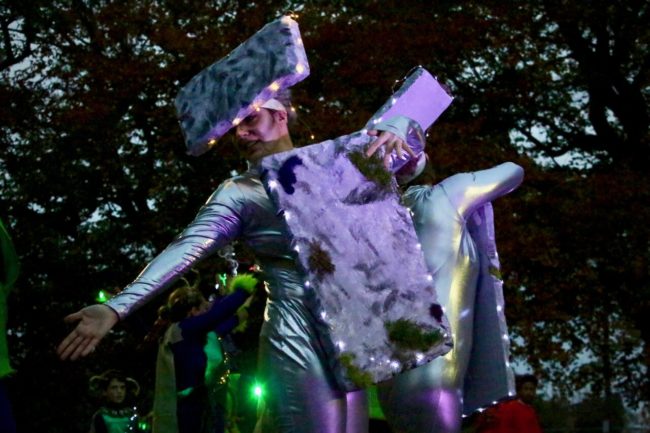 Directed by Valarie Perez-Schere-Newton-John and Claire "Oh, Oh, Oh It's Magic" Molina, brings forth the true spirit of Halloween and perhaps of Druid Hill park! Featuring "Terrible" Terri Ball, Sarah "It Magically Appeared" Bare, Lisa "Lucky Charm" Bennett, Mara "Dutch Coven" Veraar, Allie "Boo-To-You" Bushing, Christy "Crimson Nymph" Clark, Sophia "Bone-Chillin" Clark, Jeanie "Dead Poets Society" Ferretti, Liberty "Taken For Granite" Grayek, Ali "Druish American Princess" Pearson, Lilly "Tinkerbell" Perez-Schere, "Ultra" Violet Perez-Schere, Serafina "Wizard of Ozphalt" Vizachero, and Jenny "Memphis Spell" Webb, spin out to all of the iconic magical tunes featured in Xanadu. Costumes include some truly mystical looking wizards, ents, and even a few enchanted ruins, who light up as they move. And this is the number where the gloriously aforementioned talking-tree puppet comes into play. With an incredibly fluid pinwheel in the finale of this set, these skaters are out to prove that they're magic!
Swinging Spirits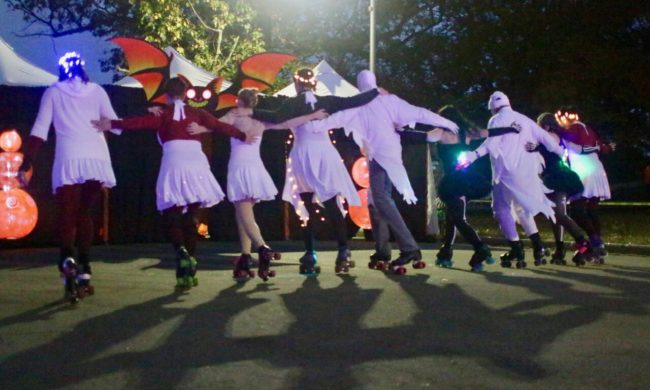 Directed by Ann "Nicolas Rib Cage" Tabor, this zippy nod to the old black-and-white skeleton-bone cartoon dances features a lot of old style Vaudeville movement, only on skates! Ann Tabor, as the leading skeleton, is joined by just a handful of other skaters, including Matt "Boooooooom" Barinholtz, Margaret "Don't Cross the Streams" Hart, Kimberly "The Ghost in Me" Lodge, Cathleen "Roller Ghoul" O'Neal, Lisa "Holtzmann" Scotti, Angelo "The Devil Inside" Solera, Jen "Humerus" Spahn, Simone "Slimer" Thompson, and Lisa "Hay Now!" Wiseman, and really creates a spooky treat as the second act in the piece. Lisa "Hay Now!" Wiseman, skates out as a scarecrow come to life, and puts some truly funky dance moves to animated life while skating about. Complete with light-up ghosts, this set features a bunch of unique moves, like the spinning and swooping ghost circles, and the "step-n-turn" roller lines, which give it an extra edge to show off some of the more sophisticated skills these particular roller skaters possess.
Beasts of Bone Chilling Fear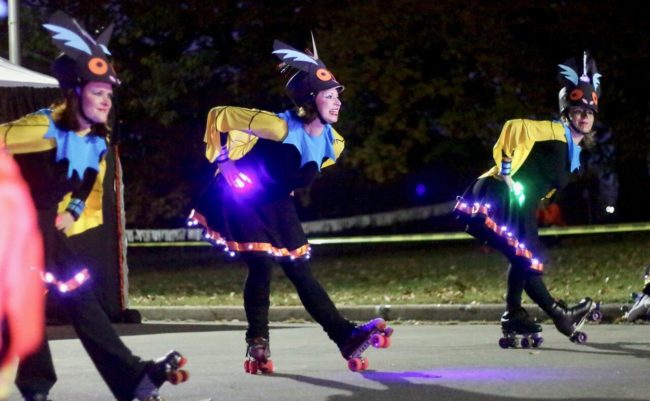 Directed by Sidney "Long Fangs" Pink, this hilarious and ultimately adorable number is a throwback to anybody who loves the not-so-scary side of Halloween. The costumes are incredible in this piece and feature just nine skaters: Leah "Scarylicious" Christopher, Steph "Web Spinning Wheels" Compton, Ghouli Fager, Stacey "La Lupa Di Baltimore" Mink, April "Bat-Brains" Pink, Meredith "The Outclaw" Purvis, Norah "Nightmare" Salamone, Eric "Exoskeleton" Stephenson, and Brian "Howlin' For You" Rayburn. Featuring three werewolves, who are then joined by three spiders, and finally joined by three bats, the number culminates in one of the most rewardingly nostalgic moments of the night as the three bats "Do the Batty Bat" (the Count from Sesame Street's signature number) and mince-skate their way through it! With large sweeping integrated movements for the finale, with everyone skating "The Batty Bat" and a few "AcroBATS" skating through the end of the number, this one is absolutely delightful and reminds us all how fun Halloween was when we were children.
Demons of Infinite Darkness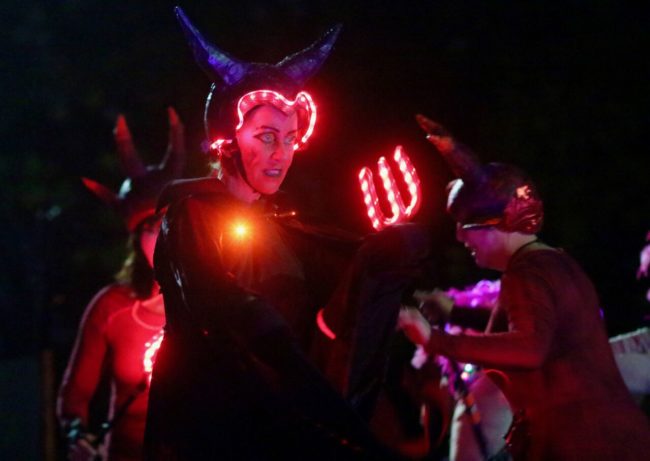 Directed by Jane "Lucy Fur" Shock-Osborn, this zany routine features demons, and zombies, and harpies, oh my! Including Matt "Break An Ankle" Barinholtz, Amy "Exile on Brain St" Britt, Sherri "Shriekin" Fisher, Suzanne "Carrie's Dental" Lebovit, Kimberly "Bohemian Batsody" Lodge, Julia "Screamin Demon" Racicot, Janis "Scream Dreamer" Rosen, Maggie "Night Terror" Sabo, Lisa "Scare-Amouche" Scotti, Shannon "Specter" Snow, and Simone "Siminion" Thompson, there is so much happening in this routine that it's almost impossible to describe! Featuring musical snippets from "Night on Bald Mountain" as well as "Bohemian Rhapsody" as well as "Sympathy for the Devil", this skating routine has it all (not to mention the demons, and zombies, and harpies, oh my!) who skate it out in an ultimate fantasy-style pinwheel around their central demon. And the iconic 4-face-pose ending of the number, which features a total collapse to the ground at the very end of "Bohemian Rhapsody" is simply smashing.
The Finale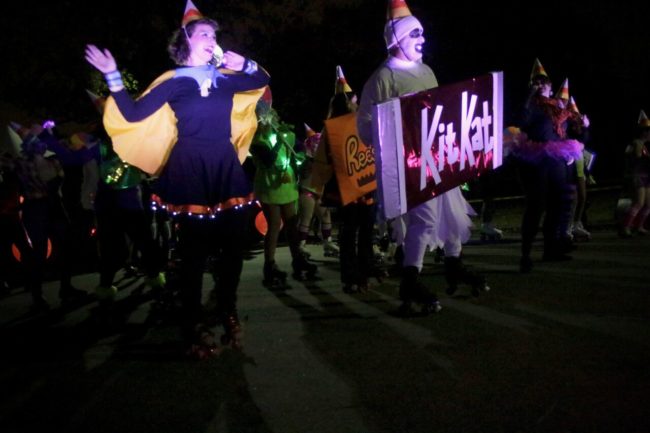 Directed by Margaret "Sweet as Candy" Hart and April "New Edition" Pink, this all-inclusive finale brings a wrapped up conclusion to the non-skating characters and the skating entities alike! Each act is narrated (lead into and out of) by Rosemary and Carrie, played by Heidi "Haunt Mess" Griswold and Ashley 'The Grooviest Ash with an Evil Book" Ball, respectively. These two characters, in a subtly obscure homage to two thirds of the Sanderson sisters, are hilarious in their own right, trying to summon up various incarnations of the true spirit of Halloween (the result of which is each of the aforementioned acts and all of the skaters therein.) When it is revealed to these two giggling witches that the true meaning of Halloween is the fun and laughter and of course THE CANDY, every skater from all of the previous routines joins them on the main stage, complete with candy-corn-cones on their heads, and skates about in one big, impressive finale routine to "I Want Candy". What a truly sweet ending!
Unlike anything else happening in or around Baltimore, Fluid Movement takes their unique propensity for mobilizing performance and gives it the perfect autumnal flavor for this festive fall season. It's even better than pumpkin spice! But it won't last long so be sure to get your tickets to next weekend's shows before they sell out and the spirit of Halloween vanishes along with them!
Running Time: Approximately 60 minutes with no intermission
Druid Hill Haunt: A Chiller Thriller Roller Show has two more performances next weekend on Saturday November 11, 2017. This spooktacular roller show is brought to you by Fluid Movement (and is appearing in conjunction with the Charm City Fringe Festival). Performances are inside Druid Hill Park (Beechwood Drive & Greenspring Avenue) and are subject to weather. Tickets can be purchased at the door, but reservations are strongly recommended due to the high popularity of this performance. Advance purchases can be made online.