A thoughtful retelling of Dickens' classic, with music.
This is the fourth year of Wolfpack Theatre Company's A Christmas Carol. Director William Leary has updated the off-told story with modern settings and sentiment. For example, we learn that Robert Cratchit Sr. and Andrew Scrooge had formed a beneficial business partnership that young Ebenezer destroys by merging with Marley. This deliberately joins all of the characters as an extended family with its attendant tensions. While not proselytizing, the individual character's faiths and beliefs are well explored, whether it is covering God's will vs our hopes, free will vs fate, or when it is appropriate to intervene with others. Rather than Want and Ignorance, I particularly like the Ghost of Christmas Present presenting the ghost of our choices unchosen as Regret and Indifference.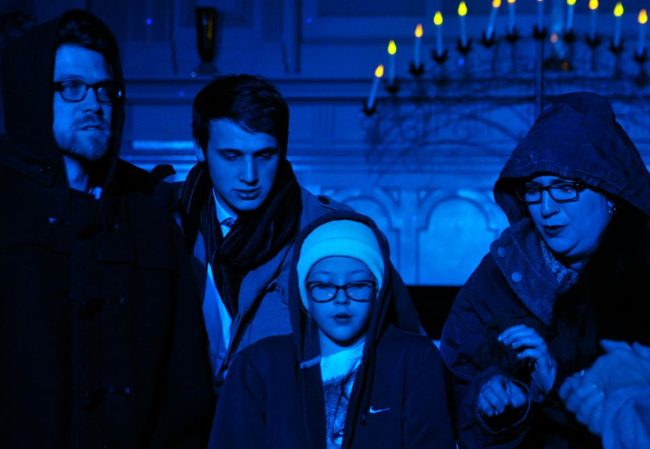 The story is integrated into the convenient setting of a church during Christmas time, using only a thrust and mostly fixed decorations. Technical Director Stephen Beitzell works wonders within the limits of an active church using lighting effects to convey a snowy morning or eerie evening. The Ghost of Christmas Future uses the boundaries of light to be operatically creepy. Don't forget to look up if you are sitting close, as images are projected on the ceiling that complements the songs, the exception being the intentionally jarring "I Heard the Bells on Christmas Day."
The writing flows naturally as an ensemble piece and has good back-and-forth with the opening chorus. The passionate characters' acting is best when the passions are high, with Tim Jansen's Scrooge being unrepentant, Elizabeth A. Weiss as his mother expressing her sadness and anger, and Mark Goodson as Bob Cratchit showing concern for his family. Meanwhile the calmer characters of Susan L. Smithers' Pastor, Michael Angeloni as Nephew Edward, and particularly Peter Orvetti as Edward's husband Hollis, are underplayed powerfully. (That may not sound right but you know it when you see it.) The several younger actors show good professionalism and presence. Not being given the opportunity to dance, I can only say Kaitlyn Elizabeth Gebhardt as Tiny Tim is a double threat.
There are several musical numbers, excellently arranged by John Osborn to good effect in the choral harmonies. I wish to highlight the singing talents expressed in Katherine Metres Akbar's passion as Belle, Brigid Lally in "All Through the Night", Stephen Price's minor solos, Weiss' difficult phrasing in "Amazing Grace", Osborn's expressiveness, and whenever Michael Reeher opens his mouth. (Take the opportunity to read his bio beforehand to learn why.)
Running Time: 2 hours and 30 minutes with one intermission
A Christmas Carol plays through December 17, 2017 with Wolf Pack Theatre Company at The First Baptist Church of Hyattsville— 5701 42nd Avenue in Hyattsville, MD. Tickets are available at the door or in advance online.