When you think of Paris, what comes to mind? Is it the irresistible city of lights? Parisian art? The people? All of those miraculous, wondrous, lively attributes that radiate from the cultural capital of France are what vividly and readily come to mind. But what about when the city of light was darkened by the days of war? When Nazi occupation dimmed even the brightest bulbs of creativity? In the stellar screen-to-stage adaptation inspired by the motion picture, George and Ira Gershwin's stunning tale An American in Paris takes flight upon the Opera House stage of The John F. Kennedy Center for the Performing Arts just in time for Christmas this year. A moving, and charismatic love story featuring the music and lyrics of Gershwin & Gershwin with Book by Craig Lucas, An American in Paris is more a dancer's opera than anything else, but will appease musical theatre fans everywhere with its dazzling costumes, spectacular aesthetic, and ultimately rewarding fairytale of a narrative. Directed and Choreographed by Christopher Wheeldon, this musical triumvirate of performance, song, and dance, will waltz its way into your heart readily this holiday season.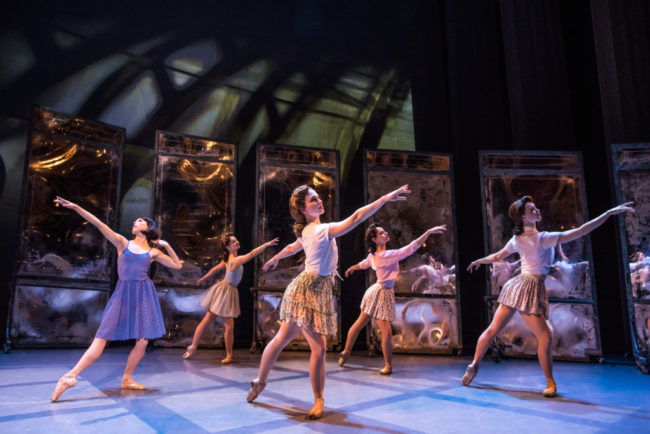 Visually astounding, the show's production design elements are stellar. It's the mystifying marvel of projections (flawlessly and fabulously crafted by 59Productions) seamlessly overlaid atop Scenic Designer Bob Crowley's set constructs that cement the breathtaking visual elements of the performance. Smoky sketches swirling into background structures of buildings flourish vivaciously before settling into what appears to be a life-like three-dimensional outlines of shop fronts and various landmarks in Paris. The way the scenic shifts are moved by these productions is superb, a striking feat to witness. Everything from the gliding frosted-glass mirrors inside the dance studio to the much more artistically interpretive color panels featured in the extended ballet sequence of the second act all captivate the eye and stimulate the senses.
Crowley doubles up as the show's costume designer, sparing the appearance of no expense when it comes to elegance, particularly among the upper crust be they French like Madame and Monsieur Baurel (Teri Hansen and Don Noble, respectively) or the outlandish and outspoken Milo Davenport (Kirsten Scott.) There are features and flavors of all varieties when it comes to Crowley's sartorial selections for the show, and this enhances the viewing experience, particularly once the costumes are in full swinging motion during the dances, which happen more than anything else in the performance. Natasha Katz' lighting design is worthy of critical praise as well, crafting moments of raw emotional expression when set against the music of George & Ira Gershwin (carefully adapted, arranged, and supervised by Rob Fisher.)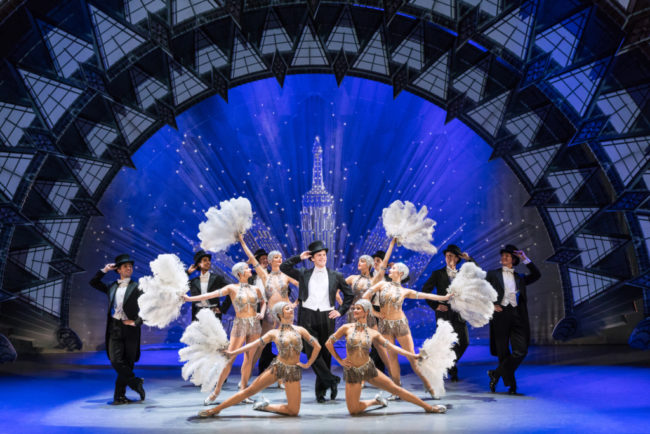 What is not made initially clear, if one is unfamiliar with the musical or it's staged adaptation, is how thoroughly dance-heavy the piece truly is. This does not in the least detract from the overall enjoyment of the performance, but it is worth noting just the same. Director and Choreographer Christopher Wheeldon showcases his mastery of the craft in this production, giving audiences a deep bench of variety when it comes to dancing styles. There's everything from flashy Broadway style show-stopping routines— as witnessed in "I'll Build a Stairway to Paradise"— to the deeply dramatic and moving full-scale ballet seen in "An American in Paris' and just about everything in-between. Wheeldon makes excellent use of prop dancing— mostly with chairs during "Fidgety Feet"— and finds an energetic, rhythmic movement for each dance that is well suited for its accompanying musical number.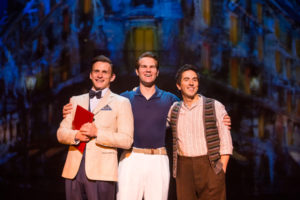 Henri (Ben Michael) is the breakout talent that is unexpected amongst the three male leads, with Michael's character and the Adam Hochberg character (played with sublime sincerity and earnest grace by Matthew Scott) serving as supporting legs of the tripod that ultimately elevate the Jerry Mulligan character. Michael is robust of voice, particularly when singing the up-tempo version of "I Got Rhythm" and certainly once he bursts with pride into his big show-stopping number, "I'll Build a Stairway to Paradise." Scott, whose character is far more subdued and solemn, though not without his humorous moments, has an equally impressive voice and mindful stage presence, as evidenced during "But Not For Me", a duet shared with Milo Davenport (Kirsten Scott.)
The show's pinnacle focus revolves around Jerry Mulligan (at this performance McGee Maddox) and Lise Dassin (at this performance Allison Walsh.) As the astounding dance-tracks that accompany these characters are inconceivably demanding, it is no wonder that the role is shared across multiple actors for the duration of the run. Maddox and Walsh share an extraordinary chemistry, coy and delicately flirtatious at first, forbidden and foreboding as the plot progresses. The way their body language, facial expressions, and their words twist and contort around one another is as mesmerizing as the dances they perform, both solo and in duet.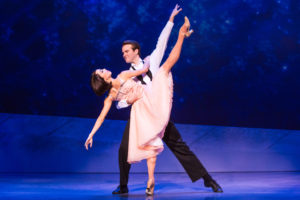 Walsh, whose strongest suit is by far her dancing, expresses nearly everything through movement. Possessed of a true dancer's range of motion, every time she allows the character to slip into motion there is a smoldering fire belaying hundreds of feelings, often with no words at all, to anyone watching. Maddox, who is the triumvirate performer— being gifted in song, acting ability, and exceptionally talented in the dancing arena— astounds the audience moment after moment, whether in laughter or severity, cheekiness or sincerity. There are moments of indescribable beauty crafted by both Maddox' song and dance that populate the production, but none quite so remarkable as the way slips into the conclusion of "They Can't Take That Away From Me", a trio shared with his two supporting male assists.
It's a true dreamlike production, An American in Paris. The sensational music, the wondrous dancing, and everything that accompanies the experience will simply leave you speechless; this is not one to miss. Catch it over the holidays and for a week thereafter into the new year if you can.
Running Time: Approximately 2 hours and 45 minutes with one intermission
An American in Paris plays through January 7, 2018 on the Opera House Stage at The John F. Kennedy Center for the Performing Arts— 2700 F Street NW in the heart of Washington, DC. Tickets are available for purchase by calling the box office (202) 467-4600 or by ordering them online.