Gobsmacked! By the rhythm of you! Gobsmacked! By what they can do! Mind blown! How do I react? Silenced by the impact! All true statements when it comes to the high-octane explosive acapella performance happening in The Eisenhower Theatre this weekend at The John F. Kennedy Center for Performing Arts. Direct from London and led by the ferociously tenacious and fearlessly flawless beat-boxing legend, Ball-Zee— GOBSMACKED lands in time to pump up the volume, rhythm, and fun for this post-Thanksgiving weekend! Featuring blended melodies, stunning solos, and the most mind-blowing musical experience— now this side of the Atlantic pond— Gobsmacked is 100% acapella…meaning every sound you hear comes from their bodies. They are the music.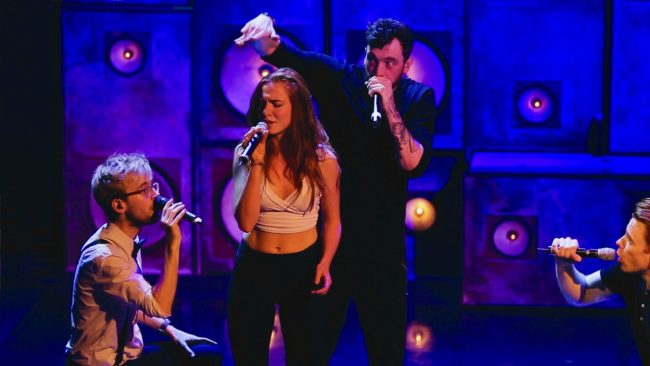 Providing all of the simple theatrics to visually support such a stellar aural performance, Scenic Designer Phillip Gladwell as well as Wall Lighting Designer Charlie Morgan-Jones and Additional Lighting Designer Zach Ciaburri create a basic yet mesmerizingly effective series of eye-popping stimuli to gel with the seriously intense performance happening from the seven members of Gobsmacked. Gladwell has crafted a wall unit that looks like speakers, which Morgan-Jones has lit with a series of blinking patterned and colored lights so that as the volume, rhythm, and overall flow of each musical installment changes, so too does the visual art happening in time with the music. Ciaburri provides additional lighting to the show, creating that energized concert atmosphere that makes a live performance like this one surge with the pulsations of contagious enthusiasm. Shout out to Sound Designer Hugh Walker as well for balancing the amplification system to catch all of these incredible bodily and vocal sounds that the stupendous seven are putting forth throughout the entirety of the performance.
Director Alexandra Spencer-Jones and Musical Director Andrew Carter take care to ensure a spirited performance. Even the musical medley slows down, the energy never wavers, and the intensity of the sound being produced by the performers remains at its peak. The full use of Phillip Gladwell's simple staging— including the rotating interlocking dual staircase— is smartly blocked by Spencer-Jones and at times even includes funky, fun, and fresh choreography routines that capture the heart and soul of the rhythm and beat that these performers are hand-crafting by means of their vocal cords, lips, and mouths.
The heartbeat, the rhythm, the soul, Ball-Zee, referred to as The Conductor, is the percussive driving force behind Gobsmacked. Responsible for all of the percussion, non-vocal bass-lines, and other non-lyrical/vocal sounds, he not only provides a sense of flow and guidance but drops a wicked-sick beat as an out of this world beatboxer. As the master manipulator, Ball-Zee blends sounds and motion to pull performers into and out of numbers as they begin and conclude; this creates an element of humor and often sets the tone for the song sequence that follows. There is a show-stopping, mic-dropping, breathtaking moment wherein Ball-Zee gets to go hog wild with his unending catalog of sounds, treating his vast repertoire like keyboard or synth that he has to tune up to perfection before he can play us a series. This is accompanied by a slew of gestures and physical performance that creates the most stellar moment in the show— everything from clown horns to deep-earth grumbles— all made from his mouth and throat.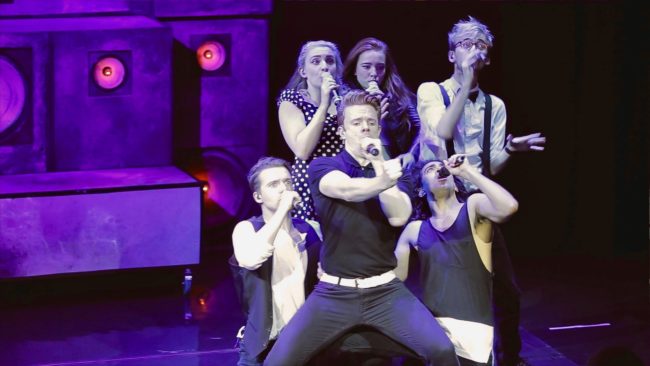 The other six performers are equally as impressive at producing stellar sounds— though mostly vocalizing harmonies and lyrics— with their well-toned and tuned natural human instruments. There's Joanne Evans, with a modern pop-diva sound to her voice. During the "Bulletproof/Titanium" song sequence, she's ricocheting ferocity over every note, wailing away much like the song's originator, Sia. Growling with fierce soul in her other solo segments, like the "Man's World" section early in the first act, Evans proudly showcases her vocal chops and how readily they fit into this modern fusion of acapella pop.
Providing stiff contrast to Evans' sound, in both aesthetic and vocalization, is Monica Sik Holm. Dressed in a darling dress from a period of bygone days, Holm finds her footing among the group as a harmonizer. With a unique and ethereally transient sound that starts off in an era of yesteryore but blends and evolves into a more modern pop quality, Holm takes point during the "I'm Under Your Spell" section of the performance. This curious vocal amalgamation can best be described as equal parts Meghan Trainor and Petula Clark with a hint of Christina Aguilera's belt thrown in the mixture. Her classic yet present-day vocalizations are a curious and pleasing blend added to the mixture of performances featured among the group.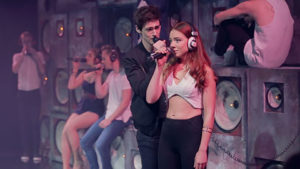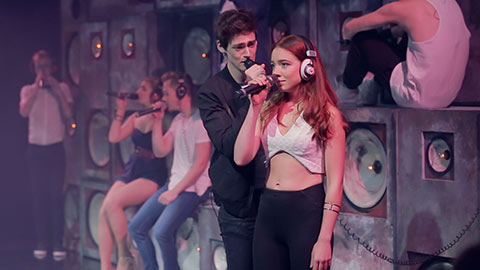 Completing the trio of ladies in Gobsmacked, Emilie Louise Israel is a flaming Venus with a vocal gift that demands ovations. Throwing every modern pop-star vocal trick in the book, Israel holds her own against the more iconic makers of sound in this era— like Beyoncé or Adele or Christina Aguilera— and delivers a stunning performance both on her own and when she's performing in duet, trio, or fully as a harmonizing member of the group. Her most stunning routine during the performance is the hybrid blend of the Gnarls Barkley hit "Crazy" with Adele's "Rolling in the Deep", a performance number she shares with Nicholas Hayes. This hybrid arrangement (with precision guidance from Musical Director Jack Blume) reaches a fever pitch as Israel and Hayes take turns swapping the song lyrics between one another and really laying down the emotional burn of the song.
Hayes, who is featured as the leading male vocalist in the first act of the performance, does everything from Ed Sheeran to The Killers and then some, putting his delicious and delectable sound forward in every moment in which he sings. Going toe to toe against Marcus Collins, who vies for the title of leading male in the second act of the show, their pair put on a spectacular series of songs, with Collins providing the tippy-top tenor range before blasting into a glorious falsetto sound the defies description for sequences like the "Bowie in Space" moment. Collins' rendition of "Life on Mars" is evocative and stirring, drawing forth powerful feelings as he blasts his way through the song.
Show-stopper Ed Scott, Britain's sexiest bass, is the most adorkable and simultaneously talented man imaginable. With a rich booming voice that is seemingly impossible from such a slender, svelte individual, the producers of the show have perfectly juxtaposed this intense sound Scott creates against the 'nerd boy' couture, with tiny suspenders, bow-tie, and chunky glasses. The result is phenomenal. Not only does Scott provide all of those insanely deep bass lines to all of the aforementioned musical numbers, but he finally gets his moment in the spotlight— a true show-stopping moment— completely with wickedly adorable and awkward dance moves, during the "Don't Have to be Rich" segment. Scott bounces readily between the deep tones of this song and a heightened squeaking falsetto, adding a deep helping of humor to the performance.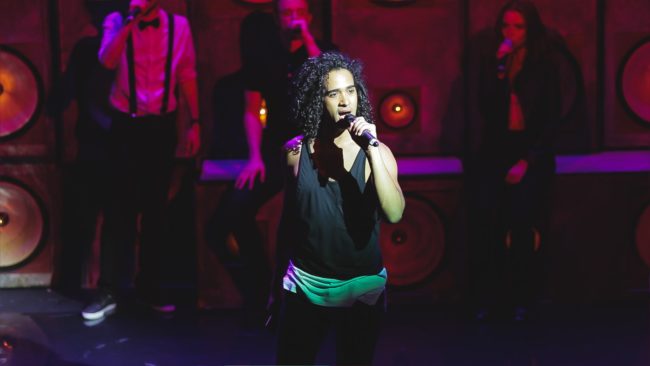 The six singers and beatbox master come together to create stunning group numbers as well, and the ending, which arrives after a false attempt to leave the show, features a long expressive segment (performed to none other than The Beatles' "Hey, Jude") wherein each performer gets a chance to let loose any and all of their vocal belting capabilities, resulting in a remarkable and astonishing show-stopping ending.
Running Time: Approximately 2 hours with one intermission
Gobsmacked plays through November 26, 2017 in the Eisenhower Theatre of The John F. Kennedy Center for Performing Arts— 2700 F Street NW in Washington, DC. For tickets call the box office at (202) 467-4600 or purchase them online.