*bing*
Final boarding call for all passengers boarding flight STC-2017 to Illyria. All passengers please make their way to Sidney Harman Hall and follow the instructions of the flight attendant.
*bing*
The setup is astonishing, and at first a peculiar choice, but Director Ethan McSweeny's conceptualization of Shakespeare's Twelfth Night is nothing but gob-smacking by the play's conclusion. Not unlike a cinematic psychological thriller, whose ultimate reward is revealed in the final moment of film— much like the perpetually spinning top that may or may not have fallen in Inception— the illustrious and decadent concept that McSweeny carefully fits, like a flawless fairytale slipper, over the Bard's most absurd comedy of identities is one for the books. Shocking, and heart-stopping, the conclusion is well worth the wait to fully explain what is witnessed in the stage traffic's interim. In addition to this impeccable reward at the show's end, there is extraordinary talent inlaid into every scene, and a phenomenal opening sequence that leads right into the play's opening line.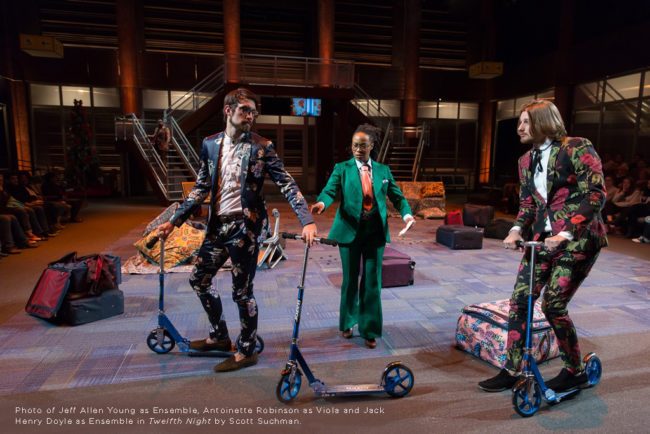 It must be carefully expressed, this concept of McSweeny's, so as to not give up the game prematurely. But the simple explanation is that he's set Twelfth Night in a busy airport at Christmas, presumably just before the actual holiday, with all walks of life trafficking their way through it. This is expressed most clearly by examining the superb sartorial selection hand-crafted by Costume Designer Jennifer Moeller. Without having any idea that you're observing the realm of Shakespeare— assuming you accidentally wandered in and somehow didn't in the least have a clue what you'd wandered into— Moeller's outfitting of the company lends itself to modern times. The ensemble changes their air stewardess uniforms at least twice, creating the convincing illusion that there are an entire airline's worth of various workers moving about throughout the airport.
Scenic Designer Lee Savage has opened up the traditional proscenium playing space of Sidney Harman Hall and transformed it into an exact replica of an airport departure gate. His simplistic approach, paired later with the stunning Projection Design of Patrick W. Lord, fully envelopes the audience in the framework concept that McSweeny has deftly laid over the production. The opening scene— a prologue of motion, expressed as the entrancing dance that is travels rushing about through the terminal at Christmas time, regardless of where they are going and who they are— exists only McSweeny's vision, but sets the standard of fluidity, pacing, and ultimately the blindsiding endcap to the performance as a whole. At first, the lingering remnants of this framework, which appear arbitrary to the point of haphazard throughout the production as it delves into the full-on Shakespearean text of Twelfth Night, is a point of contention for just about anyone familiar with the show and its plot. But McSweeny's brilliance pays off in a stunning, albeit brutally jarring, conclusory fashion after the finale of which the Bard has originally penned, takes place.
Assisting with the production's aesthetic are Lighting Designer Scott Zielinski and Original Music and Sound Designer Lindsay Jones. While Jones' aural landscape is one to be heard, it does enhance the visualizations of the performance with its emotional impact. Playing ever so slightly with light (again assisted, though this time by Lord's projections,) Zielinski easily manipulates scenes, in an almost disorienting fashion, which helps to blur the lines of what's happening in Shakespeare's play and in the lingering remnants of McSweeny's setup to the show. Ultimately the creative team has done an extraordinary job of settling this brilliant, albeit shocking, concept over Twelfth Night, a play traditionally categorized as one of the Bard's comedies.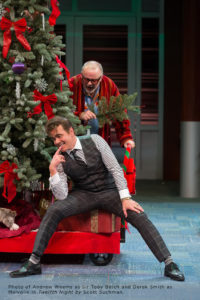 With a stellar cast, coached in voice and text by Lisa Beley, the characters of Twelfth Night are top notch. Even the lesser-seen Antonio (Paul Deo Jr., our soldier in his fatigues from the airport opening) leaves a strong sense of presence in the mind despite his scripted brevity. This same truth is applicable to Sebastian (Paul Deo Jr.) whose secondary arrival to Illyria mirrors that of Viola but is just as powerful in its remembrance as are his brief engagements with the other characters, the bulk of which happens toward the end of the tale.
Being a comedy there needs be a fool and Heath Saunders well-fills that role of Feste. Saunders parades his foolery about the stage as the sun doth walk about the earth, shining it everywhere in radiant resplendence. Though his tomfoolery is heartily witted, and deeply smarter than the average archetypal fool is expected to be. Much praised for his "Feste and Sir Topaz" bait-and-switch scene, he holds his own both comically and musically in the boisterous band of bumblers— including Curio (Matthew Deitchman, who is more of a walking and strolling musician with long rocker hair than a truly incorporated character), Sir Andrew Aguecheek (Jim Lichtscheidl) and Sir Toby Belch (Andrew Weems.)
Both Weems and Lichtscheidl have their moments and play exceptionally well— both together and when egging on others. Weems is the more outspoken of the two and takes proudly to his character's namesake, whilst Lichtscheidl does everything in his power to convince everyone watching that Sir Andrew is indeed a dunce-witted dimwit. But even their finest shenanigans pale in comparison to the saucy and cheeky Maria (Emily Townley.) Oft dismissed as a tertiary or quaternary wheel in the caravan of fools, the character of Maria is vivaciously invigorated by Townley. She is a riveting wench, a true instrument of delectable revenge and her saucy cheek, cheeky brilliance, and brilliant banter is well worth the price of admission alone.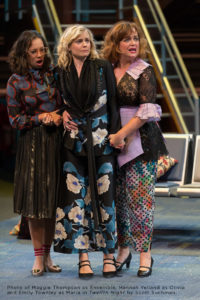 Pleasure will be paid at one time or another, especially in the vein of cruel comedy and it comes most assuredly by way of Derek Smith's Malvolio. All of the cross-gartered yellow-stocking nonsense of the second act is brilliant, but it's the build-up to all of that calamity that wins Smith his paycheck for the performance. Watching him at the end of the first act, desperately reading what Malvolio wants in 'the letter' is too hysterical for words. Otherwise rigid and surly, aloof and perpetually annoyed, Smith's versatility is put through the gauntlet in this production and he comes out smiling— like a madman in all his delirious delight.
The love triangle of love triangles is hot underway in any production of Twelfth Night, so naturally Shakespeare Theatre Company's production is no exception. The scenes that Orsino (Bhavesh Patel) plays out with Viola (Antoinette Robinson), of course unbeknownst to him that his precious Cesario, boy page to the butthurt Duke, is in fact a girl, are layered with appropriate humors. And the scenes that Olivia (Hannah Yelland) plays out, thinking that Viola, who is in fact a girl, is actually a young man, are even funnier. Yelland, Patel, and Robinson develop a well-oiled chemistry between them that stays true to Shakespeare's text and emotion, while playing with the gender identities of the characters in a way that speaks to modern audiences, and still fitting carefully into the umbrella of conceptualization that McSweeny has cast over the show. Robinette in particular is a show-carrier, delivering Viola with confidence from shaky beginning to brutal ending.    
If Twelfth Night be the show of love, play on. Come and see it, feast upon its brilliant concept— just in time for holiday feasting as well! It's truly worth the unforgettable payoff of McSweeny's vision to sit through this well-worn and tried Shakespearean comedy. You will not be disappointed.
Running Time: Approximately 2 hours and 45 minutes with one intermission
Twelfth Night plays through December 20, 2017 at Shakespeare Theatre Company in the Sidney Harman Hall— 610 F Street NW in the Judiciary Square—China Town neighborhood of Washington DC. For tickets call the box office at (20) 547-1122 or purchase them online.