Animals, animals, animals, animals. Animals, Animals, Animals, Animals. ANIMALS, ANIMALS, ANIMALS, ANIMALS! It's all about those animals, well, actually, you see, it's all about those wild and incredible animals that Jane Goodall will spend her life researching and understanding as she evolves into being a Naturalist. But first she's got to eat her breakfast! Bring the whole family for a fun and thrilling adventurous musical all about young Jane Goodall, who would later in life grow to be one of the world's most renowned Naturalists, recognized globally for her work with chimpanzees. In this newly adapted musical, derived from the book Me…Jane by Patrick McDonnell, adapters and writers Andy Mitton and Aaron Posner team up with McDonnell, and bring in Co-Arranger and Musical Director William Yanesh to create Me…Jane: The Dreams & Adventures of Young Jane Goodall, a musical adventure! Directed by Aaron Posner and Choreographed by Christopher d'Amboise, this spirited and exciting family-fun tale shows exactly what its title implies: a young Jane Goodall exploring her way through her dreams on her way to growing up to be a Naturalist.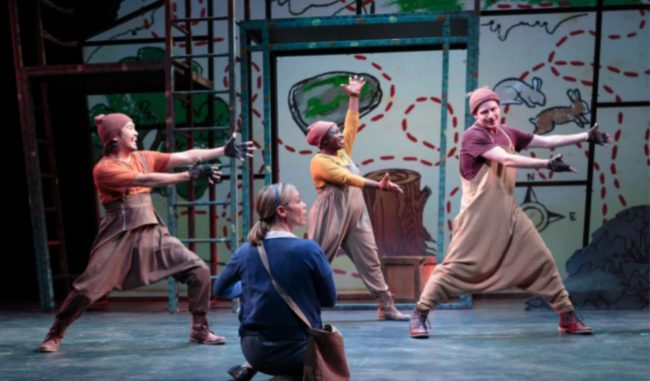 Featuring the vivid and eye-catching scenic design of Paige Hathaway, splendid costume work crafted by Helen Q. Huang, and even more captivating projection work by Olivia Sebesky, there's plenty for the young ones (and of course those young at heart!) to absorb and enjoy throughout the 60-minute performance. Hathaway and Sebesky work together to create the animated storybook pages reminiscent of McDonnell's book and transform them into three-dimensional upright life, whilst maintaining their cartoonish appearance. Huang, whose sartorial selections for the show include some clever costumes for quick-changes when it comes to chickens, squirrels, and dogs, works a bit of animated youth-friendly magic as well, giving young Jane an 'everygirl' appearance.
The show is delightfully entertaining and heartwarming as well. With DC-area favorites, like the tender-voiced Tracy Lynn Olivera taking up the role of Jane's mum and the beloved Erin Weaver playing Young Jane herself, there are wonderful things to explore inside this show. But the most important thing happening on the stage is not the music being sung, the dances being danced, or the zany animals with whom Jane gets to interact. It's the story being told; this story contains a valuable lesson: "Be who you want to be and follow your dreams, no matter what others say." There are poignant moments during the show where the haughty neighbors, aptly named Mr. and Mrs. Crouch (Sam Ludwig and Awa Sal Seck, respectively), shoot Jane's dreams down, telling her that she'll make a good secretary or air stewardess. But Jane overcomes these aspersions and sallies forth to carry out her dreams, living out the most important lesson of all.
Filled with rich dance-worthy and catchy, memorable tunes— like the one all about Animals— there is plenty of wonder to keep audiences of all ages thoroughly engaged. Secka, Ludwig, and Eymard Cabling all take turns playing animals— including squirrels and chickens— throughout the show, with Cabling even getting to be the faithful dog companion who helps Jane realize that not only must she follow her instincts, but trust them! Rotating through several roles in this short period of time, all three performers are ideal for children's entertainment in this capacity.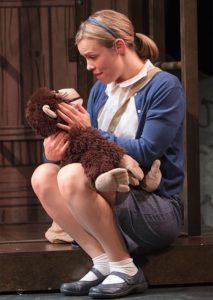 Erin Weaver, as young Jane, is sprightly, and rather perfected in her British accent. What's more impressive is the voice she uses for Jubilee, the stuffed chimpanzee companion who accompanies young Jane everywhere she goes. Weaver makes all sorts of entertaining noises whilst vocalizing for Jubilee and it adds to the merriment and overall entertainment factor of the show. She's precocious without being snotty, she's determined without being bratty, and she's earnest without being a braggart about it. Weaver is the right choice for the role as she brings a youthful exuberance to its existence on the stage.
Come join young Jane, her mum, and all the animals, animals, animals, animals— Animals, Animals, Animals, Animals— ANIMALS, ANIMALS, ANIMALS, ANIMALS! just in time to enjoy the holiday season!
Running Time: Approximately 60 minutes with no intermission
Me…Jane: The Dreams & Adventures of Young Jane Goodall plays through December 10, 2017 in The Family Theatre of The John F. Kennedy Center for the Performing Arts— 2700 F Street NW in Washington, DC. For tickets call the box office at (202) 467-4600 or purchase them online.