You spend your time seated in the audience, looking through the camera lens of your own two eyes every time you watch a show; you almost disappear into the magic that is the portrait of theatre, if the company putting the show on is doing it right. With the ephemeral beauty and ethereal magic that only musical theatre can provide, Kensington Arts Theatre produces a quality production of The Bridges of Madison County— the show's DC Area community theatre premiere— almost as breathtaking as one of Robert Kincaid's photographs. Directed by Craig Pettinati with Musical Direction by Stuart Y. Weich, the performances given are moving and evocative, drawing forth the stunning responses from the audience the way a sunset captured in still life over a covered bridge might do.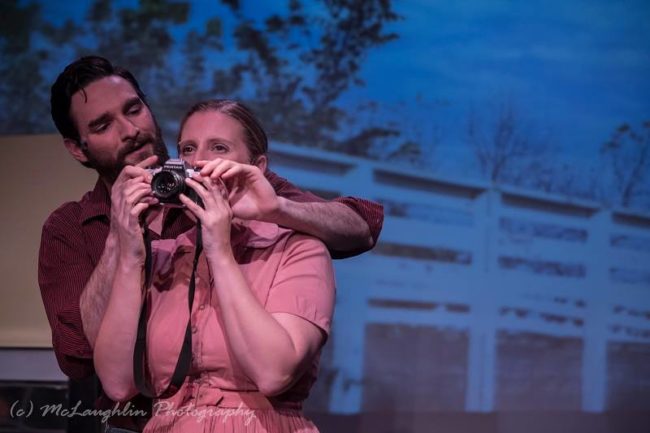 The setting may appear simplistic, though authentic with its antiquated kitchen appliances (Scenic Designer Matt Karner and Properties Master Jared Johnson deserving due praise for such things), it is magical in its own right. This is due primarily to the special effects design crafted by Karner and Jeff Clausen. Using a backdrop scrim behind the main scene, Karner and Clausen transform each scene into a living, breathing moment with animated video projections. There is wind that sweeps across the fields of grass, there are live pictures of Napoli, there's even the illusion of driving down a road with Francesca offers to go with Robert to the missing covered bridge. All of these marvels enchant the audience, drawing them into this magical tale. The production values and almost flawless execution of this unique and technologically advanced design feature are stellar and augment the overall production tremendously.
Costumed by the cast, the show's overall aesthetic is appropriate for the time period, and aligns well with the stunning visuals that the creative team— including Lighting Designer Dan Patrick Leano puts into place. The lights are subtle but functional, an under-appreciated and oft underused tactic in stage lighting. Leano's approach allows the character's to be the evocative focus, letting their musical talents tell the story and naturally draw forth the emotional verve of the tale. Leano's lighting design also pairs well with Karner and Clausen's series of projections; all too often when projections and shadow play— or elements of the like— come into production, light overwhelms them or cancels out their effect entirely, but this is not so with Leano's light work as he demonstrates a keen understanding of how to work with these production techniques.
Musically the performance is breathtaking. From the opening moment where Francesca (Elizabeth Hester) spills her heart song during "To Build A Home" through the Act I finale number, "Falling Into You"* as performed by Hester and Jonathan M. Rizzardi, playing the iconic fictional photographer Robert Kincaid, there is a portrait being painted. Emotional still life becomes a vibrantly animated evocative tapestry, woven tightly under the skillful blend of Musical Director Stuart Y. Weich and Director Craig Pettinati. The pair work sublimely together with the cast of just ten to draw forth every subtle feeling, ever earnest nuance that The Bridges of Madison County has to offer in this adapted for the stage musical rendition.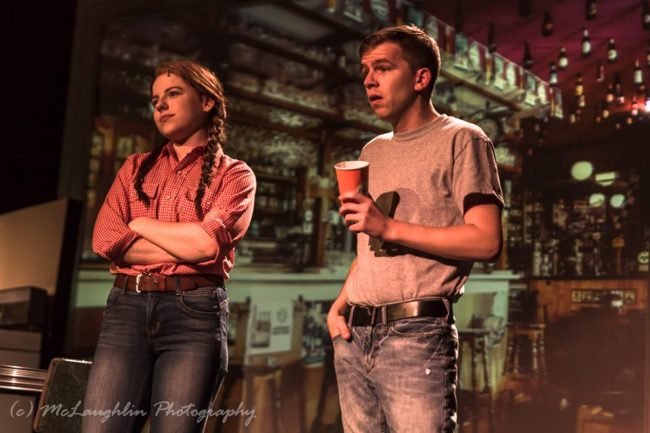 Ensemble and cameo type players hold their own in this small cast of ten; everyone's voice blends as if part of one bigger, beautiful sound in this cast. Jessica McLanahan's mournful and bracing solo, "Another Life" is filled with sound and sorrow when she appears in the first act* as Marian. Performing on the polar opposite side of the scale Malarie Zeeks and Jon Simmons pose as the show's comic relief playing neighbors Marge and Charlie. Zeeks, whose character is the stereotypical 'butinski' carries a delightful humor about her when addressing the mysterious arrival of Robert Kincaid to Francesca's driveway. Her solo feature, "Get Closer" is sassy and fun, giving Zeeks a chance to showcase her vocal ability as well.
The family dynamic inside the Johnson home is that of rural Iowa; it doesn't get much more bucolic than rough-n-tumble dad "Bud" Johnson, played with exceptional fortitude by Christopher Gillespie, and ornery and restless Michael (James Swindell) and Carolyn (Annie Coulson), the Johnson children. With strong personalities showcased throughout the first act, both Swindell and Coulson hold their own in these minor roles, while Gillespie proudly boasts a bold and booming voice for both "You're Never Alone" and "Something From a Dream", his featured solo in the first act wherein his unwavering devotion towards his wife is revealed in an honest full-disclosure of a ballad.
Carrying the show and sharing its burden well, both Elizabeth Hester as Francesca and Jonathan M. Rizzardi as Robert Kincaid, are extraordinary in their performances.* Hester masterfully delivers the character's Italian accent with the regional hint of Napoli in her broken yet fluently understandable English. This accent carries seamlessly into Hester's gorgeous song work and makes several of her numbers even more heart-wrenching, especially her approach to the Act I finale, "Falling Into You." Not without her own quirky sense of humor, Hester finds the balance between desperate housewife (before vice and verse of modern trash) and devoted mother, making the interactions between her character and Rizzardi's crackle with mystical magic.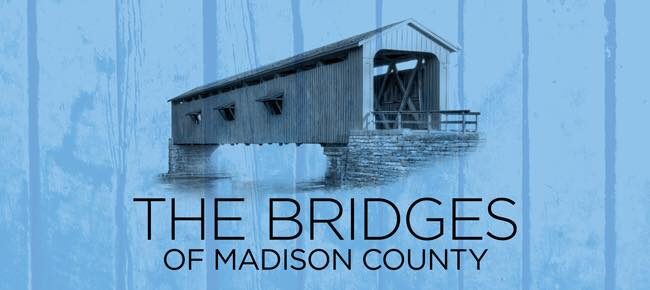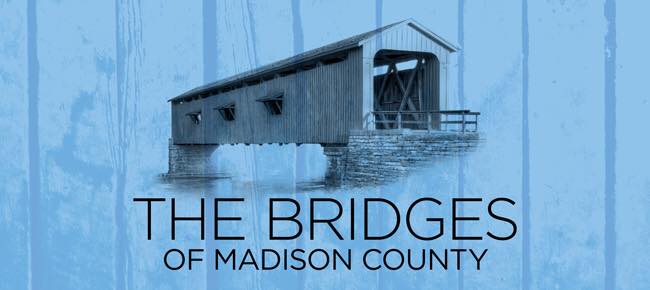 Rizzardi, who arrives to the scene like something from a dream, is in earnest in his portrayal of Robert Kincaid. There is something raw and unfinished about the way he approaches the character and this well-serves the way the hippie photographer from Washington state is written. With a sensational voice, Rizzardi goes toe to toe with Hester for vocal dominance in the performance, oft sharing it with her during numbers like "Look at Me" (though he takes primary lead here) and again during their duet "Falling Into You." There is an unsettled frenetic energy about his portrayal as well; this is exhibited most clearly during "Wondering" and again during "The World Inside a Frame", both stunning examples of how truly lost the character is and how fully Rizzardi understands this.
Worth a peek, worth a look, worth a moment of your time, The Bridges of Madison County will give you— as the modern kids say— "all the feels" and should be experienced no matter what your age or exposure to the story.
Running Time: Approximately 2 hours and 45 minutes
The Bridges of Madison County plays through November 18, 2017 at Kensington Arts Theatre located in the Kensington Town Hall— 3710 Mitchell Street in Kensington, MD. For tickets call the box office at (206) 888-6642 or purchase them online.
*Due to an unforeseen medical emergency, this review is based upon the first half of the production only. A second review will be published featuring the second half of the production when one becomes available.