You can only get to where you're at by way of where you've been. And if you've been to Rep Stage then you're at the right place for their production of Lady Day at Emerson's Bar & Grill. An intimate evening with Lady Day is set before your eyes in the intimate staging of the Studio Theatre inside the Horowitz Visual and Performing Arts Center at Howard Community College. Rep Stage, the college's in-house professional theatrical company, promises to deliver a nostalgic stroll down memory lane when it comes to the music of Billie Holiday in this fiery 'one-woman' production, Directed by Danielle A. Drakes.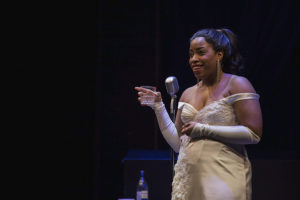 Cozy café tables are interspersed throughout the practically unrecognizable Studio Theatre at the behest of Scenic Designer Mollie Singer. There's a staging area, well-lit with smoky club undertones by Lighting Designer Jay Herzog, and an overall verve that you the audience has stepped into Emerson's Bar & Grill. Singer's setup and Herzog's illuminations break the fourth wall of theatrical device and encourage the audience to exist at the witching hour on a March night in 1959. Though the set remains physically static, Herzog's lighting shifts as the play's tone spirals downward toward its conclusion, enhancing the dramatic and powerful experience that playwright Lanie Robertson has intended for the production.
Though the production is oft thought of as one-woman show, the three musicians present are as important as Lady Day herself, though only one is credited as a character alongside the titular character. Wil Lewis III, also credited as the show's musical director, plays Jimmy Powers, Billie's number two in the performance. Lewis III also plays the piano throughout the production, providing musical bliss while he tickles the ivories, comedic relief when he cracks a joke or two here and there, and ultimately a desperate attempt at comfort when it comes to keeping Lady Day on track with where she's at in the show. The other two musicians featured live on stage include bassist Gary Richardson and drummer Evander W. McLean, both of whom do an extraordinary job of putting lively spirits into the music that they play over the course of the evening.
Despite some physical inconsistencies with the actual Billie Holiday (the iconic singer was known for her robust personality as well as her size and the character makes mention of it once or twice in the script, but the actress is rather on the slender side), Celeste Jones finds moments where she truly connects with the Billie Holiday character. There are times throughout the performance where it feels a little as if Jones is phoning in her singing and narrative anecdotes, but in congruency with the character's decline over the course of the evening, this may be an intentional directorial choice laid out by Director Danielle A. Drake. Whether it's meant to serve as an example of just how attached Holiday was toward the end of her career or how her alcoholism had truly seized her, it creates a sense of stagnation at points throughout the performance, which are unsettling, especially when compared to how much like Jones sounds when she sings. The only other complaint to be addressed in Jones' performance is that she starts the top of the production at the bottom of her emotional barrel, giving her very little room to deteriorate as the production carries on.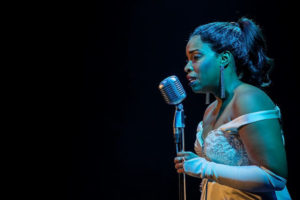 All of these directorial and character choices are readily forgivable as Jones has quite the knack for sounding like Billie Holiday, especially when singing numbers like "God Bless the Child" and "Somebody's On My Mind." Jones' overall commitment to being Billie Holiday is impressive, despite the lack of utter obliteration one expects from the narrative by the show's end. Jones plays well with the three musicians on stage, particularly in the rare moments where she addresses them directly. Jones also masterfully handles her audience, knowing how and when to address them without actually encouraging full-on vocal engagement from them when she doesn't want it.
Ultimately a beautiful production, albeit flat in places, Lady Day at Emerson's Bar & Grill is a great way to pull into the half-point of Rep Stage's 2017/2018 season. This production is a limited-run engagement; buy tickets soon as they are likely to sell out.   
Running Time: Approximately 90 minutes with no intermission
Lady Day at Emerson's Bar and Grill plays through November 19, 2017 at Rep Stage in the Studio Theatre of the Horowitz Visual and Performing Arts Center on the campus of Howard Community College— 10901 Little Patuxent Parkway, in Columbia, MD. For tickets call the box office at 443-518-1500 or purchase them online.