If the human eye was a digital camera it would have 576 mega pixels. 30% of businesses in the U.S.A. are owned by women. McDonald's opens a new restaurant every 14.5 hours. Swedish wasn't made the official language of Sweden until 2009. Approximately 300 couples get married in Las Vegas, Nevada every day. Forum Theatre is producing the area premier of Caryl Churchill's Love and Information. Is it better to know things or not know things? Is it better to just let things be the way that you think they are? Oday ouyay inkthay Arylcay Urchillchay eaksspay Igpay Atinlay?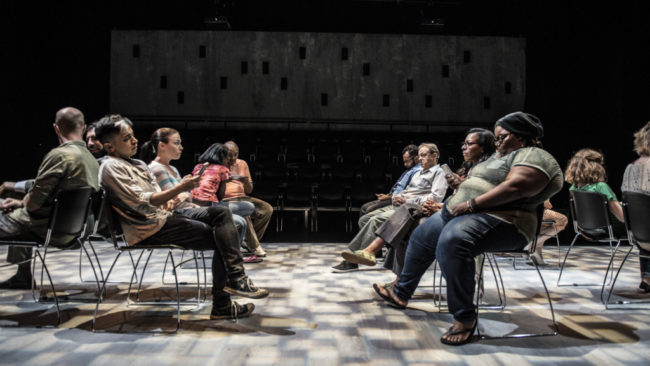 Directed by Michael Dove, the current Artistic Director of Forum Theatre, this collaborative theatrical experience is one for the books, bringing blinks of moments— bits of human information— colliding together over the course of not quite two hours. An uninterrupted flow of human connectivity, some of which is bright, some of which is bullshit, some of which is bizarre, some of which is boring, and some of which is brilliant; it all falls together on one stage spread across 14 actors. Anyone could read Churchill's words but they would never absorb the experience that Forum Theatre has presented with their production.
The words may belong to playwright Caryl Churchill, but the character created and the experiences exposed belong to Director Michael Dove, the 14 performers on stage, and the creative team that has fabricated words to actions in this page to stage style experience. Perfect for the modern millennial audience as there is a multitude of sensory and stimulus overload as well as whirring snippets of segments and fractions of fragments that zip by over the course of 105 minutes, the show is a dizzying flash of the human condition, human connectivity, and human life. Each of the moments, whether they're a micro blip or a fully fleshed out scene, occur like a blink into the reality of human life and interaction. Some are quick blinks— the true meaning of the verb— while others are languid and loose, a blink in slow-motion.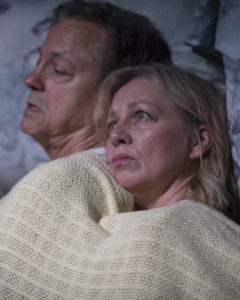 There is, despite all of these fascinating things, a palpable yen for the production's truncation— right around the 75-minute marker as noted in the audience at the evening performance on 10/1 as it's about the time various members of the audience members start tuning out, discreetly checking their phones, nodding off, and staring away from the stage. Because there is no inherent through line, other than the ultimate overarching notion that these are all bits of love and information contained within the human experience, the interest in these fragments and segments wains somewhat after the initial charge gets underway. That is not to say that Director Michael Dove's momentum ever wavers, in fact despite the lengthy nature of the piece, it doesn't feel as if it's dragging in any sense, other than there isn't enough base substance to ground those members of the audience seeking something more solid than a series of blips from the reality of this thing we call life. There are dozens of little moments that snag the attention quite profoundly and poignantly, while others seem pointless or almost perfunctory.
Dove, and the creative team— including Lighting Designer Billy D'Eugenio, Sound Designer Roc Lee, Projection Designer Patrick Lord, Properties Designer Patrick Kavanaugh, Set Designer Andrew Cohen, and Costume Designer Frank Labovitz— create extraordinary scenarios inside of Churchill's words, making many of them feel potent and relevant to everything that is currently happening in the world. Often taking words that could be innocuous and bland, Dove and the Creative team transform these simple sentences and exchanges into full strokes of life, many of which leave you wondering what would happen if you were to explore that particular story further? D'Eugenio's detailed and meticulous light work creates staunch demarcation barriers between fragments and segments, which are often broken into three sections across the stage. D'Eugenio's lighting is used to create a linear separation as well as a temporal one, and is perfectly functional throughout the performance. Lee's sound and Lord's projections are what prime the audience for these moments as they unfurl into stories or dash away into an ephemeral wisp. Generic words are transformed through design and framework to be extraordinary moments inside of which unfathomable things could live.
Some of these more obscure yet intriguing moments are augmented by Properties Designer Patrick Kavanaugh and Costume Designer Frank Labovitz. There are often moments where absurd costumes are dragged into play just for the arbitrary heck of it, but Labovitz showcases an array of things that create a glimpse into the glimmering world in which we live. All walks of life turn up in Labovitz' costume collection, symbolically attempting to represent as many different strides of human path and interaction as possible in this visually pleasing manner. Take note of the Vegas Show Girl costume, the panda suits, and the sparkly sequined night outfit, as their appearances are so brief if you blink you might miss them. Kavanaugh's props pull the show's focus in a different fashion, creating a realistic environment— like the carrots being chopped to shreds in panicked anger during a scene shared by Lilian Oben and Shpend Xani— and help to ground the whirring existence of the performance in real time.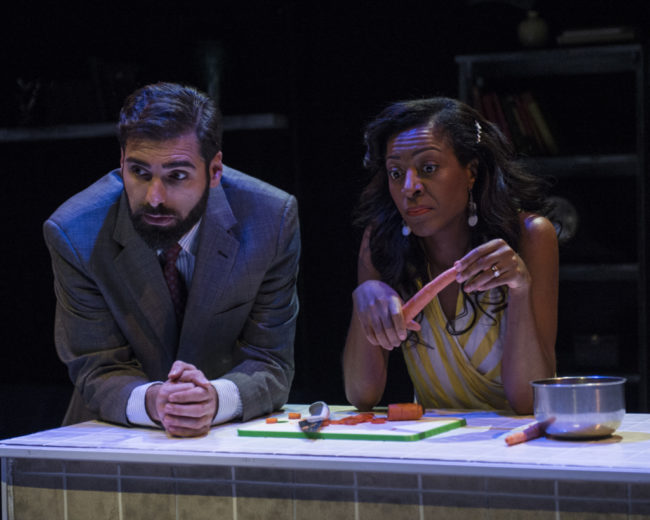 The only other minor hampering of the experience is some of the transition work from moment to moment. While most of the transitions are smooth and flawlessly executed, often blinking from one to the next, there are several where pieces of furniture get wheeled into position in a clunky and distracting manner. This too, could be excused as a part of the real life human experience, but it appears so jarring compared to the overall fluidity featured in the rest of the production that it hardly feels intentional. That said, the piece is all about examining moments and despite these minor transitory hiccups, there are hundreds of moments that will please nearly everyone in attendance because of the breadth and scope of people covered.
The ensemble— as there is no other term that would do the performers justice— are strong. Comprised of fourteen actors— Kathleen Akerley, Moriamo Akibu, Edward Christian, Samy El-Noury, Megan Graves, Laura C. Harris, Nanna Ingvarsson, Jade Jones, Ahmad Kamal, Lilian Oben, Jared Shamberger, Ryan Tumulty, Emily Whitworth, Shpend Xani— the group fully embraces and encompasses a great many walks of human life, showing all sorts of perspectives and personas, from many different angles, sometimes in great detail and other times in half a breath. The framework that Director Michael Dove creates around some of these moments with these performers is at times so striking it is breathtaking. Immediately what comes to mind is a scene featuring Ryan Tumulty, expressing a story about a young boy who does not know what it is to feel fear. The desperate passion that flows through Tumulty in that moment transforms those words into raw emotions in the most indescribable way.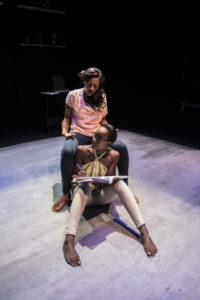 The experience is populated with moments like those— like the very isolated moment where Samy El-Noury experiences a traumatic breakdown of sorts and is counseled from a distance via phone. Dove could have approached this moment as a close and intimate thing, one human being attempting to console another but chose instead to prime the audience with sterility and isolation by framing it this way, arguably augmenting the emotional intensity and overall impact of the moment. Sometimes these harrowing and heart-stopping moment are flanked by Costume Designer Frank Labovitz' astonishing creations; the scene where Helen Graves gives a frenetically indecisive speech about whether to divulge information to Jade Jones emotionally blindsides the audience when Jones enters the scene in one of Labovitz' most stunning sartorial selections of the evening.
Humor is plentiful as well; there are little moments— quite literally just seconds at times— like when the panda suits make their debut, or when a gathering of individuals are freaking out over getting to meet a celebrity, that just zip along with laughter and inspire the audience to enjoy what's happening. Other moments are so dark and heavy— like Nanna Ingvarsson's exchange with Jared Shamberger in the medical office— that they blast a hole into the pit of your gut despite their brief existence. Tender moments- like the confession of sisters between Moriamo Akibu and Lilian Oben which forever changes the dynamic of their relationship, and tense ones- like Ahmad Kamal trying to explain to Samy El-Noury what it is like to physically feel pain, tranquil moments- like Oben and Helen Graves watching a snail move, and then some are all wrapped up into this experience, one of the most breathtaking being with the night star projections envelop the space and the insignificance of human life in the grander scheme of the universe is put into perspective.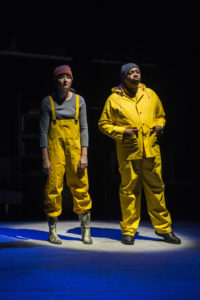 With too many unique performances to speak on, and far too many fascinating dynamics between actors— as each of the performers plays multiple characters, none of which have any through-line or solid connection to the others, sometimes not even those with whom they share a scene— it can simply be said that the experience is bracing. A revolutionary approach to the human experience, this is not just a piece of theatre, but rather a deeply submerged investment in the human condition. Forum Theatre's Love and Information will spark as many conversations as it possesses unique moments; there is a life to be witnessed, experienced, and vicariously lived through these performers. After all, aren't we all just information? Can't we all just be love?
Running Time: Approximately 105 minutes with no intermission
Love and Information plays through October 21, 2017 with Forum Theatre Theatre in residence at The Silver Spring Black Box Theatre— 8641 Colesville Road in the heart of downtown Silver Spring, MD. To purchase tickets, call the box office at (301) 588-8279 or purchase them online.