It takes a lot of Joes to make a sound you can hear. Iron Crow Theatre and it's almost 20 Joes are making sounds, but the question is— do you hear the people sing? Is it the song of angry men? We're not marching through France, and this ain't Russia. It's Steeltown, USA (temporarily residing in Baltimore, of course) and it's time to speak up and make your voices heard. The Cradle Will Rock kicks of the 2017/2018 "Season of Identity" for Iron Crow Theatre, directed by the company's current Artistic Director Sean Elias, and is certainly causing a stir. Politically charged, albeit unpolished in its execution, there's a frightening message to absorb in this theatrical experience.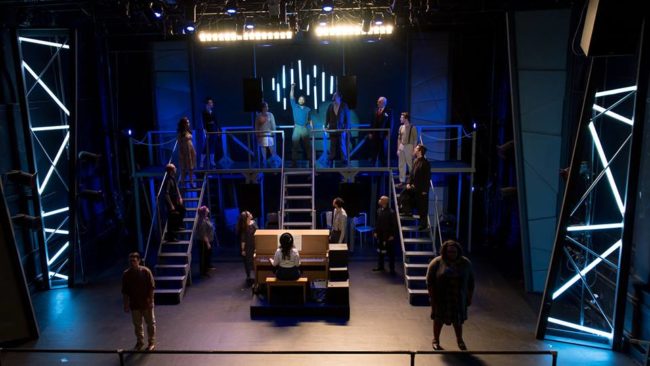 With a rough opening night, due to some ill-timed technical effects and the overuse of projections, hope still remains as the cast and crow plow forward through the remainder of the performances of The Cradle Will Rock. Marc Blitzstein's high-octane electrifying piece is fully charged and primed for America's current political client, but Director Sean Elias fails to trust the material's strength on its own. In an attempt that can best be described as spectacularly underwhelming and distracting, Elias overlays a great many scenes with rapid blips of media coverage, mostly modern, though a few date back through history, in a rough amalgamation of still pictures and video footage. It is unclear whether their short-circuiting behavior of blinking quickly in and out at odd times during songs and segments was intentional or partially a technical misstep. The end result is overwhelming songs and text that speak readily loud enough on their own and ultimately distracting from the performers.
This in itself becomes another problem as there are volume and balance issues in the space. Through no fault of her own, Musical Director and Live Pianist Mandee Ferrier Roberts, often overplays and drowns several of the featured soloists. But given the open spacing of the intimate black box stage and raw exposure of the piano, either directly stage left or stage right, there is little to be done as far as dampening her sound. It's a calculated misstep on Elias' behalf to not use microphones (either drop mics for the entire ensemble) or singular mics for the soloists. This sound imbalance contributes to a lot of powerful and potent text and song lyrics being lost, which makes the overall theatrical experience difficult to process in its entirety. Despite these technical faux pas, there are strong-willed performances that do their best to drive home the intention and message behind the show, which as Blitzstein quotes in his script, is primarily "How many frame-ups, how many shakedowns, lockouts, sell-outs, how many times machine guns tell the same old story, brother, does it take to make you wise?"
Set Designer Chris Miller, Costume Designer Matthew Smith, and Lighting Designer Janine Vreatt all work within the constraints of minimalism extremely well, with the exception therein being Smith, whose designs are the lavish opposite of this aesthetic approach. But Smith understands the swinging hip era of the times and costumes the show accordingly, giving particularly affluent outfits to those among the Liberty Committee elite and the whole of Mister Mister and company. Both Miller and Vreatt approach their designer contributions to this production with subtly, attempting to allow the performers to carry the show's message with strength and tenacity, though as mentioned, some of the technical missteps hamper that approach and ultimately hinder the performance.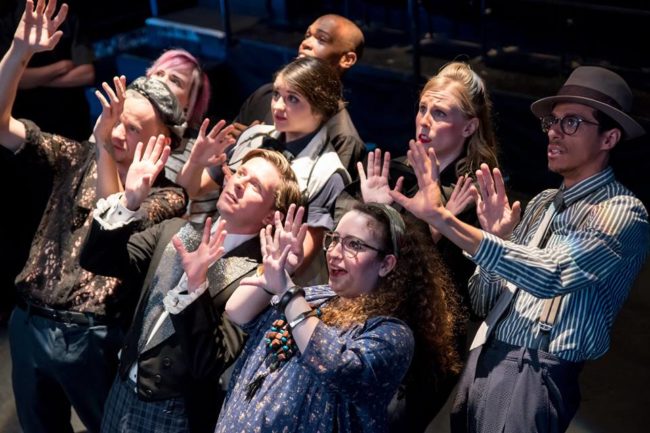 An elite eight comprise the core ensemble, though everyone in the production— in a sense— is a part of the ensemble. This octet is Mister Mister's Liberty Committee, compiled together from stereotypes of your culturally affluent— or those readily purchased and acquired by the culturally affluent— and they are responsible for a hefty of the musical storytelling in the show. Whether it's Reverend Salvation (Brandon Love) who basks in the green and gold lighting effects (compliments of Vreatt) during "Hard Times/The Sermon" or the pinched, snide, and squeaky trio from the university, President Prexy (Barbara Madison Hauck), Professor Mamie (Chelsea Paradiso) and Professor Trixie (Meghan Taylor) putting in their opinionated opinions during "Faculty Room", there's a little nugget of exposure for everyone. Hauck, Paradiso, and Taylor rely heavily on their physical gestures and vocal affectation to differentiate their characters from the ordinary elitists among the group.
There's an entire scene dedicated to the flamboyance and bourgeois nature of artists, portrayed vivaciously over-the-top in a heightened caricature fashion by Yasha (Patrick Gorirossi) and Dauber (Eduard Van Osterom.) Flouncing with flamboyance through three different numbers, "Don't Let Me Keep You", "Ask Us Again", and "Arts For Art's Sake"— with the latter having a sudden dark and jarring twist to its conclusion— Van Osterom and Gorirossi flagrantly irreverent in their portrayals, making these heightened caricatures so ludicrously over the top that they're laughable, posing a warped and twisted sense of comic relief to the musical drama. Both are fit of voice and pair delightfully against Mrs. Mister (Allison Bradbury), unfortunately like most instances in the production, some of their wittier and more poignant lyrics get lost in the sound imbalances.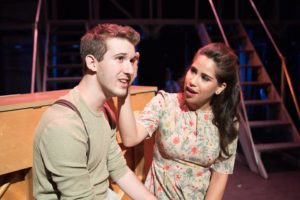 Bradbury, as the arm-candy trophy wife of Mister Mister, is charming, and quick where her lyrics patter, which is most readily witnessed during "Ask Us Again", the number she shares with the aforementioned Gorirossi and Van Osterom. Watching the way her character serves as the extended voice of Mister Mister, influenced heavily by financial flow— like in "Hard Times/The Sermon", it's no wonder that corruption spawns aplenty in her household. Junior Mister (Mark Quackenbush) and Sister Mister (Monica Albizo) are a hoot in this production, reminiscent of the soul-distorted siblings from Repo: The Genetic Opera in their articulation, relation, and overall portrayal. "Croon Spoon", which becomes a laughing matter as the siblings duke it out for attention's sake, is but one moment when all eyes are on them. The other being a much more serene and sincere moment, where Quackenbush and Albizo have doubled up as Gus and Sadie Polock, respectively. Their brief duet, "Love Duet" is moving, with Quackenbush's astonishingly sharp and accurate Polish accent translating well into his singing voice while Albizo lights up the number with here serene soprano sound.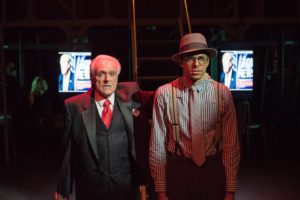 Falling in line with the corruption that Mister Mister (Greg Grenier) spawns is Editor Daily (Justin Johnson.) With a smooth and charismatic voice appropriate for the characterization of Editor Daily, Johnson slinks his way through "The Freedom of the Press." Though Grenier is not as vocally strong as his counterpart in this number, he looks the part and his acting skills bring forth the fearmongering, corruption, and overall vile detest one is meant to feel when examining such a character. Watch the finale carefully as it draws to a close, Grenier's facial expressions make the price of admission a well-paid ticket.
 The peculiar way in which this story is framed burbles around those outside of the Liberty Committee and Mister Mister''s entire group. There's Virgil (Ian Andrews) the do-nothing dim-bulbed cop and Dick (Matthew Lindsay Payne), the straight-laced, slick and scary officer of authority. Payne's character starts off with a bang and settles down quickly after, though his seedy persona never quite slithers off into the background. With a strong voice for the part of "I'll Show You Guys" that he sings, Payne gives a memorable performance, even if his character is somewhat of a disposable one. Falling into the periphery category of characters is also Moll (Caitlin Weaver) and Harry Druggist (Jonathan Jacobs), both of whom have beautiful sounds, though both of whom suffer from the volume imbalance curse that has befallen this production.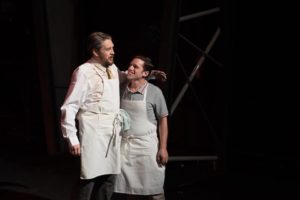 Jacobs gives a commanding performance as Harry Druggist, emotionally exhausted and exasperated, drained of hope and bereft of belief. He plays a moment during scene five called "Drugstore" opposite his character's son, Stevie (Matt Winer) and it is a striking one, both for Jacobs and Winer, as their consciences are put to the test. Winer, who has just this brief cameo and one other later (as a different character) in scene eight, is convivial of voice of spirit, complimenting well what Jacobs' does with the character, particularly when regaling his tragic tale to the Moll character. Caitlin Weaver, as the aforementioned Moll, has panache and punch, though her overall execution would benefit greatly from the use of even just drop-mics over the space.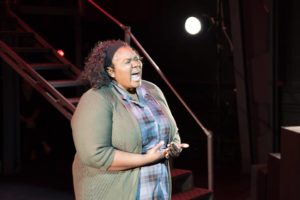 Delivering the most moving and memorable musical moment of the show, Felicia Akunwafor, playing Ella Hammer— the sister of Joe Hammer (a fictitious everyman whom the audience never sees)— with gusto, lays down a harrowing and emotional rendition of "Joe Working" which charges the soul and sears it with sorrow. With a fabulous belt, and no need of a microphone of any variety, Akunwafor makes her few moments in the spotlight well received.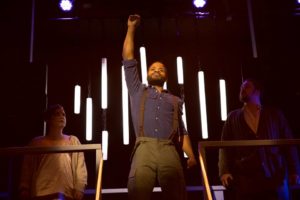 Let Terrence Fleming, as Larry Foreman, b the wind that rocks the cradle. He's channeling the strength, spirit, and storm of the rebellion, he is the ferocious force to be reckoned with, both emotionally and vocally. And when he finally appears on the scene, the whole house is shaking with his powerful message. "The Cradle Will Rock", the show's titular number is masterfully performed in his exceptional hands and really shakes up and wakes up the audience. Putting the power of people into play as the everyman warrior, Foreman is sharp, poignant, and determined. Earnest to a fault, there's no stopping Foreman in this role, a truly remarkable performance.
Social change, social justice, the show could not be more relevant, but the work itself stands on its own without the need for media and projections, trapping it into the modern and present day. It's already there. We already see it. Less is more in this case, and with a few technical brush-ups (and implementation of microphones) Iron Crow Theatre could have a powerful and meaningful production on their hands.
Running Time: Approximately 100 minutes with no intermission
The Cradle Will Rock plays through October 8, 2017 with Iron Crow Theatre in residence at Baltimore Theatre Project— 45 W. Preston Street in Baltimore, MD. For tickets call the box office at (410) 752-8558 or purchase them online.