There are five college students jammed in a car— on spring break vacation and they're going really far! join them. They are five college students on their way to an old abandoned cottage in the woods! Join Them. What could possibly go wrong? JOOOOIIIN THEEEEM!!! Deer in the Spotlight Productions is striking up its annual tradition of Evil Dead: The Musical, this year appearing in the black box stage space of Street Lamp Productions. Co-Directed by Bambi Johnson and Bob Denton, this camptastic evil thriller will have you shuffling and shambling up out of your seat to do the Necronomicon! WARNING: There is lots of BLOOD. Purchase a poncho for your convenience in the lobby prior to entering the Cabin in Woods to ensure the Candarian Demons don't get you too!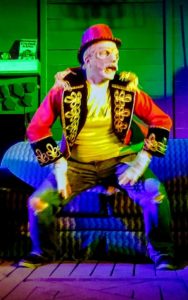 Viewers beware, you're in for a scare— audience members take delight it's going to be a wicked good night! With the signature Bambi Johnson atmospheric immersion treatment over the house, you'll feel like you're in those evil woods right along with Ash— from S-Mart— Linda, Cheryl, Shelly, and Scott! With welcoming greenery dripping down waiting to eat you entice your spirits for the evening, Johnson works alongside Co-Director and Scenic Designer Bob Denton to ensure the maximum amount of audience inclusion that the intimate black box space allows. So much the better for folks fortunate enough to procure a ticket to this highly coveted Halloween seasonal affair!
Denton, who constructs the cabin in the woods to look spooky and simultaneously campy, has set the derelict bunker a good foot off the main floor of the playing space, which helps to create the illusion of a creepy basement— because who breaks into an abandoned cabin in the woods on spring break and isn't excited to find a creepy spooky basement? Denton, who also works on the properties team and serves as the show's Lighting Designer, comes up with all sorts of spooky shenanigans to really augment the ridiculously campy nature of the musical while still giving some absolutely delicious thrills for those who like spooky theatre! There's a great plethora of colors— in addition to blood red, shoot-me-pink, to-die-for-blue, and ghoulish-green— used in Denton's light work, often amping up the cheesiness of a scene, which enable the actors to play it dead seriously, the result of which is a hysterical event for those watching.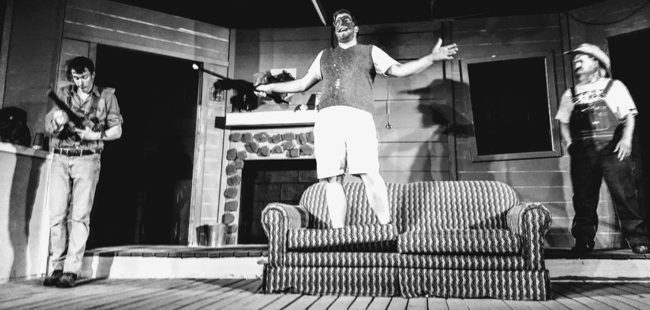 On the music and sound, main man Shane Jensen gets some wicked blasts out when it comes to the rifle shot and really lets her rip when it comes to the chainsaw. In addition to providing all of the hokey, but exceptionally well-timed, gory and gruesome sound effects, adding in haunting strains of music at precisely the right moment to make your skin crawl, Jensen brings together a cast of just nine individuals and encourages them to find the vocal strength of a much larger ensemble. Working the acoustics of the intimate stage to the cast's advantage, Jensen puts some true S-Mart harmony blends together, especially during the ooey-gooey romantic duet shared by Ash and Linda.
Directors Denton and Johnson have got their work cut out for them. Inspiring an indefatigable level of enthusiasm across the cast with an unstoppable energy that just crackles through the production, the pair have everyone foaming at the mouth with everything that's happening on stage. Johnson's efforts to make the show experiential is bolstered by the Properties and Special Effects Team— including Denton, Eyvo Johnson, Lithia Knopp, and Rance Denton— to create one hell of a wild ride for the evening. Without spoiling too much— lest it be my head with a chainsaw through it screeching for you to 'joooooiiin theeeem'— it can simply be said that Johnson Denton, Knopp, Denton, and Johnson completely and utterly outdo themselves when it comes to all of the zany, horrific, and fantastical effects that they fabricate into this production. It's so thrilling and ridiculous, you'll be soaked through with delight!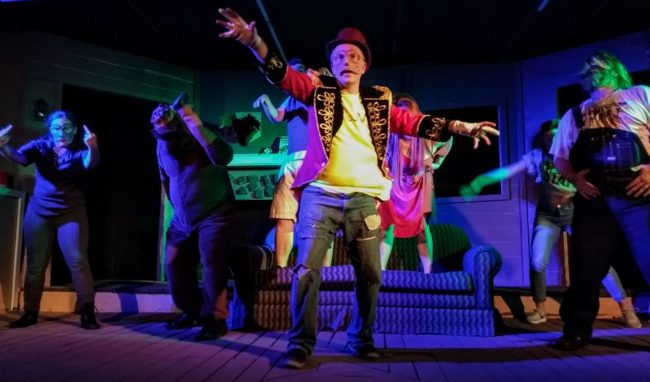 Knopp, who doubles up as the team Costume Designer, gets that collegiate feel present and palpable for our five main go-getters, giving them that spunky appearance that screams 'ready for adventure and lots and lots of sex.' Assisted by gory Make-Up FX Artist Tara Schaffer, the duo really get those Candarian Demons coming to life, like a true nightmare on stage. Bob Denton, who wears enough hats to be called hat-rack, pays special attention to these demon masks— and looks like a proper backwoods hick in the getup Knopp has devised for him— ensuring breathability on top of believability. There's a lot to look at in this production, and before all is said and done, you'll have an eyeful with the costumes, props, lights, and set.
Bambi Johnson, in addition to dressing the house and co-directing the production, puts some electrifying dance moves into the performance as the show's choreographer. "What the Fuck Was That?" becomes a hysterical tango, with exacting precision, between our two bodacious bro-dudes of the show, with both Ash and Scott slipping smoothly across the tight front of the stage to really put these saucy moves into play. But the true crowning glory, the dance to end all dances, and possibly make you wiggle and wriggle around in your seat, is "Do The Necronomicon" which features all of the Candarian Demons getting wild, funky, and fleet of feet in the cabin in the woods. Johnson includes nods to "Thriller" and other iconic zombie-moves in her choreography creating the best parody-homage on dancing dead demons this side of Delaware.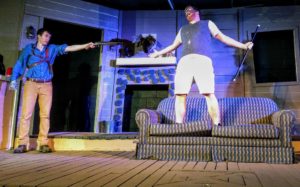 He may be just a Bit-Part Demon, but Matthew Peterson finds his moment to shine as Ed, and it's mostly during the solo "Bit-Part Demon." While this is Peterson's only sung solo number, he wails away with all of the panache of a leading player; it's so impressive it'll blow you away. Peterson, who cameos as the voice of the wall-moose during one of the multiple instances of the 'Join Us' chant, has a knack for fitting where needed, whether it's in a moose, or as a scene-stealing bit-part demon. He won't say much when he's alive as Ed, but once he's dead, listen up! Sharing the bit-part and mostly unseen spotlight with Peterson, Matt Wolffe plays the actual moose most of the time, and delivers a totally righteous performance as a possessed evil tree.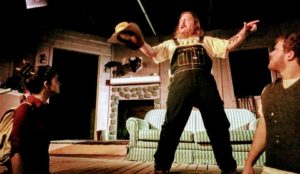 Good Ol' Reliable Jake (Bob Denton) has a hillbilly attitude that will keep your side split with laughter the whole way through, especially once he starts in on his "Ode to an Accidental Stabbing." With the epitome of a backwoods hick in the aesthetic department and a touch of twang to really wrangle that woodsman persona, Denton goes to town with the ridiculous character, especially when adding doo-wop backing harmonies to "All the Men in My Life Keep Getting Killed by Candarian Demons", alongside the Ash character. His dance moves are extra funky once he joins the Candarian Demons and pops up in "Do The Necronomicon."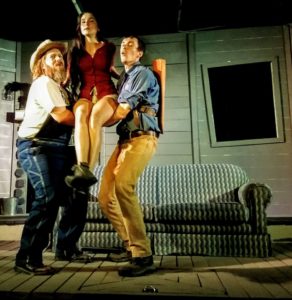 Silly, simple, slutty Shelly (Stephanie Lynn Smith) just happened to stumble along with the eager-beaver bunch and of course finds herself all twisted up inside of the evil once things get to swinging. With her big breakout number, "Look Who's Evil Now!" Smith gets a chance to showcase her vocal capabilities, after showcasing her acting chops by playing a vapid and shallow bimbo-type character. Watch for the lollipop, it's fabulously important! Late to arrive, but better is late than never, before she becomes the late Annie (Jessica Simonson), the researcher's daughter makes the perfect foil for simple Shelly. Simonson's character, who is highly intelligent and gifted with verbal diarrhea, fits right into the ridiculous storyline as a perfect vessel for advancing the plot. Simonson has a lovely voice, soprano suited, and makes for one heck of a solo when it comes to her "All the Men in My Life Keep Getting Killed by Candarian Demons." Keeping sincerity and severity at the forefront of her character portrayal, this number, and other moments like it, roar into the audience as huge laughable experiences because of how straight forward Simonson is treating them.
Lovesick for an S-Mart employee, Linda (Darby Elizabeth McLaughlin) is cheeky yet sweet, sassy yet innocent, and really well suited for playing opposite of Ash (Michael Bliss.) McLaughlin's dulcet tones lend themselves readily to the one and only love ballad in the piece, "Housewares Employee", which again is a ridiculous and hysterical number because of how melodramatically invested the characters become. McLaughlin treats this like a true Broadway power ballad of love and delves deep into the melody, belting out her verse against Bliss' character.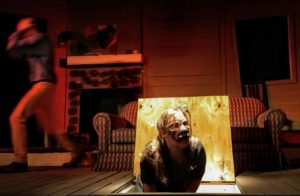 It's a three-way knock-down, drag-out tie for who's running the show when it comes to Scotty (Rance Denton), Ash (Michael Bliss) and Cheryl (Angela Marie Teague) with the latter pulling just the tiniest bit ahead of the boys because of her wicked and warped versatility. Teague, who plays the simpering and easily scared little sister Cheryl (complete in moose-print nightgown), affects a tragically pitiable lisp and sound to her meager character, highlighting Cheryl's cowardice, nerdiness, and overall squareness when compared to the other partiers in the group. But once the demons get going, there's no turning back. Teague becomes a real scream once she finds herself locked in the basement. With excellent comic timing, a dead-ringer delivery when it comes to puns, and an overall sense of how to run away with the repulsive character and still stay within the parameters of the show, Teague is a proper knockout in the role of Cheryl.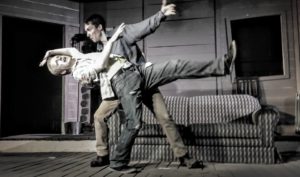 Rance Denton and Michael Bliss go toe to toe for who is more outrageous. With Bliss it's almost certainly his facial expressions, vivacious, lively, and so animated they're about to start a competitive company with Pixar. For Denton it's his bombastic bodily gestures that really eek into the character's grody ways. When they share their duet "What the Fuck was That?" it's beyond words for the level of heightened hilarity that they achieve. Denton, who leads the demons in "Do the Necronomicon" gets his dance moves on, and even finds a snazzy new costume to accent all the marvelous things happening in that number. He's a vile as he is lewd when it comes to tackling the character of Scotty and really represents that stereotypical jerk-bag that is featured in every single one of these 'college-thriller' type tales.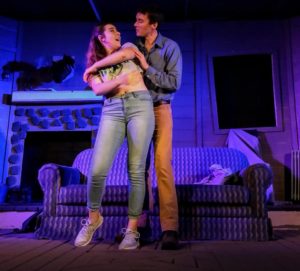 Bliss, whose Ash really deserves a hand, is just wild with demon-slaying action. He's on the cutting edge of this zany role and doesn't hold back. With enormous sustains, especially in the end of Act I during "I'm Not a Killer" and again during the reprise of that segment at the top of Act II, Bliss belts it out and isn't afraid to verbally unleash his own singing demon, which seizes up his soul and roars out the front of his face hole. Again, playing the role completely seriously to the point of melotheatical mayhem, Bliss is a real killer and thoroughly intends to blast, buzz, blip, and blow everyone and everything in his way totally and completely away.
Be prepared to joooooiiiin theeem….there's no escaping….you'll be doing The Necronomicon before the night is dead and gone…and who knows? You might even fall in love with an S-Mart Employee! One thing's for certain…you'll be covered in blood a good time. And there's no denying that— unless of course you wait too long to get tickets to Evil Dead: The Musical!
Running Time: Approximately 2 hours with one intermission
Evil Dead: The Musical plays through October 21, 2017 with Deer in the Spotlight Productions at Street Lamp Productions— 5 Valley View Drive in Rising Sun, MD. Tickets can be purchased at the door or in advance online.