Moses supposes that of all of the showses, that this one is roses, so Moses supposes. But who needs Moses and his supposes when the Children's Playhouse of Maryland has got Singin' in the Rain Jr. Directed by Liz Boyer Hunnicutt and Musically Directed by Charlotte Evans? It's a glorious production! You'll be happy again to be back with CMP for the 2017/2018 season, this production being first of this season, and you'll love every minute of this timeless Hollywood style movie musical stage show. The kids have sunshine in their hearts and laughter too. It's a bright spot to clear up any rainy day!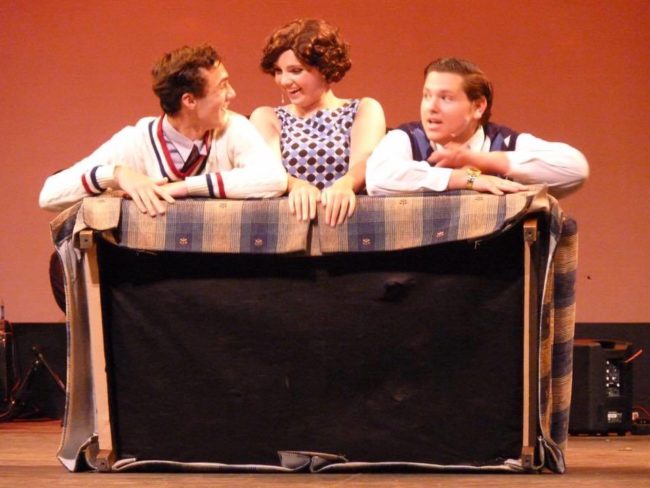 There's a clean simplicity to the approach of the show's aesthetic, at least when it comes to lighting and scenic design. Set Designer and Constructor Diane M. Smith leaves the stage wide open, with a few minimally required prop pieces to help show that we're out in front of Grauman's Chinese Theatre or inside the Monumental Pictures Film Studio. Lighting Designer Ed Lake, who keeps the lighting mostly neutral except for one or two very specially lit numbers— like Kathy's "Lucky Star" done up in subdued blues and "You Were Meant for Me" with all the fancy studio lights— follows Smith's lead and lets all of the focus rest on the performers and their razzle-dazzle costumes!
Costume Coordinator Sharon Byrd has outdone herself with the level of sparkle, glitter, glamour, and glitz that are appearing across the numerous members of the production. Fitting the Vaudeville to Hollywood transitional period of the show's setting, Byrd fills in a great number of ensemble dresses in the tassle-fringe flapper style and she's got them in more colors than just red, white, silver, and black! Heavy uses of teal— especially on the showgirl corsets for the big "Broadway Melody" segment— really help the sartorial selection pop, and Byrd's use of glimmering fabric during the R.F. Simpson party showcases the affluence of the golden age of Hollywood. The men look sharp, the women look divine, and Byrd clearly showcases her ability to wrangle up a great deal of flare and finesse for fashion with this production.
The only thing filled with more razzle and dazzle in this production than the costumes is the insane amount of effort and polish Choreographer Amanda Poxon has put into the dance routines, which dominate the show every chance they get. She's got a full squadron of Tappers & Dancers (Erin Acerno, Sofia Alvarez, Angela Boeren, Christopher Cerra, Ava Correlli, Chloe Davies, Emily Davis, Jared Alston Davis, Olive DeVille, Grace Glennon, Rose Glennon, Ethan Holler, Connor Kiss, Sebastian Maizel, Emily Ricci, Ryann Reich, Molly Ross, Elliott Whitman, Val Ziegler) at her disposal for the big tap routines— like the one that backs Cosmo and Don during "Fit as a Fiddle" and again during the Act I Finale of "Moses Supposes." A special shout out to the gliding glitter gals (Erin Acerno, Angela Boeren, Chloe Davies, Olive DeVille, Grace Glennon, Rose Glennon, Molly Ross, Val Ziegler) that assist Kathy is the sliding, gliding number "All I Do is Dream of You." Poxon's choreography is a proper nod and full-on tribute to Vaudeville and the way its dances inspired musical movies in Hollywood.
The ensemble is strong, filled with the amazing dancers, as mentioned above, and a whole bunch of popping personalities. There's Karah Campbell, playing Dora Bailey, who just owns her cameo moments in the limelight as the news reporter on the Hollywood beat. And Zelda (Val Ziegler) whose priceless facial expressions can't be beat when it comes to providing comfort and council to Lena just before "What's Wrong With Me?" The Stagehands (Christopher Cerra, Jared Alston Davis, Ethan Holler, Connor Kiss, Sebastian Maizel) are all but tripping over themselves to impress Director Dexter (Dylan Morrison) and each one of them finds a little moment all their own during "Make 'Em Laugh", another uproarious dance number. Let's not forget Julia Egan, playing the overly articulate and mega theatrically over-the-top Miss Dinsmore, or the bold and blustering Matthew Byrd, playing the studio manager R.F. Simpson. Byrd, who lets his larger than life persona lead the character in and out of every scene, is a nice serious balance against all of the silly shenanigans happening in and around the studio.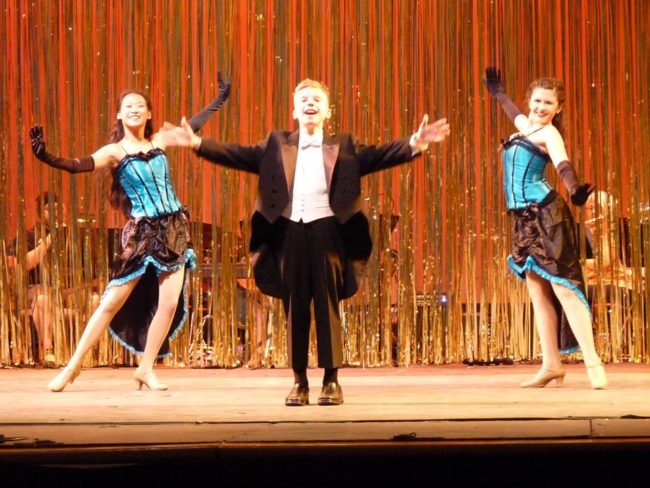 There's one performer who is simply running away with the show, truly highlighting the notion that there are no small parts. Sammy Jungwirth, who performs in the ensemble except for one brief moment where he gets to shine, steals all the attention in his big breakout number, "Broadway Melody." Credited as the Broadway Melody Host, Jungwirth zips into place, belts out his solo feature, and joins the chorus for the remainder of the number, but it's a moment that is so vibrantly filled with panache, punch, and gusto, that you aren't likely to soon forget it!
Snappy, cheeky, and filled with the presence of mind to use his comedic timing skills in his favor, Matthew Trulli tackles the role of Cosmo and arises victorious. Playing chummy opposites with Don Lockwood (Kevin Franiak), Trulli is a real scream when he starts cutting up during "Make 'Em Laugh." Fleet of foot, quick with a joke, and all round pleasant to watch and listen to, Trulli makes a great half of this tag-team duo. Franiak, as the dashing Don Lockwood, is the down-to-earth half of the comedy team, keeping his head, feet, and heart on the ground. Right up until it drifts away in a storm swell for "Singing in the Rain." An exceptionally accomplished tapper and dancer, Franiak puts the spirit of Gene Kelly right into his feet as he gets this and several numbers well in hand.
Leading ladies are a dime a dozen but Rachel Miller and Olivia Aubele, playing Kathy Selden and Lina Lamont respectively, are true treasures tucked away in this little production. The show was written before the time when female leads were truly considered important, so it's exciting to see both Miller and Aubele excelling so well in their roles, really making them standout. Sincere, convivial, winsome, and euphonious of voice when both speaking and singing, Miller does a soft and swift justice to the character of Kathy Seldon. Watch her push right through the character's nerves during "All I Do is Dream of You" despite the looks of utter shock coming from Don Lockwood. And when she sings "Lucky Star" it's a true romantic song filled with sweet passion.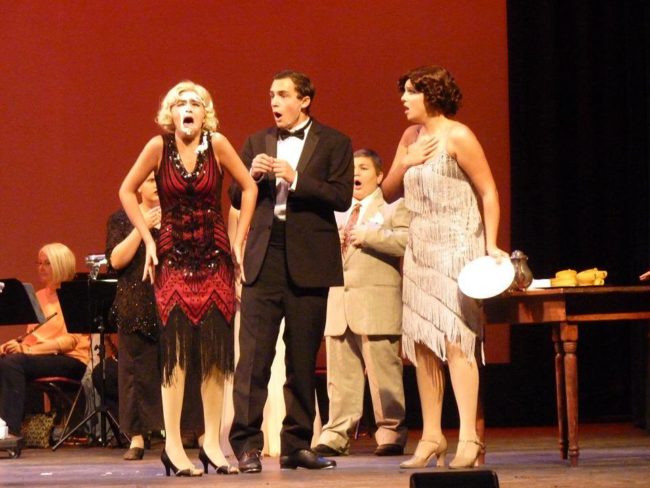 Olivia Aubele, however, takes the cake— right in the face— and steals the show with her New York Doll affected vocalization. Aubele's put-upon voice is shrill and piercing, loud enough to wake the dead, sharp enough to shatter glass, and high enough to spook cats all in a single note! This is a hilarious and well-maintained character choice by Aubele that makes her character's obnoxious nature extra irritating! She's an absolute hoot in the role, fully committed to the diva nature of the character and when she sings, in her severely affected voice, "What's Wrong With Me?" the audience goes nuts, making it the most laughable moment— except maybe for the microphone yank during the filming of the new picture at the top of Act II— moment in the show.
It's just swell, and you'll have sunshine in your heart before it's all said and done, this kids are putting on quite the show with Singin' in the Rain Jr. and it's a great show you won't want to miss.
Running Time: Approximately 1 hour and 40 minutes with one intermission
Singin' in the Rain Jr. plays through October 1, 2017 at the Children's Playhouse of Maryland in the Lecture Hall of the Administration Building at the Community College of Baltimore County Essex Campus— 7201 Rossville Boulevard in Baltimore, MD. For tickets call the box office at (443) 840-2426 or purchase them online.