Springfield
High
Is Just
Terrific!
GOOOOOO CHIPMUNKS!!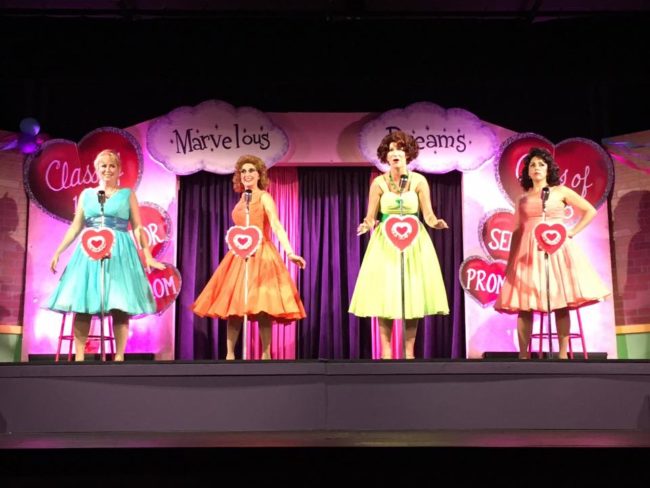 That's right, seniors, class of 1958! Welcome to the most fun you'll ever have at your Marvelous Dream Prom! (Hosted graciously by Tidewater Players this year!) It's going to be a doozy of an evening that you won't forget anytime soon! The Tidewater Players have been gracious enough to lend Springfield High and the Class of 1958 their beautiful, recently restored and refurbished Opera House of Havre de Grace space so that they can host the prom! Be sure to stop in the lobby on you way up to the prom to get your photo taken under the prom arch— golly, it's just aces! And it's all thanks to Principal Dickie Mahoney, directing almost every little detail about the evening, and really helping to coordinate everything! Of course, he didn't work alone, oh no, no, no! With a great assist from Miss Stephanie Carlock Cvach in the music department, the whole prom just looks super-dooper!
Principal Dickie Mahoney has really outdone himself lending a hand to all the decorations; he really knows how to set the place up for a swell time! There are pastel pink, blue, and purple crepe streamers all over the inside of the opera house, and balloons too! It's the perfect prom atmosphere, with all of the little decorations against the performance space, and the adorable little hearts on the microphones for the evening's entertainment, wowee! Principal Mahoney has even enlisted the help of Miss Beven Hensely, from the art department, to rig up some pretty nifty lights so that there can be that extra scent of love in the air. Miss Hensley is really creative and even uses a real live mirror ball for the slow songs! It's just swell! Principal Mahoney even helped The Marvelous Wonderettes out with their evening attire! Once they were told they were going to be performing at the prom, well they had to have the classiest dresses at the prom! So Principal Mahoney went and raided the drama department, he's got a real eye for design, and found four form-fitting, flattering, fabulous dresses, one in each special color for each special girl!
Wearing so many hats it's almost unbelievable that when The Marvelous Wonderettes needed a consult about their movements for their performance, that Principal Mahoney stepped in once again! Did you know, before he ascended the directorial ladder to the position of principal, he used to teach third period dance class? Principal Mahoney sure knows the moves, but I think the nerves of The Marvelous Wonderettes made those moves a little herky-jerky, but that's okay because everyone at the prom was laughing and having a good time, especially once Missy started spastically showing off her funky dance moves. And that's what you want, isn't it? The intention is for everyone to laugh, and love this silly nonsense that these girls are doing, so it's pretty swell that Mr. Mahoney helped us out there too! He made the whole evening feel like a great fun campy sort of experience.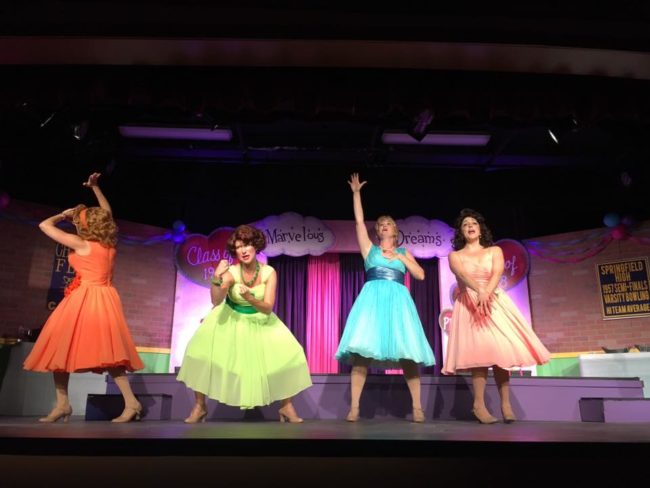 All four of The Wonderettes got to take their turn at a solo song during the prom! It was terrific! Suzie Simpson (who would later graduate and change her name to Sarah Elizabeth Sickles after joining witness protection in 1973) was all a twitter with love for "Stupid Cupid", singing it with sugary style for her sweetheart and steady, Richie. Of course, not everyone can be so lucky in love. Poor Betty Jean Reynolds (who must have witnessed a similar crime to Suzie as that same year, 1973, changed her name to Emily Elborn), was head over heels in love with Johnny, only to belt out some mournful sounds during "Lipstick on Your Collar", and man oh man, can BJ belt! And then, Cindy Lou Huffington (who later took up the alias Natalie Knox) didn't help matters at all by following BJ's song with "Lucky Lips"! Her saucy, smoldering sound told everybody she was macking with Johnny! What a boyfriend stealer!
But the moment of the evening, and this one really stole the cake, honest to goodness! When Missy Miller (whose name was originally Stephanie Mahoney, but not wanting to be confused with being related to the principal, changed it to Missy Miller) sang her super-secret confession song! "Secret Love" was all about how much she's absolutely in love with— well I'm not sure we should say who! But Missy Miller has facial expressions that are so vivacious that they outshine her bright orange dress and no one can watch anything but her lips and eyeballs, which is probably good because her wild and zany spastic dance moves could almost take out the entire football team!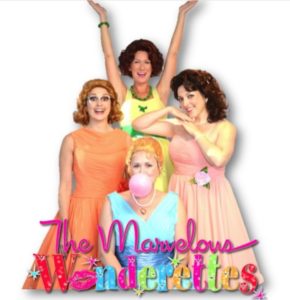 Of course, the evening was still pretty awesome, with The Marvelous Wonderettes harmonizing together for numbers like "Lollipop" and "Sugartime" as well as "All I have to Do is Dream." And even if the ruthless Cindy Lou kept agitating BJ all night long, like when she stole her song "Allegheny Moon" and smoldered her way through it, though BJ kept giving it right back to her, the prom was marvelous and a fond memory to look back upon for every senior in the class of 1958!
But wait!
There's more!
Ten years later, when the graduating senior class of 1958 found it time to hold their ten-year reunion, they went back to the Tidewater Players and asked for help again! Thankfully, Principal Dickie Mahoney was still around and agreed to set them up. Still pretty handy and creative when it came to décor, Principal Mahoney set the place up to look real groovy, with bright colored flower power decals and a real psychedelic shimmer curtain for the stage! Though, we found out that they don't like Principal Mahoney into the drama department anymore…we're not really sure why…something about the Improv Coach and a cup of homemade weiners…at any rate, The Marvelous Wonderettes were fortunate enough to talk to the new drama teacher, Miss Tracey Bird, who did pilfer through some really cool threads and managed to create a look that was far out for the fantastic four, reunited to perform once again! She even put her hands on white vinyl boots for all four of the girls! It was totally trippy! And the best part was that Miss Byrd remembered ten years ago what colors The Wonderettes had worn to the prom, and made the outfits match those colors for each girl! Far out!
Of course lots had changed since prom night, though the four girls were still each taking their turns with songs. Suzie Simpson (still going by that former name as the crime that changed her to Sarah Elizabeth Sickles hadn't happened yet) was woefully lost in relationship land with Richie, and "Maybe I Know" became a beautifully desperate swan song that really put all her cards on the table. Of course, Betty Jean Reynolds (not yet going by the name Emily Elborn for the same reason) wasn't having much luck in love either. Johnny was seen holding hands with Judy Carter— the prom queen nominee in absentia from 1958— and that just set poor BJ on fire. She roared through "It's My Party" and we got to hear more of her glorious belt in that number as well as "That's When the Tears Start" and "I Only Want to be With You."
As it turns out, nobody was having good luck in romance, poor Cindy Lou Huffington (not quite ready to accept her identity as Natalie Knox) had fallen for "The Leader of the Pack"— remember Billy Ray? The bad boy and lead singer of the Crooning Crabcakes? Well Cindy Lou put all her heart and soul, and never lost that seductive smolder in her voice, when singing that song and "Song of a Preacher Man." It was too trippy for words. Even poor Missy Miller (still not wanting to seem related to Principal Mahoney and thus ducking her actual name of Stephanie Mahoney once again) was having the moody love-sick blues! Though her spastic dancing had calmed somewhat from prom, and worry not she was still absolutely hysterical, her facial expressions grew even more intense in the ten years since we saw her last. Truly stealing the evening with her wild and crazy ways, singing through "It's in His Kiss" and "Wedding Bell Blues" there was just something so wild and loony about her that you couldn't help but have a great time at the reunion, even though everyone's love life was falling apart!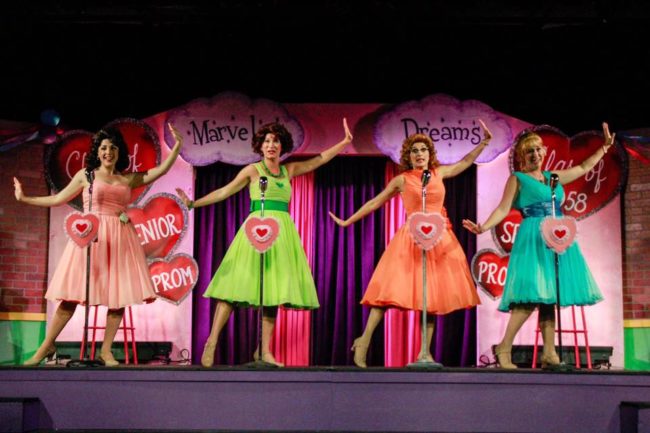 Hopefully by the time the 20-year reunion rolls around, in 1978 and everyone will have adjusted to their appropriate names, all the romances, marriages, couples, and friendships will have been patched up square! And Principal Dickie Mahoney will probably still be around hosting and helping out Springfield High through Tidewater Players!
Running Time: Approximately 2 hours and 5 minutes with one intermission
The Marvelous Wonderettes plays through September 24, 2017 with Tidewater Players at The Historic Havre de Grace Opera House— 121 N. Union Street in historic downtown Havre de Grace, MD. For tickets call the box office at 667-225-8433 or purchase them online.