You feel the feverish chill of something suspenseful about to happen. There is a prickle at the hairs on the back of your neck, a tingle that flickers up your spine, and the ever so sudden jolt of your entire body when you hear anything sounding remotely close to a gunshot. You've contracted a terminal case of Thrilleritus malignus! And your only hope for a cure is going to see Silver Spring Stage's production of Ira Levin's Deathtrap. Directed by Roxanne Fournier Stone, Broadway's longest-running comedic thriller gets Silver Spring Stage's 50th season underway with a bang, in fact, with several of them. It's an intriguing tale of suspense, and a suspenseful tale of intrigue, all wrapped around two acts, five characters, and lots of dark humor lacing it all together like a morbidly delightful bow.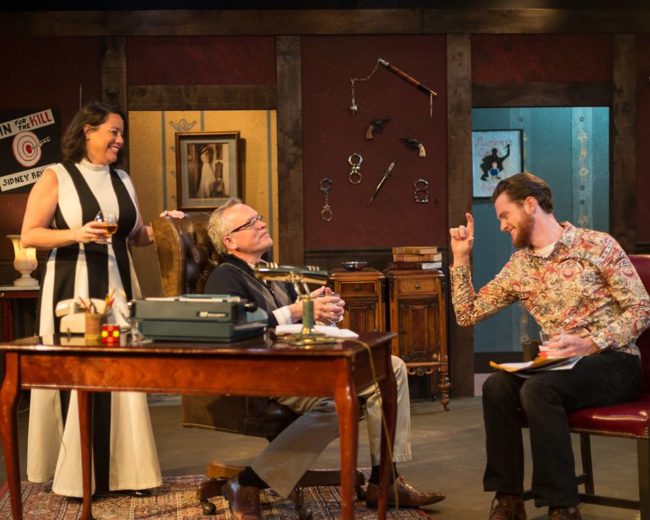 In just one room, in the meta fashion of the play within the play's play, Set Designer and Scenic Artist Maggie Modig as well as Set Dresser and Properties Mistress Malca Giblin create the eye-catching space that is Sidney Bruhl's study in his cozy home in Westport, Connecticut. Modig works over the uniquely intimate play space at Silver Spring Stage, consciously aware of sightlines when placing the four different entrances to the study as well as the plot-needed fireplace. There is a rustic, yet foreboding charm that permeates the atmosphere in Modig's scenic artistry; the rich red paint and dark wood create an ominous feeling all about the room. This is enhanced by Giblin's strategic layout of weapons and window-cards, balanced carefully against one another all over the walls. Giblin and Modig create quite the scene for murder, an appropriate fabrication, all things considered.
Erin Bone Steele's Costume Design is what gives the play a sense of temporal location, pegging it roughly in the late 60's early 70's. While Ira Levin's work premiered on Broadway in the late 70's (and was later adapted as a film in the early 80's) there is something about Steele's sartorial selection that gives a sense of time predating itself in this production. The black and white domino-spaded dress and previously a similarly monochromatic, albeit much shorter, romper seen on Myra Bruhl gives the illusion that it's the edge of a decade shift rather than the center of one and these styles lean ever so slightly to the side of late 60's shifting into the early 70's. Steele does a fine job of outfitting the character of Helga ten Dorp in something that matches her quirky and eccentric personality.
Joy Wyne's (assisted by Nancy Davis) Lighting Design is superb. The sharply focused spotlights that fall on Sidney Bruhl at the end of scenes, plunging everything else into darkness as he speaks foreshadowing lines is striking and rather breathtaking. The production's only true downfall is the inconsistency with it's soundscape. Sound Designer Roger B. Stone at times selects instrumental pieces that sound out of place with what's happening on stage. There are several moments where the musical interludes between scenes, and occasionally during scenes, sound as if they were derived from a science fiction world or even the weather channel, rather than something more appropriate for a thriller. Despite this odd musical choices, which unfortunately at times diminish the show's overall build of suspense, Stone creates a wonderful storm sound effect, meticulously raising the volume when the door is opened, and muting it once more when the door is closed.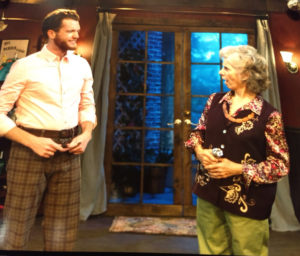 Director Roxanne Fournier Stone's pacing of the show is relatively consistent, though one or two of the scene changes do feel a bit sluggish. This would be less noticeable if the music during those scene changes were less bizarre. Stone plays the script straight, letting the heightened moments of comedy and suspense fall and land as they will. This is particularly notable in the character of Helga ten Dorp (Declan Cashman), who is presented as a mild oddity, a bohemian eccentric rather than a ludicrous caricature.  Cashman's portrayal of the Dutch Psychic is refreshing. Her accent is spot on and extremely consistent, but still incredibly articulate and intelligible. Cashman allows the humor of her character to arrive naturally with the situation, rather that pushing for a contrived caricature or over-the-top performance. This marries well with the overall subtle tone that Stone pushes throughout the production, and makes her final scene, shared with the Porter Milgrim (Gary Sullivan) character that much more rewarding.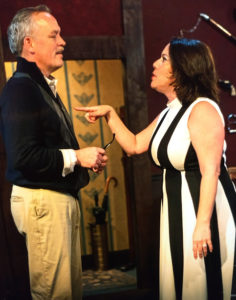 Kryss Lacovaro, playing Myra Bruhl, mellows into the subtle nature of the production's overall groove as well. Though there are moments, particularly in the second scene of the first act, where her heightened excitement and hysterics hit an appropriate peak, reminding everyone that despite its darkly bent humor, Deathtrap is still a thriller. There is a comfortable ease about Lacovaro when it comes to playing Myra, she's well-adjusted to the eleven-year marriage she shares with Sidney. There is an honesty and a congeniality to Lacovaro's performance that rings true especially once some of the striking plot twists start turning up and attacking the flow of things.
Clifford Anderson (Nicholas Temple) and Sidney Bruhl (J. McAndrew Breen) share the bulk of the play's plot progression, splitting it evenly over their shoulders. Temple and Breen play exceptionally well together, making the curious dynamic of their interactions questionable and suspenseful, albeit low-key. Here too is where credit to William T. Fleming, the show's Fight Choreographer, is due. Without getting into plot-spoiling details, it can simply be said that Fleming puts his best foot forward when it comes to creating convincing and realistic scenes of violence, primarily between Temple ad Breen.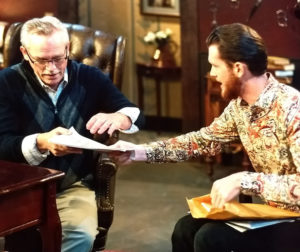 Temple, who approaches the character of Clifford, with a cocky modernity— too hip to be a fusty, uptight, playwright like Sidney Bruhl— lends an air of simplistic sophistication to the somewhat insular and isolated world inside of the Bruhl study. Breen, as the aforementioned fusty, uptight playwright, feeds off this enthusiasm but transmutes it into a tranquil, albeit at times unnerving, sense of calm. There is one moment in the second scene of the second act where his temper truly boils and erupts, a stark contrast to the otherwise muted approach that Breen takes when addressing Sidney. Ultimately the pair carry off a convincing show, well worth investigating, even if you don't know all the plot twists.
A titillating way to start off the 50th season, Silver Spring Stage has done well with their production of Deathtrap. It will almost certainly cure you of your case of Thrilleritus malignus, so don't delay and get your tickets today before you find yourself consumed with the inevitable flavor of Sidney Bruhl and need to commit murder on and off paper.
Running Time: 2 hours and 25 minutes with one intermission
Deathtrap plays through October 7, 2017 at Silver Spring Stage located in the Woodmoor Shopping Center— 10145 Colesville Road in Silver Spring, MD. For tickets call the box office at 301-593-6036 or purchase them online.