Chin up! Chin up! Everybody loves a happy face! Wear it! Share it! It'll brighten up the darkest place! Twinkle! Sparkle! Let a little sunshine in! You'll be on the right side looking at the bright side up with your chinny-chin, chin up! Salutations! It's Artistic Synergy's reason to twinkle— sparkle— and let a little sunshine into the Prince of Peace Lutheran Church basement this summer! Presenting for the first time— a children's production featuring the children of Artistic Synergy! The heartwarming classic story Charlotte's Web makes its way to the stage under the keen direction of Melissa Broy Fortson, with Musical Director Michelle Harmon-Bruno lending a hand to the show's musical pursuits. A wondrous experience as for several of the young performers involved, Charlotte's Web is their stage debut, and for others it is their first foray into theatre outside of their schools! Filled with spirited and enthusiastic young performers, it's a lovely evening of joyful youth giving this thing we all know and love called musical theatre a try and you can tell they are loving every minute of it!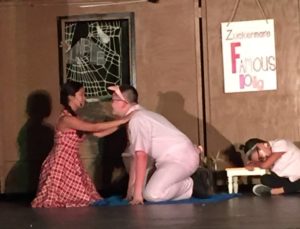 Oh wow, look at him now, he's Zuckerman's famous pig! Fine swine, wish he were mine, what if he's not so big! He's some terrific, radiant, humble, thingamajig, he's fine, phenomenal— sooey what do you see? The greatest hog in history! That's Zuckerman's— Zuckerman's— Zuckerman's— Zuckerman's— we said it— Zuckerman's— Zuckerman's famous pig! Wilbur (Simon Gusso) that is, and young Mister Gusso finds a way to live up to all those descriptors all throughout the performance. There's a particularly precious moment when dear old Lurvy (Gregory Areford) brings him his slops and he plucks out a strip of bacon from his breakfast. The look on Gusso's face is priceless. The show is filled with little moments like this— primarily where Areford— as the golly-gee-whizzin'-over-excitable farmhand— and Avery (Ace Meadow) are concerned. Meadow, who is spunky and plucky, has another one of these delightful moments with vivid facial expressions just about the time Fern (Rachel Nguyen) says she talks to the animals. Too cute for words, these moments, and they happen often, often, often!
Everything, everything, everything is plucky and humorous when it comes to the goose, goose, Goose (Jasmine Artis) and the gander, gander, Gander (Charlotte Crooks.) Repeating in triplicate, triplicate, triplicate, these two play well off one another and add a little dose of humor (from both the book and the 1973 animated classic) to the show. They help keep the other barnyard animals— like the Sheep (Brigid Tonnessen) and the little Gosling (Sabrina Cosden)— in check. And let's not forget about these creatures of the night, out on the prowl, the barnyard Bat (Ariana Dillard), Rat Templeton (Madi Anne Cosden) and the Owl (Choloe Davies.) This trio of darlings gets together to sing and dance during "Charlotte's Spinning Song" and it's quite a dizzying experience as they spin about, bobbing up and down through the number.
Both Davies and Dillard have delightful moments as other characters during the Fair scenes, with Davies going to town with her Reporter and Announcer roles. Madi Anne Cosden takes to the sharper snarky elements of the character of Templeton and really makes a rat out of the role. It's humorous, particularly when she starts to cherish the Rotten Egg. (This, and several other farm festoons are compliments of Props Mistress and Stage Manager Emma Hawthorn— see if you can't keep track of everything that ends up in Wilbur's slops trough!) And it's worth mentioned that Davies and Dillard have miraculously gorgeous costumes (compliments of the Director) which really make them sparkle and stand out as creatures of the night!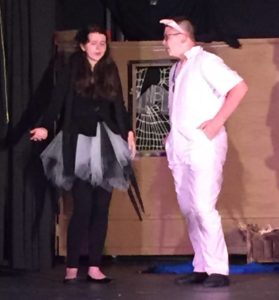 But back to that pig— he's some pig, after all! Simon Gusso is eager, bright-eyed, and presents a strong voice for the duration of the show. So too does his charming best friend Charlotte (Alexis Arthur.) Climbing up to the high spot of the barn (also designed by Director Melissa Broy Fortson), Arthur sings a few of her solos looking down into Wilbur's wallow, while others she sings in front of her carefully crafted web. Arthur and Gusso are both filled with energy and glisten with radiant smiles all through their performances. Gusso just lights up like a Christmas tree whenever Fern (Raychel Nguyen) is around. Nguyen is sweet and equally energetic and really gets excited, especially once they arrive at the County Fair and she gets to take a ride on the Ferris Wheel with the (never-seen) Henry Fussy!
Of course, we all know Wilbur is really Fern's pig. She saved him from her awful father John (Cordelia Gusso) who was going to give the poor porkling an axe simply because he was born as a runt. The whole opening scene with Papa Arable and his wife Martha (Aliyah Steeple) is very touching. The Zuckerman family, Fern's aunt Edith (Grace Crooks) and Uncle Homer (Bryonna Davis) are more on the humorous side of things, with Davis being chock full of energy and Crooks constantly fussing about her hair, when she's not giving Wilbur his buttermilk bath, that is. Everybody knows, of course, that the real magic isn't in the buttermilk bath, or the words Templeton brings for Charlotte to weave into her webs, but the gift that Charlotte leaves behind…and while we won't spoil the ending we will say that Sabrina Cosden, Bethany Davies, and Bryonna Davis make an adorable addition to the show's uplifting ending.
A nod of praise should also be sent in Choreographer Jennifer Otero's direction for creating simple barnyard steps for some of the larger ensemble numbers like "County Fair" and for all the bobbing movements featured in "Charlotte's Spinning Song." Light Designer Daniel DeJong creates lovely red, white, and blue blinks for the county fair fireworks, while Sound Designer Bill Bisbee gets that cock-a-doodle-doo crowing every time morning rolls around. There's a lot to be said for the team that Director Melissa Broy Fortson has pulled together. All in all it's a great community effort!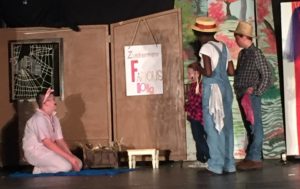 Time moves forward, they traverse a whole year inside the world of Charlotte's Web and all under two hours too! Remember, he turns the seasons around and so she changes her gown, part of life's eternal rhyme, how very special are we to have on our family tree, Mother Earth and Father Time…but don't wait until those two have switched up the seasons and changed their dresses (because up next is a murder mystery far from the dainty little children's show you'll see here!) and you won't want to miss your chance to say you've been in the company of the singing dancing barnyard creatures at Artistic Synergy's Charlotte's Web.
Running Time: Approximately 1 hour and 45 minutes with one intermission
Charlotte's Web plays through August 6, 2017 at Artistic Synergy in the basement of the Prince of Peace Lutheran Church— 8212 Philadelphia Road in Rosedale, MD. Tickets can be purchased by calling the box office at (410) 833-5181 or by purchasing them online.